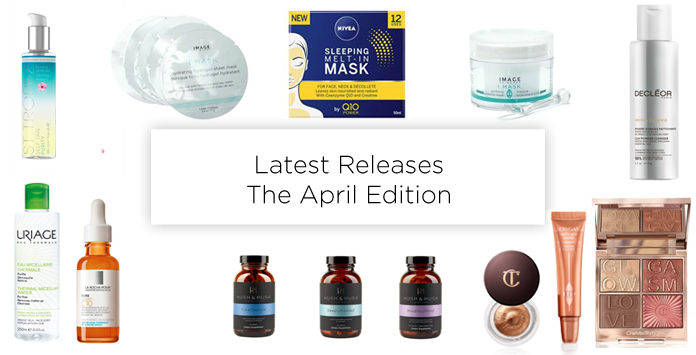 I hope everyone survived April fools day! Well there'll be no joking around with this post and I'll jump straight into it because there's loads of beauty bits releasing this month on the lead up to Summer and I'm all for it. So take some time out of resurrecting your Spring Summer wardrobe and check out all things new in beauty!
La Roche-Posay Pure Vitamin C10 Serum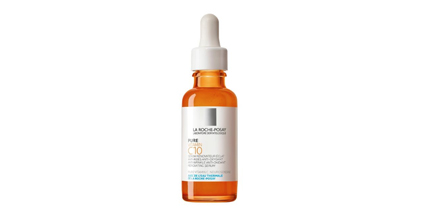 This new formulation is made with 10% Pure Vitamin C (Abscorbic Acid), the most biologically active form of Vitamin C. Abscorbic Acid increases elastin, reduces oxidative damage, improves skin texture and promotes collagen formation – so all the good stuff, making it a skincare step changer for ageing sensitive skin. The serum is housed within a UV filtered bright orange bottle to protect the active molecule from UV-induced degradation which is pretty cool, and it gives long-term stability of the formula. This serum is suitable for all sensitive skin types including combination skin! It protects against the extrinsic factors of the ageing process such as exposure to UV rays, pollution, infrared and tobacco smoke. It brightens sensitive skin while stimulating collagen production to reduce the appearance of wrinkles! It's recommended to apply in the mornings before using an SPF to protect against UVA and UVB rays. It retails at €38 and is available in pharmacies nationwide this month!
Charlotte Tilbury Glowgasm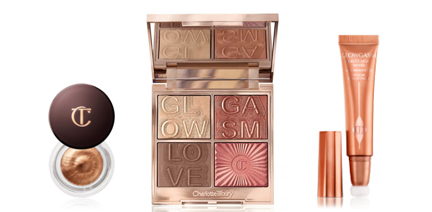 Charlotte is bringing a new level of glow with a new collection to light up our world, to make you blush, bronze and everything in between! Glowgasm is a euphoric wash of crystal glow for the cheeks, lips and eyes. The collection includes two face palettes (Lovegasm and Lightgasm €75) three beauty light wands (Goldgasm, Peachgasm and Pinkgasm €35) luxury palette (Dreamgasm €50) two new shades of collagen lip bath (Rosy Glow and Peachy Plum €32) and the permanent return of Eyes to Mesmerise (Star Gold and Rose Gold €26) Charlotte feels that if you look glowing, you feel glowing, and the world glows with you! These start to become available over this month online and everywhere from May!
Nivea Q10 Power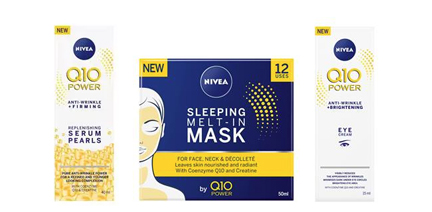 This month Nivea is bringing Q10 and Creatine to the forefront with this launch, their most powerful anti-ageing range yet! With cell-active Q10 and 10x more Creatine versus previous Q10 formulas, it's clinically proven to reduce the appearance of wrinkles. Coenzyme Q10 is naturally found in skin and fuels the production of energy in our cells, helping the skin repair itself and regenerate new cells. Creatine is an amino acid naturally found in skin that boosts the production of new collagen fibres, firming and increasing control of sagging tissue. This range replenishes Q10 and Creatine levels in the skin, for visibly smoother and firmer skin, and retails from just €13.49. The range consists of an Anti-Wrinkle + Firming Day cream to guard skin from the damaging effects of external factors, an Anti-Wrinkle + Firming Night cream to regenerate skin overnight while you're sleeping, an Anti-Wrinkle + Pore Refining Day cream to minimise pores, Replenishing Serum Pearls which delivers powerful anti wrinkle action, an Eye Cream to reduce wrinkles around the eyes, and a Sleeping Melt In Mask to give deep moisture overnight!
Image Skincare I-Mask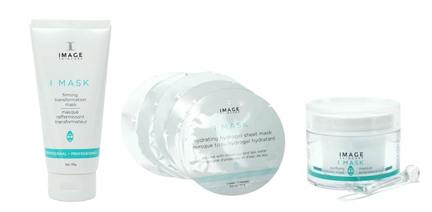 Image Skincare are launching 4 next level masks to answer the skin challenges facing busy women living stressful 24/7 lives. The masks are available in an array of formulas, textures and formats yo target a wide range of skin issues! In the range we have the firming transformation mask, the purifying probiotic mask, the anti aging hydrogel sheet masks (5 pack) and the hydrating hydrogel sheet masks (5 pack) – and these retail from €45!
Decléor Clay Powder Cleanser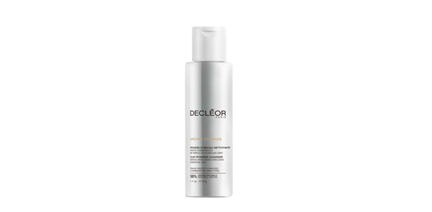 Designed for normal to combination skin, this doubles as a cleanser and an exfoliator as you choose the concentration – add a lot of water for a foamy cleanse, or only a little for a deeper exfoliation. It's customisable dependent on how your skin is feeling that day! It gently cleanses to purify, remove impurities whilst also exfoliating to buff away dead skin cells, ideal as a second cleanse! Containing essential oils infused within a clay, it infuses the skin with hydration and stimulates the skins own production in hyaluronic acid leaving the complexion perfectly balanced. It's available now online at Decleor.co.uk (and salons and spas nationwide) retailing at €42!
St Tropez You Set The Tone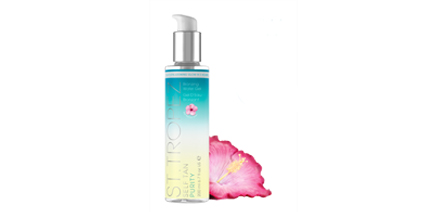 Poor application and obvious streak marks are non-desirable effects of self tanning. St. Tropez is pledging to give women across Ireland the tools to feel confident, look glowing and make tan-shaming for bad application a thing of the past with game-changing developments. Their new Purity Bronzing Water Gel, (which sold out within hours of its official launch in February) is a one of a kind innovation that means no-streaks, no-transfer, no-stickiness and no-fake tan smell. The gel technology breaks on contact with the skin to release an easily spreadable water texture that results in an even, flawless tan. St. Tropez conducted a national survey and 1 in 4 women across Ireland are being shamed for fake tanning and over half (55%) confess to judging another woman for wearing it. (7 in 10 women if you're in Limerick!) Unsurprisingly to me, self-tanning is in the top two ways to boost confidence yet it's getting a bad rep and Irish women in particular are the worst offenders when it comes to shaming. Women in Ireland are massive fake tan fans with 65% of them saying they wear it. St. Tropez say enough of the judgement, and are launching a campaign this month with the support of Katie Piper to empower women to set their own tone!
Hush & Hush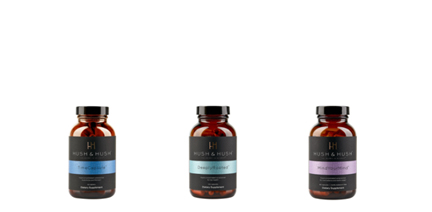 This month, the founders of IMAGE Skincare, have announced the launch of their newest venture. After trying to find supplements void of fillers, additives and synthetic ingredients, they gathered their extensive knowledge and research of aging, skincare, beauty and wellness to formulate Hush & Hush. It's main purpose is to fuel the body with the right nutrients, minerals and Clean Clinical Vitamins™, to help mitigate the effects of aging to live younger, longer. (Younger, longer, how fab!) TimeCapsule™ re:juvenate beautifully (€65.00) is a daily formula that rejuvenates and reverses the signs of aging and prevents future damage. DeeplyRooted™ re:vive beautifully (€74.00) is a daily nutraceutical that creates the perfect foundation to encourage stronger, longer, shinier and thicker hair. MindYourMind™ re:set beautifully (€57.00) is a melatonin-free nutraceutical that quiets your mind, body and soul for inner balance and restful sleep. The claims sound great, I'm terrible at taking supplements daily personally, but I'm intrigued!
Uriage Eau Micellaire Thermale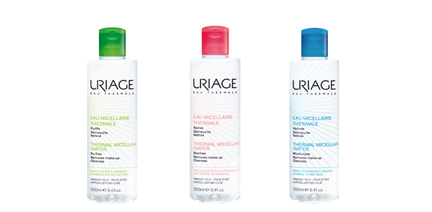 Thermal Spring Water (from the French Alps) is the key ingredient unique to the Uriage dermatological skincare range and is the basic ingredient in all the product ranges. Its composition makes it the richest and most balanced of all thermal waters. Micellar water is made up of tiny balls of cleansing oil molecules suspended in soft water. The Uriage Thermal Micellar Water is perfect for removing make-up from all skin types, thanks to the unique properties of the Thermal Water. The micelles' gentle, non-ionic constituent surfactants act like magnets to effectively capture and eliminate make-up and impurities. It comes in 3 types, Normal to Dry Skin, Sensitive Skin subject to redness, and Combination to Oily Skin. Available in pharmacies nationwide and at uriage.ie retailing at €15!
So this month was jam packed and there's so much more I didn't get round to mentioning, so I only included the ones that appealed most but I'll definitely get my hands on some of these to try!
If you've tried any DM me!
AJ