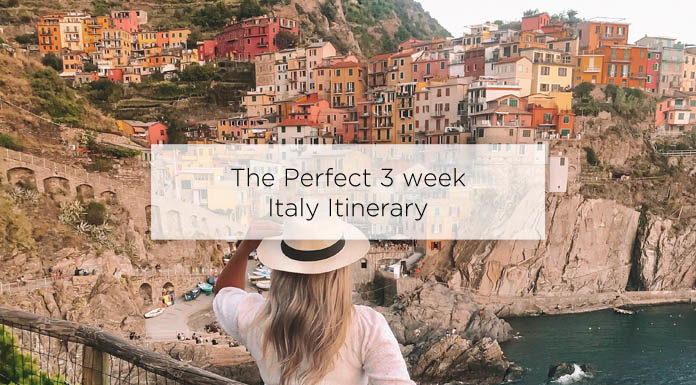 If you're looking for the perfect 3 week Italy itinerary then keep reading! We decided to spend 3 weeks travelling Italy in September as we had a friends wedding in Tuscany. After a lot of research and planning I created an itinerary that fits in as many beautiful places as possible with not a huge amount of travel time. We rented a car for a majority of our trip but you could possibly work around public transport if you really wanted to. I personally find having a car very handy because you can explore on your own terms. I can't thank you all enough for all your feedback in terms of locations and recommendations whilst I was planning also because my itinerary ended up quite different to what I originally thought thanks to all your input. I will do further blog posts on each location in detail, but for now here's an overview of our destinations.
Transport
We flew into Naples with Aer Lingus with 2 x 20kg checked in bags costing us €313 for both, and our return flights from Venice Treviso with Ryanair with 2 x 20kg checked in bags cost us €150 for both! Definitely the cheapest flights we've ever spent money on for our 'big' September holiday which was a nice surprise. Our car hire with Locauto came to around €800, and just to note that some hotels have expensive parking (some up to €28 per day) so make sure you consider all costs ahead of committing. In addition, our tolls came to around €80, and our petrol came to around €120 because we drove around 1700km across Italy.
3 week Italy itinerary
Our trip dates were influenced by the wedding dates but Italy in September is a gorgeous time of year – reaching up to 30 degrees! Based on the destinations we want to visit, and the wedding being in Tuscany, we decided to fly in to Naples, travel around the south of Italy, travel to the wedding, and then travel north of Italy and leave via Venice! For the purposes of this 3 week itinerary I have replaced the wedding destination with Rome because we've explored Rome before and it fits in perfect here.
Naples – Starting Point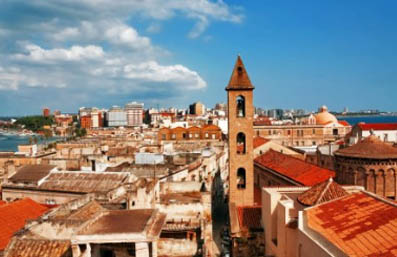 We landed in Naples at 11.30am and picked up our car. We had considered a night here but feedback from friends and followers suggested not to as it has a reputation for being dangerous. We were going to grab lunch here given it's the birthplace of pizza but traffic was chaotic and weather wasn't great there, and we had a volcano to climb – so we headed on! But do your own research and see if this is somewhere you want to check out as I don't have any personal experience to go by.
Mt Vesuvius – Day Trip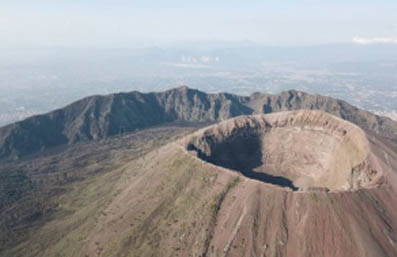 We decided to head here on the way from Naples to our first destination as it was the most efficient way to ensure we got to visit here. It was a very windy road driving up to the point where we could park, and we then hiked the 14 degree angle uphill to the crater of this active Volcano! It was a lovely trek up, and plenty of pit stops for icecream and drinks. We sipped on Vesuvio wine while taking in the views and learning about the eruption in 79AD that buried the city of Pompeii.
Sorrento – 3 Nights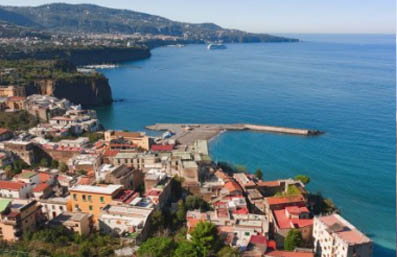 Our first stop was Sorrento! The land of Limoncello. After Vesuvius we checked in to our hotel and went straight into town to stroll and grab some dinner. The following few days here we explored both Sorrento and Capri! I'll be adding blog posts about each area when I can but for now you can check out what I got up to on my instagram story highlights @AJmakeup! Sorrento is a great base to do tours from if you want to visit Vesuvius, Pompeii, Capri, Naples and Amalfi.
Capri – Day Trip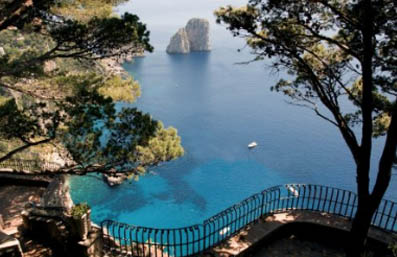 Whilst staying in Sorrento we booked an 8am boat tour with MBS for €109 pp. This really was a lovely and relaxing tour getting to visit all the grottos including the infamous Blue Grotto. We had been considering spending a night here but it's not necessary, a day trip is enough! Definitely a must visit, especially getting the cable chair up Monte Solaro. There are of course ferries from Sorrento Port for around €35 return you can get too if you prefer!
Pompeii – Day Trip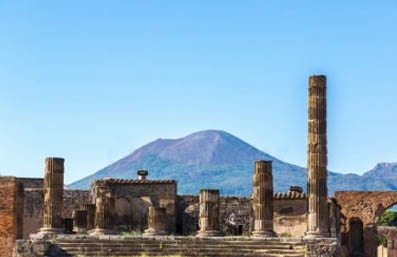 As we left Sorrento to head to our next destination we decided to visit the ruins of Pompeii as it's only 40mins away. We parked across from the entrance with our car boot packed with luggage and spent about 3 hours exploring. It's €15 entry fee and then €13 for 2 audio headsets for a self guided tour, and you can easily spend 7 hours exploring the full place if you wanted to. It is quite harrowing being there and learning about the history, and it is mad to think that Vesuvius is still an active volcano and could erupt at any time.
Amalfi Coast – 3 Nights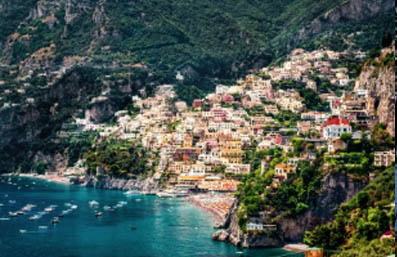 Next stop is the stunning Amalfi Coast. We chose Conca Dei Marini as our base nicely placed between Positano and Amalfi so we could visit all the coastal towns easily! We loved it here and explored Ravello, Amalfi, Positano, Praiano, Atrani, Minori, Maiori by land and by sea. There are lots of beaches, beach clubs and villages on the Amalfi Coast, you can rent scooters, boats and kayaks, and you can get your very own handmade leather sandals! One of the days we rented our own boat and spent the day by sea taking in the stunning views, sipping prosecco and swimming in the Mediterranean sea. You'll find posts on my instagram highlights from my time here until I've gotten a chance to create a full blog post on the Amalfi Coast.
Rome – 3 Nights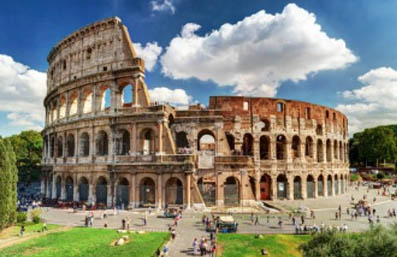 As mentioned in the intro to this post, I swapped out the wedding destination (San Miniato) for Rome for this itinerary. Rome is a must visit and the perfect place to break up your trip from the south of Italy as you make your way north. You'll find lots of information about the things to do in Rome in my travel section, it's such an amazing place to visit and so much to do! It is still one of my favourite places in Europe and not just Italy, you'll never want to leave.
Montepulciano & Siena – Day Trip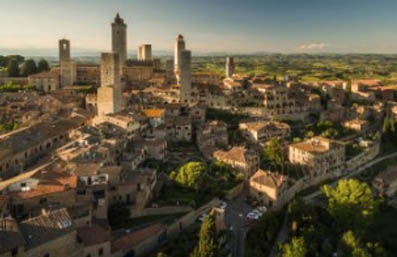 To break up your journey on the way to your next destination, I would highly recommend visiting Montepulciano if you can. I loved wandering around this medieval village and tasting the renowned Vino Nobile di Montepulciano. If you're a fan of Twilight you will also recognise this place from some scenes in New Moon. You can also swing by Siena and climb the Tor del Mangia as you venture through the narrow streets and people watch from Piazza Del Campo.
Florence – 3 Nights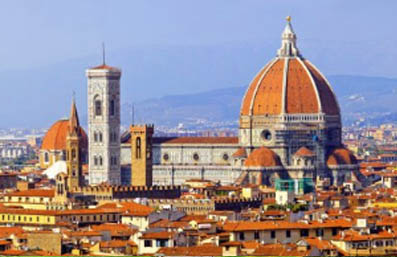 Up until this point Italy has been steps and climbing uphill. Finally, somewhere relatively flat! Florence is a must visit city and the huge Duomo is just stunning. There is lots to see and do here so plan your trip wisely if you want to ensure you skip those museum queues to get a view of Michaelangelo's David. You'll find all my adventures on Instagram highlights for now, but I'd recommend finishing up your time here soaking up the sunset views at Piazzale Michelangelo.
Pisa – Day Trip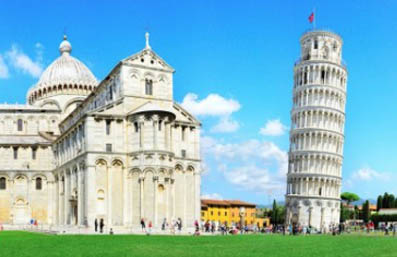 Can you really visit Italy and not get the infamous picture at the Leaning Tower of Pisa? This is just a quick detour to your next destination so you may as well take a visit! It's actually mad how much it is leaning, to the point where I can't figure out how it is standing. You won't spend too long here as there isn't much else to do, but you will find enjoyment from seeing everyone standing around doing the same pose which is bizarre. There's another nearby place called Lucca which is worth a visit too!
Cinque Terre – 3 Nights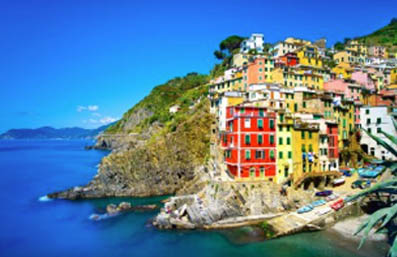 Next up is Cinque Terre – five towns that span the Ligurian Coast of Italy. From towering cliffs, to rocky coasts, to beautifully colourful homes and buildings, Cinque Terre is a must see! 2 or 3 nights is enough to explore all five and given driving is restricted here we stayed in La Spezia, opposite the train station that links all towns together. Each place has it's own unique vibe, you'll thoroughly enjoy Riomaggiore, Manarola, Corniglia, Vernazza and Monterosso al Mare. If you're up for it you can hike across them all too!
Bologna – Day Trip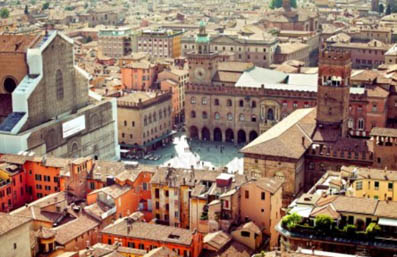 We took a trip here on our way to our next destination to try out some Bolognaise for lunch and take in the views from the church of San Petronio. Neither disappointed and it was a lovely place to venture around to break up our journey. The streets and arches gave us lots to look at as we strolled, and churches are stunning. It didn't feel too tourist'y either which was a nice change! Perfect place for a day trip and the food is a must try for sure!
Lake Garda – 3 Nights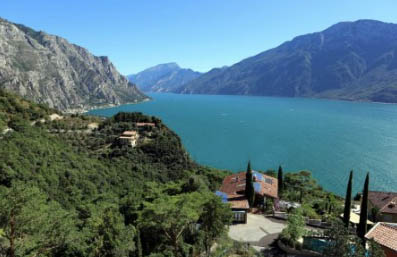 Lake Garda has so much to offer and so many things to do! After much research we chose Bordalino as our base, particularly as our following destination was towards the east. So many nearby places to visit by land and sea such as Sirmione, Desenzano, Garda, Malcesine, Lazise, Limone Sul Garda, Riva del Garda, Salo and so much more! Again as mentioned I will add a blog post for each place with everything I got up to, but renting your own boat on Lake Garda is a must do!
Verona – Day Trip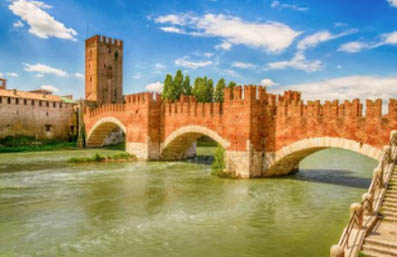 We stopped off here on the way to our final destination to check it out and I thoroughly enjoyed it. There was a festival taking place when we were here so the place was buzzing. I didn't want to leave! Definitely a must visit if you can if you're headed to Venice! I would have liked to have maybe spent a night here but when I'm travelling across a country and going from hotel to hotel I like to spend at least 2 nights as it can be exhausting otherwise. Being close to Lake Garda and Venice it's perfect for a day trip from either.
Venice – 2 Nights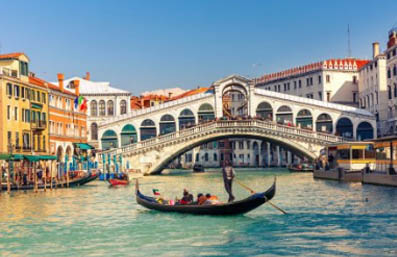 Our final destination was no other than Venice! You can drop off our car at the train station here when you arrive because you definitely won't need it. It's water taxi's from here on in! I absolutely loved Venice, wandering through the narrow streets, it felt like something from Harry Potter. We visited Murano, Burano and Torcello as part of a boat trip which I'd highly recommend. Burano was my favourite with all those colourful houses, lovely little place to explore. I loved the architecture here in Venice, the canals, the bridges, the shopping, the food, the wine, however one thing I didn't love was the sheer volume of tourists. I know I was one of them but it was a little frustrating. We spent alot of our time just strolling through the streets taking it all in with a takeaway box of pasta in one hand, and of course got a gondola ride too. It was the perfect way to end our three week Italy itinerary for sure.
Cost
So, Italy is fairly expensive. You can of course do your trip cheaper than ours depending on your flight dates/times, car hire, and the accommodation you choose. Personally, we stayed in hotels and ate out every day for lunch and dinner. September is always our 'big holiday' so we treat ourselves, but if you're savvy with your money and opt for maybe AirBnbs and cook for yourself you could easily spend less. I've outlined flight costs above, circa €500, car hire plus tolls and petrol outlined above, circa €1000, our accommodation in 7 hotels, circa €3000, and spending money between the two of us, circa €4000.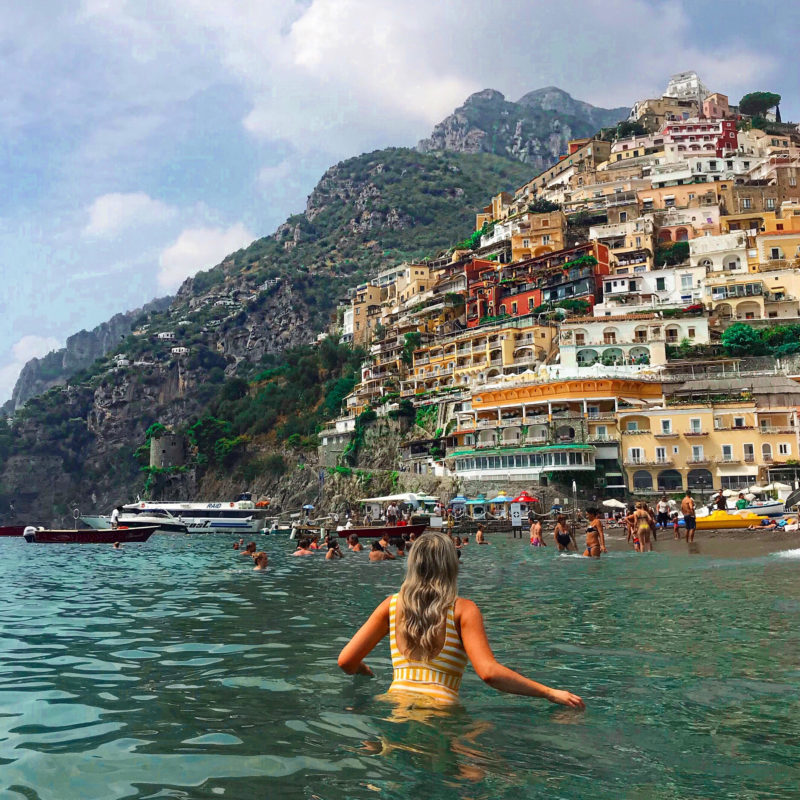 So there you have it, the perfect 3 week Italy itinerary. There are plenty more amazing places to see in this beautiful country but this itinerary will tick off many a bucket list in 3 weeks for sure. As mentioned throughout here I will create blog posts dedicated to each destination with all the things to do in each place, where I stayed, where I ate and my recommendations. In the mean time all my travel updates are on my Instagram highlights! I absolutely adored Italy and I can't wait to head back again next year.
AJ x
Images used in this post are stock from google images with the exception of the main featured image and the final image.