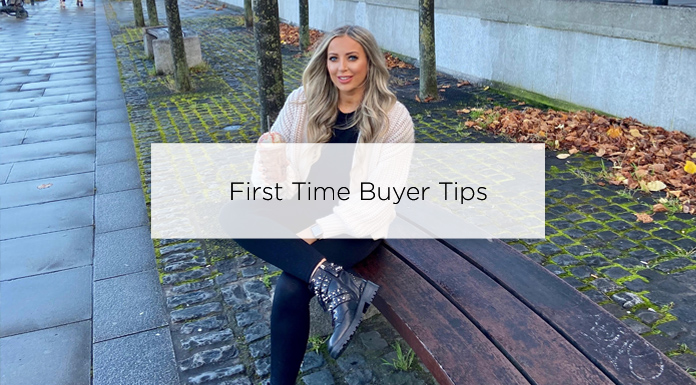 So, I'm finally buying a house! Earlier than we planned because as you know I love to travel, and usually I invest a lot of time and money exploring the world. But of course, 2020 put those plans on hold. We did get to do plenty of staycations last year and have more planned this year but it still means we have been able to save more and spend less, and therefore bring forward our plans to buy a home. We're in a very lucky position that we have been able to work from home for the past year.
Before I jump into giving you my tips on my journey so far, it's worth noting that we are 5 months out from being able to buy a home so are taking our time with this process, this is due to my other half getting a new job so won't be in permanent employment until then (fingers crossed) and for most banks, you need to be in permanent employment to get a mortgage.
Full disclosure, this blog is just based on my experience, so not to be mistaken for financial advice or to be taken as gospel, all experiences could very well be different! I'm a big fan of excel so I have lots of tabs where I capture lots of data and information as part of the planning process which I will cover below too.
Find out how much you can borrow
So this is a key part of your decision making process if you are planning on getting a mortgage. Typically, you can get around 3.5 times your combined salary, and exemptions stretch to 4.5 times this amount. Exemptions are capped per lender though so I wouldn't exactly count on that being guaranteed. There are plenty of calculators out there though to double check this figure because other factors can impact this and is situation dependant. Given deposit is typically 10%, then you know the max house price you can purchase will be the amount you can borrow plus 10%. Pop this into your 'max' amount then when searching for your dream home online! This step might also help you figure out your savings goals towards a deposit if you're in the very early stages of home buying.
Figure out how much you can afford
The amount you can borrow isn't necessarily the amount you can afford. I mean, you may not feel comfortable with the monthly repayments that comes with it, you may want to spend some of that money elsewhere, eg travel! You also need to take into consideration your deposit, eg if you get approved to borrow €800k, do you plan to have the €80k deposit at the point in time you want to buy? You also need to pay 1% stamp duty (2% if over €1m), and then you have legal fees, valuation fees, surveyors fees, tax, and also the monthly insurances and the like. What I found helpful is, (on a trusty tab in my excel) is we figured out how much we can borrow, how much of a deposit that would require, plus the fees and insurances, along with understanding the monthly repayments using an online calculator. We then split this across 4 budgets. One @4 times our combined salary, one @3.5, @3.25 and one @3. We then labelled them as a stretched budget (as in, ideally we wouldn't like to pay this amount monthly, would rather spend it elsewhere) down to doable (happy to spend without sacrificing current lifestyle), comfortable, and ideal. Everyone is different so label them in whatever way suits! It's also really helpful when we are browsing for houses because when I see a house price I know how much it will cost me monthly! Don't forget there are also schemes available such as the Help to Buy incentive, this gives you a refund of the tax you've paid up to €30k (as of 2021) that can help towards your deposit.
Understand the additional costs
I have already mentioned deposit, stamp duty, legal fees, insurances, surveyor fees, valuations and tax, but also let's not forget about the future costs. Depending on your current situation, (eg. renting a fully furnished place) and the house you buy, you may have to completely furnish a new home! That's probably not cheap, but also don't forget, it all doesn't need to be done at once. Shoutout to my trusty excel, we listed room by room and roughly estimated the cost of what we may need to purchase. We then prioritised rooms to understand initial costs versus long term costs. There are banks that offer cashback that may help with this which is another thing we factored when reviewing how much we can borrow, 2% of the value of your mortgage back in cash would really help here if your savings didn't stretch to furnish your new home.
Decide on your negotiables and non negotiables
We made (another) list on excel. This time figuring out what is non negotiable when finding a home and then what we would love but are willing to sacrifice or bend on. This could be down to how many bedrooms, bathrooms, whether it has a garden or not, space for parking, specific nearby amenities etc, it could also be down to location due to your workplace or areas that appeal to you.
Neighbourhood guides
Suss out the area you want to buy in using the neighbourhood guides available online. These give a great overview of the area including local schools and amenities if these are influencing factors for you. You should also visit the area, both during the day and night, and also weekends to get a real feel for the place, and of course, ask friends! It's important to have a good idea of the area when searching for a house particularly when using online websites to browse, but be flexible too, like maybe the next village or town over is feasible and can also be included on your list.
Find like minded buyers
There are lots of social media groups that you can join which gives real helpful hints and tips, it is often unbiased and can cover a huge range of topics, and includes people in all different stages of the journey, and all different types of buyers. eg. a self employed person would have to submit different documents for a mortgage application versus someone who is PAYE, a self build journey will be different to buying a new build etc. It's great to get different perspectives but it is also important to understand that all experiences won't necessarily be the same.
The search
There are plenty of places online you can browse for houses to buy but what I found handy was everytime I did a particular search (using advanced search) that I felt was a great combination eg max budget, selection of areas, min bedroom amount etc, I bookmarked this search to my favourites in a folder called House Search. This means I can click one of my saved searches at any point and it will give me the most up to date houses available using that specific criteria. I created a few versions with different criteria and areas too! This is particularly important for someone like me who is 5 months out because I know the houses I am looking at now may not be available later this year.
Save your favorites
During my search, again back to my excel, I save links to specific houses that I feel are options for us based on budget and the areas we want to buy. I have columns across the excel with the names of areas, and underneath each area I add links to different houses. I include houses with interiors that I love that I know I will find inspirational too when looking at homes because I know a lot of what I am saving links to now, may not be available later in the year. Within the columns I also save any online research and neighbourhood guides I find about the areas so that when it comes to decision making time, I have everything in one place.
Bust the myths
Research, research, research. There are many myths out there so do speak to your bank, broker or mortgage advisor, particularly if you are 6 months out of applying for a mortgage. There are many myths out there around having existing loans, betting behaviour, paying high rent, etc that might impact your mortgage application which isn't necessarily true. It's important to be fully informed on the lead up to your application and not relying on hearsay.
To be continued
I will follow this blog post up with another soon, because there are still a lot of parts of the process I do not have experience in at the moment because I am waiting for these 5 months to pass before I can take the next step. But if you are in the early stages like me I hope you found this helpful. We hope to apply for AIP in August so will tell you about our experience then, this will include applying for the mortgage, paperwork, house viewing tips, closing a sale, drawing down our mortgage, and getting our keys! Fingers crossed.
Hopefully this will be me soon:
Hope this was helpful, drop me an email or a message on Instagram if you have any questions on any of the above!
AJ x