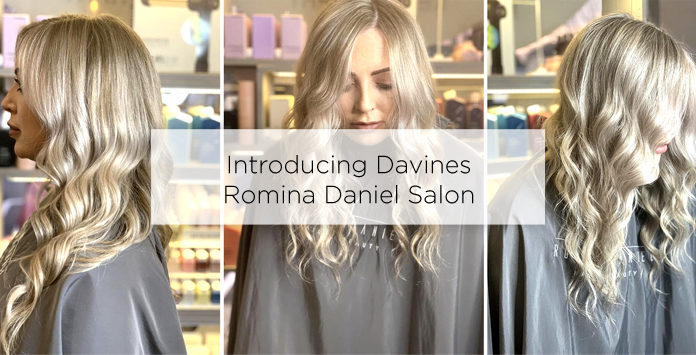 There's only one salon I trust whole heartedly with my hair and hair colour and that's Romina Daniel Salon in Sandyford (or Palmerstown!) I've mentioned time and time again about how Romina's technique and passion for hair is like none other. When she is not in the salon she's up skilling (if that's even possible anymore!) or training others – she's in demand and she just never stops! On top of this she is always looking for new and better products and brands that she can bring to her salon and clients and after much research she is introducing a new brand – Davines!
About Davines
Davines is an International hair brand distributed around the world guided by the principle of sustainable beauty – which as you and I know, sustainability is now the forefront of everyone's minds so it's no wonder Romina was drawn to this brand and its ethics and values. Although the perception of "organic" or "natural" brands can be that we don't get the same results as a cosmetic brand, Romina firmly believes that Davines are more advanced than any other beauty brand in the world when it comes to science and research.
"By creating beauty sustainably, we encourage people to take care of themselves, of the environment in which they live & work, of the things they love"
Their packaging is based on three fundamental points – the use of as little raw materials as possible, the use of recyclable materials and the optimisation of logistics and quality control processes to avoid waste – and you can use the packaging to plant herbs when you're finished with the product which I'm definitely going to do!
My Davines Experience
Romina invited me in to try out this brand in my hair and I didn't give it a seconds thought – if Romina recommends it then I'd have no reason not to love it. And the reaction of other people in the salon as soon as my hair was washed and dried proved I was right to! The next day in work and over social media, people thought I had gotten my hair coloured – which is exactly what I was expecting when I left the salon after chatting to Romina about the brand before hand.
Romina used this new toning system in my hair called The View – it's a Demi Permanent Gloss, very delicate and doesn't interfere with the hair structure (zero damage) that washes out – perfect for visits to the salon in between colour applications to keep your colour looking fresh and your hair healthy. In a nutshell it refreshes your colour and gets rid of unwanted tones whilst keeping it shiny and I am living for it!
The View can be applied as a stand-alone service along with your cut or blow dry or as an add on service to your highlights or colour. I had mine done as a service in-between my visits for highlights and it was like I had my colour freshly done. It takes an added 15-20 minutes on top of your service, depending on your hair type. Check out my Before and After below: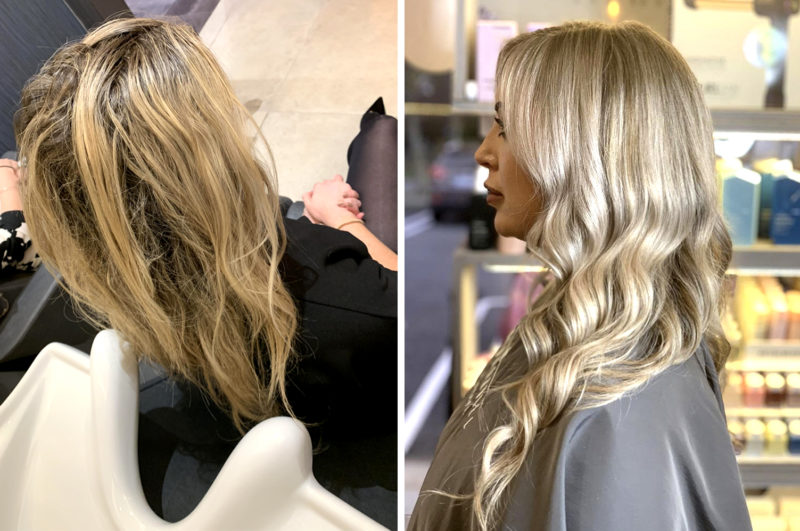 It is for professional use only so to get this treatment you would need to book in to one of the Romina Daniel Salons – and it's launching in early May of this year!
The stand-alone service will cost an added €19.50 on top of your finish. But if you are having it as an add on to your colour service, it is just an additional €12. And you can have this gloss with Innoluxe (RRP€37), for a special combined price of €30. I will talk more on my next blog post about Innoluxe (similar to Olaplex) – I refuse to have my colour done without this!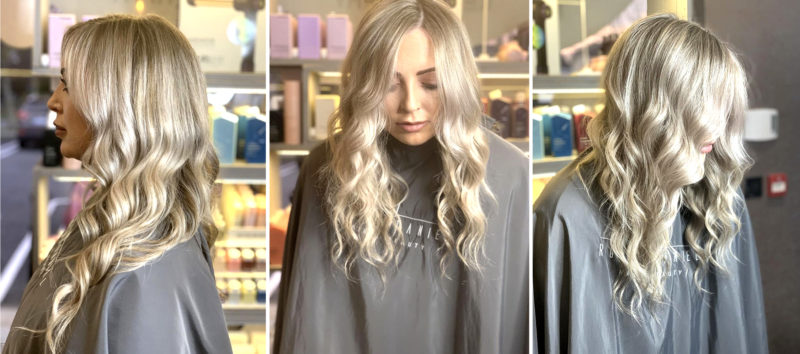 Davines do have a take home hair care range that you can buy – I was given the 'MOMO' Shampoo and Conditioner, also available to buy from both Romina Daniel Salons! These retail from around €21 – and there's a couple of different ranges depending on your hair. Each range meets the specific needs of different hair types and offers an immediate cosmetic treatment. I know when Romina handed me these I thought maybe it was just in temporary packaging, but it isn't – so don't be taken aback by it. They are held in this sustainable packaging made with the smallest possible amount of food grade plastic, which you can reuse when empty. The carbon dioxide emissions deriving from their production are offset with reforestation and woodland protection projects. Gone are the days of the prettiest packaging being so important anymore, my eyes have really been opened by it lately – and I'm looking forward to actually planting my herbs in the tub once it's finished!
I'll leave you with this little clip taken in Romina Daniel's salon shortly after – doesn't it look like I've just had my colour done! It looks and feels amazing and I will definitely continue getting this done between colour, and in the meantime, I will try out the take home products and let you know how I get on with them!
Any questions on Romina Daniel Salon or the Davines range just shout! Email or DM me on Instagram 
AJ xx