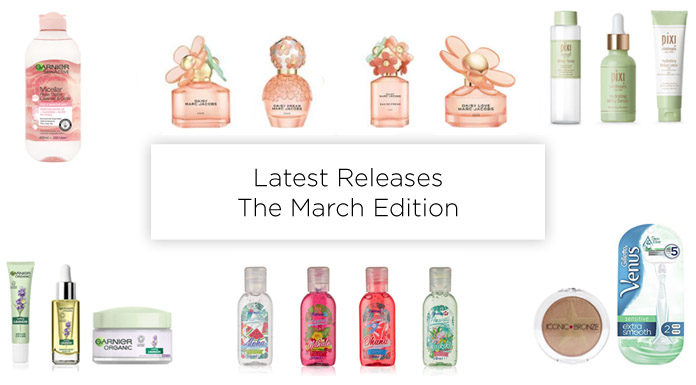 Yes, it's month three of 2020 already, let's not mention it. I'm going to distract from the current pandemic (which I'll also not mention) with this new releases post so we can get excited about what's to come in March! This post is mainly beauty focussed, but there's also one hygiene related release that's flying off the shelves that might come in handy!
Daisy Marc Jacobs Daze Limited Editions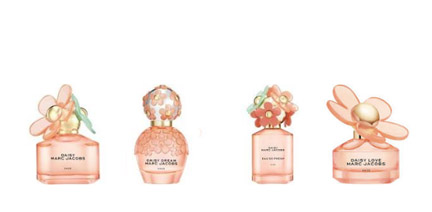 We all know Marc Jacob's Daisy but these new limited edition bottles are reimagined with hues of cantaloupe and soft greens, and are very very cute! The bottle design is in collaboration with Coty and has golden accents on the iconic daisy caps and a combination of opaque and translucent petals. Even the box it comes in has shiny daisy chains with gold foil accents which immediately drew my eye. The limited edition line up consists of Daisy Daze with bursts of mandarin and sweet mirabelle, Daisy Eau So Fresh with white peach and orchard blossom, Daisy Dream with silky wisteria and logan berries, and then Daisy Love with Apricot and Osmanthus. I'm going to be smelling fresh and fruity this Spring which is a welcome scent for sure, now all we need is the warmer weather to follow suit! These are available in Arnotts, Brown Thomas and selected pharmacies nationwide, ranging from €71-81
Pixi Beauty Hydrating Milky Collection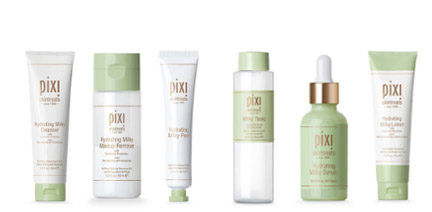 As usual with Pixi Beauty press drops, this one came in the cutest and cleverest of packaging! This Hydrating Milky Collection arrived as a 6 pack of milk cartons and is said to be ideal for anyone who wants firm, healthy and youthful skin. (Yes please). First up in the collection is their Hydrating Milky Makeup Remover which cuts through waterproof and long-wear makeup. It's strong enough to tackle stubborn eye, lip and face makeup, but gentle enough to leave your skin hydrated and nourished. Next up is their Hydrating Milky Cleanser – It's rich and moisturising due to the addition of Coconut Extract, Oat Extract, Probiotics and Willow Bark Extract in its formula. It's suitable for all skin types and moisturises while cleansing skin. You can then gently exfoliate without drying your skin with the Hydrating Milky Peel. This micro-peeling cream delicately removes dead skin cells to brighten your skin. It also helps boost your skin's collagen and elastin production for youth-preserving effect. The Milky Tonic facial toner then calms, balances and hydrates your skin, and the Hydrating Milky Serum is a nutrient-rich serum that instantly restores dehydrated skin. Follow this with Hydrating Milky Lotion, which contains an ultra-moisturizing blend of Coconut Oil, Cocoa Bean Extract and Shea Butter. And that completes your daily serving of soothing hydration!
Garnier Organic Anti-Ageing Lavandin Night Cream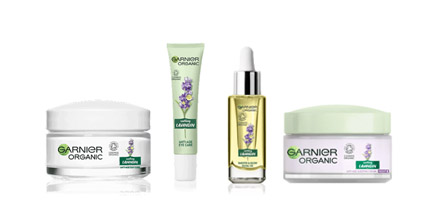 The Lavandin range enriched with organic lavandin essential oil has a number of benefits for results you can see and feel – skin looks smoother, skin feels firmer and replumped, and skin feels soothed. It's also vegan, sourced with respect for biodiversity, and made with recycled and recyclable packaging. The range consists of Smooth & Glow Facial Oil, which is enriched with Organic Argan Oil and Antioxidant Vitamin E, the Anti-Age Day Care which makes skin feel firmer and look smoothed, and then the Anti-Age Eye Care which helps to reduce the appearance of eye contour wrinkles. New to the range is their Anti-Aging Night Cream which boosts epidermic turnover, renewing skin and promoting a radiant glow. Night creams are a key step in any evening skincare routine and this new addition to the range is formulated to replump and smooth the skins surface, absorb into the skin overnight to reduce the appearance of fine lines and wrinkles. You'll get this for a steal at €13.99 too!
Gillette Venus Extra Smooth Sensitive Razor with Skin Elixir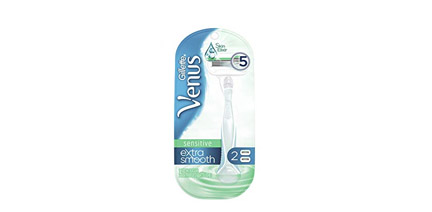 The promise of zero skin irritation and softly smooth skin wth no bumps thanks to Gillette Venus! More than half of women experience surface skin reactions so this razor confidently promises to deliver zero irritation, and it even has Skin Elixir! The Skin Elixir gel moisture bars provide three times more lubrication than the Extra Smooth, so that you're 100% smooth with 0% irritation. It has five diamond like coated and extra thin blades which are perfectly balanced so you feel less tug and pull in sensitive areas. Lastly, it has a pivoting round head to contour over your body and a soft grip handle for maximum control, plus I really like the colour! This retails around the €16 mark and available nationwide!
Maemae Fruit Scented Hand Gels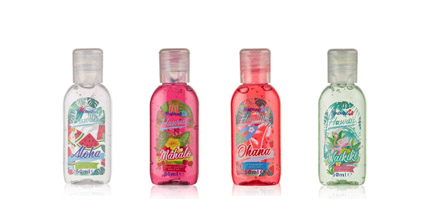 The topic of the month – anti bacterial! It's the Brennans Bread of the Storm and people are sheer panic buying bottles in their droves. One brand in particular that's in demand are these Maemae fruit scented hand gels. Very convenient time to launch I must say – did National Beauty Distribution know something we didn't? Either way, I'm looking forward to getting my hands on them! You know I love the Bath and Body Works hand gel which I stocked up on in Orlando recently, so I'm hoping I have found a new fav much closer to home! They're currently sold out online but I'm sure to find some in store soon. They come in four scents at the moment; Aloha Watermelon, Mahalo Sweet Cherry, Ohana Strawberry and Waikiki Aloe Vera, and retail at only €2.95 a pop! Cute packaging and design too, so lets hope it delivers on and you just know National Beauty Distribution only brings the best of the best to the Irish Market! (Kevin Murphy / Luna by Lisa Jordan / BARE by Vogue / Hot Tools / ELEVEN Australia)
Iconic Bronze Highlighters and Bronzers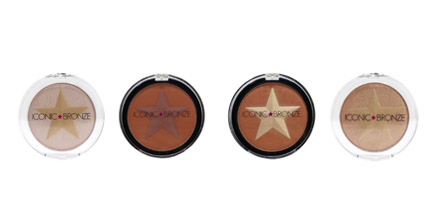 Iconic Bronze are bringing that #InstaGlow to life with new luxury tanning Bronzers and Highlighters to add to your routine. Created to compliment your makeup as well as their tanning range, their Shimmer and Bronzer duo's produce a unique finish thanks to their innovative two-toned star design. The lightweight blendable powders glide onto the skin to leave a truly glowing look. The Bronzers Miami Matte and Ibiza Shimmer Bronzers will give a sunkissed glow for the face and body, ad the Highlighters Golden Galaxy and Champagne Supernova powders create a showstopping glow. The finely milled, lightweight formula provides buildable coverage with a pearlescent finish. I do think the star embossed in the powder a cute addition and they retail at €9 and €11 and are available online and in stockists nationwide
Garnier SkinActive Micellar Rose Water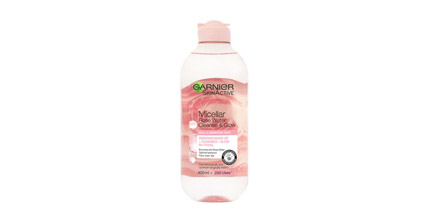 This Cleanse and Glow Micellar Rose Water removes make up, cleanses and gives skin a healthy glow. As it's enriched with Rose Water, the formula evens the skins complexion and leaves it looking less dull. Cleansers tend to strip skin of natural oils and lipids leaving it feeling dry and looking dull without a glow, so this new addition to the range is Garnier's solution to that! We all love a dewy look and a healthy glow –  so this will be welcomed to many a skin care routine for sure! We have the Micelles to remove impurities, makeup, oil, and dead skin cells, and then the Rose Water packed with anti oxidants to deliver on the glow by boosting hydration levels. #SwipeAndGlow for just €8.95, available nationwide!
So there's lots of food for thought there – but in addition to these new releases, I was at the Irish premiere for Downhill and The Invisible Man and they are a must see over the month of March! Both obviously very different genres but both I really enjoyed, and if you love a thriller, The Invisible Man is edge of your seat stuff! I hope everyone has an amazing (and safe) March – wash your hands with plenty of soap and water, cough into your elbow, and carry some anti bac! If you're feeling under the weather, self isolate and give your GP a call, and if you're thinking of travelling (like I am!) check to ensure the destination is down flagged as Amber or Red which means avoid non essential travel, or do not travel, there's also a handy app you can download but you'll fund more detail here
Chat next month for more releases!
AJ x