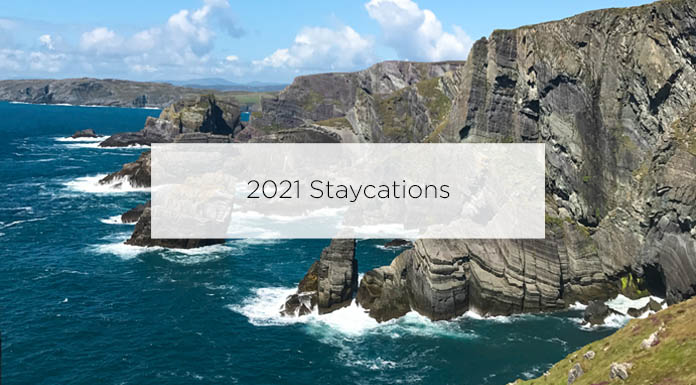 One thing that gets me through avoiding the January blues is holiday planning but this year I instead cancelled all my re-booked holidays that I moved from 2020. I decided I wasn't going to keep pushing them out any longer when everything is still so unknown, and the disappointment of cancelling and re-booking every time was zero craic! However, in February we took a notion to just go ahead and book staycations in Ireland with our fingers and toes crossed that restrictions would lift by my birthday in May! We all need something to look forward to sure.
We booked a mix of hotel stays for just us together, us with family, and then also Airbnb stays for us and the dogs, so there's quite a mix here! Our options also tend to be that bit limited for Airbnb when booking places that allow for dogs. Anyways, here is what we have booked so far, hopefully we get to do at least some of them!
As I haven't been to any of these places or bookings yet, I cannot yet recommend but if you would like any links to any of the hotels / airbnbs – drop me a message on my Instagram @AJmakeup and I can share. I will also add highlights as always for any staycations I go on – there's loads from last year too if you want to check them out.
May Staycation
Donegal is our first stop with the dogs! We actually booked to go to Donegal for just after Christmas and to stay for New Years but as we know, we all went back into lockdown so that was swiftly cancelled. We want to go here with the boys because there are plenty of outdoor activities in the form of forest parks, national parks, beaches, hikes and villages to explore! We booked an Airbnb for this, a 2 bedroom apartment overlooking a harbour with sea and mountain views, it also has a lovely paved outdoor area and a garden which is perfect for the dogs, plus a pub a few metres away for some evening drinks!

As a back up plan, we are also looking at booking a hotel in Dublin if we cannot leave our county at that point as it is my birthday weekend, Fitzpatrick's Castle Hotel is an option we are looking at!
*Update: Unfortunately, my May staycation(s) have been cancelled, the 5km restriction has lifted but the 20km is in place until at least after the weekend we have booked and possibly longer, hotels aren't going to be open either so can't stay in a hotel within our 20km in Dublin. Disappointing!
June Staycation
We have a hotel stay for just us and also a family hotel stay booked for the beginning and end of June so I can't wait! Our last hotel stay was Powerscourt in Wicklow before Christmas so it's a long time coming. These two trips are taking us to Clare and Laois so quite the distance apart but I adore the west coast after our many staycations last year so we can't wait to go back! You'll find lots of highlights with plenty of things to do over on my Instagram if you need any inspiration. It will also be good to do the activities this time round that we usually can't do when we have the dogs in tow. Laois then is a family get together so there won't be a huge amount of exploring and adventuring, mostly catch ups, drinks and dinners!


July Staycation
July takes us to Mayo to a Hexagon shaped cabin on land that is half orchard, half woodland! It has decking on both sides should we fancy an outdoor breakfast with a view over the natural wildlife. There are a few goats and hens for good measure too! Although this one is not dog friendly, we couldn't not book it when we found it, we love cute little hidden gems like this in nature! It is not far from Westport which google tells me is fast becoming the adventure capital of Ireland so there will be plenty of things to do, we'll probably try climbing Croagh Patrick too and check out Clew Bay.

August Staycation
Back to the west we go to Clare to a luxury pod to find peace and serenity! We found some fab pods on Airbnb which comes with a private hot tub on our veranda overlooking the River Shannon. This will be a lovely luxury getaway for just the two of us and we can enjoy dinner al fresco in the evenings too! Killaloe and Ballina are nearby for us to explore, and I've my eye on a whiskey tasting tour and some kayaking on the River Shannon and Lough Derg.

September Staycation
One of our friends recommended this hotel in Tralee so we booked it straight away and we will be absolutely treating ourselves to spa treatments while there too and of course our favourite, Afternoon Tea! The last time we stayed in Kerry we did the Ring of Kerry (details in a highlight on Instagram) but this time we might do the Dingle Peninsula. Undecided yet but there are plenty of things to do in Tralee either, I'm mostly just looking forward to getting some fab treatments because we don't have any other hotels with spas booked as of yet!

October Staycation
We are hoping to get away in September for a wedding in Portugal and turn it into a mini holiday which will see us about a week and a half over there, once back though we have a Bavarian style log cabin next to a lake booked for us and the dogs for 3 nights once we are back to wind down. It was originally built over 200 years ago in Germany and was dismantled and rebuilt in the middle of the countryside near Leitrim on 4 acres of land, and it is stunning, it even has a fab outdoor hot tub. This will be a lovely little retreat with our boys to finish our few weeks off work!
So that's everything we have booked so far, fingers crossed we get to actually go on them now! We will book another one or two maybe at some point, and then will start looking at our Christmas staycation later in the year, you never know, we may be able to go abroad for it!
Any questions on any of the above, or as time goes by and you want to see how I got on, do give me a shout over on @AJmakeup instagram, it's the quickest way to get a response for sure and I always have highlights of staycations and travel there with everywhere tagged.
AJ x
*Some of the images in this blog are from Airbnb