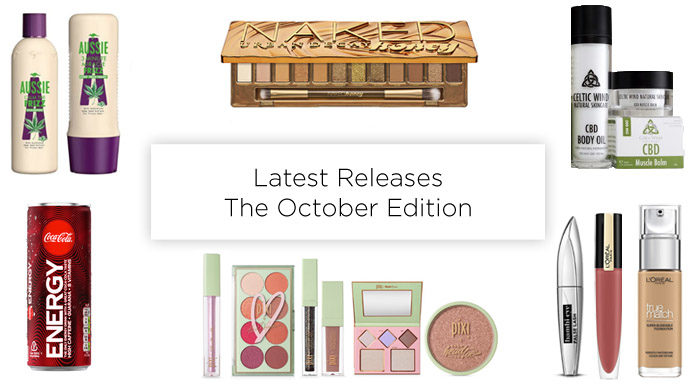 Well if it isn't my favourite month, Halloween! But in the spirit of all things spooky, this will disappoint you, because there's nothing scary about this months post at all. Quite the opposite actually, full of all things lovely – mostly beauty, with the exception of a delicious new energy drink on the market. So light your cosy autumnal candles and enjoy this post!
Urban Decay Naked Honey Eyeshadow Palette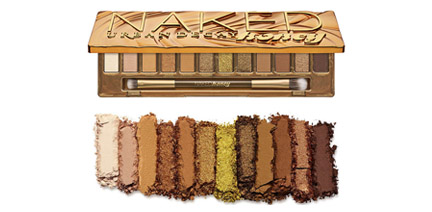 This palette is as delicious as the packaging looks! The new Naked Honey hits stores nationwide and you can pick this palette of sweetness up for just €49. The 12 exclusive shades will give you a golden glow throughout Autumn / Winter with a mix of metallics and mattes. As with all Urban Decay palettes they have shades which will take you from day to night and it comes with its own vegan and cruelty free brush! The hero shade Honey is a gorgeous golden metallic shade as you'd expect, but the palette also has copper shades, beiges and warm browns. Delish! Oh and P.S. there's a honey scented Lip Plumper that gives a golden glow and a fuller lip minus the sticky feel for €17! Comes in 'Cherry' and 'Heat' too.
Pixi Pretties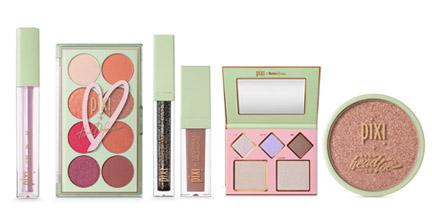 Pixi Beauty has co created a limited edition range with five beauty gurus and it is just the cutest! Chloe Morello's collab are Lip Icings – liquid lipsticks infused with rose hip and murula oil that add a 3D glimmer. Rachh Loves' collab is a highlighting palette that can be used to enliven your complexion, lids and lips! Maryam McQuillage's collab are Night and Day kits – to brighten and elevate your eyes and lips! Heart Defensor's collab is an eye heart palette with super silky mineral shadows in light-reflective shades. And finally From Head To Toe's collab are glowy powders and a smudge proof shade stick. I think this is such a fab collab and for Petra to team up wth these beauties who clearly have a lot of love for the brand. They're available now but they're limited edition so grab what you want soon!
Aussie Calm The Frizz Hair range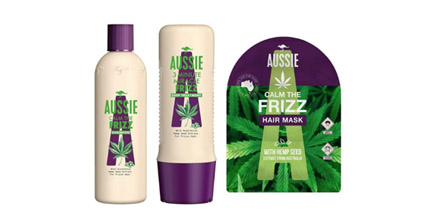 According to Aussie, 95% of women with thick hair suffer with frizzy hair – which doesn't surprise me! Aussie want you to have #GreatHairThough regardless of the weather or humidity so they've created their Calm The Frizz range. Australian Hemp Seed extract is their (not so) secret high powered ingredient which helps replenish moisture and nourishes hair. Theirs is sourced from Queensland, and contains Protein, Vitamin E, Magnesium, and Omega 3 and 6 fatty acids – acting as an elixir for the hair. It's also infused with blackcurrant, green galbanum oil and passion fruit to give it a gorgeous smell! The shampoo, conditioner and 3 minute miracle deep treatment is available now and costs €5.99!
L'Oreal New Releases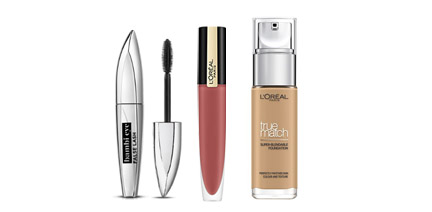 L'Oreal has some new bits this month and one of them is a revamped formula of an existing favourite! Their True Match range is now 80% skincare, yes you heard right – and it claims to improve your skin quality within 2 weeks of using it! It new formula contains glycerin, hyaluronic acid and aloe vera. It has 40 shades and retails at €14.99! Next up is the Bambi Eye mascara – the buildable black velvet formula and wide bristle brush on the comb like wand promises to give you a doe eyed look for just €14.95. And lastly, a favourite of mine, a matte liquid lipstick! Their new rouge signature range are long lasting lip pigments that are breathable and gives you a sensation of bare lips. Memorable mark, forgettable feel – perfect combo! This twelve shade range spans from hot pinks to deep plums and I would actually wear every shade. I Rule and Explore being my personal favs – these retail at €13.85 and are available nationwide.
Coca Cola Energy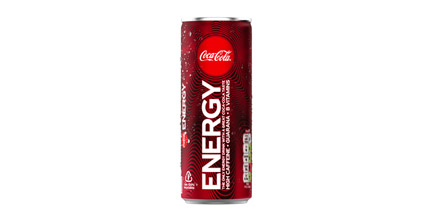 It's time to spread some positive energy and grab the only energy drink with that great Coca Cola taste, literally! It's Coca Cola's first and only energy drink made with caffeine from naturally-derived sources. It also contains Guarana extract and B Vitamins which encourage energy-yielding metabolism. It comes in a 250ml can and you can get a No Sugar version too! It tastes great in my opinion, especially if you're sick of the usual 'red bull' tasting flavoured energy drinks around (it's taurine free!). Available nationwide now!
Celtic Wind Skincare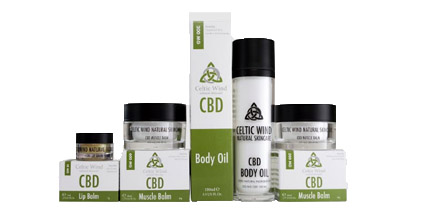 Celtic Wind is an Irish brand committed to a sustainable future and have just launched their all-new CBD skincare range. CBD Oil is a hot topic and very popular as of late –  Celtic Wind combines the effects of CBD oil with the best that nature has to offer, resulting in innovative skincare like no other. The range includes a muscle balm, body oil and lip balm. The muscle balm (€44.95) soothe and relaxes the body as the CBD oil interacts with turmeric's most active compound, curcumin along with high quality frankincense oil. The body oil (€44.95) harnesses the skin-boosting powers of CBD into a 100% natural oil that balances and revitalises the skin. It also has sweet almond oil and May Chang and boasts anti-ageing properties while energising and resurfacing the skin. And finally the lip balm (€12.95) nourishes to keep lips soft and soothed with a light vanilla scent, and enriched with Vitamin E, Shea Butter and Vanilla Oil.
That's all for this month, happy halloween!
AJ x