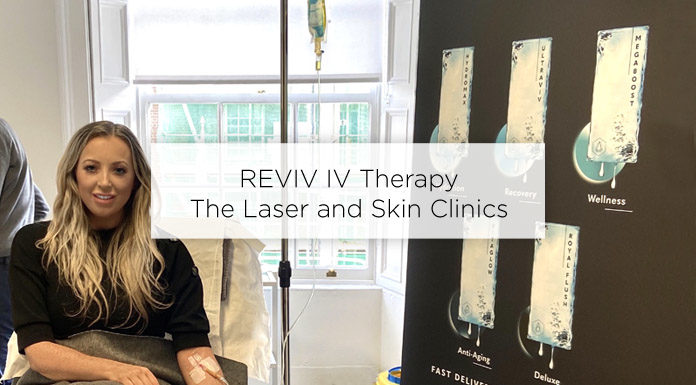 There's a little something new in town, in The Laser and Skin Clinics on Pembroke Street to be exact, and in the form of REVIV IV Therapy! You may have seen me this week on Instagram stories with a drip in my arm during my lunch break, and then head straight back to work with a skip in my step! So, let me give you more details, because I got a lot of q uestions as a lot of you were very intrigued!
REVIV IV Therapy was developed to get the edge you need to live a lifestyle without boundaries. Naturally their first clinic was in Miami, and logically their next choice was Las Vegas. Their mission to inspire the world to live life beyond limits went global with clinics in New York, Hong Kong and London. A little closer to home for us, Anna in The Laser and Skin Clinics Dublin now offers the full range of REVIV's IV infusions and vitamin booster shots which you can book online here
I've spoken about Anna and her team time and time again on my social media and here on the blog and she is just the ultimate professional, highly trained and with a wealth of knowledge. She continues to upskill and offer clients the newest and most advanced techniques available across her three award-winning clinics (Dublin, Mullingar and Athlone) so it's no surprise she's ahead of the curve with this new treatment!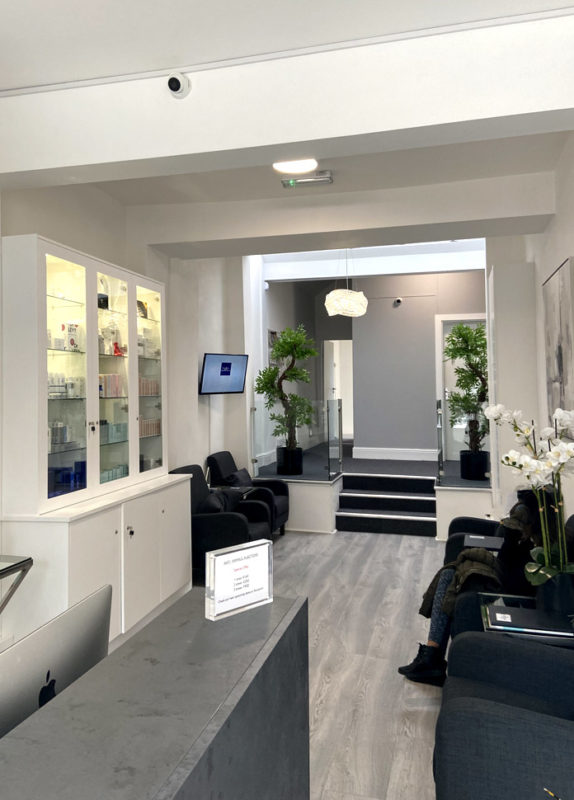 What is REVIV IV Therapy
REVIV IV therapies have been formulated to provide our bodies with the vitamins, nutrients, fluids, electrolytes and anti-oxidants that we need. There are five different IV therapies to choose from, their specially formulated IV drips and in addition there are 4 vitamin booster shots. Administered through a drip, they are packed full of vitamins, electrolytes, minerals and antioxidants.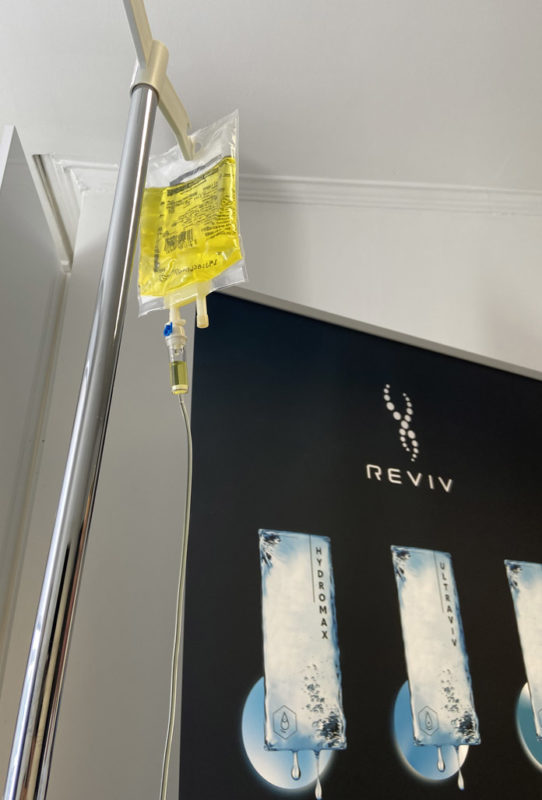 Why REVIV IV Therapy
IV therapies have a 100% absorption rate and get to work to replenish your hydration levels, restore your vitamin and nutrient balance, refresh your cosmetic appearance, and leave you feeling REVIV'd. They are fast acting and offer long-lasting benefits. It's not a replacement for your oral intake of vitamins, more a supplement to quickly rehydrate and replenish nutrients, and restoring your body to peak balance. Absorption rates are higher than oral intake because this is directly into your system
When should I get REVIV IV Therapy
The vitamin injections are designed for anyone looking for an instant boost. They're quick to administer but can help give you a natural energy boost, power up your fitness, help your body to burn fat or promote healthy nails, hair and skin. You can also take them if you're feeling run down, suffering from a cold, or suffering with a hangover, they can help relieve these symptoms and get you back to feeling better.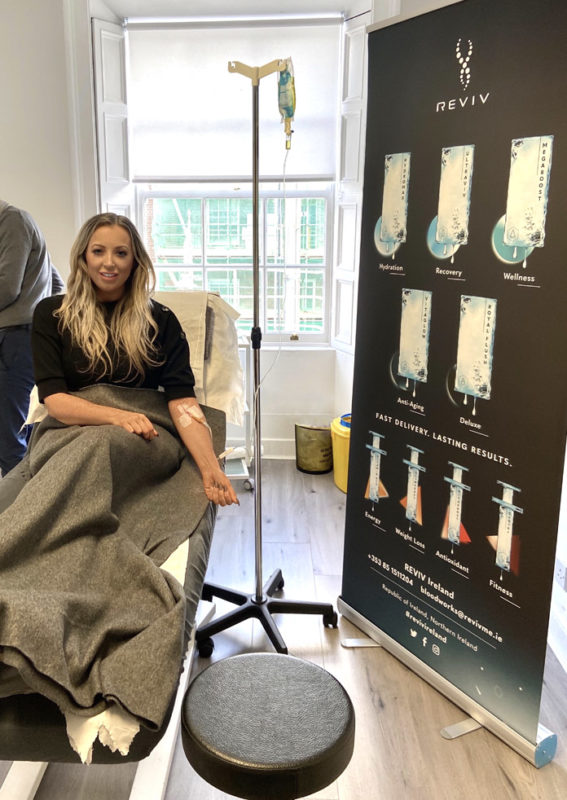 Which REVIV IV Therapy should I get
There are two categories, wellness IVs for maintenance and recovery IVs for recuperation. You should chat to Anna and the team to determine the best one to suit your needs during your consultation, because they are bespoke per person if you add on boosters based on what you require. You might want these as a once off, or you might find a combination to suit you weekly / monthly etc depending on your lifestyle. I got the Megaboost one, but next time I will look to add boosters to see the affect they have too!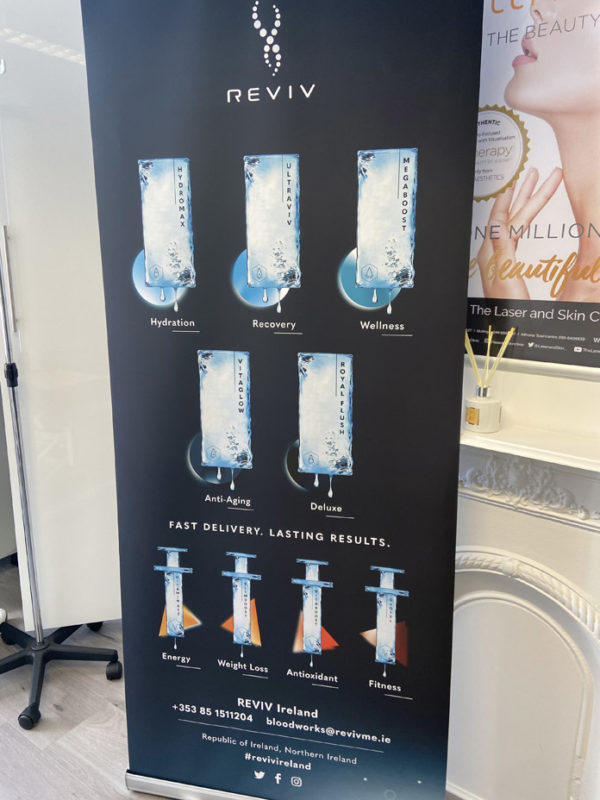 What IV Therapies are available
There are five to choose from;
Hydromax restores your hydration fast – it helps your body to recover and rehydrate quickly after exercise and pushes your body to perform at your personal best. It helps you hydrate properly before exercise but it also delivers the minerals, antioxidants and electrolytes you need to recover quickly afterwards. It's not just athletes who can benefit from the hydrating effects though, it can also be used to help relieve sunburn.
Ultraviv recovers and regains your wellness – it helps by giving your body the helping hand it needs to aid recovery such as colds, seasonal allergies, flu or even a hangover. It provides antioxidants, minerals, vitamins, electrolytes and medications to help give you a wellness boost. Great for those with busy lifestyles that cause you to become run down and susceptible to common illnesses. It eases nausea, pain and inflammation so I will definitely try this when I'm run down or hungover and let you know how I got on!
Megaboost boosts your immune system – it helps you maintain good health and wellness. Great for anyone with a busy lifestyle who wants to reduce their stress levels, strengthen their immune system and detoxify their body. It's packed full of minerals, antioxidants, electrolytes, Vitamin B12 and a high dose of Vitamin C to help bring your body back to a happy equilibrium. It helps you recharge your batteries, increase your strength and energy levels and combat the effects of traveling, jet lag or just a busy lifestyle. Perfect for me who works and travels alot.
Vitaglow replenish and rejuvenates your skin – it help's slow the effects of aging by slowing the metabolic changes that affect the appearance of your skin. It contains a high dose of the master antioxidant Glutathione as well as Vitamin C, helping to detoxify your body from damage caused by free radicals. It also cleanses vital organs while improving the appearance of your skin, hair and nails. Glutathione detoxifies the body and promotes cellular repair to leave you feeling revitalized and reinvigorated.
Royal Flush replenish and rejuvenates your body – it combines the elements of Ultraviv, Megaboost and Vitaglow into a single therapy that is designed to supercharge recovery and maximize your wellness. Whether you need a pick me up following a party, are looking to combat the effects of travel, or just want to be the best version of you, this comprehensive therapy works to rehydrate, boost energy, decrease inflammation, relieve pain and nausea, cleanse vital organs, detoxify your body and REVIV you. It gives your body a boost, cleanses your organs and replenishes essential minerals and vitamins.
What Booster Shots are available
You can choose from four signature vitamin injections – these can help you lose weight, feel energized, fight the effects of aging and improve physical performance.
Vitamin B12 pure energy – it aids your body in regulating your sleep, mood and appetite cycles and give you a boost of energy that lasts. Delivered intramuscularly the Vitamin B12 injection bypasses the digestive system for immediate effects that leave you feeling re-energized. A natural energy boost! if you are looking to enhance your athletic performance, supplement your diet, strengthen your immune system or manage your B12 deficiency, this vitamin injection can help.
Slimboost boosts your metabolism – it helps achieve weight loss results by stimulating your natural metabolism to help to burn fat, it also helps to regulate sleep, mood and appetite cycles. If you are looking to lose weight, need dietary help to augment your red blood cell production, or just want a way to detoxify your body, the lipotropic Slimboost injection can help.
Gluthatione boosts wellness and fight effects of ageing – it helps get softer, clearer and brighter looking skin. Glutathione is the body's most important antioxidant and it helps cleanse your vital organs while preventing and reversing the effects of free radicals.
COQ10+ gives your fitness a boost – it helps take your workout to the next level and increase your natural athletic performance. It helps you workout for longer and recover quicker thanks to the health and wellness benefits of Co-Enzyme Q10 combined with a high dose of B12.It helps combat the effects of fatigue and gives your body the energy boost it needs for a fitter and stronger you.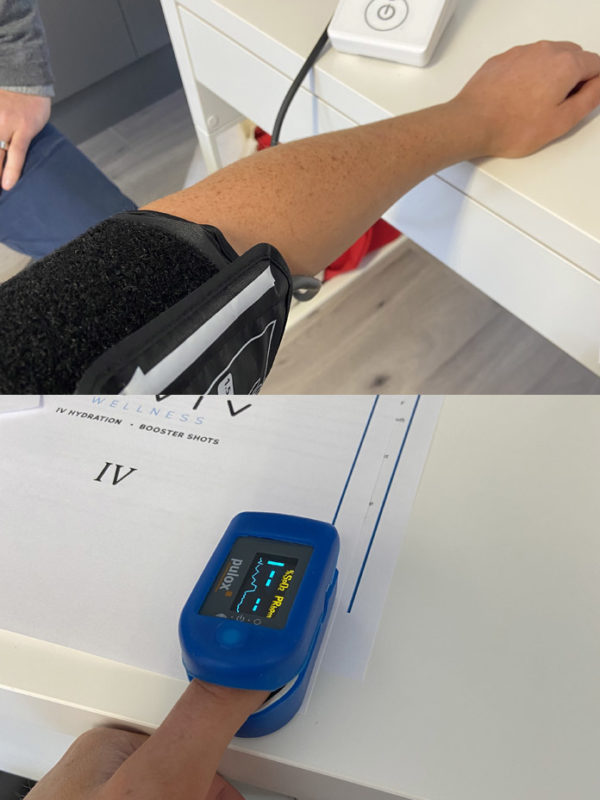 Can anyone use REVIV IV Therapy
A majority of people can, but you will have a consultation and medical screening before hand. They also checked my blood pressure and blood oxygen saturation ahead of the intravenous infusion. You can't get it done however if you are pregnant or have heart problems but this can be discussed through and assessed with Anna and the team during your consultation.
Does REVIV IV Therapy Hurt
At the end of the day, it is a needle going into your arm and some people can have a fear of needles. I found it painless but my pain threshold might be higher than yours and I personally wouldn't be averse to needles. The needle is administered by highly experienced and trained professionals but if you need, they can apply a numbing cream, I didn't get one though and found it fine! In terms of receiving the treatment you don't feel a thing, I was given a blanket just incase I got cold but I didn't feel this at all.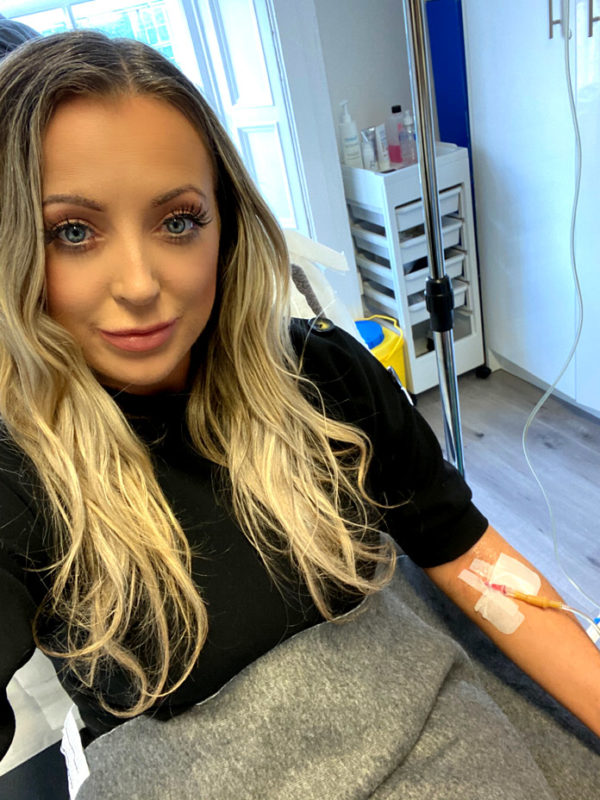 How quick will I feel the effects of IV Therapy?
It's hard to say as everyone is different. And it depends on your 'before' state eg if you are severely hungover the difference will feel more immediate. IV therapies flush the body of unwanted toxins and help achieve balance. Personally for me, I had a heavy week before this of eating, drinking, and attending premieres, awards and events, so I was tired and sluggish (not hungover though) and a bit stressed. I wasn't expecting it to have an immediate effect but it really did help me through another busy week where I'd usually be zapped of energy. So it was perfect timing! I will try it again for sure when hungover and when I'm jet lagged to see how REVIV IV Therapy fits into my lifestyle regularly.
How much does REVIV IV Therapy cost
The infusions start from €150 and the boosters start from €50, but you will find her full price list here.
Let me know if I have missed anything from this post, hopefully not but drop me a mail or message if you have any further questions. I will update the blog on my thoughts on the other IV Therapies as and when I try them. An almost instant hangover or jetlag cure? That would be amazing. And that weightloss one? Gimme!
AJ xx