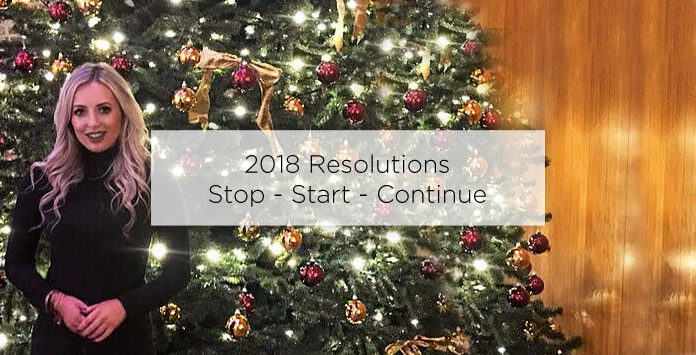 So it's that time of year again. We make resolutions for the year forward in order to improve or be better. I never write mine down, and to be honest, never really stick to them because they are somewhat vague or unattainable. 'Get fit' or 'Lose weight' is always one of them, but no actions or plans laid out on how to achieve that. So this year, I'm writing a blog post, with actual actions. I'm also writing them in a Start, Stop, Continue format because there are lots of things I did well on in 2017 so I don't want to lose focus on them. So here goes, wish me luck!

Losing time on social media Naturally I spend a lot of time on Social Media, it comes with the territory. And I don't mean do less of that, more the mundane scrolling through Facebook or Snapchat stories wasting my time in the evenings. I of course like to catch up on friends, family and some of my favourite bloggers, but I am going to try spend a little less time on the hopping between apps looking at some of the same things over and over.
Saying Yes to everything Both in my personal life and professionally. I'm such a Yes girl, and that isn't necessarily a bad thing because I like to help out where I can, but sometimes I spread myself out too thin. I need to be a little selfish and take back some of that time to myself. Go to a few less events, premieres and nights out, I know it sounds like first world problems but when you work full time, and blog part time, my weekdays can get too hectic which means I enjoy it less.
Spending on material items I did quite a bit of this in 2017 actually, so much so that a lot of you noticed I did much less hauls! And that was because I spent my money on experiences instead. I went on 6 holidays and trips this year – one being a costly Caribbean cruise, and I plan on going on at least 12 holidays in 2018 (hopefully) So this will mean less hauls of items I really don't need. Don't worry I will still be shopping, I'll just be less impulsive and fight the need to buy everything!
Avoiding my driving test OK so this is the year I will proactively go and take this test. I have been driving for nearly 8 years and I have had to take the test coming up to the renewal of my Learner Permit as part of the reapplication, and I have failed them. One time my tax disc didn't arrive on time, the other I failed because I didn't look over my shoulder enough, and the third I failed because I looked over my shoulder too much. Go figure. These were all last minute non prepped, forced tests. This year I don't have to take it, but I want to, so wish me luck!
Repurchasing the same items As a blogger I need to try even more new products rather than repurchasing my reliables. I won't know if I could have a new favourite if I don't try more! You all know a lot of my holy grail items because I have mentioned a lot of them over and over the last few years, but this year I am going to not repurchase them to the extent that I have and use the unused items I have in my collection or purchase new ones!
Ignoring Vitamins and Supplements You would have remembered I went skiing with Lloyds Pharmacy to learn all about Winter Health, and one thing that came out of it was that I needed to start taking vitamins and supplements as sometimes food just isn't going to give me enough of what I need. I actually started using a couple they have given me but I need to look into what it is I really am lacking and get on top of it! I am actually meeting Lloyds Pharmacy again in January because they are launching their 8 week Change Your Health Direction programme to help kick start the new year so I will keep you posted!

Drinking more water at weekends I get slagged by my friends because I post reminders to you all to drink water on Snapchat. (Hey it seems to be helpful to some of you!) But that said, I'm not so great at the weekends. I can actually sometimes go a whole weekend without a drop unless I secure a bottle to my hand! Monday – Friday I've nailed, so it is time to figure out a way to up the intake at the weekends for sure!!
Texting back my PT You all know I detest the gym and working out, but it is something I really do want to learn to love. At least some form of working out, whether that is at home or at a local gym, I'm unsure, but I am at least going to give it a go! I will be in the capable hands of Darren O'Brien who has just opened his gym in Kildare called 3G Fitness, but we have been chatting since October about starting on upping my fitness levels so I think January is the time to text him back and let him know I'm ready! Won't we all be doing the same sure. You'll know doubt see him on my Snapchat over the coming months, and probably snaps of me giving out about him, I won't pretend to love what I am doing, but I do hope Darren is able to change my mindset for sure! I'm also kicking off January with a Yoga class with Bio Kult – it's also a lunch and learn session all about Gut Health so should be interesting!
Setting new challenges each month It's important to challenge yourself to keep yourself on your toes and to keep learning! I am going to set myself mini challenges every month. In the space of health / fitness / travel / fashion and work. So whether it is something small like having meat free weekends for a month, or do zero clothes shopping for a month, zero alcohol for a month, or take a new fitness class every week for a month. I'm not sure yet but we will see where the challenges take me!
Getting a Boho Blowdry before I travel I went to Romina Daniel Salon in Sandyford in November before I went to Poland, and after she did amazing work on making my hair blonde again, she also introduced me to the Boho Blowdry! You can see from my Poland blog post my hair looked amazing throughout the trip and I felt fabulous. And you always do once the gruaig is done so I am going to book in here before every trip in 2018, it lasts for me for about a week too so it is ideal! One less thing to worry about when away. Bye bye to the curly blowdry in 2017. I highly recommend Romina and the girls in Sandyford, they also have a salon in Palmerstown!
Being more organised I rely heavily on my calendar on my phone to keep track of events and work deadlines, so I need to start being more on top of things and like I mentioned above, to not spread myself too thin and commit to too much, and just be overall more organised. I feel like I am bouncing from one meeting to another, one event to the next, meeting one deadline and another soon follows, and it can get a little overwhelming. I am going to go back to basics and invest in a diary and actual write everything down to keep on track! It should also help with fitting in new fitness goals and challenges.
Getting more regular brow treatments One thing that frustrated me in 2017 was my brows, and I was probably partly to blame, I just didn't give them as much attention as I did everything else. I have been brow obsessed for years, and have gotten every treatment imaginable, and I had almost given up on ever having the perfect brows. Until The Brow Artist came into my life and in the lovely form of Becky! I had my first treatment with her just before Christmas and I will just let the before and after speak for itself. I will be focussing a lot on my brows and seeing how they progress throughout the year in the capable hands of The Brow Artist in Ranelagh. Hopefully making 2018 The Year of the Brow for me!
Chatting on Snapchat / Instastories I used to do this ALL the time, every day. But this year, I have been super busy in both my professional and personal life that I haven't had the time to sit and chat like I used to. Especially with a hyper active puppy pulling out of me looking for attention. So the time I will be saving on mundane scrolling through Social Media and with me being more organised in 2018 (hopefully), I'll bring back the chats! It's something you guys have mentioned to me you miss so I will do it!

Looking after my skin In 2017 I really focussed on looking after my skin, and I will continue in doing so in 2018. The lovely Eavanna of Akina Beauty cleared up a skin issue that I had suffered with for years (you can read about it here), and I have been working on keeping it that way ever since! This year I will try kick it up a gear and treat my skin to regular facials and other treatments that I discover over the year, so send your recommendations please of where and what to book!
Collaborations I have worked with many amazing brands and PR companies this year and I am looking forward to working with them all again in the new year, and develop relationships with new brands too! I'm lucky to have built some solid relationships over the years of blogging and I only take on work that is a fit for my content and brands and products I am happy to support.
Trying new things Getting interviewed and Lip Fillers live on The Late Late Show in front of a 600k audience kicked off my 2017, so it is safe to say I have been open to trying new things and will continue in 2018. On a side note Anna in the Laser and Skin clinic has been doing my fillers and she's a genius – their location is super handy too I can literally pop out of work at lunch and get them done, and no bruising with her technique! I also tried out 3D Lipo, which sounds scary but really isn't and I had great results (read about it here) I am going to try out more of what they have to offer in the new year for sure, that machine (and Sabrina) is a godsend! I was introduced to a new skin care technology and brand called Allel in the Beacon Face and Dermatology Clinic where they take your DNA and send it away to Sweden to be tested – so I am looking forward to learning more about it and the outcome! Will keep you posted.
Being honest 2017 brought somewhat of a dark cloud over bloggers and 'influencers' with questions of honesty and integrity. I have always, and will always be honest with my audience, perhaps too much so! I was the first blogger to ever speak about Lip Fillers in 2015 and brought you all along with me to my appointment and recorded the procedure. I wasn't afraid to show the bruising and aftermath, and I'm not afraid to show that not everything is bells and whistles. I speak about products I don't like on my Snapchat / Instastories as well as the ones that I love. I'm not afraid of offending a brand because the reality is that not every product / service will suit everyone and that's ok! I will only ever blog on a part time basis because I love my full time job, so I don't take on collaborations with brands or products that I don't believe in or want to spend my time and effort on. I have been lucky that no one has every questioned my honesty or integrity and that will continue in 2018. I'm a normal girl with a full time job and a very attainable life, and I'm glad to have built my following showcasing just that.
Travelling I am hoping to travel at least once a month in 2018! I want to see more of Europe (and even Ireland!) and I have 4 trips booked already for the first 4 months to Rome, Faro, Paris and Lisbon. I will update here in the Travel section so you can all keep up to date and explore them yourselves if you want! You guys have found them to be helpful and they've even urged you to travel there yourselves. I got a scratch map and new luggage as part of my Christmas presents this year so 2018 I'm ready to explore.
Regular Content I enjoy writing and never gave that up in 2017, despite the rising of Snapchat and Instagram Stories. I will continue with consistent blog posts and bringing you content that hopefully you find useful and enjoy reading! I will probably structure it a bit better to ensure I am providing a variety across all categories. My healthy recipes barely made it past Snapchat this year so I will ensure to get some of them up in 2018. Although Overnight Oats post went down a treat with you this year!
Professional Development This is something I have always been good at – I crave to learn and particularly in the area I work in. I'm a digital marketing specialist which is an ever evolving space so there is always room to learn more! I attended many conferences, breakfasts and networking events, and took some courses, even if they didn't sound too interesting (I'm looking at you Quantcast Real Time Advertising fundamentals) I will continue focussing on my learning and development in 2018 and see where it takes me!
Giving Back I'm lucky that through work I get to take Volunteer Days. In November I got to cook food for families for the Ronald McDonald house. We brought our ingredients, cooked up a huge lunch for the families and it really was a great experience and something I will be doing again. We do a lot of initiatives through work to raise funds for various charities and I am not shy of taking part, donating or helping out where I can. I also use my platform to raise awareness where I can and attend and take part in charity fundraiser events. I want to do even more of this in 2018 for sure. I would also like to get involved with some animal charities too if I can so hit me up with your suggestions if you know of any looking for volunteers or help!
It's safe to say I will have my hands full in 2018 and be kept busy again, but I wouldn't have it any other way! 2017 you have been amazing blog wise, filled with many an event, premiere, media feature and interview, and closed off with being named as one of Irelands Top 100 Digital Influencers for the second year in a row. Thanks to all the amazing brands, PR agencies and people I have worked with this year, it's been fun!
AJ x