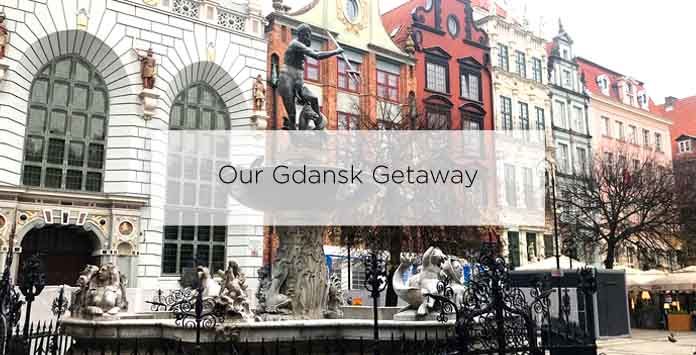 I actually couldn't wait to get home to write a blog post on my city break to Gdansk in Poland! Not only did lots of you seem to love my snaps, some of you have booked a trip on the back them! So a post on things to do in Gdansk was requested and I am only glad to!
Why Gdansk
Similar to Bruges, this city break came from a recommendation from a friend a while back. This is how I decide on my trips generally, particularly when choosing between European cities! After our 2 week cruise in the Caribbean and with work being quite busy, we felt we needed a little getaway before the hectic festive season. Mostly to relax, sleep in, take our time, but also take the opportunity to explore a new place while we were at it! We didn't want to spend a crazy amount of money either and Poland is such a super cheap country so it was the perfect choice.
Gdansk itself is a beautiful city, easy to get around, didn't feel too tourist heavy, and had lots to see and do! You could easily explore it all in 2 full days but we wanted to relax and take things at a slow pace while we were there so we stayed 4 nights! Food and drink here was so much cheaper than home too, only €2.50-€3 for pints of beer, and eating out was over 40% less of the cost too.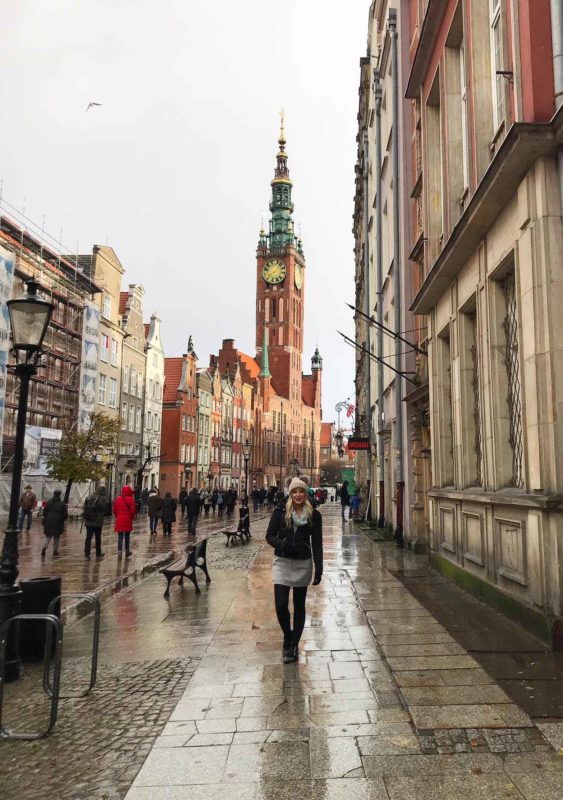 How to get to Gdansk from Ireland
Ryanair flies directly to Gdansk – which is what reminded us of the destination recommendation when we were browsing where to travel to on their website. Flights for 2 people from Wednesday to a Sunday were only €140 for the two of us! We didn't check in a bag or anything, not needed for a couple of nights getaway, their cabin bag allowance was sufficient!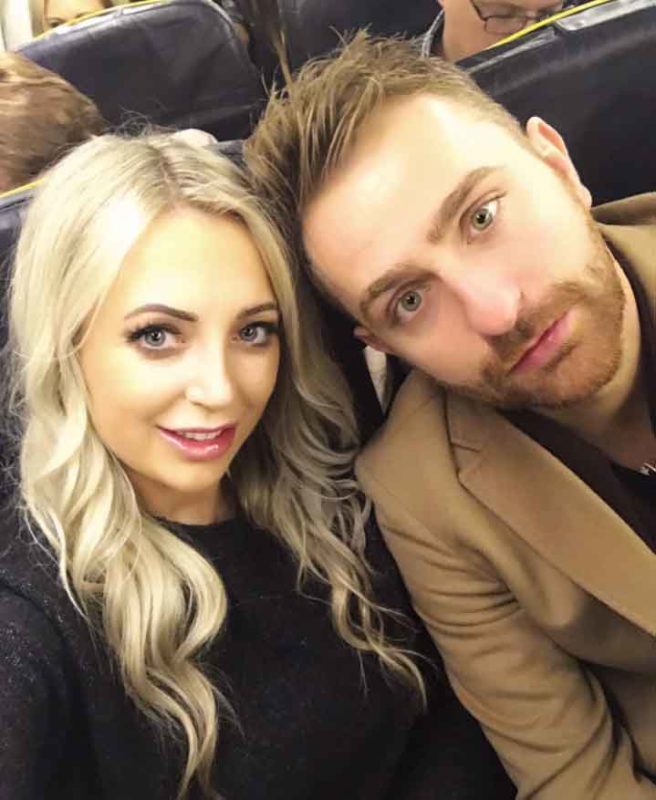 Once you arrive, there is a train station (SKM) with a stop at the airport which you can get – the airport stop is called Gdańsk Port Lotniczy and to get off in Old Town if that is where you are staying, it is called Gdańsk Główny – it took me a while to figure that one out before I travelled over! Tickets start at 3.80zl which is less then €1! It can take about a half an hour to an hour depending on whether you get a direct train or not. We actually never used the train we grabbed an Uber instead! Our hotel would have been a 20 min walk from the train station and we were tired from an early flight. Plus taxis were so cheap in Gdansk. It cost the equivalent of €7 for the taxi from the airport and it took less than 20mins!
Where to stay in Gdansk
We stayed in the Qubus Hotel and it cost around the €220 mark on booking.com (you get 10% off with this affiliate link) and you also need to pay a city tax on top. It's only 2.20zl per person per night (€0.50). We paid it at booking but you could probably pay when you're checking out too I'm sure. This hotel was so convenient in terms of location, only a 7 minute walk to the main street Old Town centre. From the outside the hotel didn't look like much (the pictures on the website make the outside look much better than in reality) but inside was lovely! It's a 4 star hotel and it was so clean, nice big double room with a seating area, TV, coffee and tea, minibar, bath and plenty of storage! It also has a lovely restaurant and bar which we ate in one of the nights, the dumplings were amazing! Another hotel a friend recommended was The Mercure, it is nearer to the shopping centre and train station, but further away from Old Town.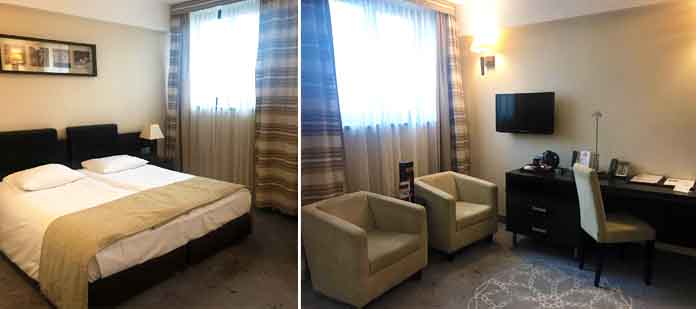 Things to do in Gdansk
Explore Old Town Venture around the streets of Old Town. One of the most beautiful cities with gorgeous buildings! We walked endlessly through endless streets and cobbles and thoroughly enjoyed it. it didn't look too commercial or anything and you really got to appreciate the architecture.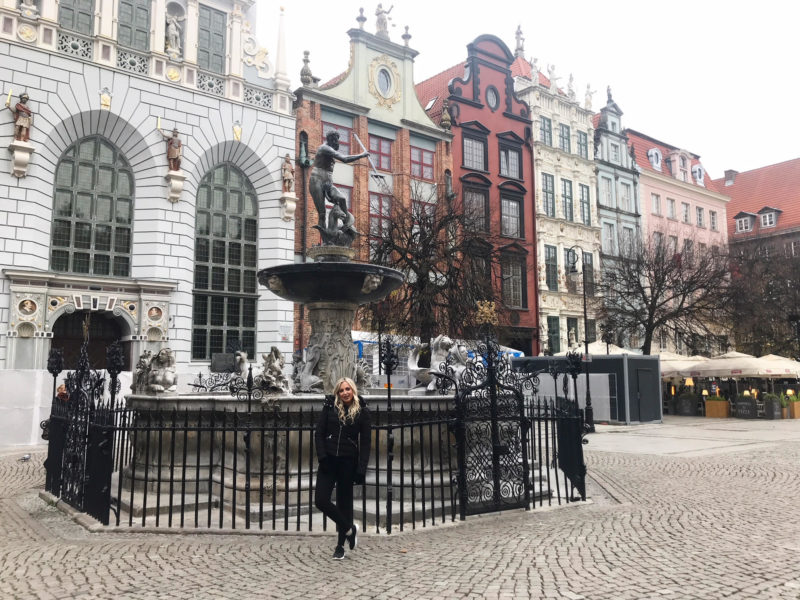 Check out Neptune's Statue This is quite a tourist attraction and is right in the middle of Old Town. Grab a local cake / pastry and a coffee for breakfast and sit on the steps and watch the world go by. Just watch out for the pigeons – they will literally take the food right out of your hands!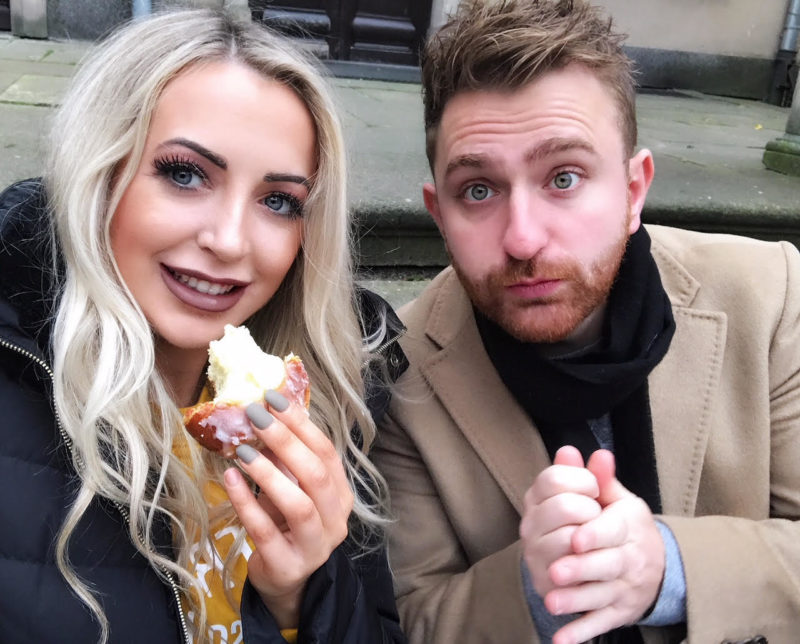 Grab some Amber Some of the streets are lit up beautifully by little Amber stalls. Lots of copper items displayed in wooden and glass cases in front of the building. Not your usual commercial or tacky looking stall, they fit into the surroundings just perfectly! We have a tradition where we bring home a christmas decoration from each country we travel to. Gdansk being famous for its Amber we got a handmade wooden snowflake with Amber within the middle. So maybe bring home an Amber souvenir if the jewellery isn't to your taste if you're looking for a keepsake!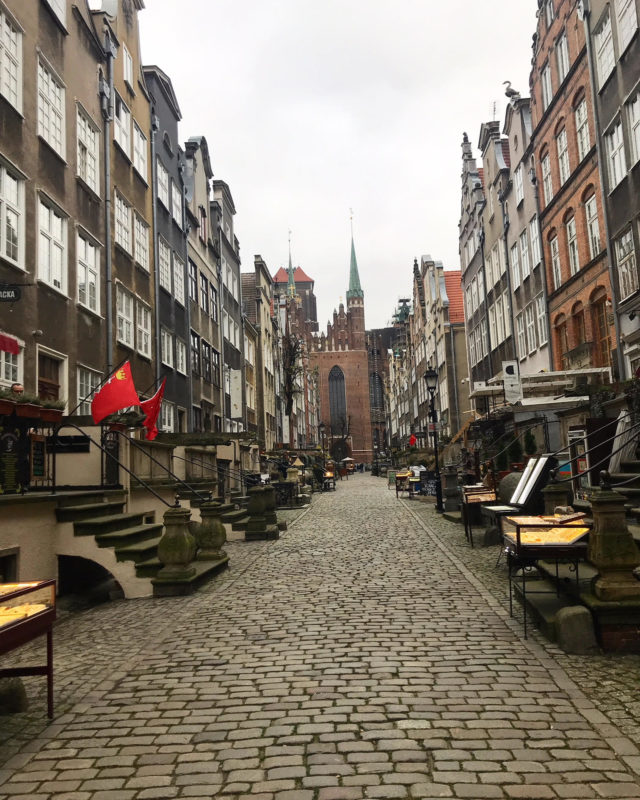 Shop till you drop You know I love me some shopping! There is a shopping centre within walking distance called Madison Shopping Gallery on Rajska with over 100 shops. And also Galeria Bałtycka which is about a 10 minute taxi ride and this has over 200 stores. I actually spent most my monies in Bałtycka but both are great. For food Billys in Madison is your best bet if you get hungry amidst the shopping and don't want to get McDonalds and the like. Burger, Fries, Dip and a Beer each for less than 100z including tip (€22) and it was delish! Bałtycka has Zara, H&M, Bershka and all your favs. Inglot is also half the price in the shopping centres – because it's a polish brand!
We also went to the supermarket in Bałtycka to pick up some drinks to have in the hotel and like a bottle of polish gin was the equivalent of €7. Like I can't be dealing with how cheap the alcohol is here! Same with the food and snacks. Safe to say I was feeling very overweight on the flight home!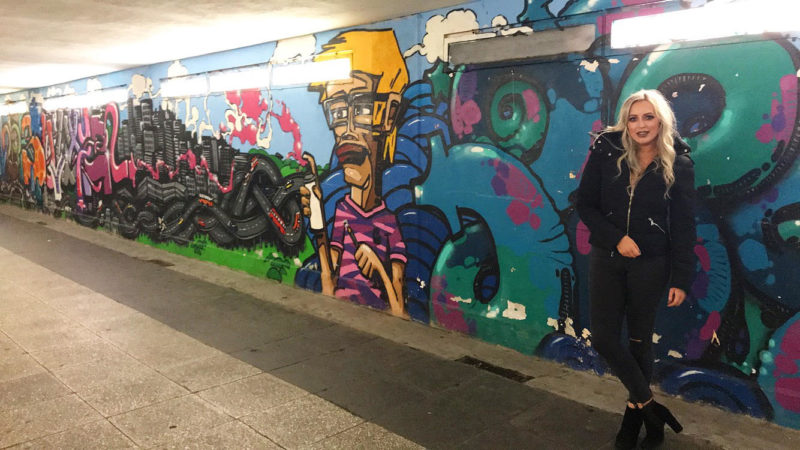 Gain some knowledge at the Museums The European Solidarity Centre is the number one on Trip Advisor and I have to say as far as museums go it is one of the most interactive museums I have ever been to! We ended up going on National Poland Day so it cost us 6zl each including an audio guide. (normally 20zl) There is also the Museum of the Second World War (23zl), again we went on National Poland Day so they had people dressing up and talks and tanks around. This tour takes up to 3 hours and sells out qiuckly so set aside some time if you want to go and maybe book online. We were also told that some of the boat museums / tours are good to go to but we didn't get around to this.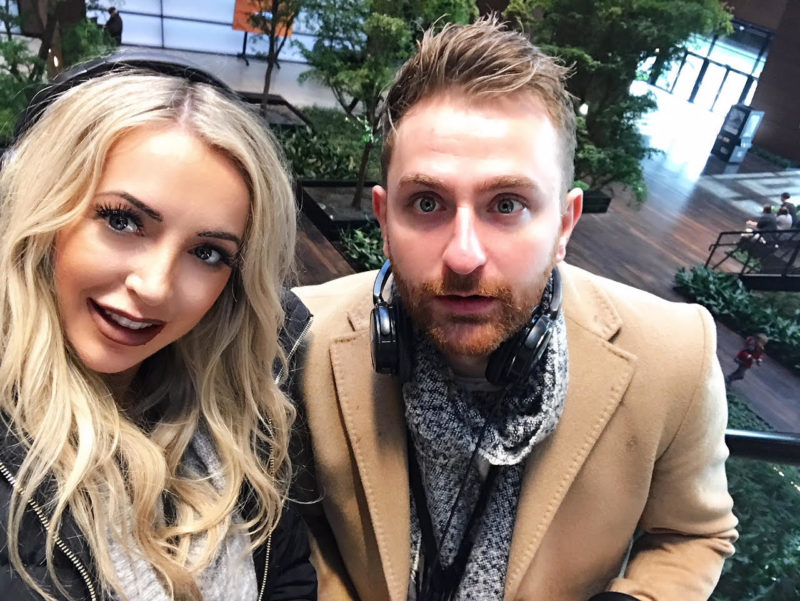 Try a Food & Vodka Tour So this trip also fell on my boyfriends birthday so I wanted to surprise him one of the days. I booked this in advance with Eat Polska. They do Food tours, Vodka Tours, and Beer Tours. I chose the Vodka Tour (naturally) seeing as it was his birthday! Highly recommend this. I feel like a vodka pro at this stage and I ended up buying a bottle of Vodka in an off licence on the way home that night (€6). They don't have 10pm restrictions like we do FYI! I also stocked up on some of my favourite vodkas in the airport on the way home. Again, ridiculously cheap!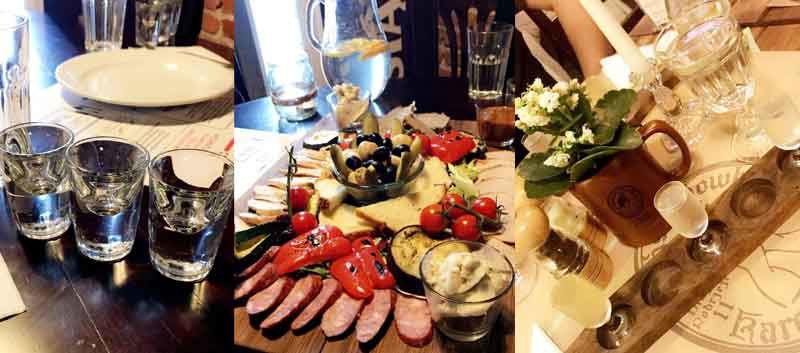 During this tour we had a taste of 7 shots of  vodkas in 3 different places and the last one was a Vodka cocktail. We had polish food to go with the vodka in 2 of the places and I actually really enjoyed it! It was a mixture of meats, cheeses, pickled food, cabbage, lard, dips, herring etc. I won't go into too much detail incase you want to do it yourself but you do learn alot. We ended up having a private tour with just the two of us with the guide but you can do it in groups. I recommend it, however, for the cost given everything else in Gdansk was so cheap I could have done with a few more shots!
Hop aboard the AmberSky So this is the Gdansk equivalent of the London Eye. It's grand, has a nice view, however to the immediate left of it is a building site but still, it's nice to go up in the air on a cold winter's night with your other half and look over the city for only €6!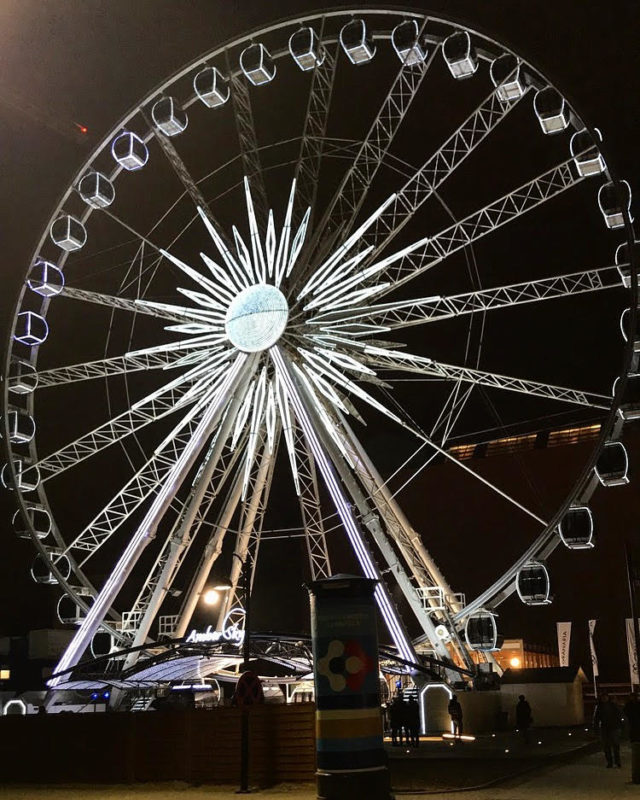 Visit the Zoo So I have a thing where I NEED to go to all the Zoo and Aquarium places when I travel. I'm obsessed with animals as you all know! Oliwa Zoo is around a 20min taxi ride (25zl / €6) but the train also goes there! Make sure you check out the website for the opening hours before you go because it varies depending on the time of year. Himself brought us there 2 mins before closing time because Google gave him the wrong opening hours, so we went back the next day instead!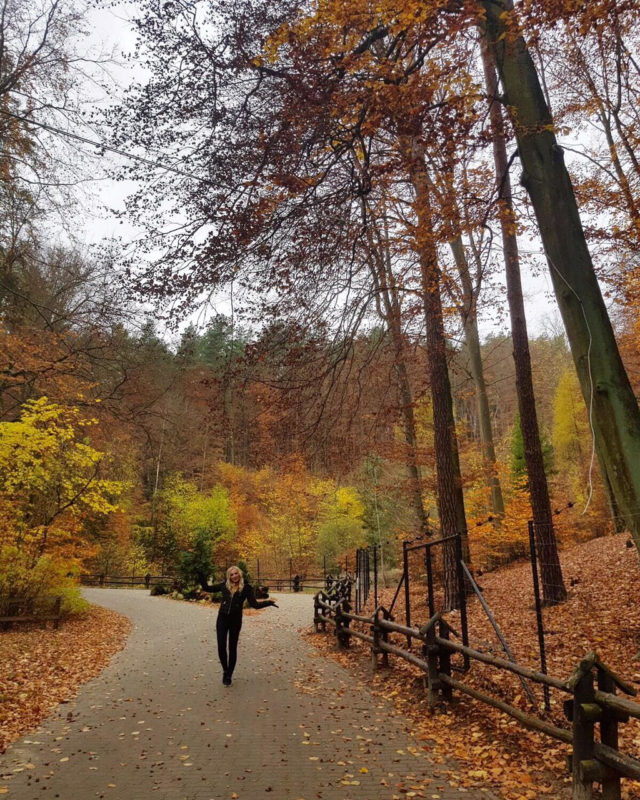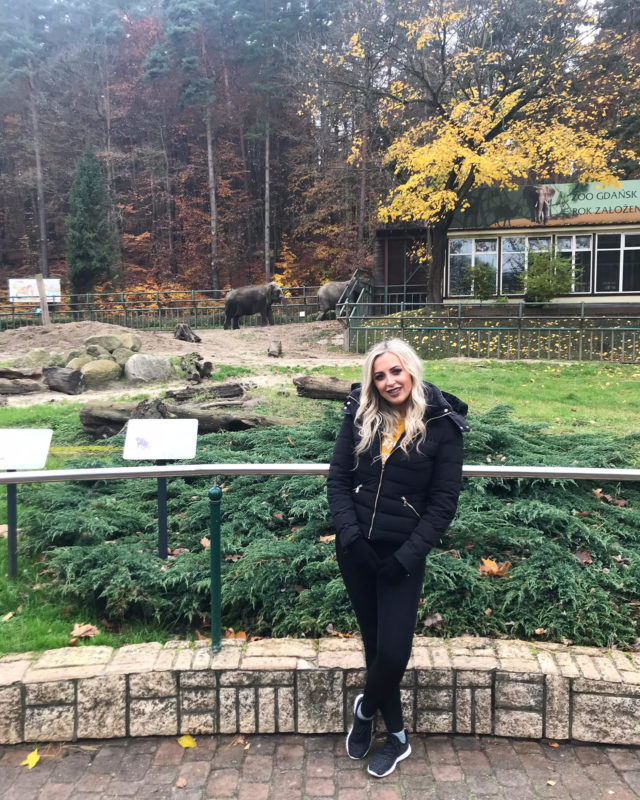 Given the time of year and it was mid week there were very few people there so we pretty much had the place to ourselves! The only thing was, there was nothing translated to English, so you couldn't read any of the info about the animals. It had a nice Dino Park in it though! Again, it was really cheap – 15zl which is €3.50! None of the food / drink / icecream places were open which made it feel a bit abandoned and eerie but I assume it was because it was Winter. Given no signs were in English, some of the buildings looked like they might have been admin / employee areas but they weren't they were indoor reptile / bird places so do attempt all the doors even if you're unsure!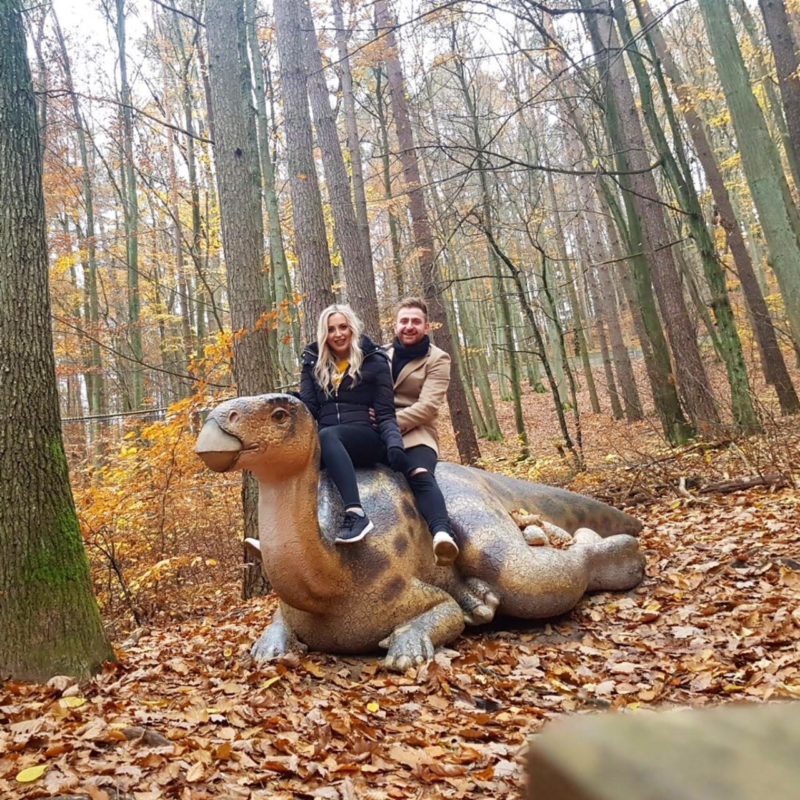 Other So some things we didn't get to do that I found when I was researching. Take a pirate ship The Black Pearl to Westerplatte. It wasn't running when we were there so we didn't get to go but it didn't get the best reviews either but I would have liked to have checked it out! Travel to Sopot – this is a nearby beach town, has some good spas (The Sheraton) too! Again it wasn't the time of year for us to be by the sea! You can get there by train so it isn't too far out of the way.
Where to eat / drink in Gdansk
Restauracja Winne Grono This is number one on Trip Advisor. The food was good, it didn't feel like a restaurant though more like an extra large room in someone's home. Not an extensive menu in terms of cocktails, had lots of wine options though! Was very affordable – 3 course meal with a bottle of wine and 3 drinks was around €75 including tip.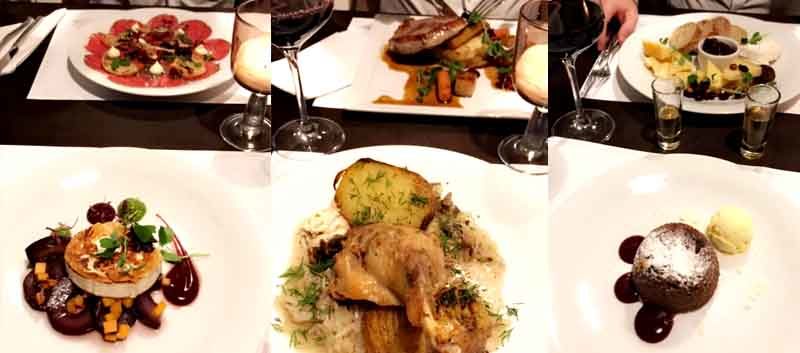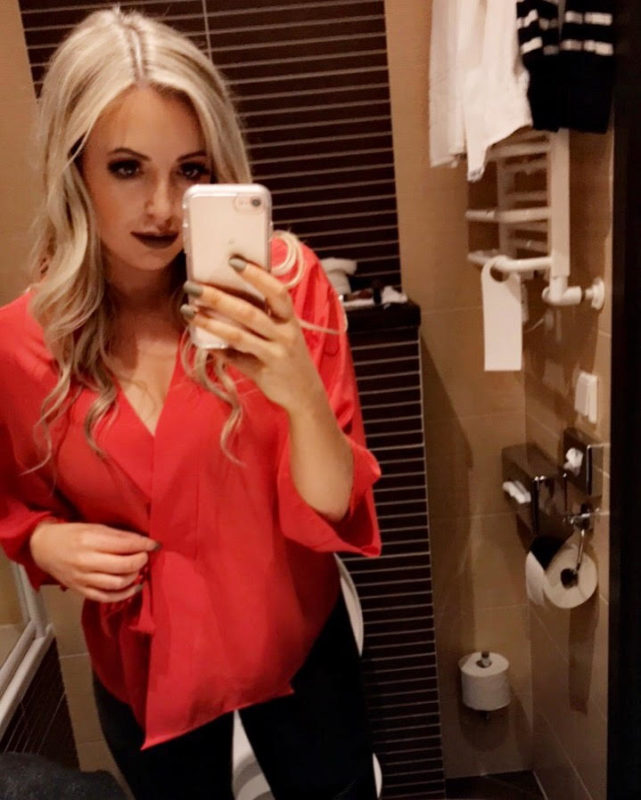 Correze This was number two on Trip Advisor – can you sense a trend here? This one had a lovely setting, and on the website when booking you could select your table which I thought was a nice addition! Food was mostly really good, dessert was a let down but maybe we didn't pick the best option. Cocktails were amazing as was the wine! This came to about €100 which was good value for sure!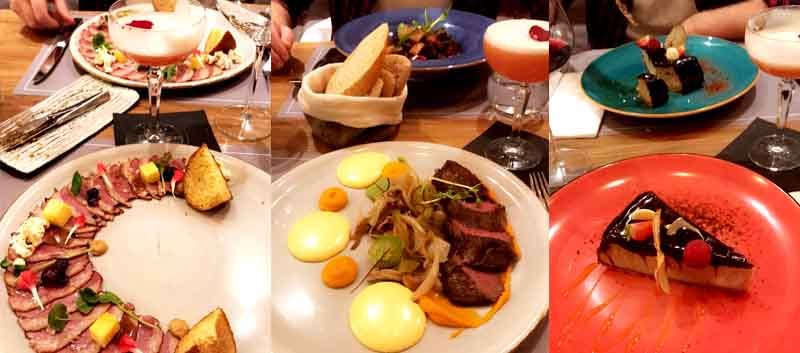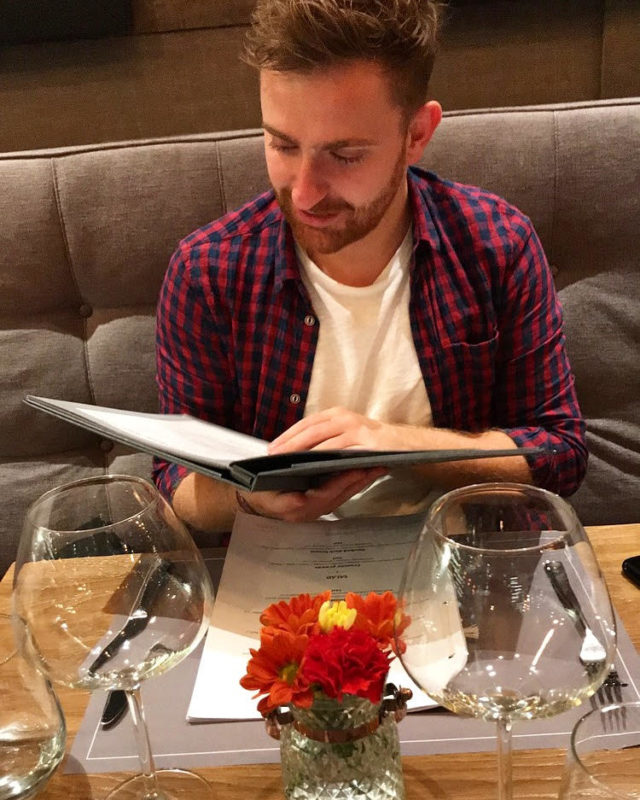 Familia Bistro This was a random booking on our last night, we wanted to experience some Polish dishes and the cheese board here was unreal! And HUGE. We also got the baked dumplings. FYI – three dumplings between two people is enough here. Especially if you have both had a soup for starter and shared the cheese board (which went unfinished) This cost around the €50 mark including drinks.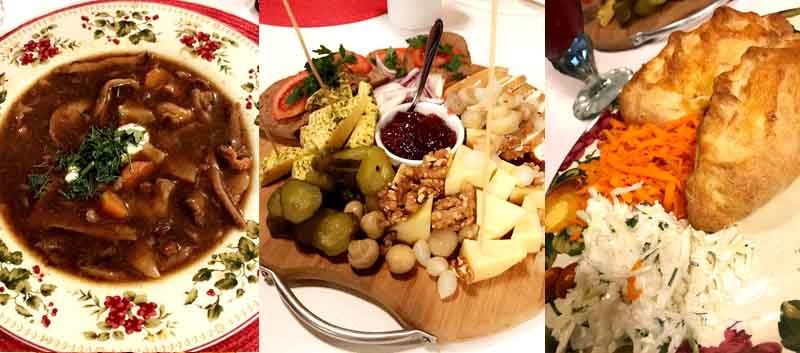 Irish Pub This is the cutest of places. When you find it (down a side street) it looks like a tiny shed. But when you enter it is down 3 flights of stairs down a bunker! Obsessed. Drinks were cheap, €2.30 pints and my fav desperadoes were less than €3 for the large 400ml bottle!? Insane. We ordered some crisps and they came out in massive bowls which we barely finished one of them. It was the perfect place to watch the Ireland match!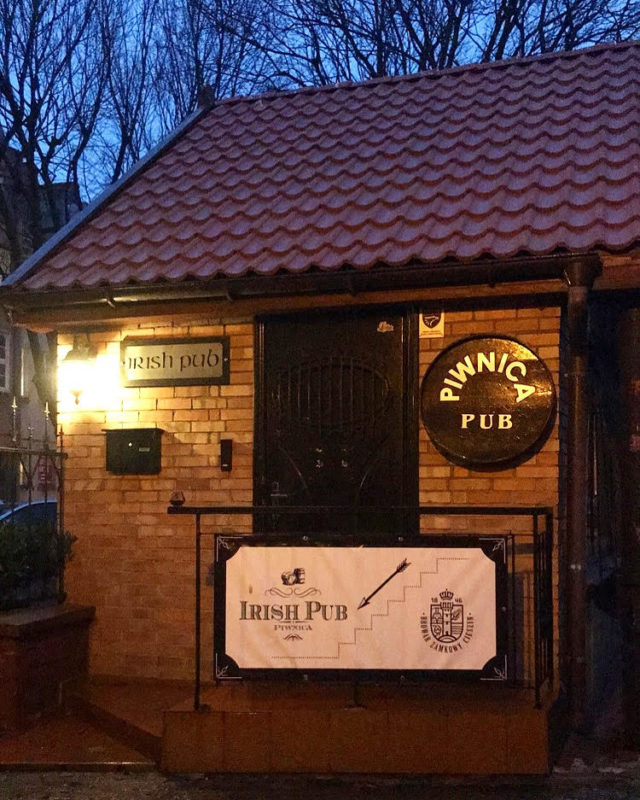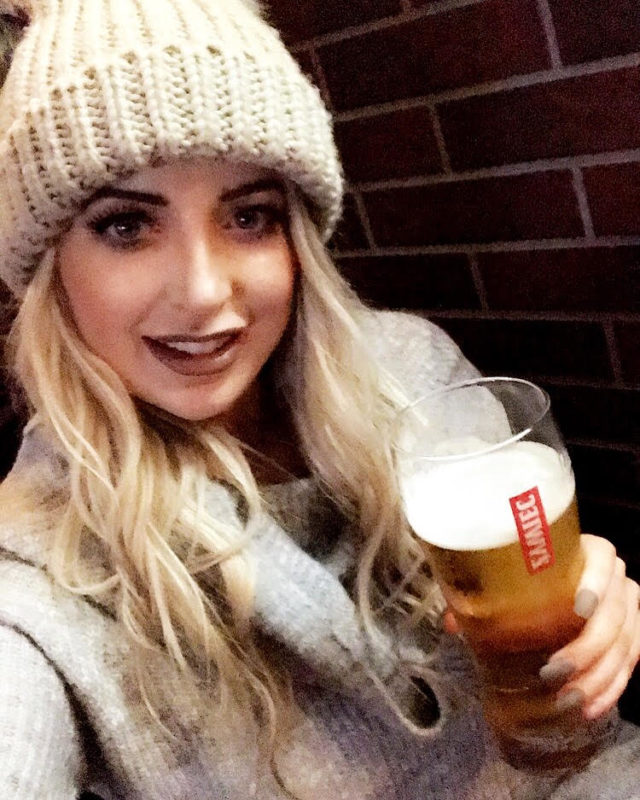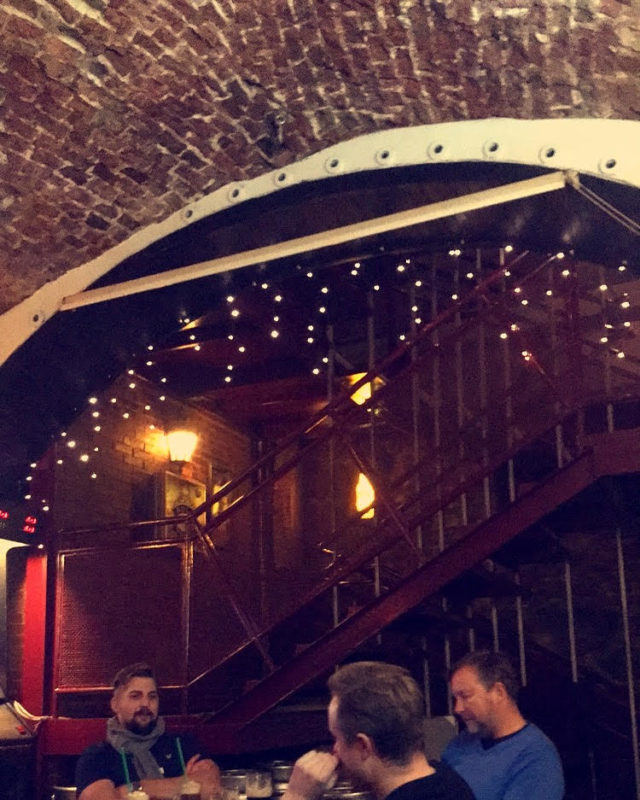 Flisak 67 OBSESSED with this place. You would have seen me enter its little door in go down into the bunker to the cosiest little place! The nicest atmosphere and staff and with plenty of cocktail choices. One of my cocktail choices came with a polish tradition of toothpaste which was edible, I would highly recommend any cocktail lover to go here for sure!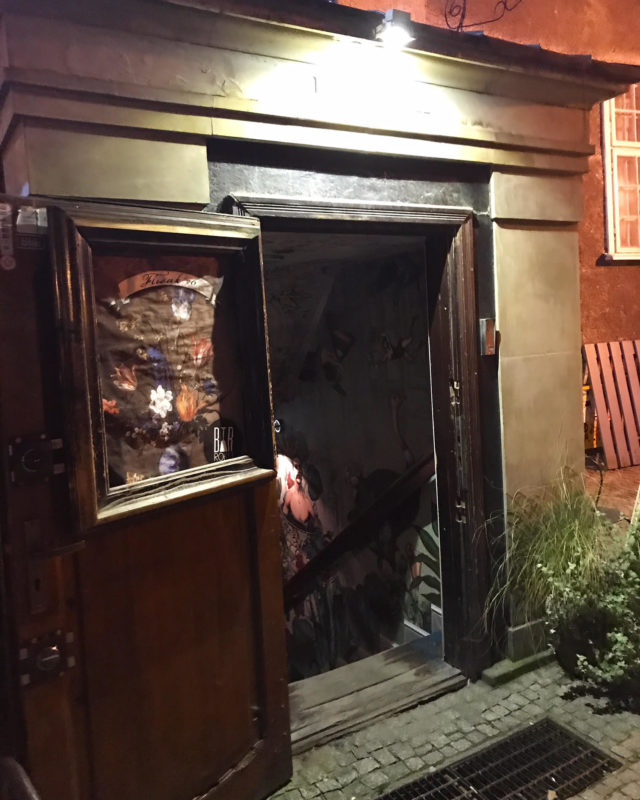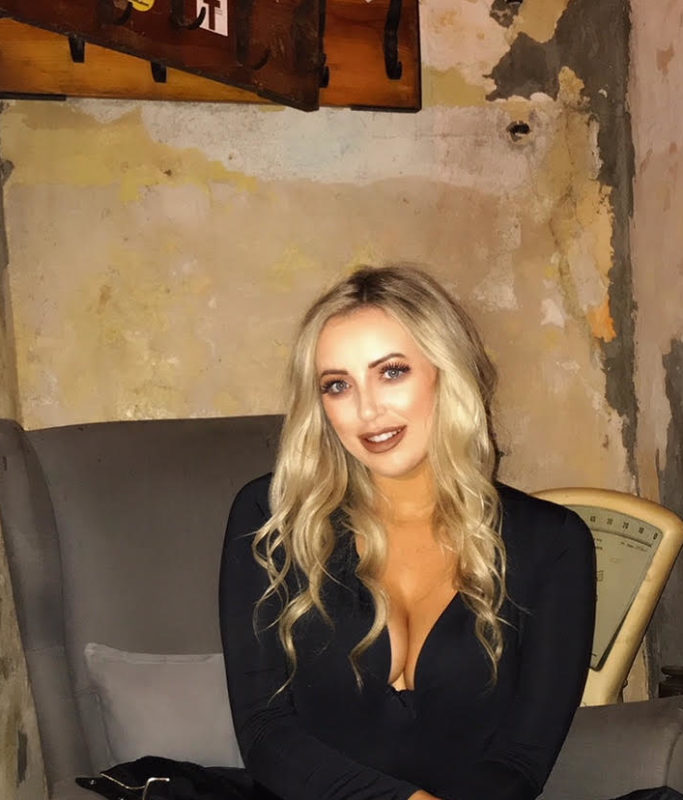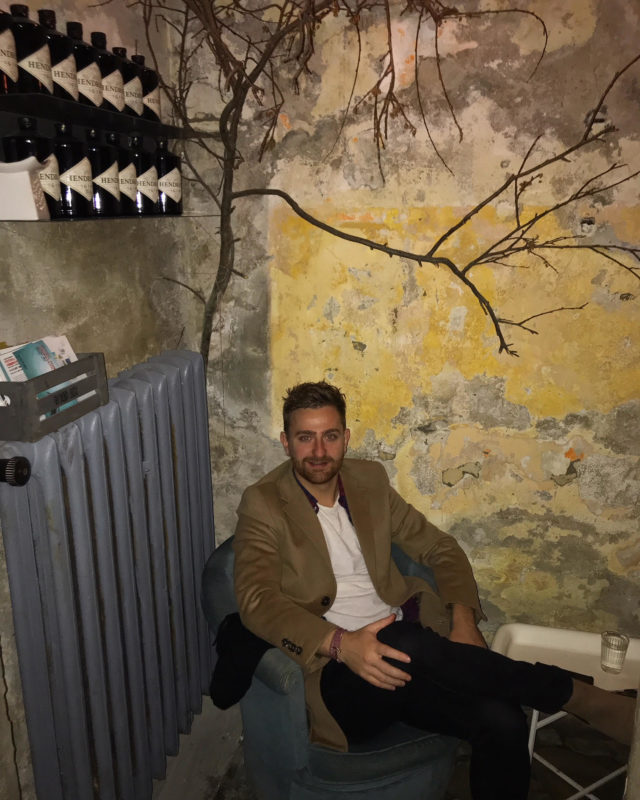 Original Burger We had lots of burgers with beer during the day here and Original Burger was the best, it also had the nicest setting for sure! We got the cheeseburgers with beer and also a side of Onion Rings. Very convenient in Old Town too. Billy's in the shopping centre came second for me and SurfBurger third. I'm sure there are lots of others but these were great!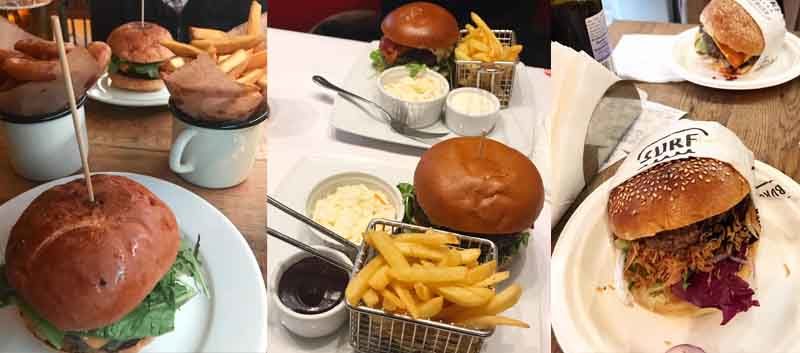 Cukiernia W-Z The SMELL of baked goods from this place was unreal. We caved one of the days and went in, we just had to! The place is tiny, and from the outside it looks a little run down but inside it was jam packed. Only one of us stayed inside to order because there was no room. It was very popular with the locals which is always a good sign! It is all in Polish so I had no idea what I was ordering I just pointed at two of the many amazing pastries and cakes and off I went. They were the equivalent of less than €1 each and it is only around the corner from Neptunes Statue so we grabbed a coffee and sat on the steps here and devoured our breakfast!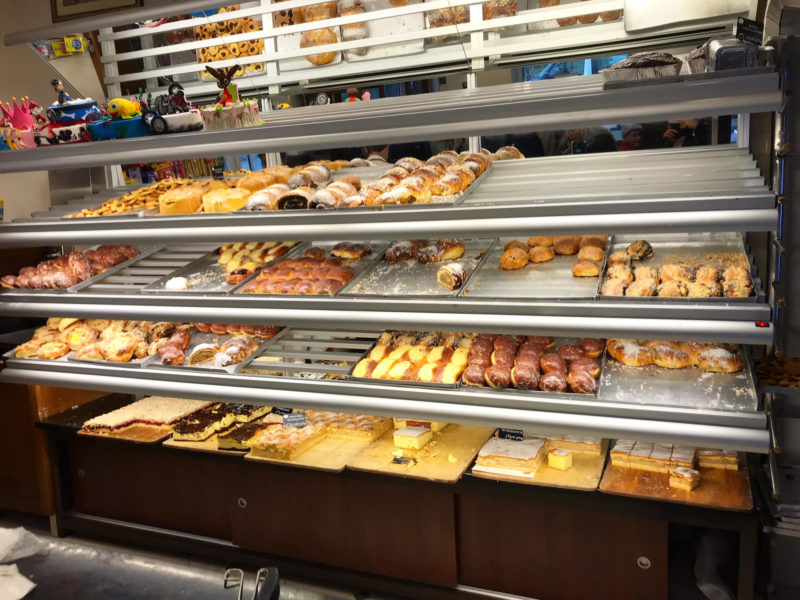 So that's a round up of my recommended things to do in Gdansk! If there are any other questions feel free to snap or mail me, I'm sure I have missed some things and I am happy to help!
AJ x