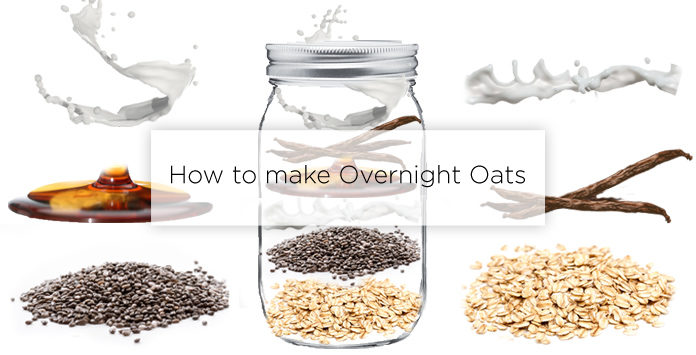 One of the questions I get asked at least once a day on Snapchat is how to make Overnight Oats. So finally I've decided to put a post together with my basic overnights oats recipe, the process, and some ideas as to what to add to it. Monday to Friday I have this as my breakfast There are so many ways of changing it up to taste different depending on your mood so I'll put as many overnight oats toppings and additional extras in this post as I can think of. But first of all, lets start off with the basic recipe.
Basic Overnight Oats Recipe
30 grams of Oats
Heaped tablespoon of (whole) Chia Seeds
1 tablespoon of Maple Syrup
Milk of choice – I generally use unsweetened Almond Milk or Coconut Milk
Half teaspoon of Vanilla Extract – Optional
2 tablespoons of Greek Yogurt (not greek style) – Optional
How to make Overnight Oats
Mix all of the above ingredients into a jar and leave in the fridge overnight. Make sure not to fill to the top of the jar and add in enough milk as the chia seeds will soak up a lot of the liquid and expand.
You can add in the extras either before adding to the fridge or else the next morning depending on the additions. Eg. I would generally add the fruit fresh the next morning but would mix the likes of peanut butter the night before.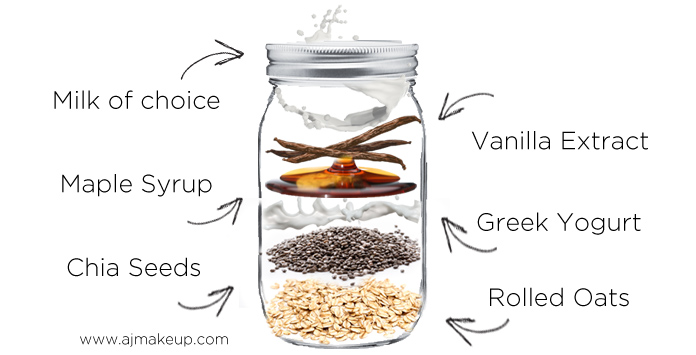 Additional Extras
Fruit

The common addition to Overnight Oats for breakfast would be Banana for sure. It's such a breakfast'y fruit right?
Blueberries, Raspberries, Strawberries and Pomegranate are also a firm favourite and team with oats perfectly.
If you're feeling exotic and depending on the season, I've been known to add Peaches, Mango or Pineapple too.
Whatever suits your fancy. Kiwi might be your thing, apples or oranges maybe. A combination of a few of your favourites even. Just be mindful as to what you are loading it with, as fruit is full of sugar after all!
Dried fruit is also an option, goji berries being my preference! Dates blitzed are natures caramel so this is delicious to add too.
Lemon Juice. Don't forget lemon juice.

Nut Butter

Peanut butter being one of the obvious choices here. I like to use Dr Zaks High Protein peanut spread in White Chocolate & Coconut or Salted Caramel, but it comes in lots of other flavours too such as Cherry Bakewell, Chocolate Orange, and Fudge Brownie
Almond Butter, Cashew or Hazelnut butters would probably be one of your cleanest options to add either.

Seeds and Spices

Overnight oats are a great way to get your milled Flaxseed, Linseed, Pumpkin Seeds or Sunflower seeds into your diet. Or any of the Linwoods or Aldi's Harvest Morn seed range really!
Cinnamon is one of those brilliant little spices you could add in. Nutmeg and Cloves too but I wouldn't be a fan. These don't appeal to me personally though.

Protein 

You could add in a scoop of protein powder if that's your thing, nice way of getting it in rather than a shake. Depending on the protein powder you use this opens you up to a world of flavoured oats! I personally don't take protein powder but the appealing flavours out there makes me want to. Hello like Birthday Cake flavour, Red Velvet Cake Batter, Mint Chocolate Chip, S'mores? I die.

Nuts

Chopped mixed nuts can give it a nice crunch for sure – hazelnuts, almonds, walnuts, brazil nuts or cashew nuts.
Are Coconuts consider nuts? Anyways I'll mention them here. I love to add Coconut flakes as a topping!

Chocolate

I don't mean to lob a bar of chocolate in here, but if you want chocolate flavoured Overnight Oats you could use Cacao Powder or Dark Chocolate Almond Milk. Make your breakfast a dessert why don't you!

Sweetener

If you don't have Maple Syrup you could add in some Honey here either.
Perhaps you don't want Maple Syrup at all, so an alternative could be Agave or some liquid Stevia

Overnight Oats Recipe Ideas
As shown above there are so many ingredients you can add to your Oats to suit your taste. Just do be careful that if your intentions are to be healthy and to have these daily that you pay attention to what you are loading them up with. Fruit can be heavy in sugar, same with the likes of Honey and Maple Syrup or if you are using full fat milk. Nuts and Nut butters are full of fat – albeit healthy fats, moderation is key. I personally keep mine pretty close to the basic recipe because I have them almost daily. White chocolate high protein peanut butter and maybe a banana would be my go to additions. Some ideas of combinations though are below and you can find lots of full recipes online.
Peanut Butter and Banana
Tropical Fruit
Chocolate Coconut
Strawberry Cheesecake
Chocolate Peanut Butter
Banoffee
Vanilla Protein
Hopefully that has given you some ideas, and you now know how to make overnight oats! Let me know if I've missed any ingredient ideas that you like to use, and snap me your attempts at overnight oats too.
AJ x