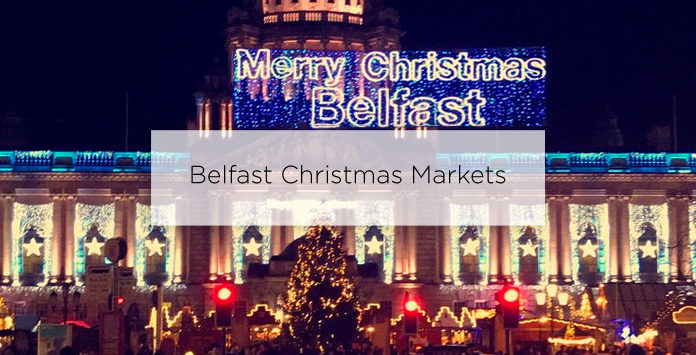 I just love Christmas time. And I have always wanted to visit Christmas markets, particularly in Europe somewhere. I was in Gdansk in November but they hadn't started yet so I settled for Belfast in December given I heard lots of great feedback from friends and followers. Plus it was the perfect place for a one night getaway and during the festive season time is scarce with so much on!
Belfast Christmas Markets
First things first – the Christmas markets. These are located at the grounds of City Hall at Donegall Place, in the centre of the city from Nov 18th until Dec 23rd. Hard to miss actually! This transformed Christmas village is super festive feeling and it definitely got me in the Christmas spirit! Everywhere is lit up beautifully and there are so many food and drink stalls and tempting smells. We couldn't resist getting a burger at Meats of the World (Wild Boar for me, Kangaroo for him) even though it was a tough choice between that and Bratwurst from the multiple stands! There is also Paella, Noodles and Seafood to choose from, as well as endless crepes, sweets, chocolate and freshly made pastries on site!
The pop up bars were a nice touch, albeit there were queues to get into them. But there were no shortage of stands to get mulled wine, hot chocolate and coffees from also. Other than takeaway food in abundance there were stands to stock up on cheese, olives, candles, bath bombs, decorations, knits, shrubs, and plants! There were some fun bits to keep kids entertained too so it wasn't all indulgence for us adults, I think Santa might have also been on site too.
Where to Stay in Belfast
We stayed very central because we wanted to walk everywhere without using the car. Our trip was booked only 3 weeks in advance so we hadn't huge amount of choice and we also needed somewhere with parking. We ended up staying in the Ibis Hotel (city centre) and found in terms of location it was perfect. Cost wise it worked out around €170 after conversion from sterling (£149) for 1 night excluding breakfast. Compared to our European trips this was on the expensive side especially given it was a 3 star and all our others were 4 star hotels. It was a very clean hotel, floor boards instead of carpet, and lovely staff. Parking was discounted to £6 for 24 hours in the parking lot across the road. We booked through booking.com (you can get 10% cashback using my affiliate link)
One issue however was that the alarm kept going off for about 10 seconds every 10-15 minutes around 1am – apparently some pranksters according to reception. And then the next morning at around 9am it went off for a full minute, we didn't know whether to evacuate or not but all was ok. I doubt this is a re-occurring thing and is out of their control, however there was no mention or apology of this the next morning which I would have liked. In saying that I didn't mention it myself either.
Where to Eat / Drink in Belfast
OK the amount of recommendations I got for Belfast was unreal. I was only there for one night and one afternoon so I was only in a few places but I will mention the names of the places that were most popular. Again we were last minute booking and forgot about Christmas party season so the city was packed!
2 Taps Wine Bar This was one of the places we were recommended and I was delighted we stumbled upon it when we wandered through the city. Thankfully they had a reservation available and we sat in a cosy area by the fire. Tapas are my favourite because I prefer to share lots of small dishes than have a big meal, and the staff were super friendly and welcoming here! They also have an area outside if you wanted to dine al fresco but it is winter after all so we opted for indoors. The food was gorgeous I would definitely recommend here, and the price was very reasonable. Just under €80 after conversion (£67) for a sharing platter to start, 5 tapas, a cheeseboard for dessert and some drinks!
One thing though, I ordered a cocktail and it was not how it was described on the menu – it promised to awaken my taste buds and contained sugar syrup and lemon, but to me it was tasteless. I'm convinced it was just soda water and that they forgot to add the alcohol. I didn't want to risk another so settled for wine after that.
Coppi This was probably the most popular of all the places and I was raging I didn't get to go, but the reservation times available didn't suit (4pm and 10pm). Get your booking in early if you want to go here as clearly it's a very busy place!
The Perch In terms of drinks this was mentioned alot. I tried calling them to see if they had any tables available as it was so busy given the festive period and I didn't want to risk going across the opposite side of the city to be disappointed. Their answering machine was in a loop and kept sending me in circles so I couldn't check, but I feel like I want to go back to Belfast just to try the cocktails here on the rooftop bar!
The Duke of York This was a very lively bar down an alley in the Cathedral Quarter – great atmosphere for pints and a messy night with friends, but definitely not a date night place, I felt the same about The Dirty Onion
Other places recommended to me: Revolution De Cuba, La Taqueria, Mourne Seafood, Made in Belfast, The Barking Dog, Molly's Yard, Deans @ Queens, Tipsy Bird, Kitch, Stix and Stones, Holohans @ The Barge and Coco's.
Things to do in Belfast
Titanic Exhibition If you are in any way a fan of Titanic then this is a must see place for sure. It is so interactive and informative and very well done. We thoroughly enjoyed every minute of it there and you can also hop on board the SS Nomadic which is docked beside it which is quite cool. It cost just under €50 for 2 people once converted from Sterling (£42) and we of course picked up a souvenir in the shop too!
Shopping An abundance of shops on the high street in the city centre and 2 shopping centres – Castle Court and Victoria Square. One random piece of information you will need to know though, it is against the law to sell in retail shops before 1pm on a Sunday. We were in Primark and I spotted a cute backpack – went up to the counter to pay and they said we can only browse and can't purchase until 1pm. How bizarre!
Game of Thrones Experience, The Giants Causeway, Grand Opera House and The Zoo are another few things to do in Belfast but given I only had one night there I couldn't fit them all in. I will definitely be back!
Any questions mail or snap me – and let me know if you have any further recommendations for my next trip!
AJ x