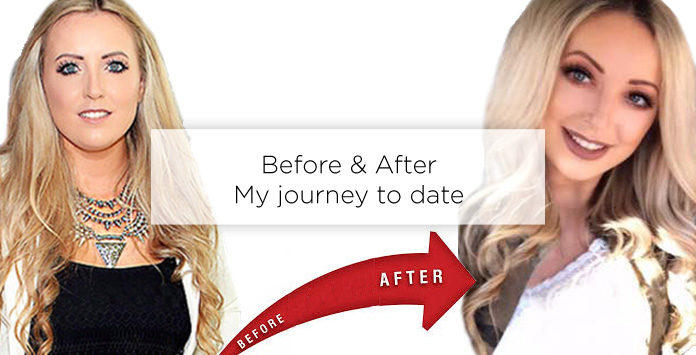 In a world where we are are forever comparing ourselves to the perfect instagram selfie  – it's hard to know what's real, what's fake, and what's enhanced. I don't manipulate my images with photoshop by making myself look skinnier or unrecognisably smooth – I do however use filters, good lightening and the like so that I am showing the best version of me when I post to that platform. On the blog though if you're an avid reader or if you look through my posts you will see me makeup free and not a tap of a filter.
I have never made any secret about anything I have had done and never will. I am not perfect, I don't need to be, but I am happy to spend my time and money on making changes to myself in order to be the best and happiest version of me that I can. Whether that's a change in hair colour, weight loss, brows or lip fillers. I don't ever want to influence others into getting anything I have had done over the years – all I can do is talk about my experience and the options out there. A lot of Before and After images of bloggers have surfaced over the last few weeks so I decided to post one of my own – and do a bit of a round up blog post about my own transformation. One I have never kept hidden from my followers on Social Media or the blog! It was this post I uploaded to Instagram that inspired the post: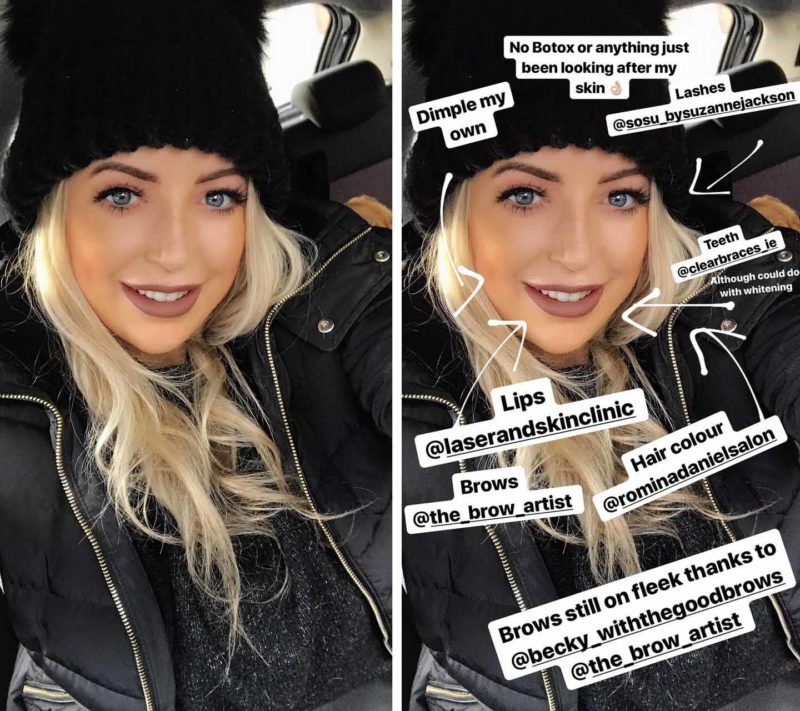 Lips
I mentioned this 3 years ago on Snapchat when I brought you to my first ever appointment, and talked about it again live on the Late Late Show when I was interviewed by Ryan Tubridy in January last year – I've never made it secret why I have gotten fillers and why I continue to do so. You can read all about my reasons here. Different clinics and doctors have different techniques and use different brands of approved dermal fillers (hyaluronic acid) It's important to do your research and ensure to get a qualified expert in their field. Yes fillers may be reversible and disintegrate over time, but regardless, it's your face so it's something you need to protect and put in the hands of someone that will treat it with the utmost care. Currently I have been getting my fillers with Anna the founder and clinical director of The Laser and Skin Clinic – she is a perfectionist and her technique is excellent! You will have seen the procedure being done during my visits on Snapchat – I pop into her on my lunch break and it is so quick and painful that I am back to my desk engrossed in work before my lunch break has even ended!

Teeth
I spent a lot of my life consciously keeping my mouth closed in photographs as you can see above, and for two reasons. One being my lips were too thin, and the other being that my teeth weren't visible due to how they slanted inwards. I wanted the 'perfect' smile so I decided to get Clearbraces which you can read about here. I'm quite happy with the results! Do I have the perfect smile now? No. I'm not entirely happy. I think there is more work to be done so it is something I will look into this year. I also would prefer them whiter because I've never had them professionally whitened so I think I'll invest!
Hair
I have been pretty much every colour under the sun over the years! (Who hasn't!) But being blonde is probably the hardest to maintain and it can be really hard to find a colourist and salon that gets it right every time. Romina from Romina Daniel Salon has been a god send – Romina's technique and passion for hair is like none other. It's hard to get my hands on her because when she's not fully booked up she is off training and up skilling. The staff in the salon are so friendly and passionate in what they do, my boho blowdries which I'm obsessed with are forever safe in their hands! I try get one at least once a month and it lasts a week – my new fav! You'll see pics of Romina Daniel Salon's fab work here, here and here too!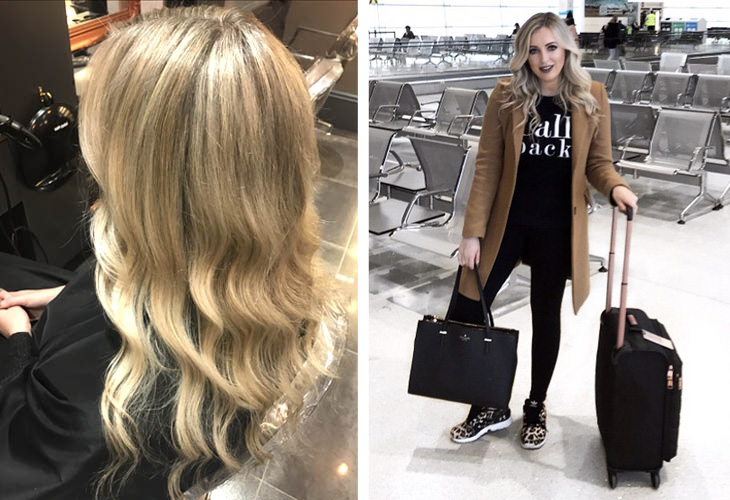 Brows
I have had the biggest love hate relationship with my brows. I've had no brows, skinny brows, HD brows, semi permanent block brows and embrowdery, but never had perfect brows – until this year when Becky from The Brow Artist got her hands on mine! Artist is an understatement though, she has a gift! Way back in the day I was absolutely traumatised after a HD Brow appointment and posted a pic of my awful brows on Twitter (without naming and shaming any brand of course) and Lorna from The Brow Artist reached out and offered to fix them for me, and squeezed me in for an emergency appointment as I had bridesmaid duties the day after! Just goes to show not only do they have skill but also go above and beyond in terms of customer service.

Skin
Last year I really focussed on looking after my skin, and thanks to Eavanna of Akina Beauty I went through quite a transformation which you can read about here, and I have been working on keeping it that way ever since! This year I am going to kick it up a gear and treat my skin to regular facials and other treatments that I discover over the year – starting out with the amazing Hydrafacial at The Beacon Face and Dermatology Clinic! I am also trialling the Allel skincare that is exclusively available in Ireland here. The staff at the clinic are without doubt some of the friendliest and professional staff I've ever met and the place itself is just fab!
Weight
This is something I don't hugely talk about directly – albeit I have been an advocate for a healthy and clean lifestyle for years and talk about it here on the blog and on social channels. But I guess I have never really talked about how it started and where it came from. Long story short I creeped up in weight slowly but surely until I start seeing images of myself online that were extremely unflattering. I took action and lost 3 stone in about a year and it changed my life. Just by changing my diet choices and habits. If you have a look in the Health Corner section of my site there are lots of tips I have picked up over the years that you might find helpful! So this definitely has had an impact on my health and skin over the years which has made a vital impact to my overall 'Before and After'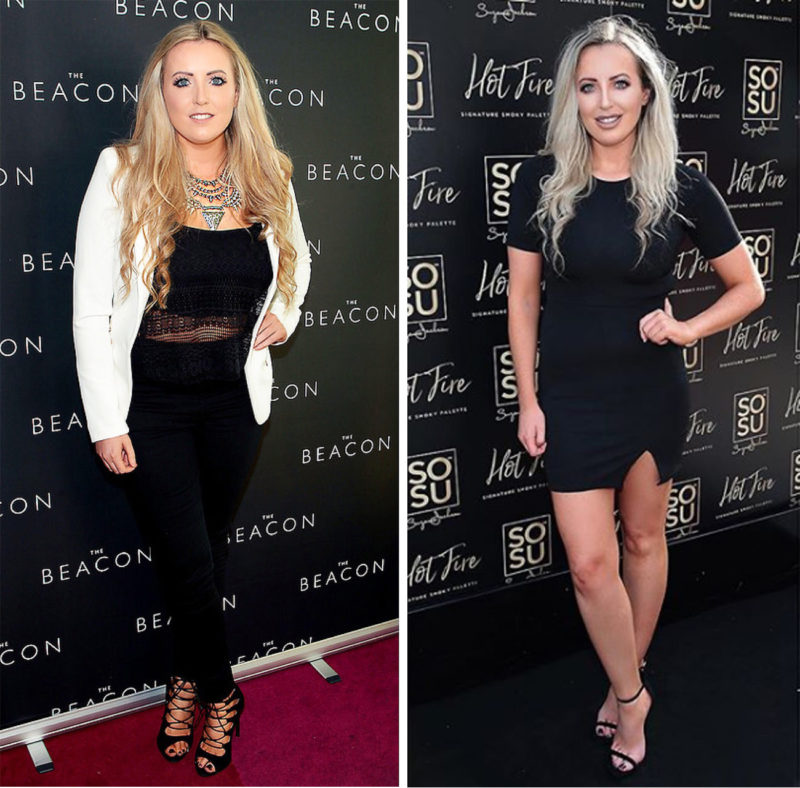 On top of the above I enhance my features with lashes and invest in great makeup – so don't be fooled by instagram selfies. In my case it's life choices I've made to make changes to my appearance along with good skincare and a healthy lifestyle, but also daily enhancements like makeup, good lighting and filters!
Any questions on any of the above, as always snap me or drop me an email!
AJ x