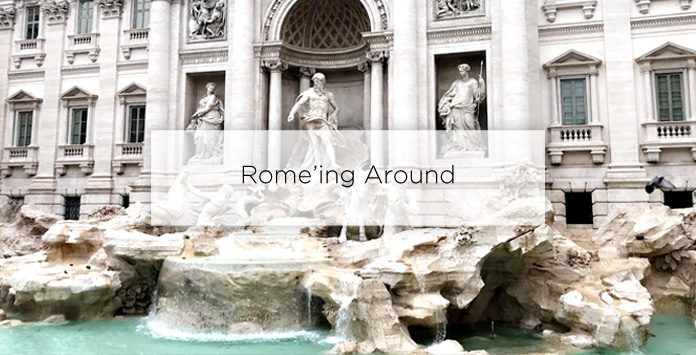 Finally got to visit Rome which has been on my bucket list forever! There are so many things to do in Rome so a definite must see travel destination from Ireland. I absolutely fell in love with this place and I'm already super jealous of anyone reading this and planning their trip! Hopefully my blog post comes in handy for you, and enjoy!!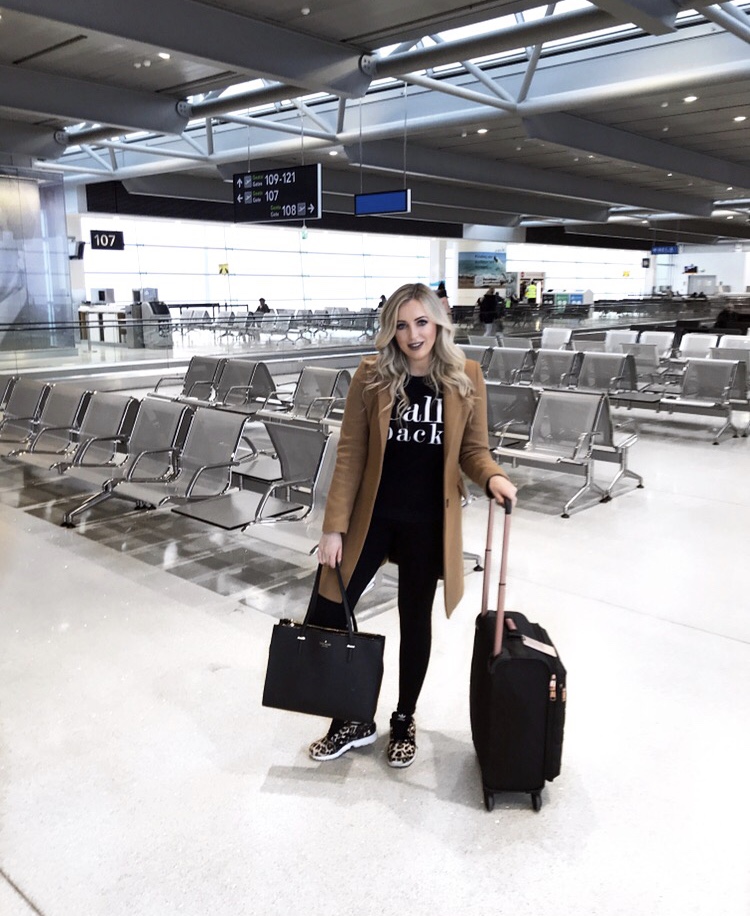 Why Rome
If you read my blog post about new year resolutions I said I wanted to try travel once a month either in Europe or even Ireland. Rome came highly recommended from friends and I had heard that the food is only amazing! I like travelling to places that I can explore on foot with minimal transport and this is definitely an ideal place for just that. Not only for the food but I was also excited to learn about the history and the architecture.
I wandered around here in awe, almost every turn of a corner you saw what looked like a piece of history, a beautiful church, a cobblestoned path, a fountain, or most importantly, gelato! Rome wasn't too expensive either, and it could definitely be explored in 3 or 4 days.
How to get to Rome from Ireland
Ryanair flies to Ciampino, flights for 2 people from a Wednesday to a Sunday cost us €145, and we just brought carry on. Once you land there is a fixed taxi fare of €30 which will bring you to the city centre – don't let them take advantage of you at the airport by the way. One guy tried to charge us €40 in a shared taxi van with another couple (even though there was a sign above his head saying fixed fare €30) We instead got the next taxi to ourselves for to correct price of €30. When we were in Rome we walked pretty much everywhere so public transport wasn't really needed, but just be careful that you do not get ripped off because I was warned about this behaviour even by a resident! You can get a bus or train from the airport which is inexpensive, but we arrived late and we were leaving Rome late so we just got taxis both times!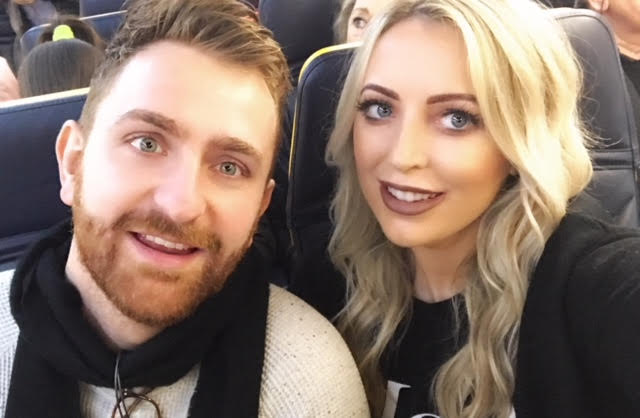 Where to stay in Rome
I could not recommend the Albergo Ottocento more, especially location wise, it was absolutely perfect! We generally always book through booking.com (you can get 10% cash back using my affiliate link) and it was €330 and included breakfast. This excluded city tax of €6 per person per night so keep this in mind when looking for a place! This hotel was nearby both the Spanish Steps and the Trevi fountain. Everywhere we wanted to go was within minutes walk from here, it was just perfect! We were upgraded to a deluxe room and it was amazing, we checked out the standard room too though because himself wanted one with a bath so we almost downgraded just for that, and both were fab, really spacious and comfortable! Staff were lovely and the buffet breakfast had so much selection, it serves from 7am until 10.30am. You have to leave your key at reception which was a bit different, but it's open 24 hours so no biggie, just try not to forget to drop it off on the way out!
Things to do in Rome
Colosseum, Palatine Hill & The Roman Forum
I grouped these together because we booked a tour with CityWonders and did all three at within the same tour. Even if you don't book it as a tour you may as well visit them all at the same time because they're beside each other! This tour was 3.5 hours and the tour guide was great, she made it so interesting and easy to learn, I ended up buying a book about Rome here because I was so interested in hearing more about the history. I was a little sad of course knowing what happened here throughout history, but I urge to not to just visit, but get a guide and really get to know the grounds you are exploring! It's in pretty good condition considering, and we got to go underground and to the arena floor during this tour. Our tour started at 8.30am and we had the place almost to ourselves, when we came out though the lines were huge! Entry is quite cheap (€12-18) if you want to self tour though.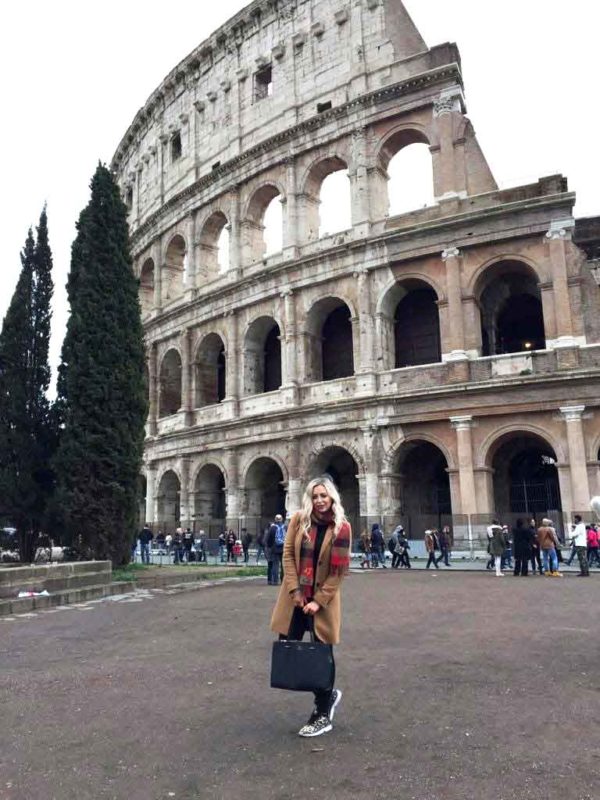 Vatican Museums, Sistine Chapel, Bramante Staircase & St Peter's Basilica
Again for this tour we booked it through CityWonders – and what an educational tour it was! The 4.5 hours flew as we soaked in all the tour guide had to offer, she was so passionate about her job and was a clear expert in her knowledge which made the tour so enjoyable. I posted loads on my Snapchat which you will have seen, the paintings, the rooms, the ceilings, everything was just breathtaking and had such interesting stories behind them all. The view from the Bramante Staircase overlooking Rome is definitely a must see too! The Sistine chapel was everything I expected it to be, but keep quiet in here and put away the camera and phones because the guards will literally throw you out! St Peter's Basilica is huge, again a must see, and you get to see the Pieta in all its glory! St Peter's square out front is huge and flocked with tourists, we walked from here and explored Rome all the way back to our hotel (stopping for a gelato or two en route)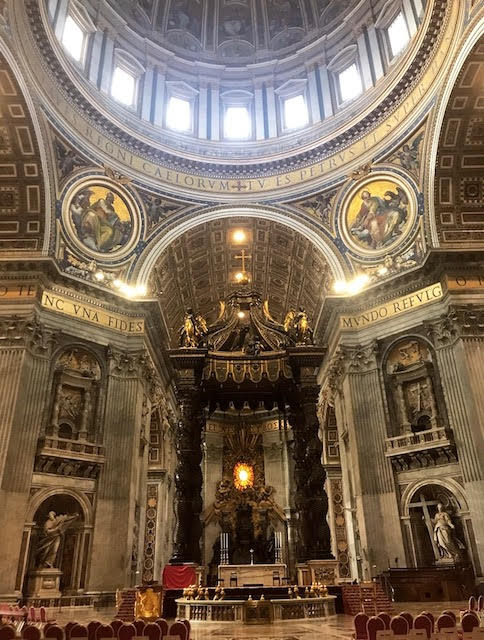 Explore Trastevere and grab some Suppli
This medieval neighbourhood was an accidental find, we were in search of some of the best Suppli in Rome (recommended by Romina my Italian hairdresser) and stubbled upon the most amazing cobbled streets and buildings. This place really feels off the beaten track and there weren't that many tourists around either. After we grabbed our Suppli (like a croquette filled with rice, tomato sauce and mozzarella) we stopped in one of the restaurants for some cheese and wine, and then stopped at another bar before we left, there were loads of cute and welcoming places around here to choose from!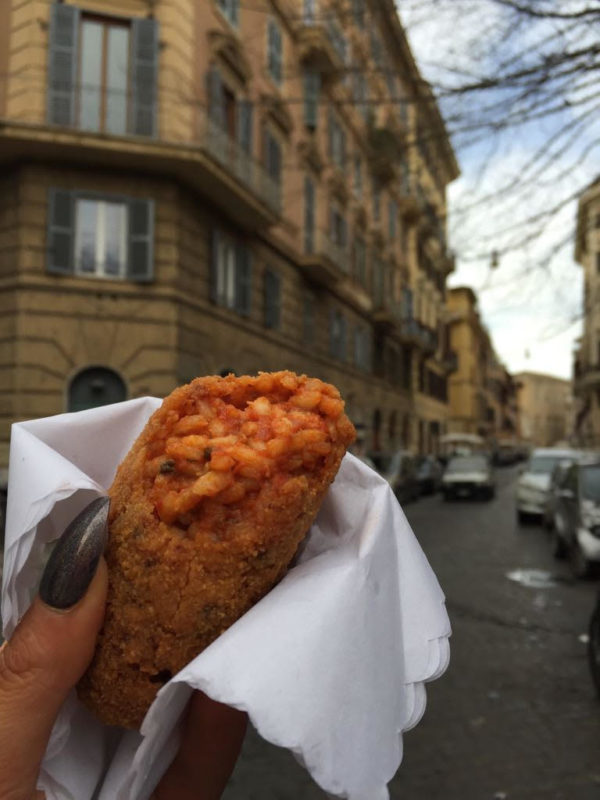 Enjoy Gelato at the Trevi Fountain
Actually don't, because you're not allowed. Or do if you can get away with it! We sat here having a Rafaello gelato not a bother one of the days, but the next day we were kindly asked to leave by a guard. I guess they just don't want people to litter – but I would be surprised if anyone did, although it was always jam packed! I of course threw in a coin for good luck, along with the 1,200 other people who visit the fountain per hour! There is an amazing gelato place just up from here (if you're facing the Trevi it is the street to the right and the first gelato place to your left) – there are Gelato shops everywhere though so enjoy!!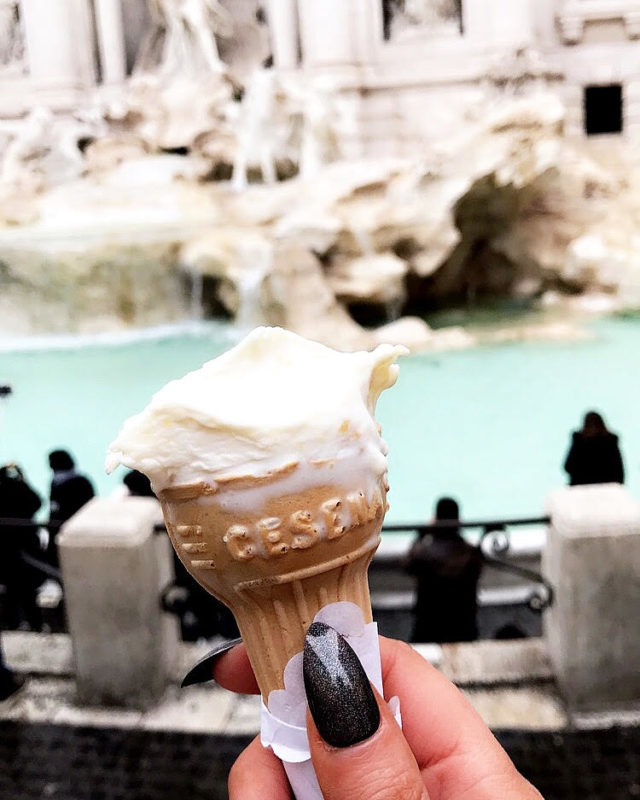 Visit the Pantheon
Outside here is a really busy area – and you'll even find your very own gladiator or two if you want a photo opp! It is free in here, and it's really very pretty with its original marble floor and a hole in the roof. There are 22 holes in the floor though for when it rains so no chance of flooding at least. You'll also find Raphael's tomb here!
Shop en route to the Spanish Steps
There is a lengthy street (Via dei Condotti) filled with all the shops your heart could desire on the walk up towards the Spanish Steps. What starts out as H&M and Zara, gets more expensive as you get nearer and nearer the steps! You've got Armani, Jimmy Choo, Bulgari, Prada, Dolce & Gabanna, Gucci and Dior. The Spanish Steps are of course packed with tourists so you'll need to dodge and step over some humans as you climb them. But when you want to get away from the madness there is a holy grail in the form of Sephora across from the 'fountain of the old boat'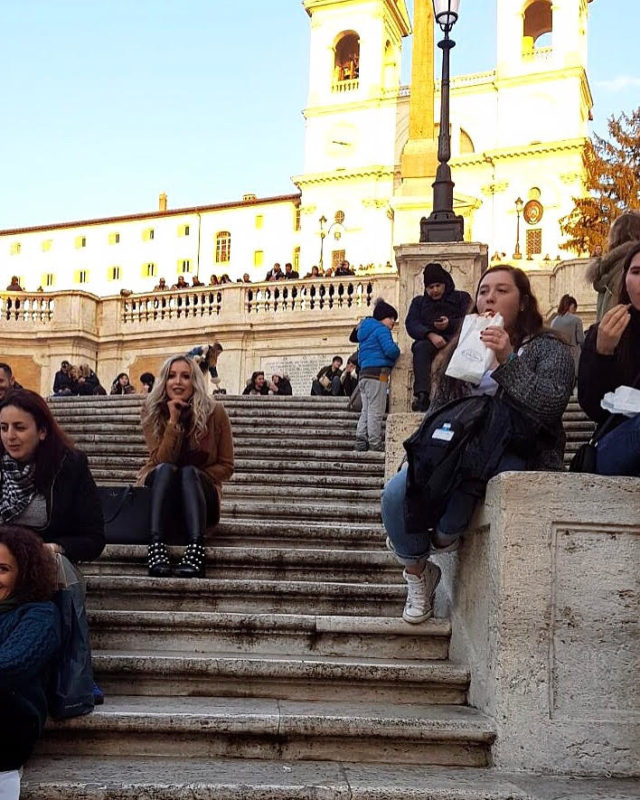 Rome around
Every corner you turn there will be beautiful architecture, a cobbled street, a fountain or a church worth entering. And if for some reason there's neither of those, there is definitely gelato shop or three!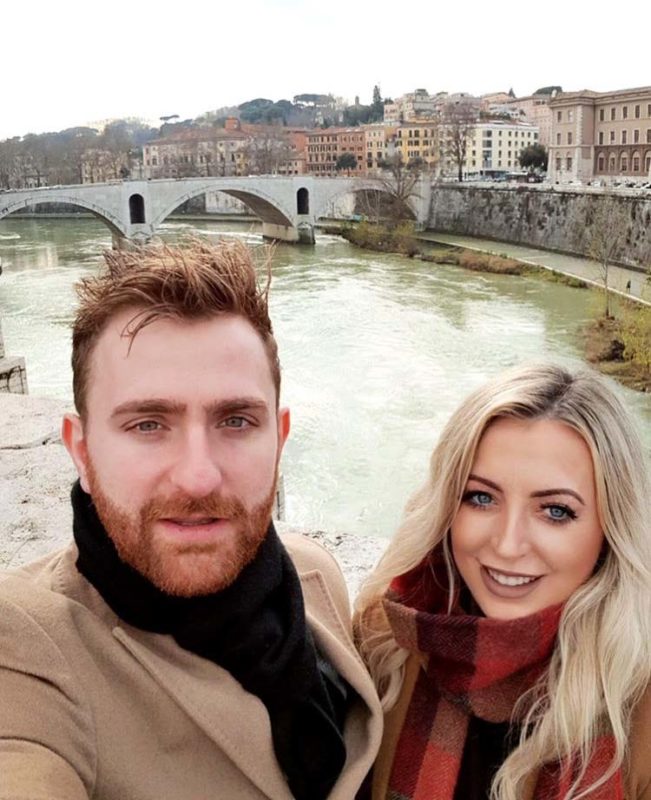 Where to eat / drink in Rome
I'll post these in the order of when we went to them over the 3 days.
Ristorante Rossini
We arrived at our hotel around 9pm on Wednesday night so we had only planned on getting room service, but turns out the hotel had a restaurant on the ground floor (from the outside it is to the left of the hotel) so we popped in there for a bite! I was looking forward to my first taste of Rome so of course I ordered a pasta dish. I wasn't expecting much given we hadn't checked reviews and the place was fairly empty (it was 9.30pm on a Wednesday though) but I was pleasantly surprised! Looking back this was one of my favourite meals for sure and I'm only raging we had just the main and a glass of wine!
Ristorante Angelina
After a hella long morning touring the Colosseum we walked back towards our hotel and stumbled upon the Trevi Fountain. We didn't want to eat anywhere too tourist central but we were at a point where we were both hangry so went to a place not far from the Trevi. When we got in there was a huge buffet of different foods where we could help ourselves and fill a plate for a fixed price or just order from the menu. it was definitely a popular place for local business employees and I pretty much cleared my plate – it was delish and came to just €12 per person.
Gregory's Jazz Club
I'm not particularly a Jazz fan but this place was cute with a nice atmosphere. We were only here a short while to grab some cocktails before dinner so we didn't go upstairs where the live jazz was – it was €15 entry which included a cocktail which was good value because the cocktails were €12.50 anyways! They didn't have a menu because they said they were updating it so we just asked for some whiskey based drinks. They put alot of love (and time) into making these drinks for sure – they were quite good, my ones didn't taste that strong though!
That's Amore
We stupidly didn't book our restaurants for our time there until the second day we arrived. Himself had a list of places he had read good reviews on and we were lucky to get the last few available sittings that we did. This place (and all the popular places) are quite small so if you were early or waiting on a table you had to hang out outside. I loved the food here, I definitely overdosed myself with pizza – to the point where I didn't order pizza again on the trip! The starter was unreal too as was the dessert, the staff were friendly and it wasn't too expensive either.
Il Suppli
My hairdresser recommended 'Suppli' an Italian street food favourite and I walked the length and breadth of Rome trying to find a place that did it! Aptly named Il Suppli was the top recommended place which was all the way in Trastevere so after our 40 min walk from St Peter's square following our tour we had definitely built up an appetite. This place was packed but we managed to get ourselves some for €1.50 each and wandered the cobbles scoffing it down. They are basically like a giant croquette stuffed with Rice, Tomato and Mozzarella and were seriously delish! If this place is too far to travel to there is a chinese street food type place near the Trevi that I spotted them in but I didn't taste them there!
Cajo e Gajo
After grabbing our Suppli we were still a bit hungry so we ventured into this cute little place for some wine, cheese and focaccia bread! This was probably one of my favourite cheese and meats boards to date – it had the right amount of everything! They also serve Suppli here I spotted someone with them (they're called rice balls here though on the menu I think) We were given a Limoncello shot for afters too which was a nice touch!
Piccolo Buco
This place had an endless amount of people walking in off the street looking to eat here but it was fully booked. I'm not sure if this was a sign of its popularity or convenient location. We were near enough to the door so it was a bit annoying. The food here was nice alright, but not amazing in comparison to the other places we went. Also, we were given a receipt which had 'non fiscale' on it – afterwards I googled and basically it meant that it wasn't a valid receipt and that it was something to do with the restaurant not paying tax. I'm not sure if this was actually the case but I found it a bit odd, our bill was paid in cash too!
Bread In
This is number one on TripAdvisor for cheap eats but also number 4 overall in terms of restaurants! The staff were super super friendly here and the sandwiches were delish! We washed it down with some of their selection of craft beers and were happy out. If you're looking for a filling lunch in the form of a sandwich definitely pop in to here if you are nearby!
Colline Emilinane
This place definitely felt somewhat fancier than the other places and the food didn't disappoint. One thing I forgot to mention in this post, is that the Italians like to serve 4 courses! So a starter, a first course (usually a pizza or pasta dish etc), a second course (a meat dish such as veal, pork etc) and then a dessert. It was here we tried to do a second course (between us) and we struggled! He had a pasta soup as one of his dishes which was different and I went with their popular ravioli. A little more expensive than the others but worth it. You would probably need to book this one ahead of time too.
Dow Jones
The cocktails here were quite nice but the place was very quiet. It didn't feel like a cosy cocktail bar at all and anyone that arrived seemed to only stay for one or two. Maybe it gets busier later in the evenings but it didn't have the right atmosphere for me! So we went on to the next cocktail bar..
Club Derriere
This is a speakeasy style place with the toilets hidden behind a moveable book shelf! We were lucky to get seated when we did because shortly after the place was packed and everyone was standing. They do food here also so if I am in Rome again I would go back there for food too. The cocktails were un, real. Super strong and way too easily drank. I was fairly tipsy leaving this place after one too many MacGregor and Kevin Spaceys!
Ristorante Pummarola
We stumbled upon here on our last day looking for lunch, we sat outdoors in the seated area and people watched as we stuffed our faces. The food was great and it was good value – they had specials on the board outside when we arrived (but then took them away once it got busier) but it was a nice lunch outdoors in a nice location!
Scholars Irish Bar
This was a nice, friendly, typical Irish pub. Great atmosphere especially as the rugby was on. We were here to kill some time before the airport so we ate and drank and watched sport. The nachos and wings went down a treat! The drinks were expensive enough though – €7 for a pint of Guinness / Beer!
Hope you enjoyed my blog post and it gave you some ideas on things to do in Rome! I'm super jealous if you are planning a trip there, but do email or snap me if you have any questions I didn't get to cover here!
AJ x