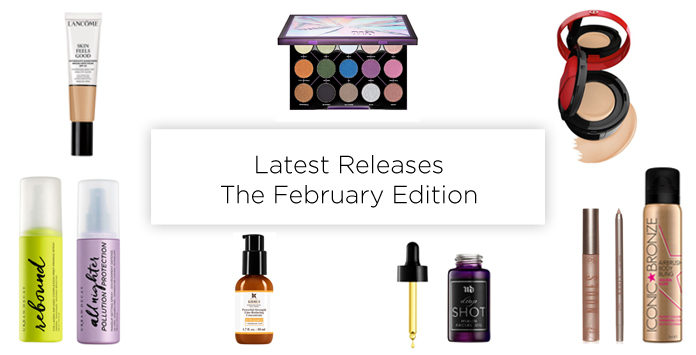 This months latest releases is packed with some of my favourite brands! Urban Decay in particular has lots of new bits to try out, and Giorgio Armani is back with some more amazing packaging for us all to drool over!
Primark – PS..Nudes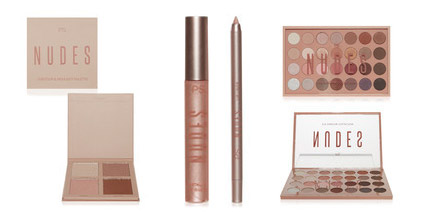 Primark (Penneys) has decided to turn your life nude and embrace the fact that the nude look is in! These new releases are all about clear skin, a minimalist eye and nude lip, – a subtle barely there. Contouring and then highlighting features of the face and giving a glow to the skin! As always with Penneys the range is super affordable and starts at just €1.50.
Iconic Bronze Airbrush Body Bling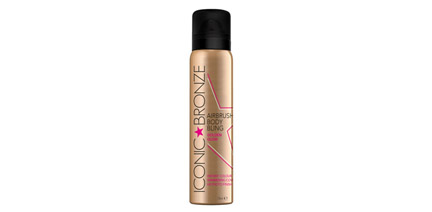 New to the Iconic Bronze range is something that will give you the airbrush effect – music to my ears! It's an instant quick drying tan to get you bronzed in minutes and is transfer resistant – which is surprising given this style of product. It also claims to have a fresh and citrus bursting smell and retails at €12 in pharmacies nationwide – but €10 if you grab it in Penneys!
Urban Decay – Drop Shot Mix in Facial Oil, Distortion Palette, Rebound Priming Spray & All Nighter Pollution Protector Spray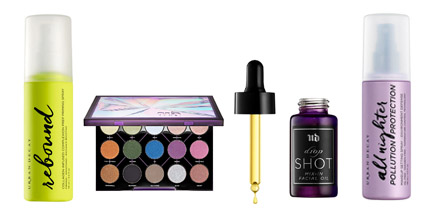 I mentioned Urban Decay's original All Nighter spray in my favourites of 2017 post, and looks like it now has an upgrade – protects you from pollution and it lowers the temperature of your makeup so that it lasts longer! Pretty innovative. (€33) Their new collagen infused Rebound prep and prime spray helps your skin bounce back – sounds like just what I need when I wake up a little hungover!! Leaves your skin instantly alot more hydrated, a good bit smoother and a little more radiant.(€33) Another palette release in the form of the Distortion Palette – you mix and match the top row of shadows with the bottom rows to create your own multidimensional hues. 9 of the 10 shades are new, and then there's the 5 transformation hues – so plenty of potential options!! (€47.50) If you're looking for that glow you can instantly get it with a drop shot of this mix in facial oil. Add it to your foundation for conditioned skin and a (non greasy) dewy glow – or use it as a base for your makeup or under your night cream! (€31)
Giorgio Armani – My Armani To Go Cushion Foundation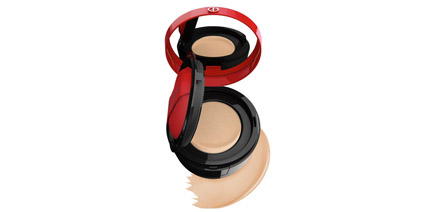 Forever delivering the perfect packaging – Giorgio Armani has released a Cushion foundation, and it's travel friendly! I tried this on in store and it felt like it wasn't on at all, but definitely looked like it! This is definitely going to be my new handbag essential for topping up. I'm always nervous about topping up my foundation throughout the day because I don't want that muddy caked on look – but this one didn't do that. I just looked like I had freshly applied (flawless) makeup. Currently only comes in 6 shades (SPF23) but I imagine new shades will be on the horizon if this one goes down as well as I think it will! €69 when you first buy it and then €49 for the refills! I can't not mention their Chinese New Year Palette – it is the year of the dog after all! I got sent this with Rocco's name on it and it has the cutest embossed dog pressed onto the powder..I'm obsessed! It's limited edition for €85 and avail in stores now!
Lancome Skin Feels Good Foundation

So this release is a skincare and makeup hybrid. It's a sheer foundation which to be honest isn't generally my go to choice. It has vegetable glycerine, hyaluronic acid and natural moringa extract, so there's it's obvious where the name came from! If it's as sheer as I think I reckon i'll reach for this on days where i want a no makeup makeup look. Walking the dog or chilling on a Sunday –  guilt free radiance booster! it also rocks SPF23 to help protect against sun damage. (€34) This isn't available until April so keep your eyes peeled!
Kiehls Powerful Strength Line Reducing Concentrate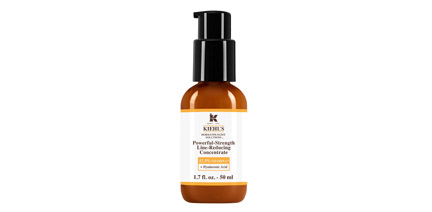 A new and improved powerful strength line reducing formula with 12.5% concentrate of Vitamin C and with the addition of Hyaluronic Acid. The original formula is a favourite so they have developed an even more powerful formula. Anti Aging serums are an integral part of the skin care routine so i'll be adding this non greasy radiance boosting new release from Kiehls!The before and after pics on their clinical tests have me convinced. I'll be lashing it on my forehead! (€56)
February is going to be a beautiful month for me because I was lucky enough to be sent alot of the above, so stay tuned on Snapchat & Instastories to see how I get on testing them out!
AJ x