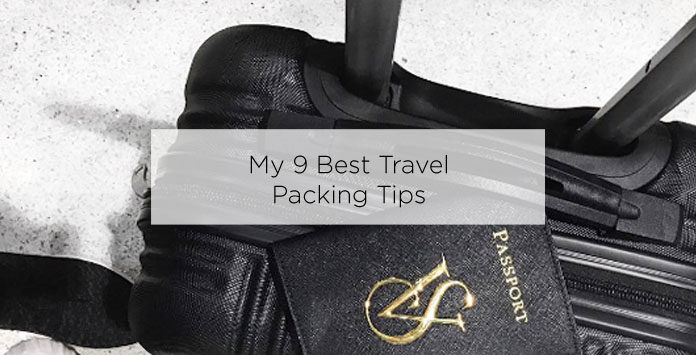 Here are my 9 best travel packing tips that might be different to your normal list. This is more aimed at things you need to remember when packing to make it that bit easier rather than telling you what to pack. It's what works for me so I hope you find it useful!
Multi-use products
There are plenty of products in the beauty world that you can double up on in terms of their use other than its intended purpose. Contour powder can be used as eyeshadow, eyeshadows as brow products, BB cream as your tinted lotion and built up as a foundation, vaseline as a lip balm or cuticle cream, coconut oil as a makeup remover, hair mask and mouth wash (the list is endless with this one). If you really think about it there are plenty of items you can find more than one use for that will work in your favour if space is of the essence.
Check your destination
Do some research on your location. Does your hotel have a hairdryer? Offer laundry service? Does it supply complimentary beach towels? Toiletries? Check near by your hotel. Does it have a hairdresser? A blow dry here might save you on bringing multiple hair tools if its a short trip and you're tight on cabin baggage space. If you're camping don't pack a cooler full of food if there are plenty of shops where you can just buy as you go once you reach your destination. Google is your friend so find out as much as you can that will help the packing process.
One Size Fits All
There are products out there that are literally made to be travel friendly, and made for deliberate multipurpose use unlike the items mentioned above. Dr Paw Paw is a good brand for this actually. They have a 7 in 1 hair treatment styler that will sort the hair, and also their original balm which is for your lips, skin, hair and nails. You've got numerous affordable travel size minis that you can get in your local Boots and Superdrug. The Benefit Cosmetics minis being the cutest! There are plenty of palettes that combine lots of products that you don't need to bring individually wrapped. Such as the new 3 in 1 Urban Decay Naked Skin shapeshifter palette! SOSU's complete contour palette is another fab travel friendly must have – contour, concealer, highlighter, creams and powders.
Prep yo'self
You won't need to bring a tweezers if you wax or get embrowdery or maintain your brows whatever which way before hand for the week or two ahead. No need for a razor either if you've waxed all the bits that might be on show, or if you've invested in laser hair removal. Get your nails did so that they don't need any attending to while travelling, and a spray tan should see you through a weekend away if a short trip is on the agenda.
Compromise
You might need to sacrifice your favourite body wash, shampoo or conditioner for what's in your hotel, for something that cannot be sacrificed such as your skincare if you've got a particular routine and products you rely on. You might need to decide if it's your favourite curling tongs over your straightener that you bring. Leave behind the 8 different cranberry shades of eyeshadow for a realistic array of colours that fit neatly into an Inglot freedom palette. Do you make do with a Shampoo and Conditioner in one rather than bringing two bottles? So many first world problems I know but hey!
Share the love
If you're going with one of the girls plan in advance with them so you can each bring a different hair tool each and share your favourite staple makeup and beauty items. If you're going with your boyfriend then we know there is probably plenty of oversharing in that relationship already so bring things that he'll use too. And then get him to squeeze that beauty bag into his luggage cause they're technically his bag of products too right..? Winning.
Make offline playlists
In either the form of music, audiobooks or podcast episodes. Download at least one of each to your phone so that you are not streaming on wifi or roaming because sometimes neither of them are reliable. Only download what you think you need to see you through your holiday or journey so that you don't take up too much storage space on your phone if that's an issue. Also it drains your battery less compared to online streaming. Having these available on your phone will save your sanity in times such as airport delays and train or car journeys in areas of dodgy coverage.
Give your bank a heads up
This is one of those things that people forget or maybe don't realise that you need to do. But call your bank and give them a heads up on your destination and travel dates in case they block your card. It can be so inconvenient and frustrating when this happens but they do it for the right reasons. I bank with permanent tsb and I can actually do this online so it's handy. Check with your bank to see what the quickest way of doing it is!
Make a list
Make a list of everything you need as you think of it in the weeks coming up to your trip. The Notes app on my phone is probably my most used app for this purpose. You'll honestly forget some items if you don't, even if it is just a reminder of items you need to buy or sort. Oh and put the above in a list too so its memorable. Screenshot away even!
So there you have it, my 9 best travel packing tips! I hope these have made your packing somewhat easier and that I helped in some way. Happy travelling!
AJ x