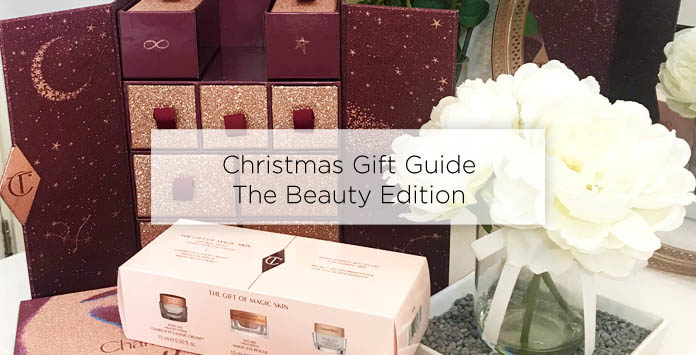 Following the Irish Edition of my Christmas Gift guide I thought a Beauty Edition would naturally be the next instalment! I've of course featured lots of my favourite brands within this post because I can personally vouch for them, and this time of year so many brands have specific gift sets that are not only really cute and festive, but also great value. So if you're stuck for some gift ideas, hopefully this beauty Christmas gift guide will help!
Charlotte Tilbury – Charlotte's Beauty Universe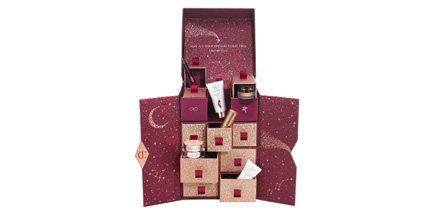 I received an incredibly generous gift from the team at Charlotte Tilbury in the form of a personalised giant Christmas stocking filled with gifts! Once of those gifts was Charlotte's Beauty Universe, which is a gorgeous purple glitter box with 12 gold glitter drawers, with some of her most iconic products inside each drawer. It retails at €185 but it's worth €252! For any Charlotte Tilbury fan this is an unreal gift, a selection of mini and full size, makeup and beauty heroes! There are lots of gift sets on offer in her Cosmic Beauty Shop which you can check out, my top picks other than the above would be The Gift of Magic Skin (€65), the After Hours Look kit (€114) and the Luxury Palette of Pops in Supersonic Girl (€50)
The Bodyshop – Ultimate Face Mask Experience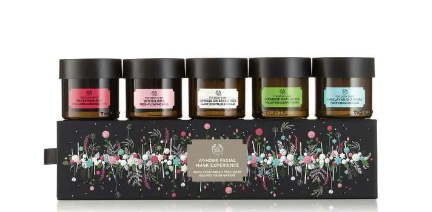 I love supporting The Bodyshop particularly at Christmas, because they partner with a charity every year, and this year it's WaterAid. So buying one gift, means one day of safe water for a family in Ethiopia. And there are plenty of festive gifts to choose from which you can check out here. My top picks across all price ranges would be the Body Butter Stars of the Forest (€37.50), Shea Ultimate collection (€49.95), and the Ultimate Face Mask experience (€90). There are lots of fab festive scents this year in the form of Vanilla Marshmallow, Peppermint Candy Cane and Berry Bon Bon so lots of options!
Boots – Xmas Gift Sets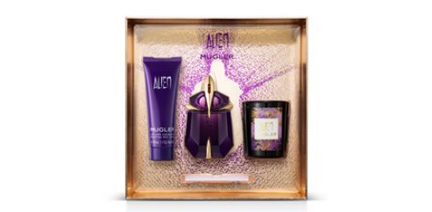 The Boots Christmas preview event is one of my favourites every year. They have a crazy amount of gift options to choose from, covering literally every budget, and across a wide range of brands. I especially love getting my hands on the brochure so I can flick through, and every year I pick up something for family or friends! Some of my top picks this year are the Soap and Glory Flatterbox Gift Set (€26), Mugler Alien Eau de Parfum Christmas Gift Set (€70), Sleek MakeUp The Ultimate Collection (€65), and the Pixi Ultimate Beauty Kit (€34). The list and brand choices are endless, and there's almost always 3 for 2 offers on!
Lancome – Mini Fragrance Gift Set
This year's Lancome gift sets don't disappoint. Their La Vie Est Belle Eau de Parfum is one of my favourite perfumes, so a miniature version of a selection of Lancomes favourite fragrances is such a lovely gift. Perfume is a personal thing so if you're set on buying a fragrance, then a choice of minis is a safe option too! They have lots of gift sets on offer though, the Monsieur Big Mascara Gift Set is another fab choice in my opinion, who doesn't wear mascara!
Bobbi Brown – Pret a Party Mini Eye and Lip Palette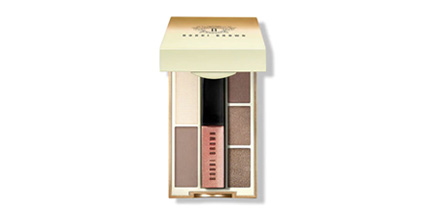 I mentioned in a recent post about Bobbi Brown's new Highlight & Glow Highlighting Powder Duo being a gorgeous gift for someone this Christmas. (It's so pretty!!) But they have lots of limited edition sparkly and pretty palettes to choose from, across all budgets. You can check them all out here, but my top picks other than the highlighting palette duo, are the Pret a Party Mini Eye and Lip Palette (€30) and the Hydrating Skincare Set (€62)
Kiehls – Creme De Corps Soy Milk & Honey Body Butter (x Bannecker)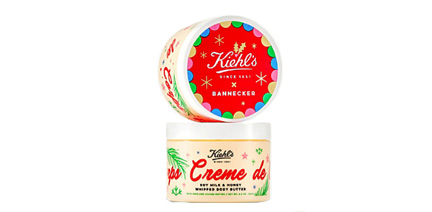 You can never go wrong with the gift of Kiehls. I've been googling and spotted this year's limited edition is a collab with Bannecker – you can get a look see here! I could only find them on the US site but I know they are definitely in Ireland so keep an eye out in stores! Bannecker is an artist best known for his use of vivid colors, hand-crafted drips and textures which you can see come through in the design! You'll be hard to find someone who isn't a fan of Kiehls so you can't go wrong with a gift like this. Price wise it should be similar to the original, €43!
Cloud10Beauty – Xmas Gift Sets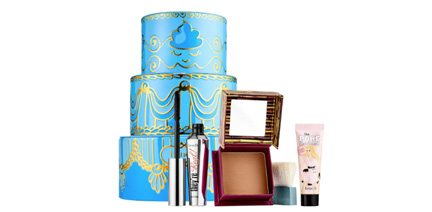 Cloud10Beauty are one of my favourites to order from – there's always great offers, a wide range of brands, and to top it off, free delivery!! (Anyone else hate paying delivery charges!) Like every year they have Xmas gift sets available on their site at great value which you can check out here. My top picks would be the Benefit Goodie Goodie Gorgeous Gift Set (€33), 12 Days of Slay Gift Set (€75) and Beauty Blender Blenders Delight (€44.99). There is definitely something gorgeous to suit all budgets!
Urban Decay – Holiday Hall of Fame Kit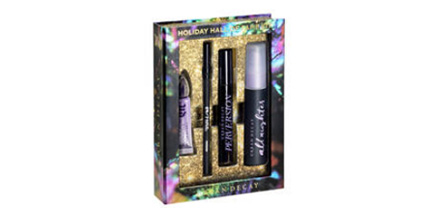 No gift guide is complete without mentioning one of my favourite makeup brands! After a bit of googling I have found that they have released some lovely holiday gift sets (and of course, in fab packaging!) that will surely go down a treat! Their Hall of Fame kit has some of my favourite products of theirs – All Nighter Setting Spray, Eye Primer, Perversion Mascara and Eye Pencil. The All Nighter Setting Spray is an iconic product – I think it's safe to say I can't live without it, so it's no surprise that it features in a few of the gift sets! The Holiday Heat set, the All Nighter Box, and even a Christmas Ornament!! The ornament of course comes with a mini setting spray inside but I think this is such a cute and unique gift idea for any makeup lover in your life! 
So there you have it, no real surprises in terms of brand mentions from me! And with only one week until Santa arrives, I hope it gives you some last minute gift idea inspiration!
Chat in the new year,
AJ x