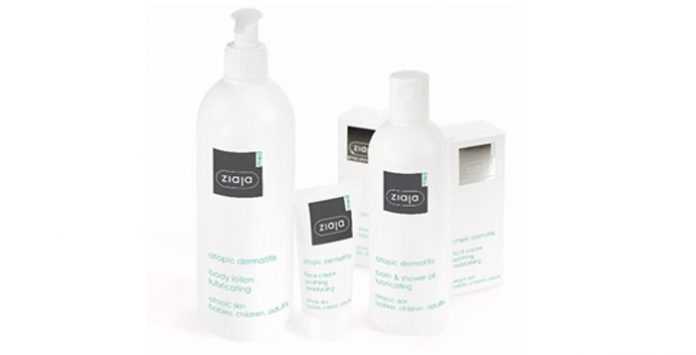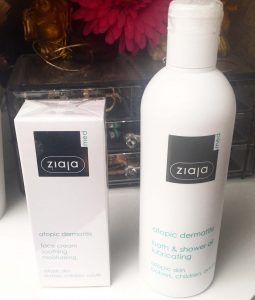 First of all, I don't have dermatitis! I was gifted these to try and I gave the Atopic Dermatitis Bath and Shower Oil to a friend who has some patches of eczema on his body. I kindly asked him to use this to try out and I personally monitored a specific patch on his foot. Yes – the glamorous life of a blogger!
To me it looked like really dry cracked flaky skin. I'm not too familiar with eczema so I wasn't too sure what it looked or felt like before but when I had a little examine it looked so sore!! Long story short within a few weeks of using it in his daily shower it was gone! I really don't understand it. I couldn't find on his foot where it originally was at all. So weird. It's quite oily and costs just €9.99 for 270ml.

That result didn't surprise me though after I started to use the Atopic Dermatitis Face Cream on myself. Again as I said I don't have dermatitis – I don't think. I do have really dry, red and inflamed skin around my nose which can sometimes kind of blister. I'm known to some friends and family as Rudolph! Attractive. I don't really take the best care of it to be honest so I said I would give this a go. I actually could not believe it – the redness completely subsided after a few days. Like, how? You'll have seen on my Snapchat it's now part of my nightly routine. I only put it on the affected area though nowhere else! and if I don't apply it, the redness comes back all angry!
Benefits of Ziajamed Atopic Dermatitis Range
Below are the benefits I'm told that come with the range! I can account for at least a few of these from my own personal experience. Which leads me to believe that this range isn't just for AD sufferers, I would also try them if you have extremely dry or inflamed areas of skin you can't get rid of. The range is recommended for babies from 3months, children and adults so I can't imagine it's harmful if it's cool to use on babies!
treats the symptoms of AD quickly and effectively to reduce the number of flare ups;

intensely moisturises, softens and reduces roughness of skin;

reduces excessive itching, burning and redness;

regenerates the natural hydrolipidic barrier of the skin;

builds up the skin's natural bacterial flora to improve skin's own defence against irritants;

contains only the essential active ingredients in a neutral base formula;

all products are pH balanced, hypoallergenic, odourless and dermatologically tested
You can find Ziaja products in Shaws and independent pharmacies, and also online on Original Beauty. Ziaja products are such an affordable and great value range, costing from as little as €2 to €9.99.
Any other questions about the range let me know and I'll find out for you!