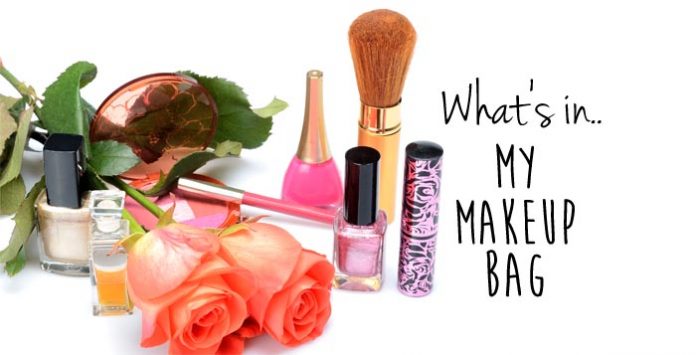 Here's a little post about what's in my makeup bag at the moment! This can change up quite a bit just like any other beauty blogger as I test new products but I'll let you know which products are currently in review! When I'm giving products a review I tend to only replace one or so items at a time and give it a few weeks, because if for example I change my foundation, primer and setting powder all in one go then it could be hard to pinpoint which product is / isn't working for me!
Firstly I should explain what I mean by my makeup bag! I'm talking about the one I could pick up and leave the country with, that has the ability to bring me from day to night any place, any time, any where! I travel alot at the weekends so this is why it's always packed and ready to go with all my reliables!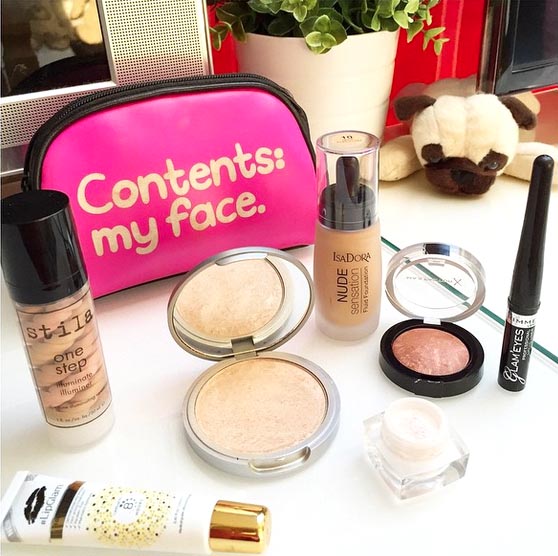 I also have a small makeup bag in my handbag but that only has a few bits to top me up throughout the day but i'll talk about that one in another post! And then of course I have drawers and drawers, boxes upon boxes, and absolute stashes of products in drawers waiting for me to play with, I don't think it's possible to ever include all those in a post!
So here goes, be careful, it's a long one! You won't see any palettes listed below because they're all too big to keep in this bag, but they're always on hand in my bedroom and sometimes i'll grab them and pack them carefully in my suitcase if I've a certain look planned.
Face
Isadora Nude Sensation Fluid Foundation

I wear this in shade 10 and find it great for every day wear

Chanel Vitalumiere Fluide De Teint Eclat

I wear this in shade 40 Beige and mix this with my MAC Studio Fix on nights out

MAC Studio Fix Fluid

I wear this in NW35 and mix with the Chanel for nights out

Rimmel Lasting Finish Primer

This is new to my everyday makeup bag, so far so good – I'm surprised!

Stila One Step Illuminate

So pretty just look at it! This brightens and gives a lovely glow to the skin

Seventeen Instant Glow Cream Bronzer

I use this to do the contouring thing!

Collection Lasting Perfection Concealer

The shade I use is Fair – it's my holy grail of daytime concealers

Maybelline Instant Age Rewind The Eraser Eye

My shade in this is Nude and I don't use this every day, only when I need to hide any dark circles or want to brighten up my under eye area

Benefit Boi-ing Concealer

This is industrial strength stuff for when I need to fully hide something hideous! I used to use it under my eyes but it's a little too thick for me to apply there now!

NYX Dewy Finish setting Spray

If I don't fancy using a powder and want a dewy finish I'll opt for this! I'll use it more so coming up to Summer

Powders
MAC Bronzing Powder

In the shade matte Matte Bronze – mainly use this for nights out/evening wear

Benefit Rockateur Blusher

Been loving this since before Christmas, have recently hit pan and swapping it in and out with a Max Factor blusher depending on my makeup look

Max Factor Creme Puff Blush

I wear this in Alluring Rose because it's quite a different shade to the Rockateur blush and I like to carry around at least 2 options. I also double it up as an eyeshadow

Bourjois Healthy Balance 10 hour matte finish

This is shade Vanilla and I wear it mostly on my oily face parts but only during the day

MAC Blot Powder

This is my night time version of the Bourjois – it's on shine control duties and sets my foundation for the eve!

ELF High Definition Undereye Setting Powder

Exactly what it says on the tin.

The Balm Mary-Lou Manizer

Replaced my MAC Soft & Gentle Mineralise Skin finish with this to test out and haven't swapped it back yet! Still love my Soft & Gentle but get so many compliments when I wear Mary-Lou!

Lips
The Balm Girls Lipstick

The perfect everyday Nude for me in the shade Mai Bills Be Paid

MAC Lipstick

Russian Red is the perfect shade of red for my skin tone because it has blue undertones to it! I like to carry a reliable red and nude in my everyday makeup bag

The Balm Pretty Smart Lipgloss

In the shade Snap! Goes great with their Mai Bills Be Paid lipstick

Vaseline Lip Therapy

Like who doesn't carry the handbag reliable Vaseline with them? I have the cocoa butter in this bag, but lots of flavours in lots of different bags!

LipGlam

This is a great lip balm if my lips are feeling irritable, it has all good stuff and is 100% natural!

Dr PawPaw Original Balm

This is a great multifunctional product and I whip it out when my lips are in a state!

Eyes / Brows
Maybelline The Colossal Volume Express Mascara

I normally use Rimmel Scandaleyes but I have SO many mascaras in my drawer so I've held off on repurchasing, this one is grand so far, nothing too amazing

Rimmel Glam Eyes Liquid Liner

LOVE THIS. Foolproof. Nothing more to say

MAC Kohl Pencil

I use both the Black and Teddy for nights out – I never really wear eye pencil during the day

Wet n Wild Ultimate Brow Kit

This is my day wear brow powder in the shade Ash Brown, although since getting Embrowdery I haven't needed to use it that much anymore!

HD Brows Eye & Brow Palette

Mostly for evening wear – I have the Bombshell one!

Model Co More Brows

I got this brow gel in a Glossybox and LOVE it, it's in the colour Light/Medium and the spooly size is small and perfect!

Duo Glue

I wear lashes almost daily and prefer the dark shade of this to glue them with!

Max Factor Excess Shimmer

Copper is the most delish colour in this – I bought it a few months ago but only recently added it to my everyday bag and I'm loving it!

Matte White Eyeshadow

I don't know the brand of this I've had it for a million years so it's rubbed off, but I use it as a primer rather than a liquid primer for my eyes lids!

MAC Eyeshadows – I have a reliable few of these loose in my bag so I don't have to carry around palettes, they're in the following shades:

Kid, Sable, Paradisco, Shroom, Folie, Coppering & Print

Yes, all of the above fit into my cutesy pug makeup bag! They are what's currently bringing me from day to night. Of course when I'm at home I can drop into my drawers and palettes and boxes of products but these are the everyday items! They can change all the time being a beauty blogger so I'll be sure to post an updated one in the coming months!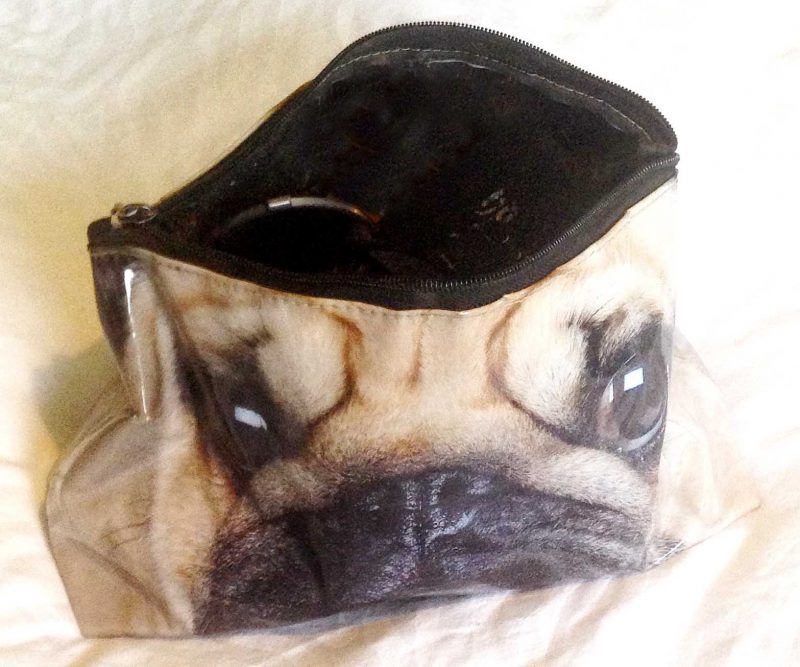 What products are you loving lately?