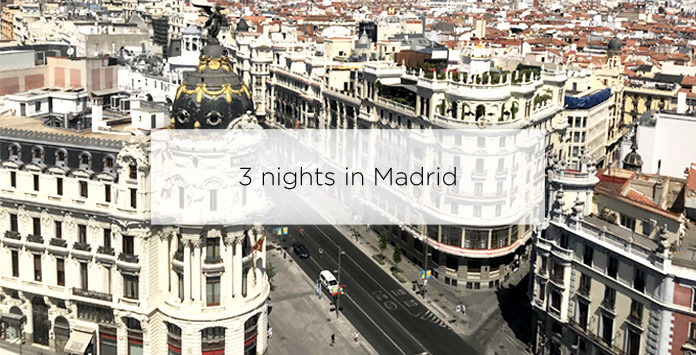 So this is a travel post with a difference! After much research I've pulled together an itinerary for three nights in Madrid ahead of my trip next month, as opposed to waiting to upload when I return. The reason is both for me to use as a reference when I'm there, but also for some of you looking for an itinerary yourself. Usually these posts are uploaded when I'm back but I find people who follow me on Instagram want the details quite quickly so this way you can get at least a flavour from this post. I will of course update it when I'm back and amend to ensure I capture everything I did and my personal opinion on each place and whether I recommend.
To give you a little context – we booked this as a 'relaxing' trip in the sun, which is why we booked a city centre hotel with a rooftop pool so that we had the option to explore, or stay at the hotel and be lazy! So to compromise, I've created an itinerary that is a little bit of both, and we'll see how we feel when we get there! I'll report back and update this post soon.
Why Madrid
For us, we wanted to go to somewhere that pretty much guaranteed sun so we could relax by a pool, but also somewhere in a city that had lots to offer in terms of history, architecture, culture and of course, food and shopping! It also needed to be a walkable city so we didn't have to venture too far given we were only there 3 nights – and affordable, as this is our mini getaway ahead of three weeks travelling around Italy! Madrid ticked all of these boxes for us, and I can't wait to find out if it lives up to my expectations.
How to get to Madrid from Ireland
Ryanair flies directly to Madrid and it's around 2 hours 40 mins away. Our flights cost €345 for both of us including priority boarding. We booked a 5.30pm flight on the Friday of the August Bank Holiday weekend (landing at 9.10pm local time) and returning on the Monday at 6pm, this way we don't need to take any annual leave and we get 3 nights and a full 2 and a half days to explore or relax in Madrid. There's public transport available into the city from the airport but there's also a set taxi fare of €30 which will suit us better at that time of the evening!
Where to stay in Madrid
A city centre location is definitely a good idea if you want to explore everything Madrid has to offer. We're staying in Hotel Santo Domingo which we booked through booking.com (you can get 10% cash back using my affiliate link) and it was €350 and includes breakfast. It looks like a fab 4 star hotel with great reviews and a prime location. Another motivation for us to book here was the fact it has a rooftop pool and bar, so that we have the option to relax by the pool and have a chill day. In the evening a glass floor covers the pool so you can have dinner and drinks there too! Looks fab so we'll see.
Things to do in Madrid
I'll post my planned itinerary for now, it's obviously still a little up in the air and may not be fully achievable but I'll list it below and I'll update when I return!
Day 1
Gran Via (Shopping & Strolling)
Puerto Del Sol (Statue of the Bear and the Madroño Tree & Kilometre Zero)
Chocolateria San Gines (opens 24 hours)
Plaza Mayor (Grab a drink & people watch)
Mercado De San Miguel (Food & Drink Market opens 10am-1am)
Royal Palace (€13 tour opens 10am-8pm)
Temple of Debod
Teleferico de Madrid (Cable cart) to Casa De Campo (€6 return opens 12pm-9pm)
Casa De Campo – Zoo Aquarium (€18.90 online / €23.85 opens 10.30am-12am) & Amusements (€20.90 online / €32.90 12pm-midnight)
Day 2
San Antonio de los Alemanes
Circulo De Bellas Artes (Rooftop bar €4 entry 11am-2am)
El Retiro Park (Rent boats €8 / bikes / skates 10am-5.30pm)
Crystal Palace (opens 10am-10pm) & Fountain of the Fallen Angel
Jardin Botanico
Sala Equis (opens 11am-2am)
La Latina (Explore & El Viajero Rooftop bar opens 11am-12.30am)
La Mallorquina Pastry Shop (8.30am-9.15pm) or El Riojano Pastry Shop (10am-2pm, 5.30pm – 9pm)
Where to eat / drink in Madrid
I have a couple of options in mind so i'll list them below, and update them when I return!
100 Montaditos
Gymage (Rooftop Bar)
The Hat (Rooftop Bar)
Chocolateria San Gines
Trattoria Malatesa (Pizza)
Steak Burger
Casa Granada (Rooftop Bar)
Beer Station
Zhou Yulong (Restaurant in underground car park)
Yugo (Restaurant in WW2 Bunker)
Calle Cava Baja – La Latina (Tapas area)
Tragas Tapas
Lateral
Casa Lucio
Botin
Coconut Bar
Museo Chicote
Spanish specialities:
Jamón Ibérico (iberian acorn fed ham)
Migas (fried bread seasoned with paprika)
Roast Suckling pig
Cocido Madrileño (chickpea and meat stew)
Callos a la madrileña (tripe stew)
Bocadillos de calamares (squid sandwich)
Gallinejas (lamb tripe)
Huevos Rotos (broken eggs)
Veal rosca (meat donut)
Tapas
Churros
Torrijas (french toast)
Spanish Omelette
So there you have it, I hope that helped if you have a trip to Madrid in mind, there are a couple of other things I might add in if I have time, but as mentioned, I will update as soon as I can when I return,
Let me know if you have any further recommendations or tips because a lot of this itinerary came from your suggestions through Instagram stories, so thanks a mill and keep them coming!
AJ x
image source: Esmadrid. I will update to my own once I return!