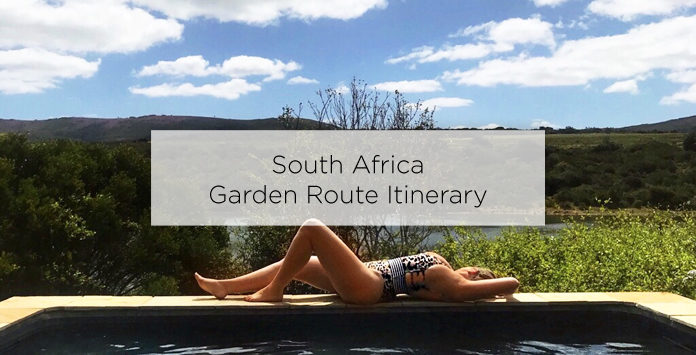 South Africa Garden Route Itinerary
The perfect South Africa garden route itinerary even if I do say so myself! So, in advance of my trip, I planned ahead after doing quite a bit of research. The reason being is because we are doing a fly and drive holiday to South Africa, and with travelling along the garden route we had limited time in each of the locations. I wanted to maximise my experience there so squeezed in everything I possibly could. You can also check out my blog post on how I went about booking a trip to South Africa, and the different locations I decided on.
So, below is my South Africa Garden Route Itinerary – I booked most of the activities where I needed to a few weeks in advance, including some restaurant bookings that I knew I wanted to go to! As you can see, it is pretty full on, but the safari at the end was relaxing, despite the early starts!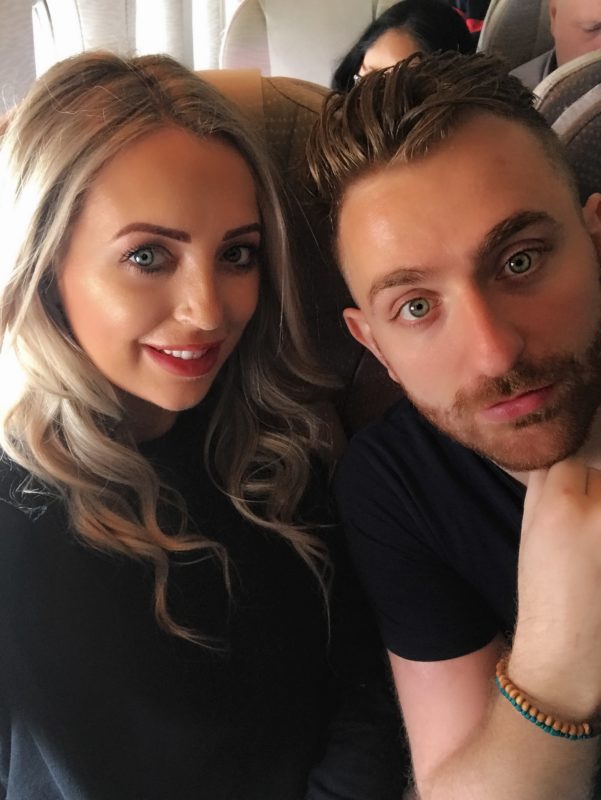 For reference, my Day 1 is a Monday. Some places only open on certain days so if you are planning on doing somewhat of the same itinerary as me and your Day 1 starts on a different day of the week, just double check opening hours depending on the time of year you go and work around it.
Day 1
We landed in Cape Town around 11.30am after 2 fab flights and no delays with Emirates so we kicked off our itinerary as soon as we settled into our hotel. We had planned on doing Table Mountain on the first day but it was overcast so pushed it to the Thursday – I would recommend doing it as soon as the weather allows incase it is closed for most of the time you are in Cape Town, the weather is fairly unpredictable there!
Accommodation – we checked in to The Commodore on the V&A Waterfront. The location was perfect, the Bus Tours start a few minutes walk from our hotel and the Waterfront has lots of places to eat and drink, and a huge shopping centre with every shop you could ever need. Zara, Louis Vuitton, McDonalds – whatever you're feeling! I ended up buying a fab pair of runners in Steve Madden – prices are much cheaper there too!
Lunch – we went to a place on the V&A Waterfront called Vovo Telo and it was probably my favourite lunch during our time there. Highly recommend! The pizza is unreal.
Two Oceans Aquarium – this is on the V&A too and the best aquarium I've been to! We got to see the cute penguins feed and got up close to huge tanks which contained what felt like giant sharks. There are a few encounters you can book there too on certain dates and times which you should check out before going. (175R entry fee)
V&A Craft Market – some truly stunning pieces of work in this place I wish I could have taken everything home. We picked up a wooden elephant ornament that you piece together for our side table at home, and of course a locally made Christmas decoration because that's our tradition for every new country we visit!
V&A Waterfront Food Market – the best sushi you will ever eat, and for so cheap! We stopped in here for a few pieces almost every day between lunch and dinner because we were a little obsessed. They have plenty of Beer, Biltong and Chocolate to offer in the market to indulge in too.
Dinner – we ate in Dash Restaurant around the corner from our hotel which we booked in advance. I could barely move I ate that much here, the food was fab! It was a Monday so there wasn't that many people here so the service was really quick, and the staff super friendly!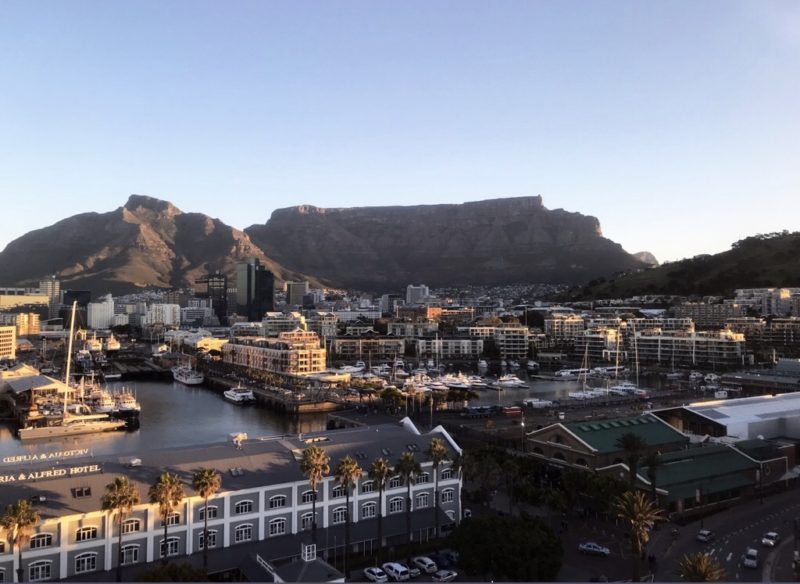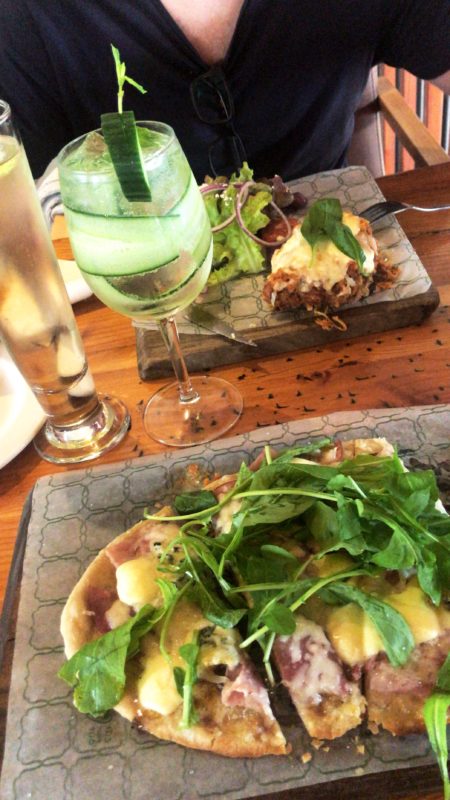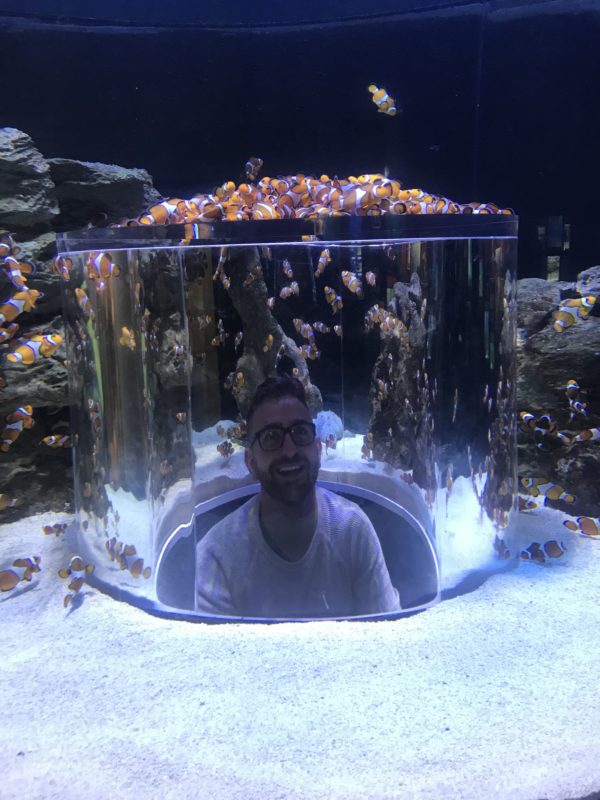 Day 2
Ahead of our trip, we bought a Deluxe City Sightseeing Bus Tour ticket for 3 consecutive days (€46pp) which gives you access to the Red, Blue and Purple routes, the walking tours and some extras. The dates we were there the red bus goes every 20mins, the blue bus every 25-35mins, and the purple bus every 20mins. It's important to get familiar with the map and timetable when planning your days! Your ticket doesn't activate until you collect it from the tour office so we didn't activate ours until Day 2 which brought us through to the Friday.
Bo Kaap Walking Tour – We got the Blue Bus at 10am from Stop 1 to Stop 5 where the Walking Tours start on Long Street at 10.30am. There's also the Historic Tour you can take but I really wanted to learn about and see the colourful houses of Bo Kaap. The tours are free for City Sightseeing ticket holders and work on a tip basis only – it is recommended around 200R tip per person. Our tour guide was really knowledgable and entertaining so we really enjoyed it!
Beerhouse – this was a short walk from where our Walking Tour ended on Long Street which has 99 bottles of beer on the wall and 25 taps! I of course had a Beer Cocktail but there was so much choice. This was a quick stop off on the way to Afternoon Tea
Belmond Mount Nelson Afternoon Tea – this was about 15mins walk from Long Street (or you could grab the Blue Bus). We booked here before our trip because it's classed as one of the best afternoon tea experiences in the world so of course had to try it out for ourselves! It really didn't disappoint, the hotel had such a historic and luxurious feel, it really was exquisite. I've never seen such an extensive tea menu which the Tea Sommelier had to help us with choosing! A huge selection of dessert, cakes and chocolates were all laid out in a buffet style for you to help yourself to if you could fit it in after your sandwiches, scones and copious cups of tea! This is definitely a must do experience if you have time – they have morning, afternoon and evening tea to choose from! (365R)
Kirstenbosch National Botanical Gardens – we hopped on the Blue bus outside Belmond Hotel at Stop 15 and travelled around 20mins to Stop 20 which is the gardens. This place is huge we for sure didn't get to see it all – definitely check out the Tree Canopy bridge and Colonel Bird's Bath, and if you have time you could make a day of it and bring a picnic! There's a shop and garden centre there too – we bought some seeds to plant at home, I hope they bloom! (65R entry fee)
Dinner – we booked The Silo in advance because we heard it was an unreal hotel. It definitely is uniquely built (and at over €1000 a night!) the atmosphere was lovely, staff were super and food was amazing! Definitely go here if you can get a booking. It was great value too, and they brought us out a surprise cake for our anniversary which was cute!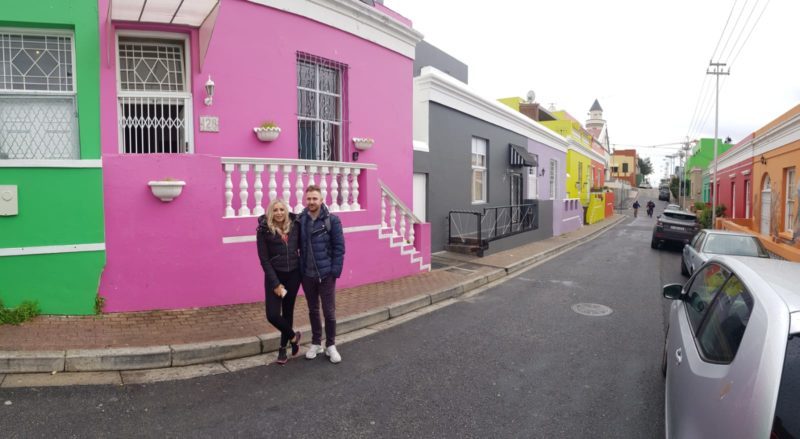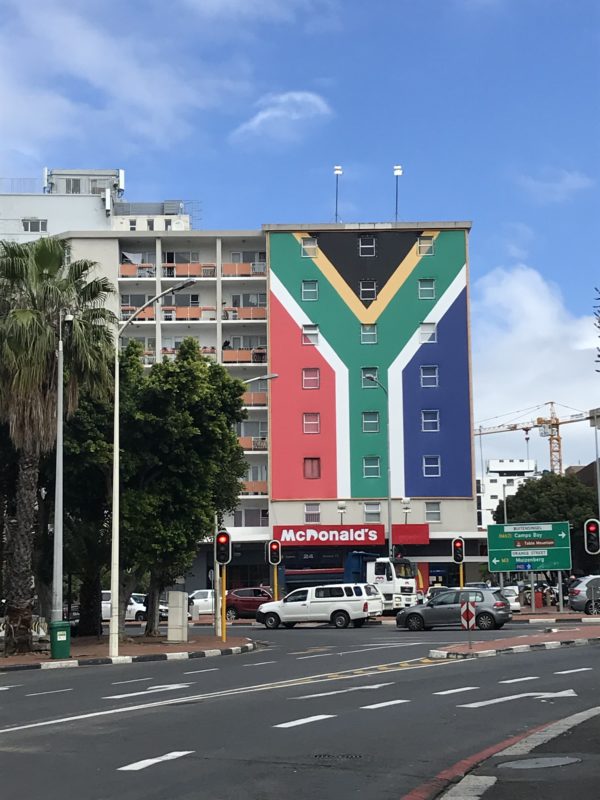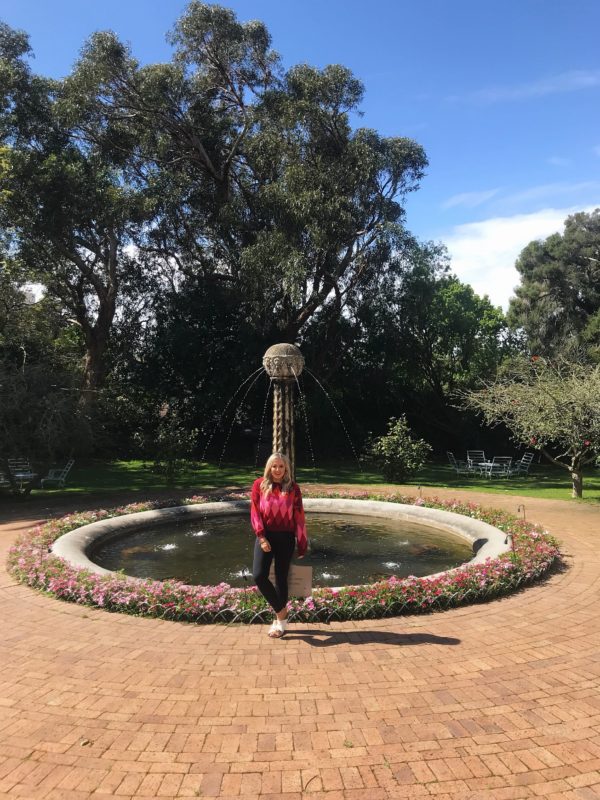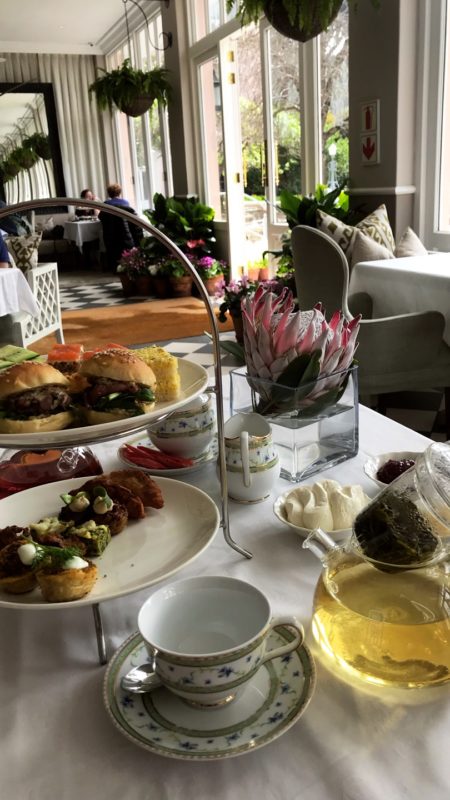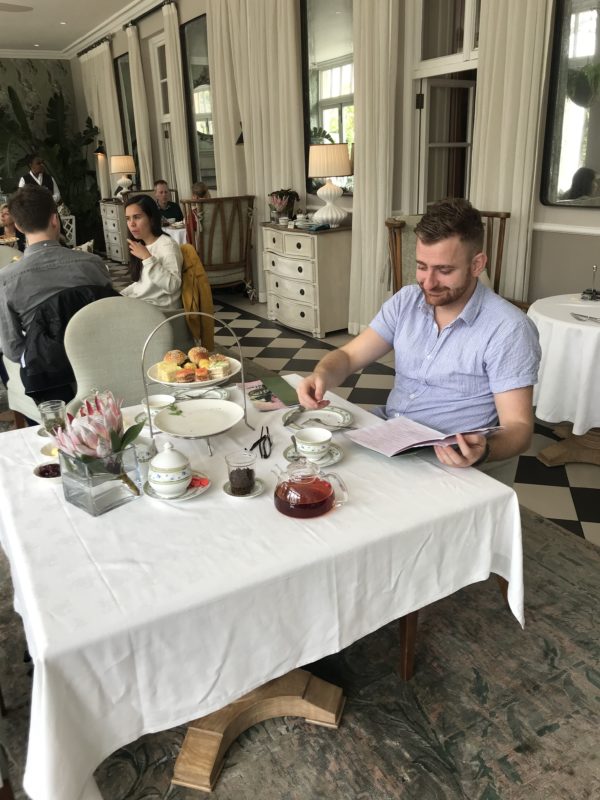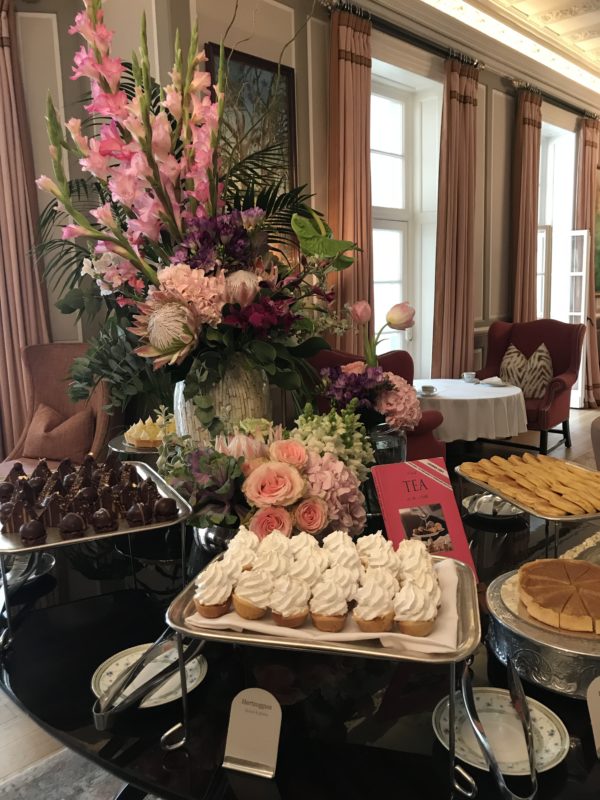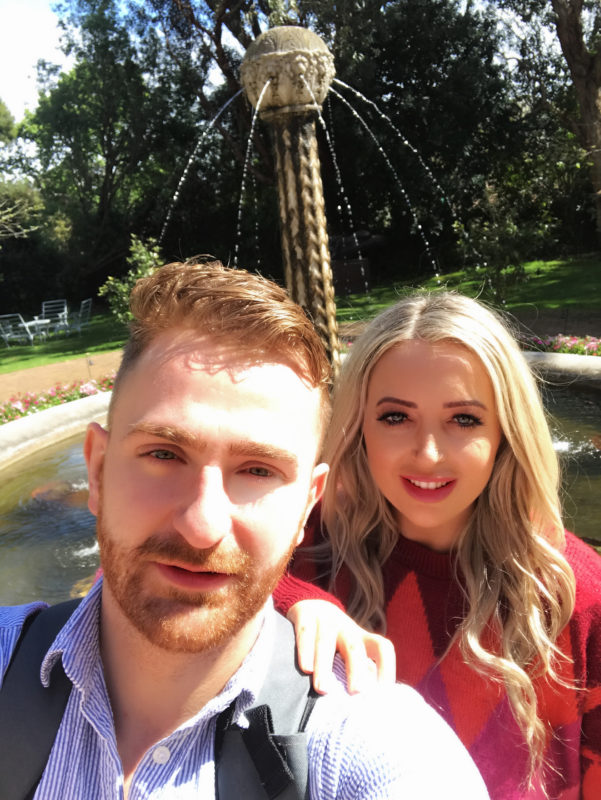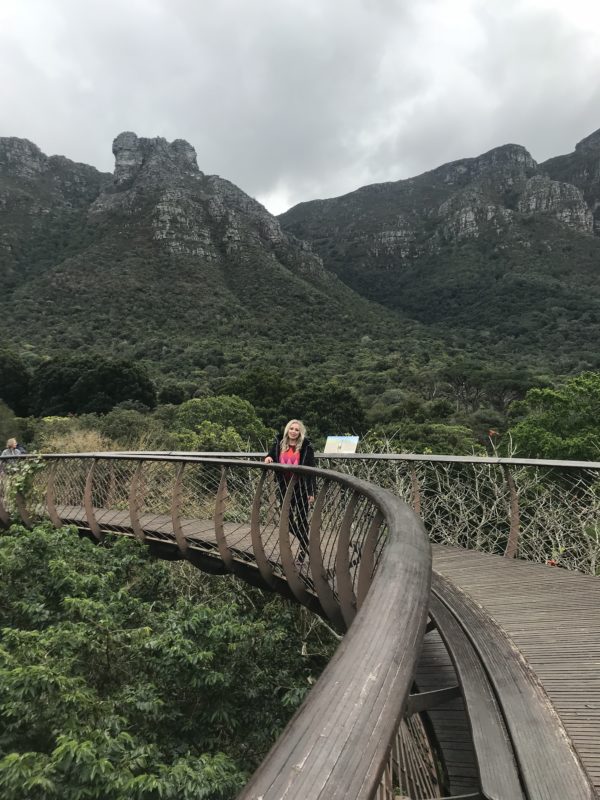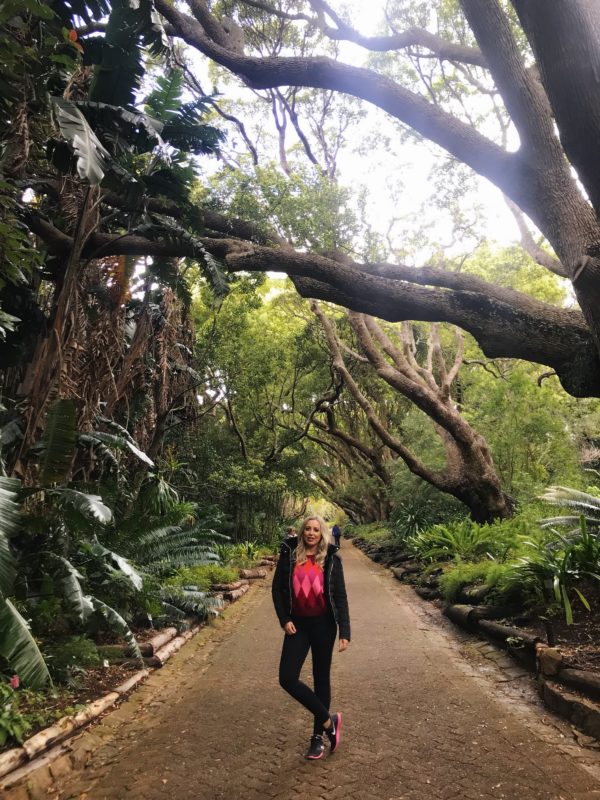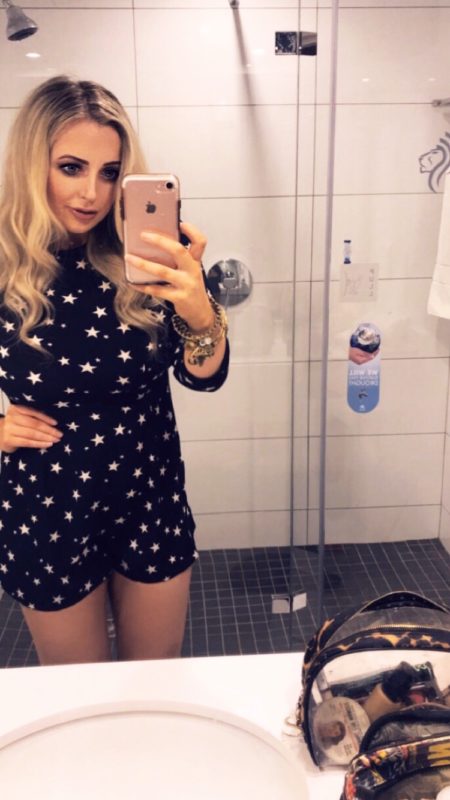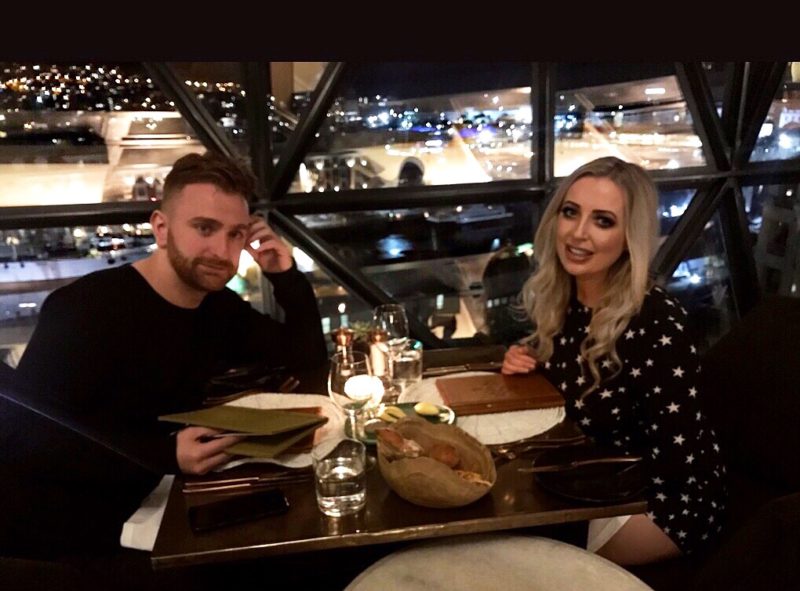 Day 3
Today was a Wine Tour day on the Purple route along with some birds and monkeys! We got the 9am Blue route bus to the 9.55am connection to the Purple route so we could visit all 3 wine estates in Constantia.
Groot Constantia Wine Estate – A nice start to a day of wine tasting! The staff here definitely knew a thing or two about wine and they had a tour here too. I'm not a red wine fan but I really did enjoy the red here, which I was surprised about! I'm not sure if they do pairings here but you did get to keep your wine glass, although ours smashed by the time we made it back to our hotel. We bought 2 bottles of wine here too to take back with us.
Eagles Nest Wine Farm – we arrived here just as it started to lash from the heavens, so we thoroughly enjoyed our wine and cheese by the fire here! We were starving so ordered a meats and cheese platter which was delish and huge! The wine was fab, again I enjoyed the red options here too.
Beau Constantia Wine Estate – the views from this estate were gorgeous! The wine tasting happens in a bar with almost all glass walls so we had a great view. By the time we got here we were fairly merry so I would've drank and enjoyed anything no matter the taste!! I kid, the wine was great here too, all three wine estates were predominantly red and I didn't mind one bit!
World of Birds & Monkey Jungle – We planned our day and times at the different wine estates so that we would make it here for around 2.30pm in order to see the monkeys! World of Birds is open from 9am to 5pm, but Monkey Jungle is only open for an hour and a half twice a day. It was all very open with close encounters with all the birds which I was surprised about. And then the monkey jungle area was a giant cage you enter and you have monkeys free roaming around you. They were jumping on our heads, climbing our backs, and even unzipping our bags in an attempt to steal from us! So word of warning, take off any glasses or shiny things, and don't have any valuables in zipped areas because they are well able to get in! This really was a great experience, the monkeys were too cute!! (120R entry fee)
Cape town Comedy Club – we booked tickets to the comedy club in advance of our trip, and we enjoyed it! Some acts more than others but it is worth a visit, the food wasn't great though – we had pizza and a platter of mixed bites, it was grand, but i suppose we weren't there for the food, more the entertainment! (60R entry fee)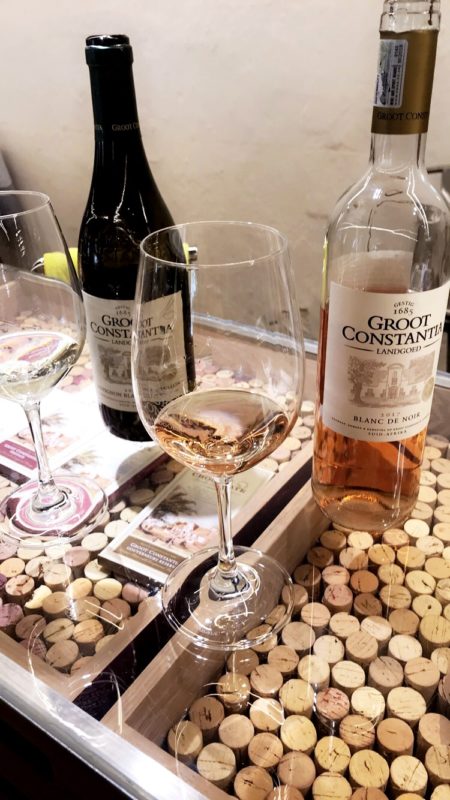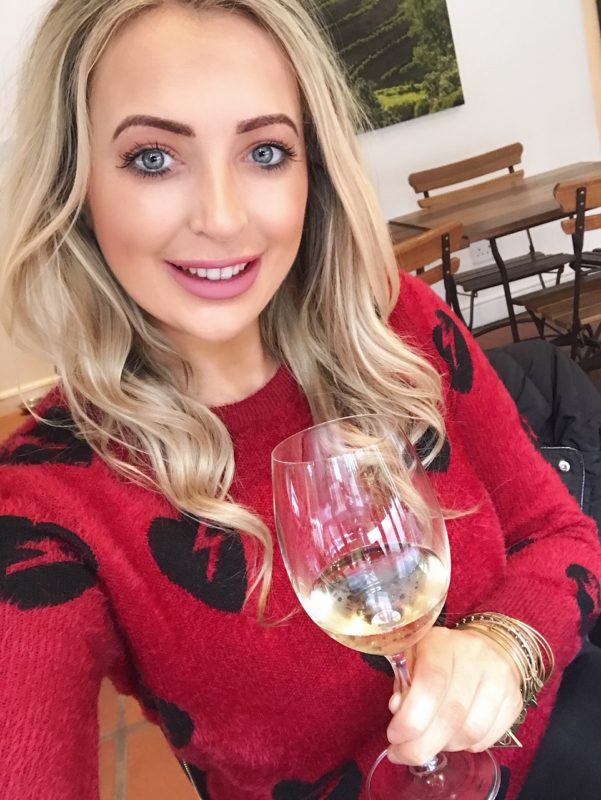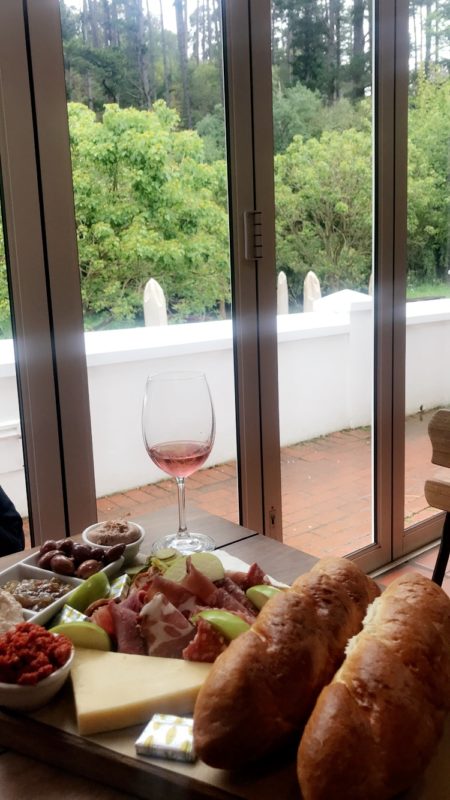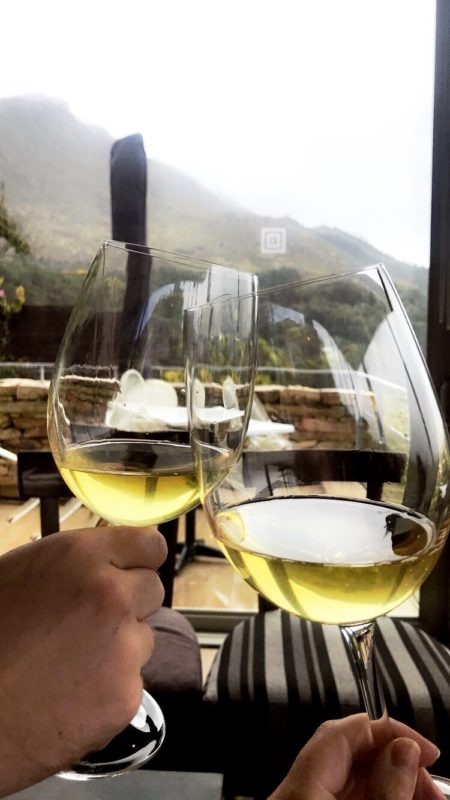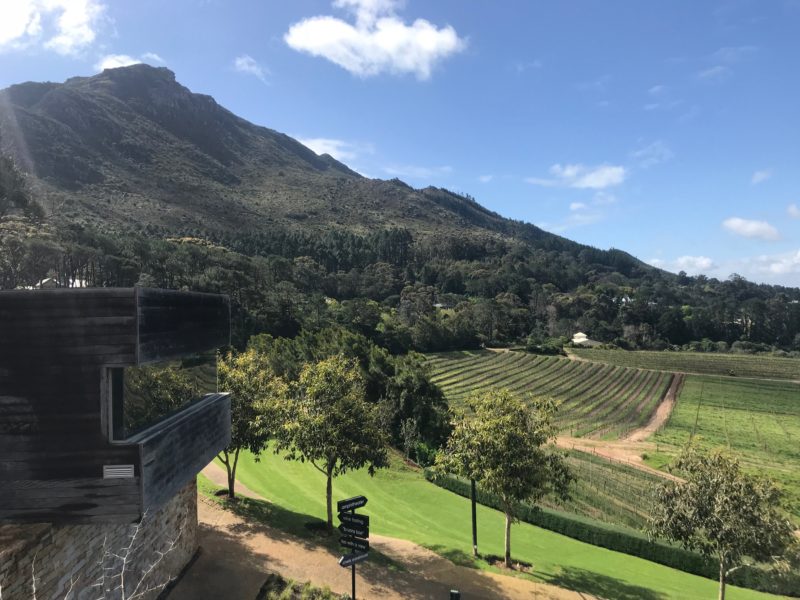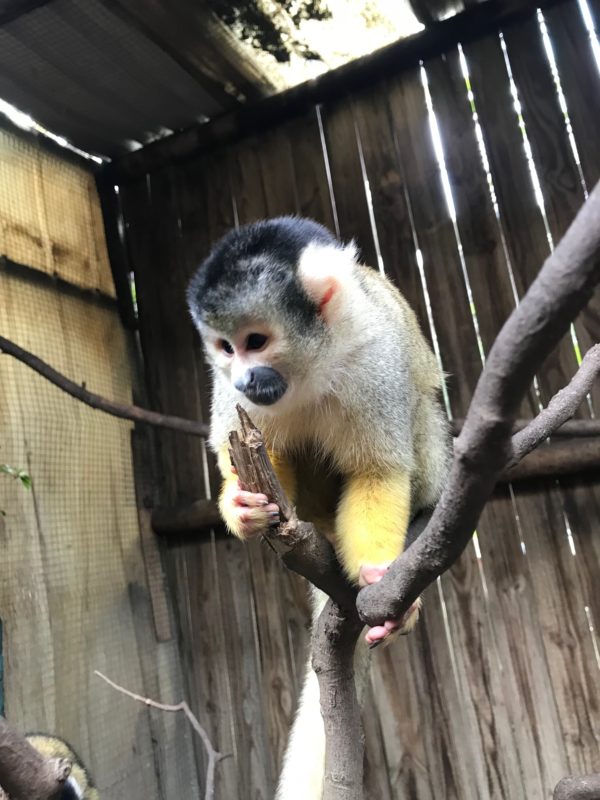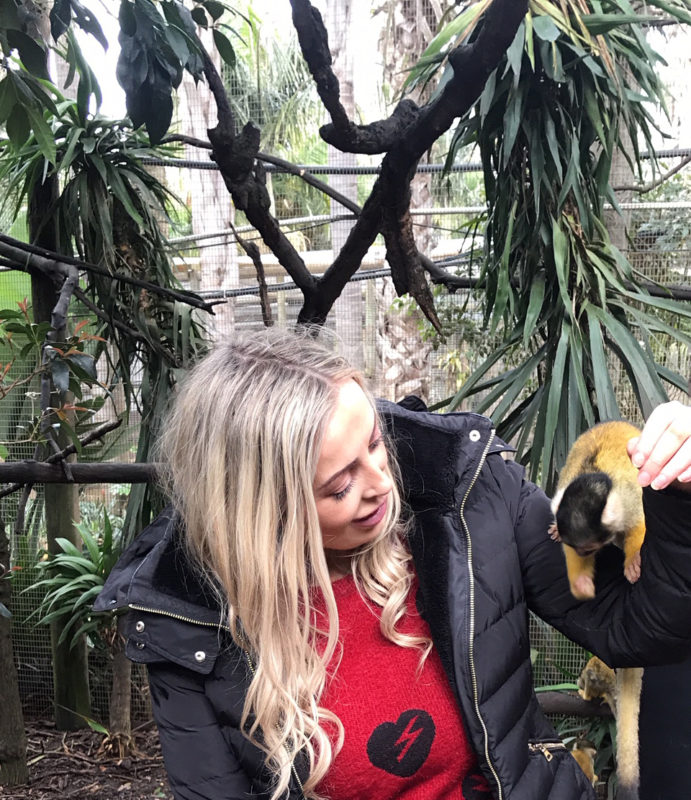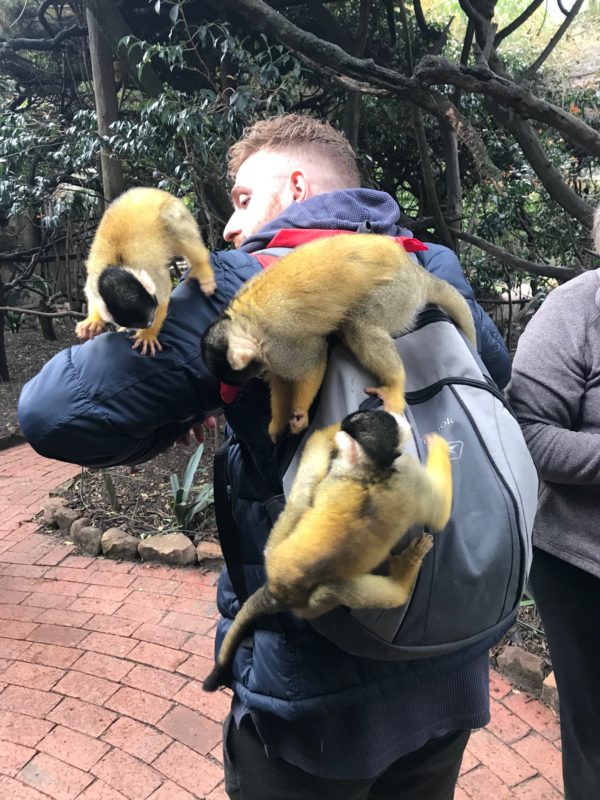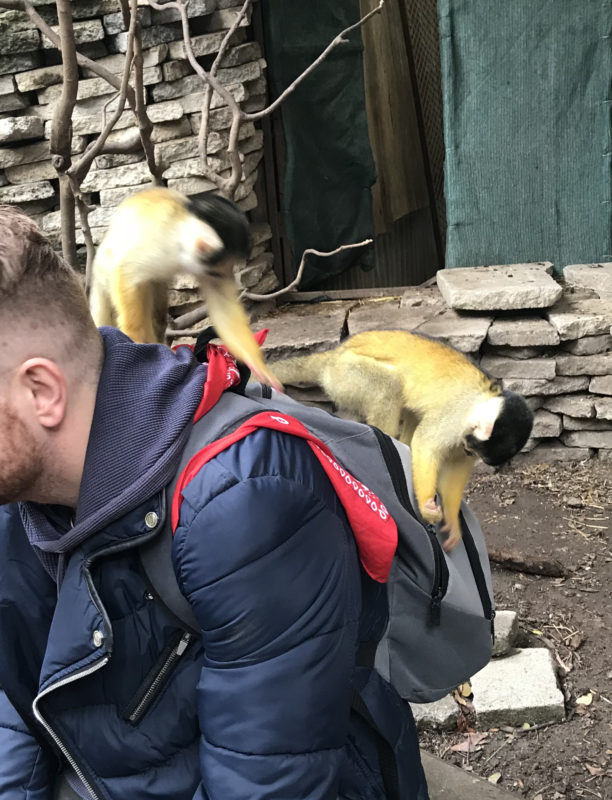 Day 4
Table Mountain – thankfully the weather was good and table mountain was back open so we hopped on the Red Bus to stop 7! However, we weren't the only one with those thoughts. We were around 1.5 hours queuing which was zero fun. Had we time, and had I known the wait would have been that long for the cableway car, I would have hiked up it! It is meant to be a really great hike too so definitely try it if you've time. The view on the way up was better than the view up top, mainly because the clouds at the very very top impacted our view, and it was really cold up there too! We ventured around the top for a while, grabbed a bite from the cafe and went back down the cableway car. We had bought the tickets online to skip the ticket queue which is your best bet! You can get them on the Red Bus too (293R entry fee)
Robben Island Tour – we booked the 1pm trip to Robben Island for this so had to taxi back from Table Mountain instead of the bus to make it back to the Waterfront on time! The trip across to the island was cool, we sat at the back of the boat, and got drenched, but it was worth it, the view was great from there instead of being seated inside. Once you land on the island you get onto a bus and do a tour, our guide was in great form and was very knowledgeable. We got some great pics looking across to Cape Town and Table Mountain from here too! You then get dropped to the prison and an ex prisoner gives you a tour. It felt quite sad having someone who was locked up there for years telling us the history, his story and about Nelson Mandela. The boat back was just as lovely and this time we sat on the upper deck getting fabulously windswept as we headed back to the Waterfront. (360R)
Cape Wheel – we had to give this a go while we were at the Waterfront and it was our last night here! The views from here were great, it's similar to the one we were on in Gdansk and they're always worth a go! (130R entry fee)
Dinner – we were meant to head out to Gold Restaurant but we were wrecked and this was a taxi ride away so we ended up going to the restaurant in our hotel. This food was ok, not amazing, even though the price was on par with the other places we ate in so we expected a somewhat similar experience. Maybe we ordered wrong, but I wasn't impressed.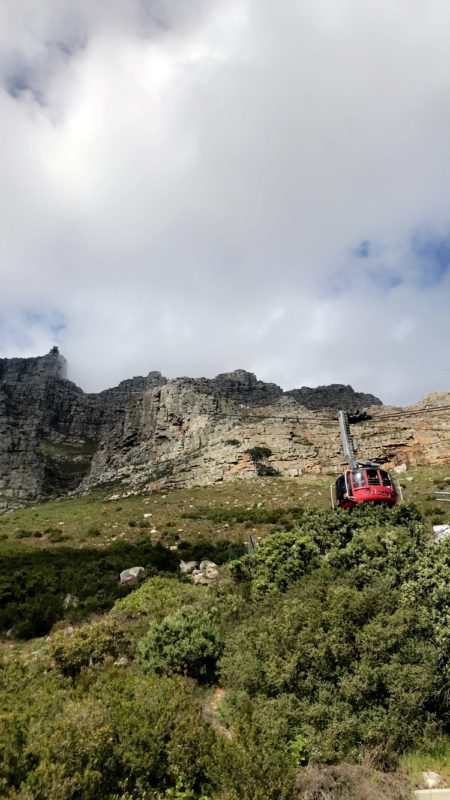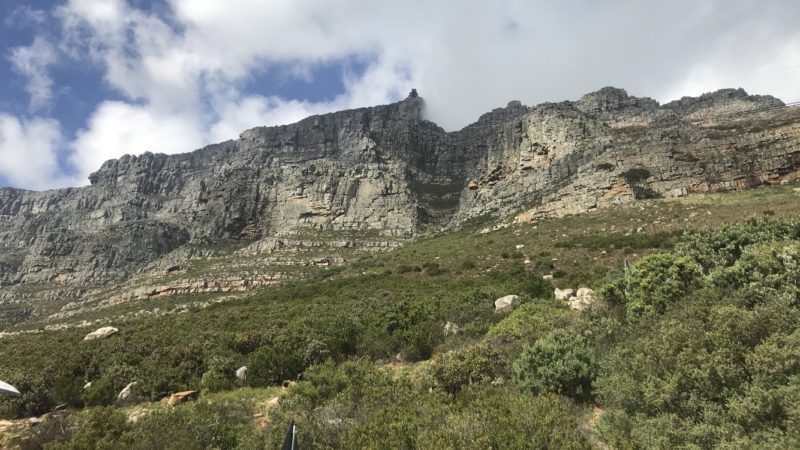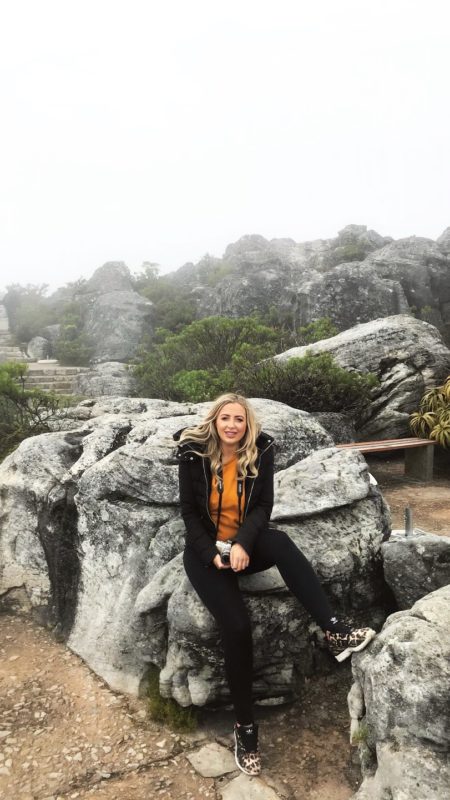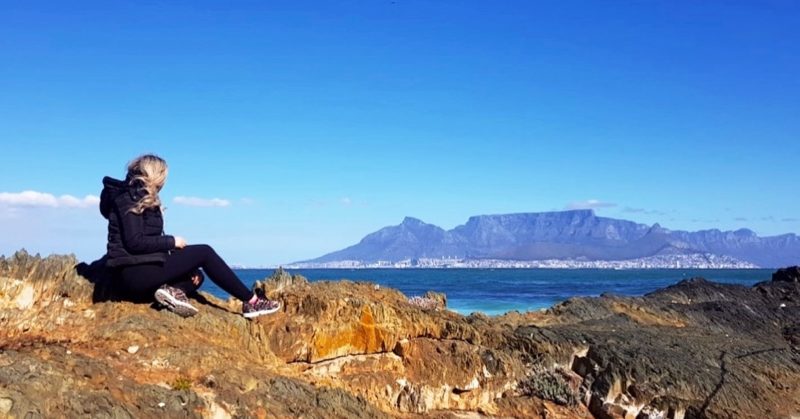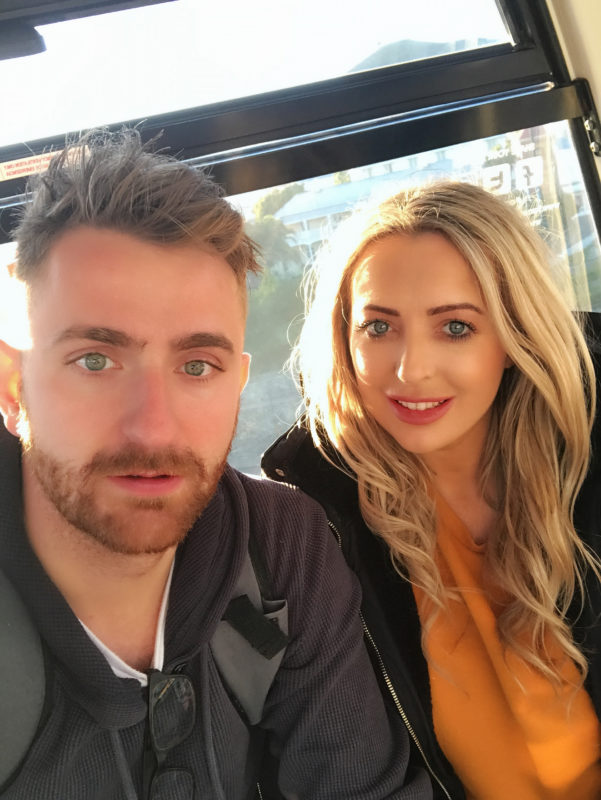 So that was it for Cape Town! I felt pretty safe staying at the Waterfront so I would recommend the same, it is also really convenient for any tourist given the Bus Tour access, and of course, lots of food and shopping within walking distance too!
Day 5
We left our hotel around 9am to collect our Avis car rental and to do a little scenic road trip to Cape of Good Hope on the way to our next destination, Stellenbosch!
Camps Bay – Our first stop and to grab a second breakfast for fuel for the road! We parked up and went to Mynt Cafe for a coffee and a cream cheese and salmon bagel. Delish! We then took a walk on Camps Bay beach which is actually a lovely sandy beach and perfect for a picnic and a beach day, if you have time for that of course!
Hout Bay Beach – we didn't get to stop here for long because we had been delayed getting our car sorted, but would have liked to have done a Seal Colony Cruise from here.
Chapmans Peak – this was a gorgeous scenic drive!! So take this route if you can, there's a toll you pay on the way to travel this way and I don't think it's always open. Plenty of photo opportunities, it really is a spectacular drive. (47R)
Boulders Beach – if you want to get up close and personal with wild penguins then this is a must see! Just don't touch them because they will bite. So so cute though. Most of them you view from behind a rail but as they're wild the odd few end up right beside you, and we stumbled upon one on a separate beach which was lovely because there were no crowds. (75R entry fee)
Cape Point – we went to cape point first and explored the tip of the peninsula, the views were spectacular. We went up the Flying Dutchman fanicular (30R) and ventured around here for a while taking in all the flora and fauna, along with of course the views! We grabbed some food to take away here but you can dine in Two Oceans restaurant and enjoy the views for longer. We would've dined here had there been sushi but they don't have that on the menu anymore. So takeaway pizza it was instead!
Cape of Good Hope – this was on the drive out of Cape Point and we ran into some traffic along the way, in the form of a family of baboons! To say I got overexcited was an understatement. I was very tempted to jump out and pet them but they are actually really dangerous. Don't underestimate their strength or the power of their jaws and teeth! You know me though, I'm obsessed with all animals, so it took a lot of willpower not to give them hugs and feed them my food. Those road signs saying 'Warning, watch out for baboons' all suddenly made sense. I kinda thought they were a joke, i forgot I was in South Africa! The most south western point of the African continent didn't disappoint in terms of views, lots of tourists queuing to get a photo with the sign, as did we, and then we climbed out on the rocks to get extra south western! (147R entry to here & Cape Point)
Road Trip – we then got into our car and headed for our Hotel in the wine region of Stellenbosch, driving though Fish Hoek, Kalk Bay and St James Beach. Definitely worth stopping in a few of these places if you have time, and grab a cocktail in Cape to Cuba!
Accommodation – we checked in to the Oude Werf Hotel right in the centre of Stellenbosch. It is one of the oldest (functioning) hotels in South Africa and the decor was devine! Location was so central too. Stellenbosch had a very young vibe to it, and we met some great people on our trip here!
Dinner – so if you really really want a fancy meal, head to Rust en Vrede. It has a higher price tag than the rest but definitely worth it and the service here was exceptional. We did a 6 course dinner and wine pairing, so every course was a learning opportunity! I really fell in love with wine on this trip. We booked this in advance too and got the only available sitting they had left so if you want to go here I would book in advance for sure! You get cute presents when you leave too, and the grounds were stunning as it's a wine estate. (1450R pp + tip)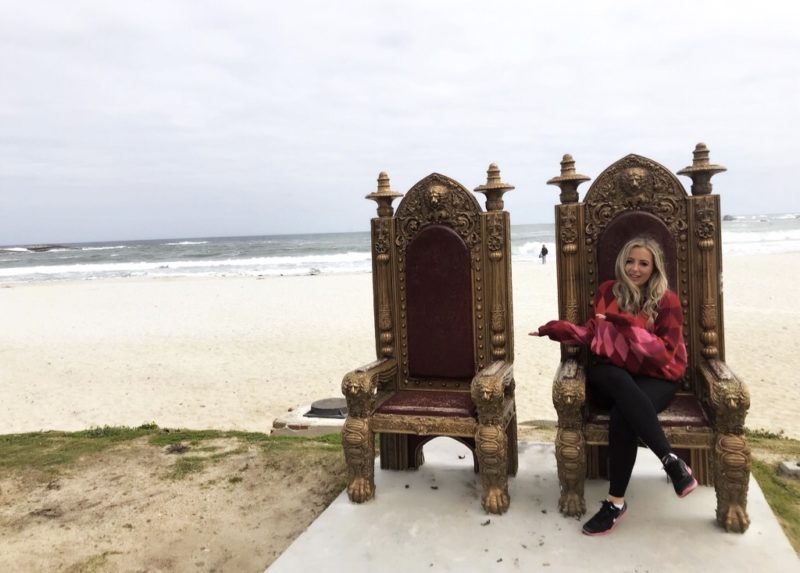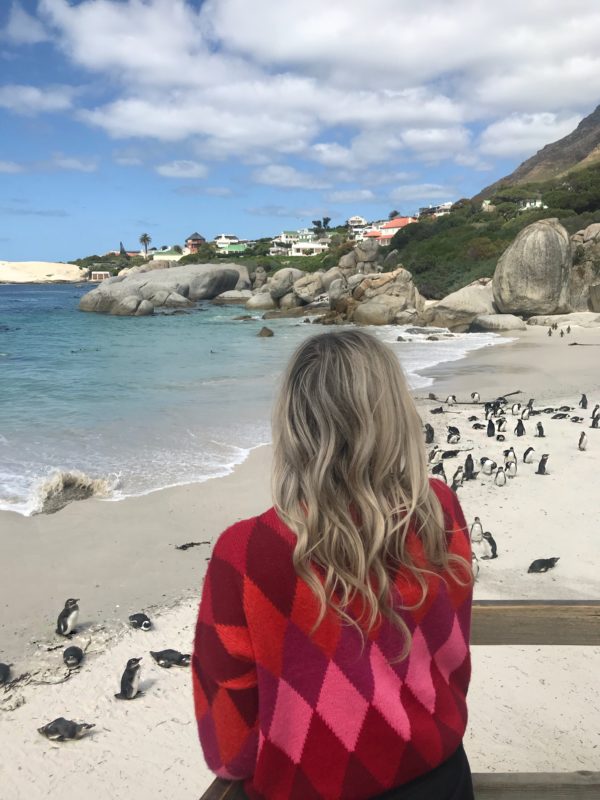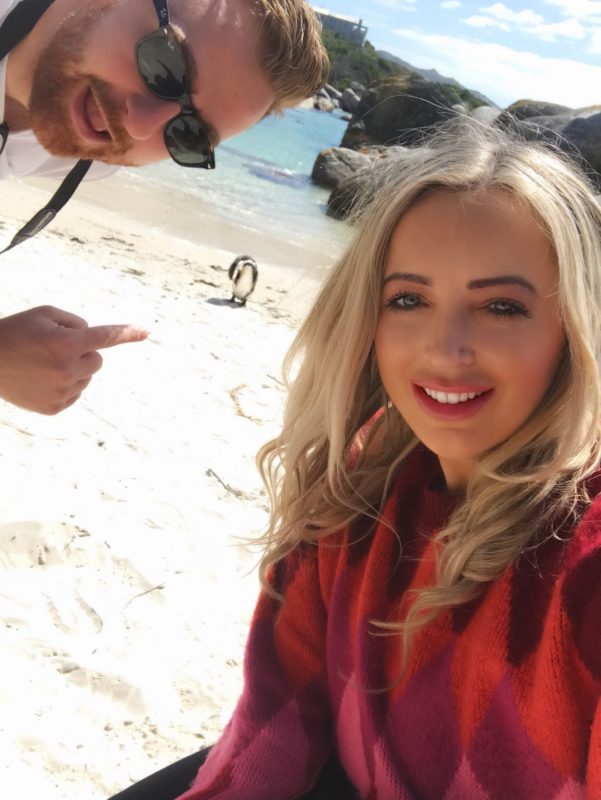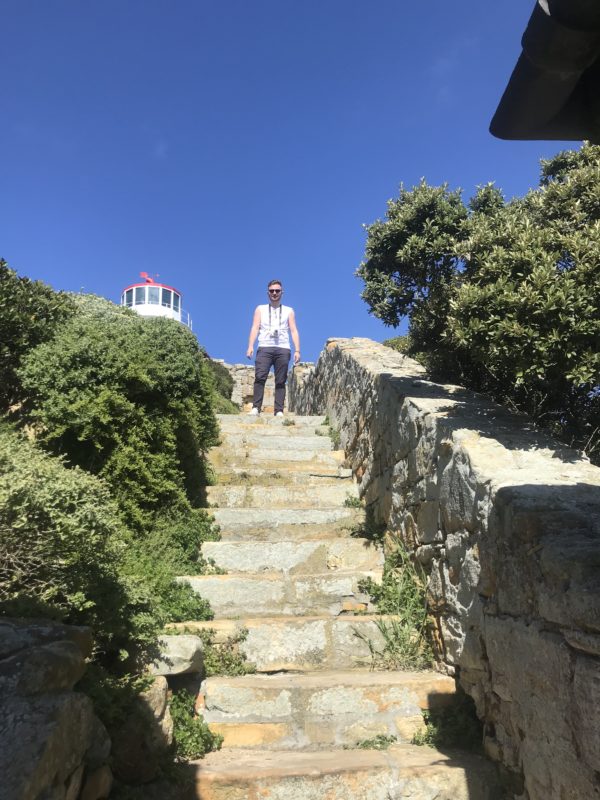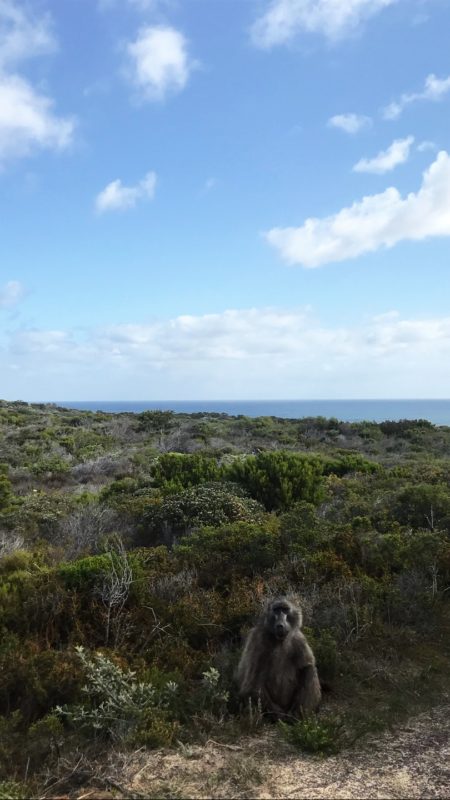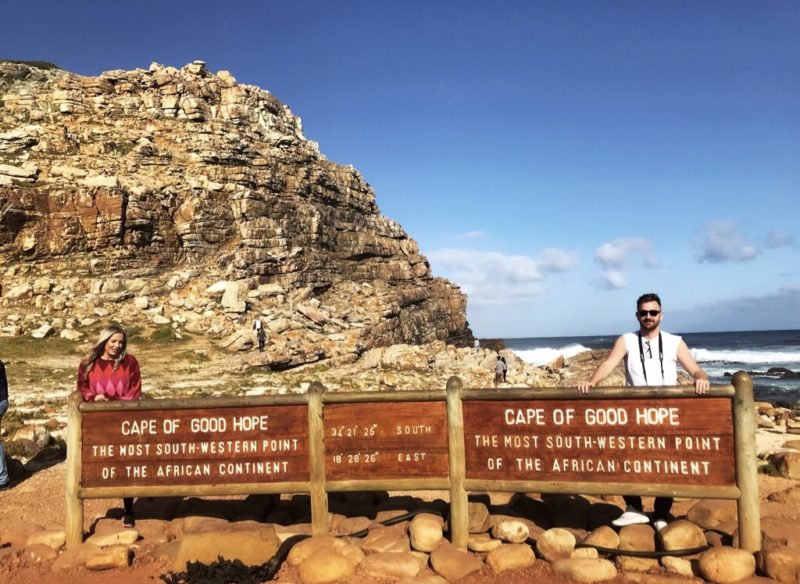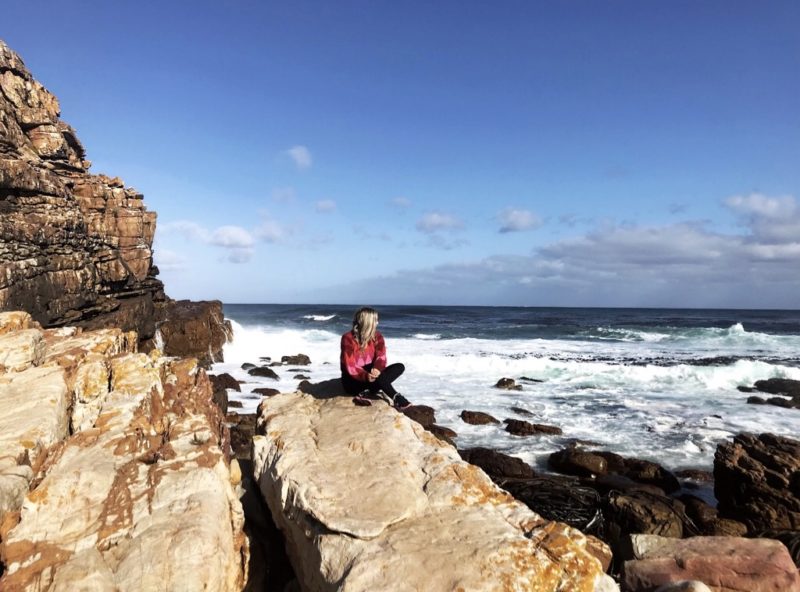 Day 6
When in Rome! Of course being in the wine region we had to dedicate one of our days here to some tastings. It's safe to say we were pretty locked by the time the day was out!
Vine Hopper – highly recommend the Vine Hopper tour! You get picked up at your hotel and get dropped from wine estate to wine estate. It was a Saturday so we did the Southern route that they offer, the drivers were really sound and we met a great bunch of people who we did all the tours with. Each time you get dropped off at a wine estate the guys tell you when the next bus will get there to collect you. It was an early start, there was wine, brandy, chocolate, cheese and a lot of laughs!! The wine estates we went to were all fab, including a brandy place – Neethlingshof, Van Ryan Brandy Cellar, Spier, Haskell Vineyards and Kleine Zalze (320R for the vine hopper ticket + pay for tastings at each estate)
Dinner – we were meant to meet the people we had met earlier on our wine tour at a local restaurant but we ended up falling asleep when we got back to our hotel after a heavy day of eating, drinking and being merry, so had dinner in the restaurant at our hotel instead! It was actually fab, but we were so tired we went to bed and had an early night. I ended up losing my wallet between the time I paid for dinner and went up one flight of stairs to my room. I have no idea how, the staff tried to help me the next morning when we were checking out but no luck unfortunately.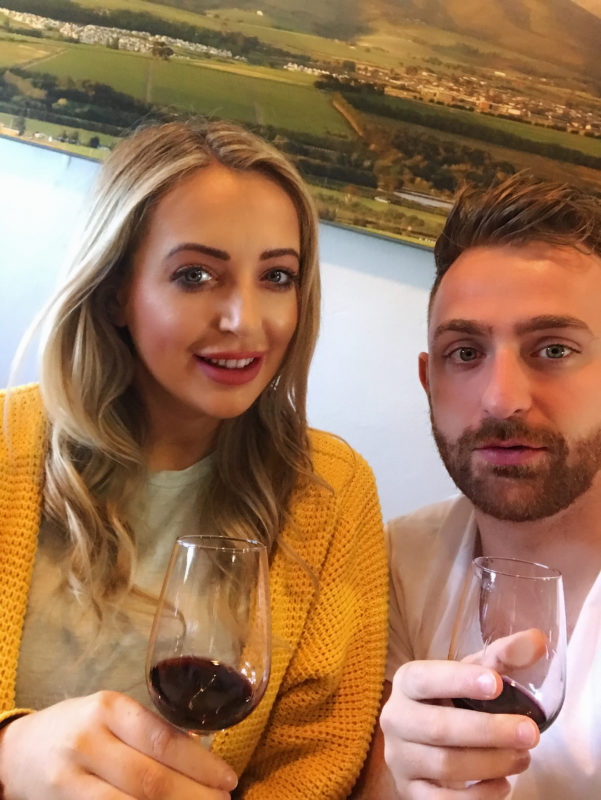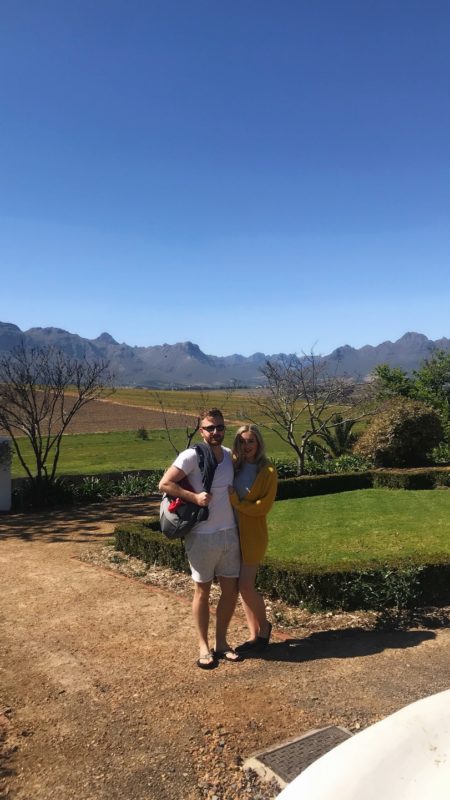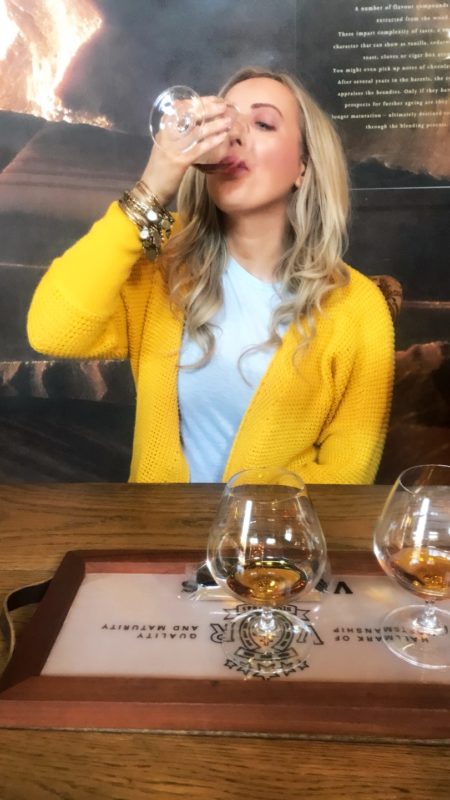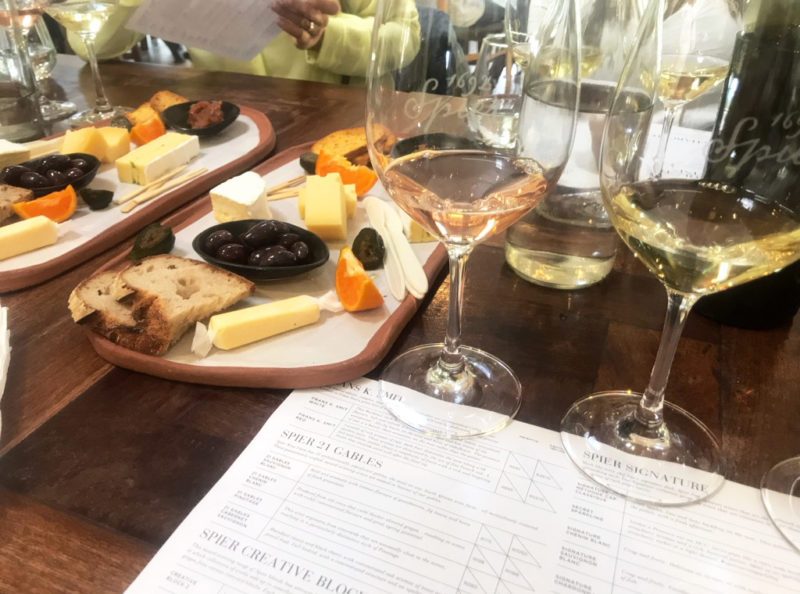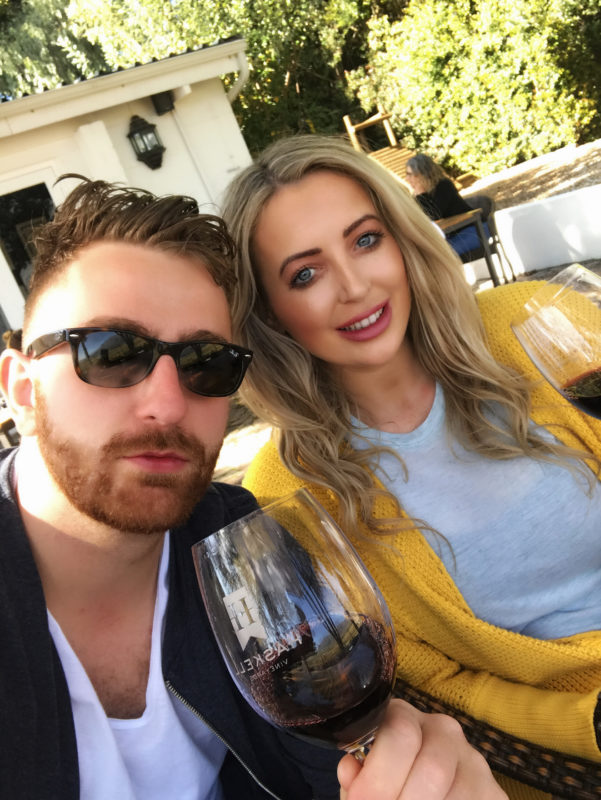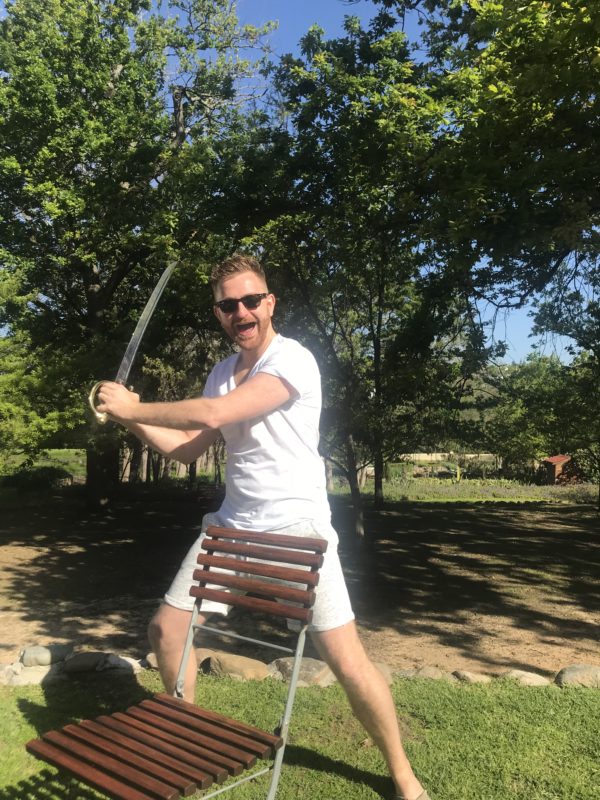 Day 7
We were meant to go shark diving this morning but it was cancelled due to high tide. Devastated to say the least but we knew that we would only know the day before whether it would go ahead or not. Great white shark sightings were low the last few weeks too so our hopes weren't up!
Hermanus – we had the option of staying one night here and one night at our next destination, but I didn't want to spend only one night anywhere, so we decided to do a day trip here on the way to Wilderness. This was such a lovely place and the whale watching was incredible! I genuinely didn't think I would be able to see them playing and jumping out of the water just by standing at the coast eating my gelato. We ended up spending hours here as a result! Even while we had lunch in the Harbour House hotel we could see them. Food was delish here, although I wasn't allowed use the wifi as it was for hotel guests only, which I found weird. I wasn't exactly going to download the internet while having lunch! Anyways, highly recommend you stop off in Hermanus if you can.
Accommodation – we checked in to the Views Boutique Hotel & Spa after one very very long drive, although the views on the way really helped – I definitely learned why it's called the garden route! Upon check in, we had drinks on arrival, and treats and prosecco in our room with a welcome card. The hotel had amazing views onto Wilderness beach and the service here was second to none.
Dinner – after our long drive we didn't want to venture very far so stayed in the hotel, and it didn't disappoint at all! Again the service was superb, as was the food, and the cocktails!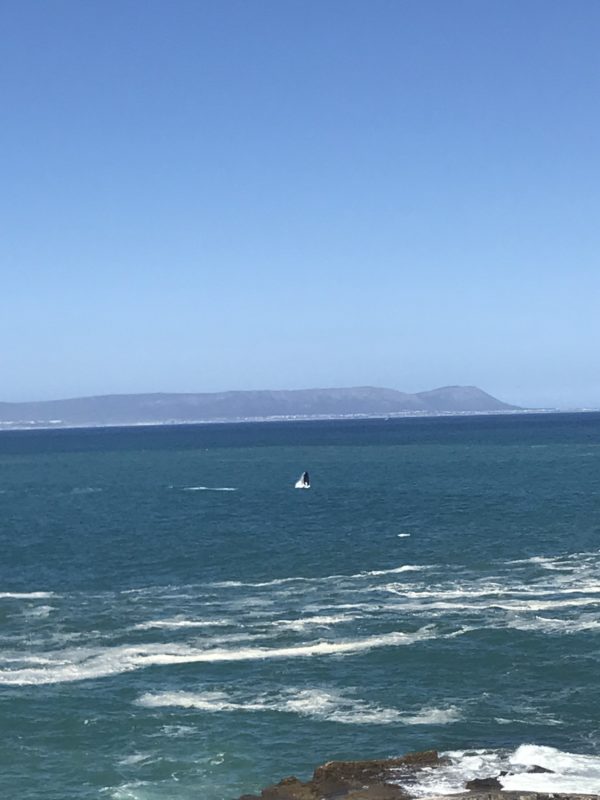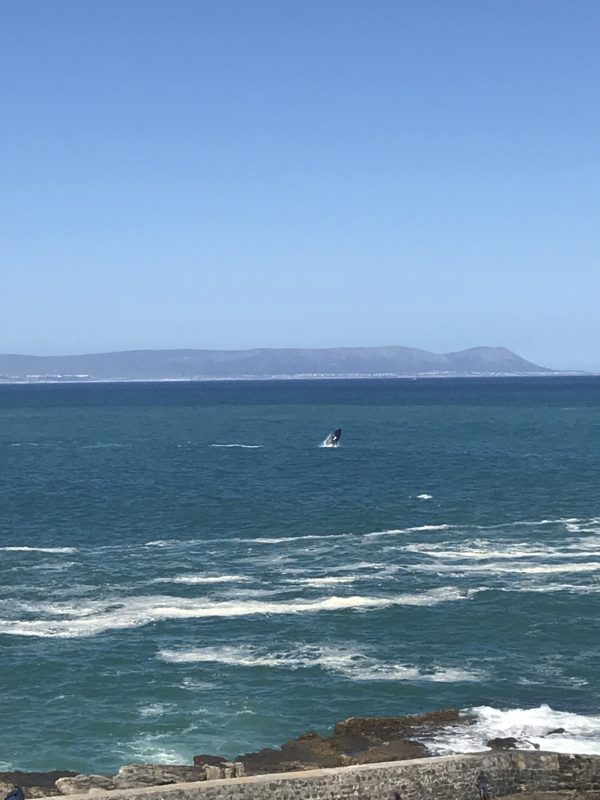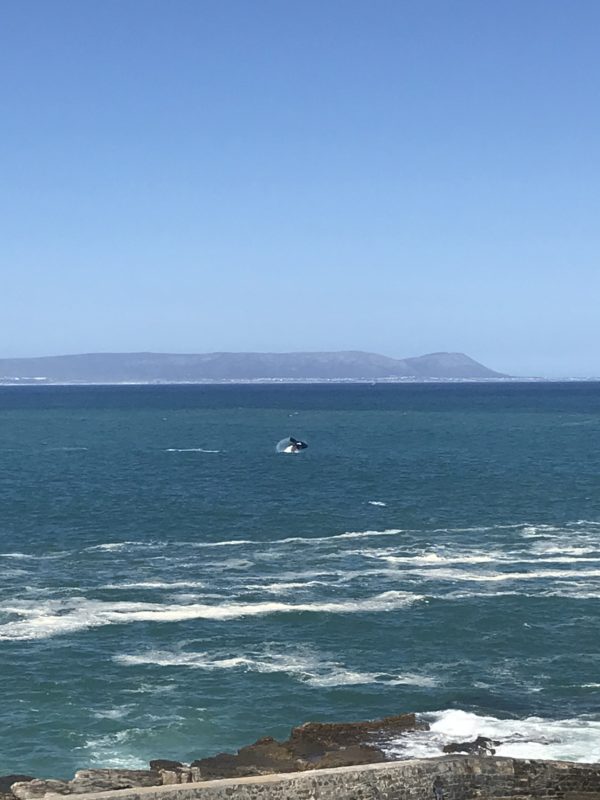 Day 8
Knysna Heads Explorer Experience – my boyfriend was very happy about this. Finally something 'relaxing' for him to enjoy. To be fair we've had no lie ins and have been on the go since we got to South Africa so lying on a catamaran on a hot day sailing to Knysna Heads with prosecco in hand was needed! (414R)
Lunch – Sushi in Ocean Basket at the harbour was lovely! There was plenty of choice on the menu, the sushi options being just one. We walked around all the stalls and shops around here after – good spot for buying presents for home!
Knysna Elephant Park – no big deal, just spent my time feeding and walking with elephants! Walking with and touching these gentle giants was incredible. They're so beautiful! This was a sanctuary so they're all rescues living their best lives. There are other elephant parks where you can ride them but this doesn't sit right with me so I chose to go here instead. You can only walk with them a few times a day so book in advance for sure! (795R entry)
Dinner – we booked Serendipity in advance and I was really looking forward to it! They send a shuttle to your hotel which is really handy (it's added to the bill) and it felt like the restaurant was in a large house so it was fab. Food was really good, although the service wasn't the best. I think it was because there was a large table of people that their attention was on, but it meant we were left waiting a good while between courses, and I wasn't offered a drink once! My boyfriend had a bottle of wine so was sorted, I was left to sip on my one G&T and the sparkling water we got for the table.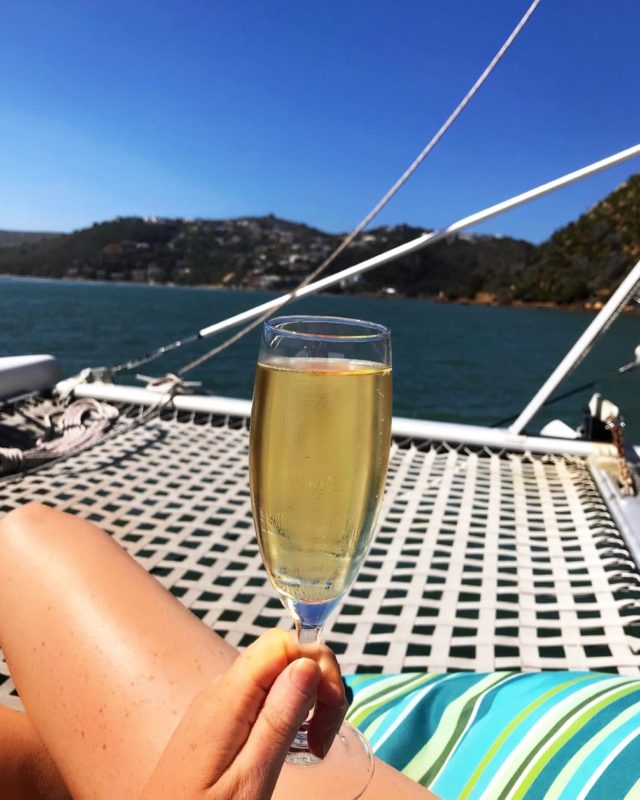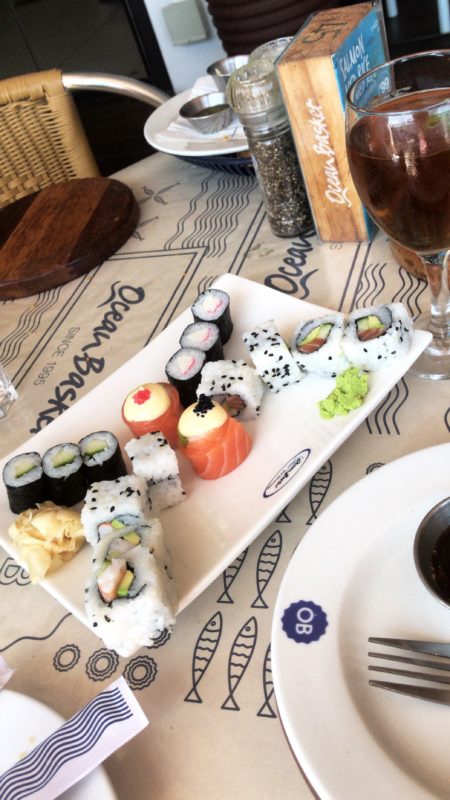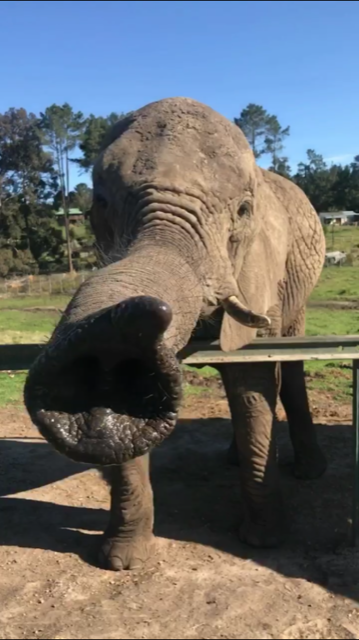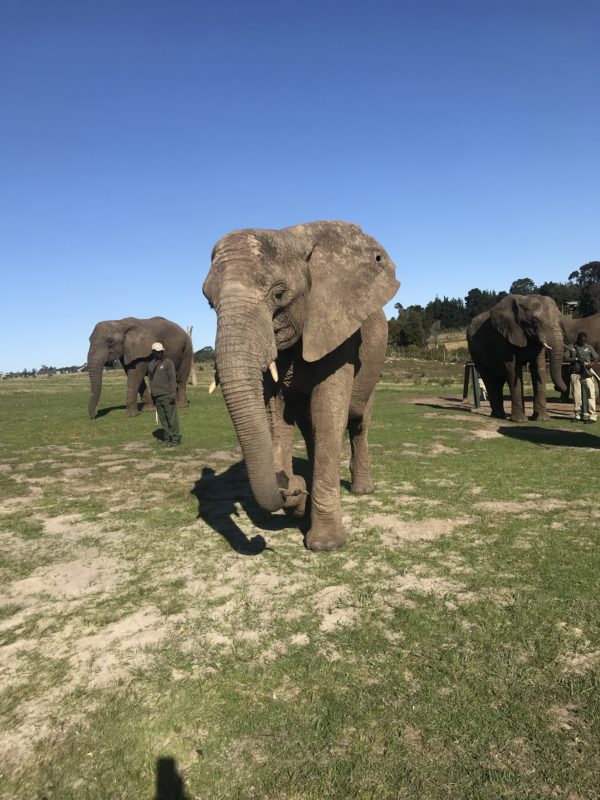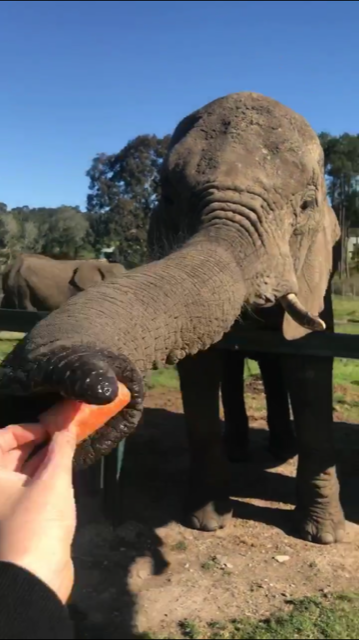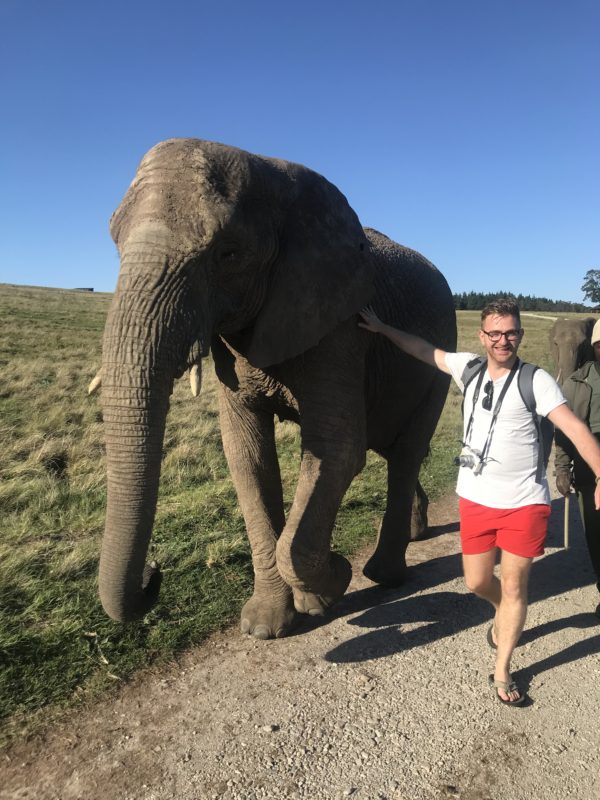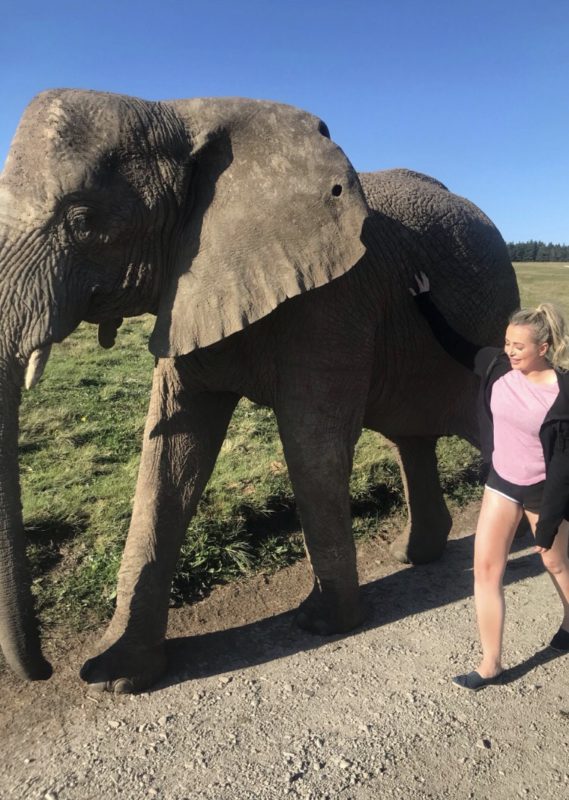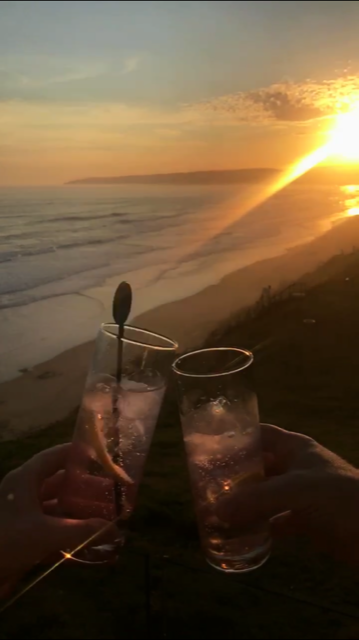 Day 9
Kloofing – so as if we weren't active enough this trip we decided to take this up a notch by spending a few hours abseiling down rocks and waterfalls into the river gorge, swimming through and diving into icy cold fresh water mountain pools, and finishing it all off with a casual zip line. We wore two wetsuits, yes two, it was that cold. So if you're in any way precious maybe give this a miss! You can do a short version of this but we went with the standard canyon trip with Africanyon and there were four people in our group which I thought was a nice number. The climbing back up what you just spent hours going down was the worst part, I'm so unfit I was set to die at that point but the guides were happy to drag me up no problem! Tebzzz and Maoui themselves made the trip they were so entertaining and really encouraged me and kept me motivated and feeling safe! – did I mention I can't swim and have a fear of deep water? Once I have a life jacket I feel more secure but it was still nervy jumping off high rocks into deep pools all the same but the guys supported me through the fear! Highly recommend this and one of my highlights of the trip. I also fell in love with their resident dog at base! Obviously. (800R entry)
Jukani – nothing like a trip to see gorgeous rescued big cats to make you smile! The passion the guides had for these beautiful creatures was like no other, which was great to see! There were lions, tigers, cheetahs, leopards, pumas, caracals, along with hyenas, zebras and honey badgers, so quite a mix! Sad that these were all born in captivity and had to be rescued at some point in their lives, some of the stories were really heartbreaking. But it was great to get quite close to these beauties and learn more about them. They have a few sanctuaries nearby – Monkeyland & Birds of Eden (230R for one sanctuary entry / 360R for two / 450R for three)
Monkeyland – having had an encounter with free roaming monkeys climbing all over us in Cape Town we were only too excited to get to venture around a large free roaming monkey sanctuary with over 700 primates! Literally monkeys everywhere. Fab. There's also a 128 metre suspended canopy walk in the middle of the sanctuary – where we were met with a couple of cheeky monkeys that didn't want to let us pass! It's not totally enclosed so the monkeys are free to leave as they wish (and they do, right onto our lodge balcony at our accommodation in Hog Hollow) but they will always go back to the sanctuary because of the endless food supply! (entry as above)
Accommodation –  we checked in to the most gorgeous lodge in Hog Hollow, on the edge of an indigenous forest with the most stunning views of the surrounding valleys and mountains. The view from our balcony was like none other, and the addition of wild monkeys really made me feel like I was in South Africa! I can't encourage you enough to book this place and we were devastated to leave! It felt like we were in a large tree house in the middle of a forest. Although if you don't like early mornings then steer clear of our lodge – the monkeys loved to hang out on our roof and play on the wooden deck balcony looking in at us to see if we had any food! There's a fire pit on the deck for evening drinks, again with breathtaking views, and the same with the view from the pool. There was no TV or Wi-Fi in the lodge which was actually really nice, we lit the fire in the room and played cards over a few drinks! Really cosy and relaxing evenings here. Breakfast was also beautiful – their eggs benedict on a croissant was my go to every morning.
Dinner – we dined at Hog Hollow both nights, the food was gorgeous! You get the option to dine at a large table with other guests, or you can dine at your own table. We enjoyed dining with a group because it was great to hear other people's South African adventures and share ours and our recommendations.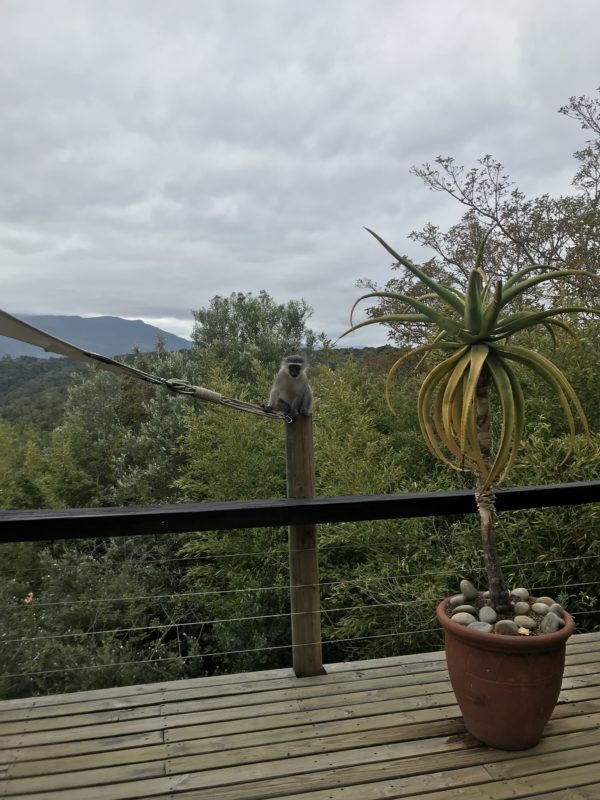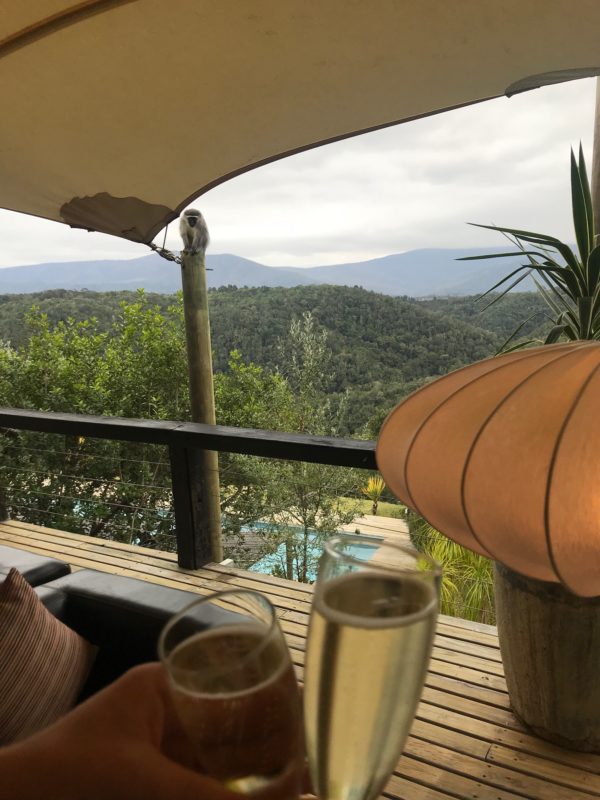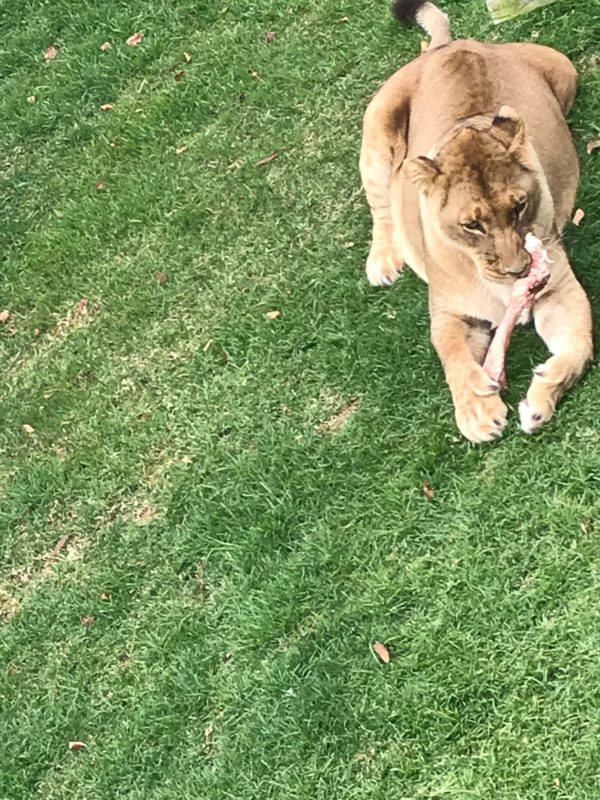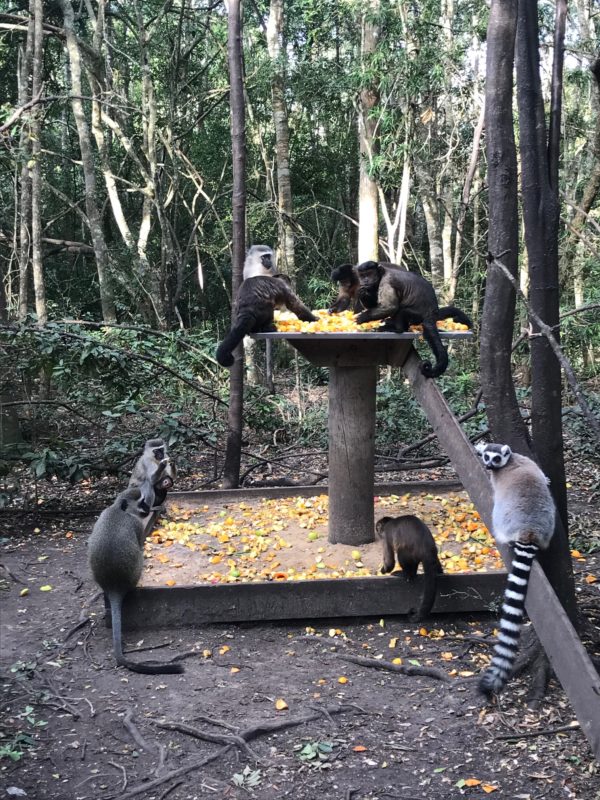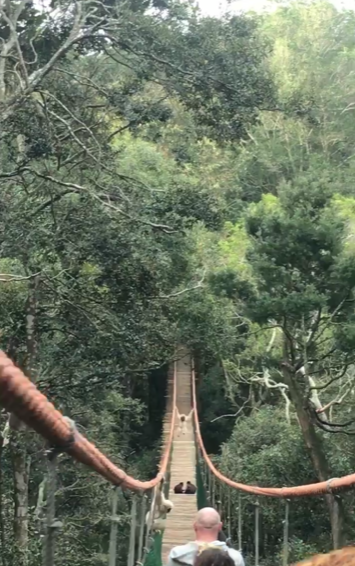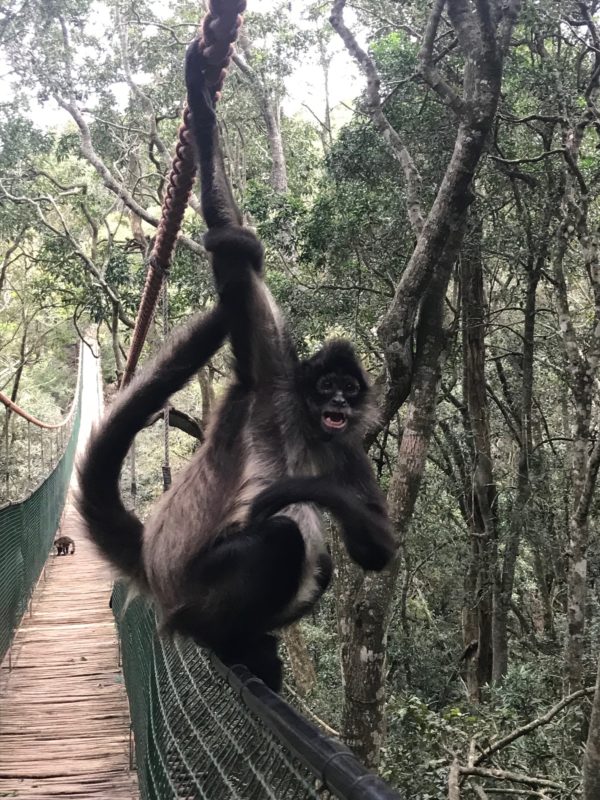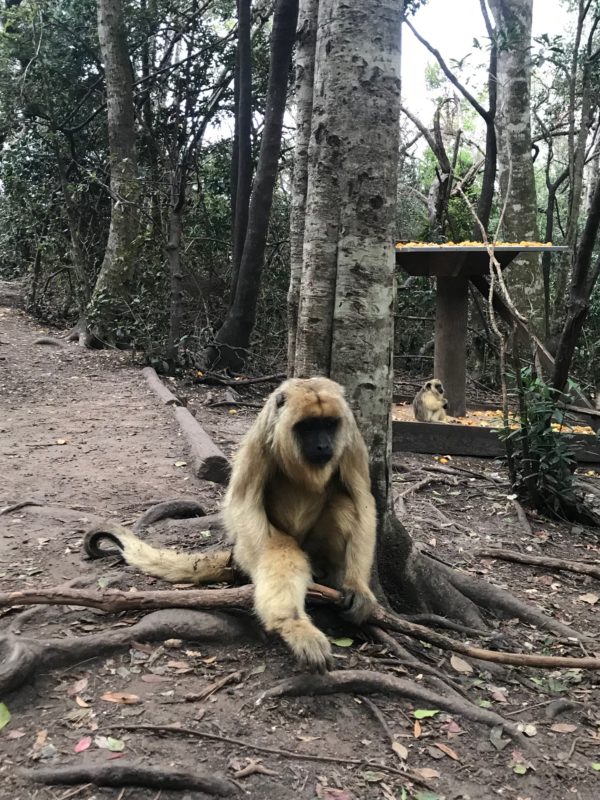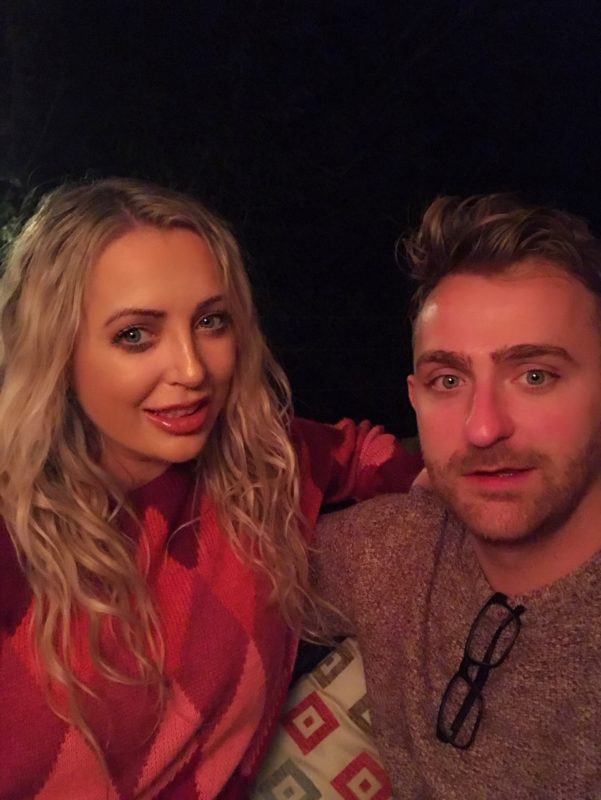 Day 10
Hog Hollow Horse Trails – booking a 2 hour horse trail for 10am was probably our longest lie in because it was only a few minutes from Hog Hollow. We walked, trotted and cantered through meadows and indigenous forest – bumping into a friend or two along the way in the form of baboons, monkeys and deer! There are a couple of options to choose from – half days, full days, wine tastings and picnics. Something for everyone! My bum was getting sore around the 2 hour mark so I don't think I could have done anymore so this was enough for us, plus we had a bungee jump to do shortly afterwards so didn't have the time. (750R entry)
Tsitsikamma Park & Bloukrans Bridge Bungee – there are endless activities to do at this park, bungee, canopy tree top tours, abseiling, kayaking and tubing in storms river. So you could easily do a full day here. We naturally went and did the worlds highest (commercial) bungee jump, no big deal! This was probably the most terrifying thing I've ever done, I was a second away from changing my mind – but the way they walk you to the edge of the bridge and say one, two, three – bungee, you don't really have longer than a second to change your mind, which was definitely the best approach to take! Of course it doesn't come natural to jump off a bridge but the guys looking after you made you feel at ease and there was a DJ playing to get us in the mood and the adrenaline going! (218R for park entry / 1000R for bungee)
Dinner – dined again in Hog Hollow even though we had planned to go elsewhere, but after the first night and the delicious food we had to dine here again. After dinner we sat outside by the fire pit with drinks chilling and taking in the surroundings. Too cosy!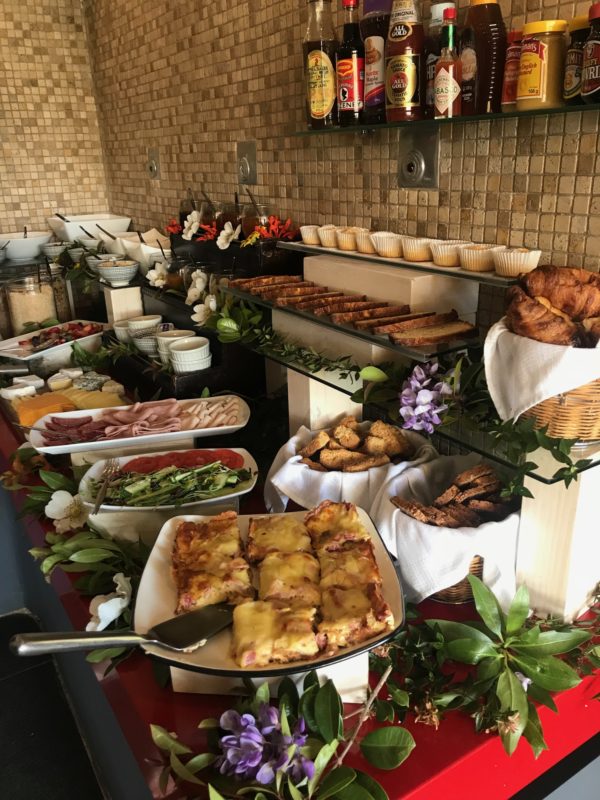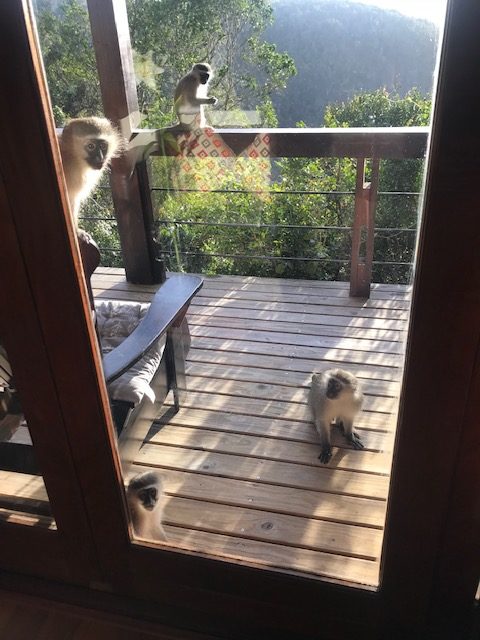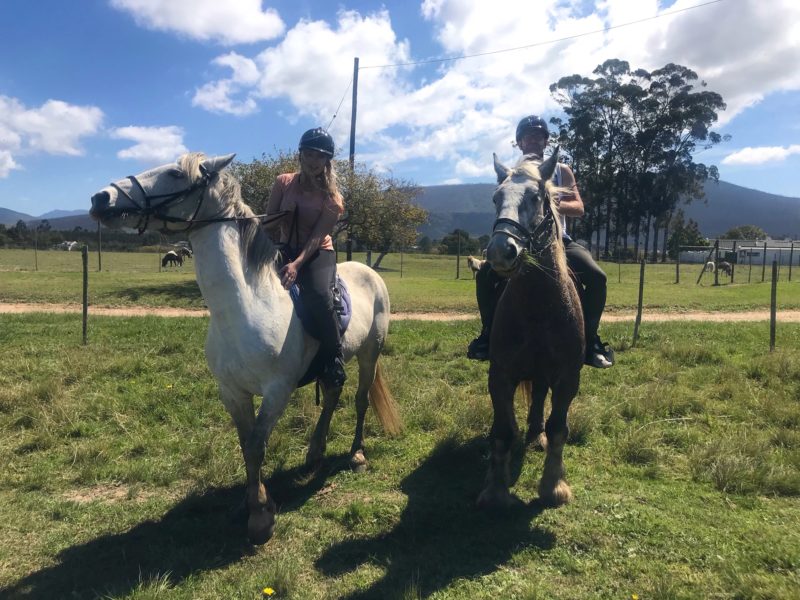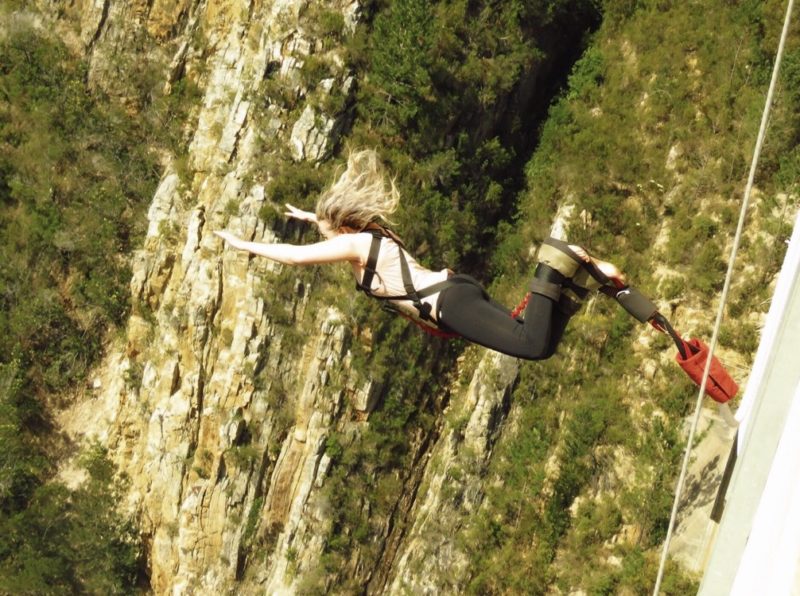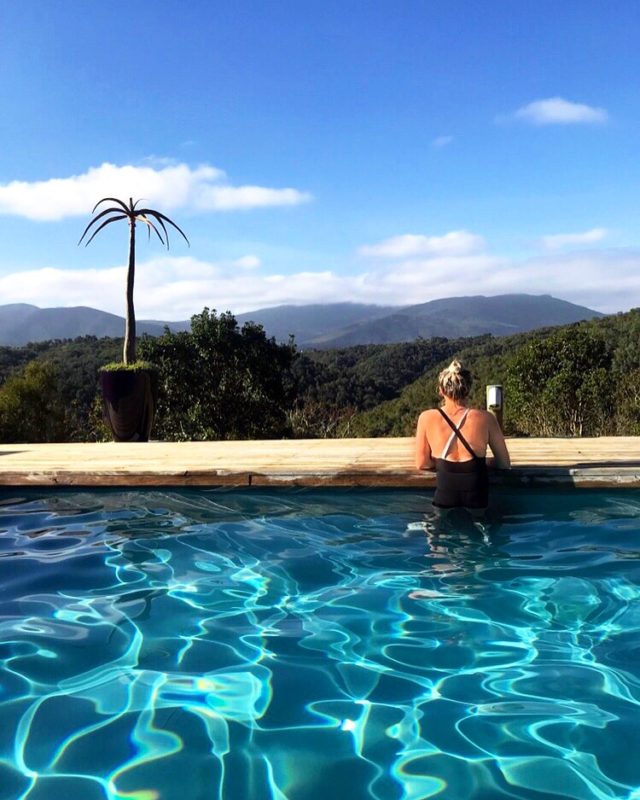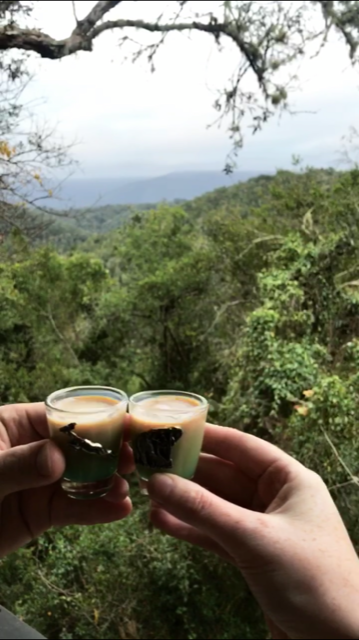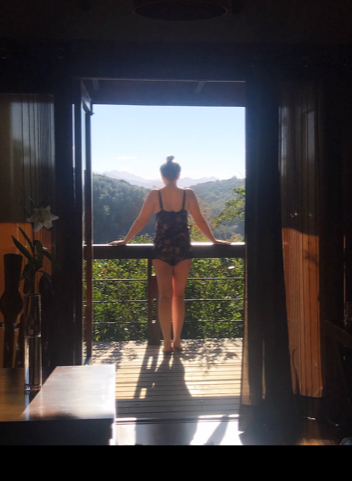 Day 11 – Day 14
Safari time!! This needs a blog post on its own – so keep an eye on the blog and I will fill you in on this incredible experience!!
Recommendations and Tips
In Cape Town the V&A Waterfront is the ideal place to stay – it was recommended to us as the safest and it definitely felt that way. It is also super convenient as mentioned a few times above.
On street parking is mostly free but there are unofficial parking attendants almost everywhere which you tip to look after your car. At first I was a little wary because I was unsure what was going on when I saw a guy hovering around our car as we parked, and the same when we came back to our car. We soon realised so gave a couple of Rand each time.
Do Table Mountain the first instance it is open because it closes depending on the weather. So leave some room in your plan to do this at any time during your time there. Robben Island is also affected by the weather depending on the sea conditions.
At petrol stations you don't fill your tank yourself, again there are attendants that you tip. There are also guys that wipe down your windows which you tip too.
It's a heavy tipping culture in South Africa so do carry lots of different volumes of notes so you can tip appropriately – and get to know the currency so you are comfortable that you are tipping correctly.
I would highly recommend Hog Hollow lodge as accommodation in Plettenberg Bay – it was stunning, and there is so much to do in and around that location so I would add this destination and place onto your list for sure.
As mentioned I will cover off my safari in a separate post – but again I would highly recommend Pumba Water lodge for your safari. It truly was amazing.
I recommend planning your itinerary in line with how I did, we were only able to fit so much in because of the specific times we booked activities and timed the journey to each destinations
Any questions on any of the above, feel free to email me or message me on Instagram / Snapchat!
AJ x