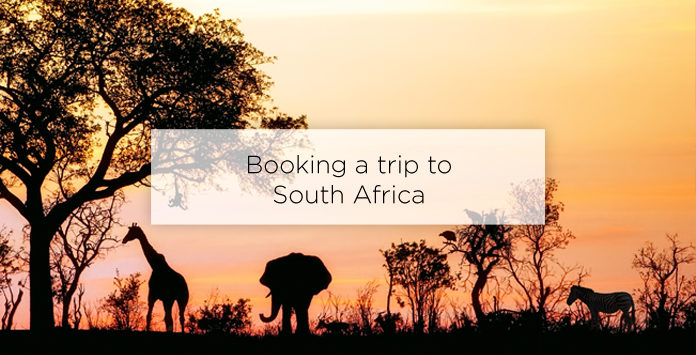 YES WE BOOKED A TRIP TO SOUTH AFRICA!! Ok AJ calm yourself. I'm way too excited even though it's still a whole 7 months away!! (And our 2 year anniversary of putting up with each other) South Africa came highly, highly, recommended by friends. It was never hugely on my radar but the way everyone's face lit up when speaking about it said it all. So if you are thinking about booking a trip to South Africa from Ireland, keep reading!
Last year I attended the Holiday World Show in the RDS knowing I wanted to book a cruise, and it was really helpful in helping me to decide on the destination and cruise line to book. This year, we hadn't fully decided on where we wanted to go so I felt a little bit confused and uninformed. We bought tickets and attended the show with our budget in mind and a few places we had been considering.
Asia was actually high on our list but we were very open. We had also been thinking about booking a trip to South Africa but nothing set in stone. By the time we left the show we felt like we were well informed in terms of the options to us and some companies in mind to contact to get further info and help. I highly recommend going to this if you haven't decided where you are going – particularly if you have a honeymoon to plan for. (PS I don't)
Booking a trip to South Africa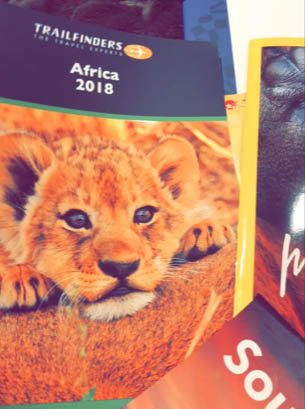 Once I narrowed it down to a couple of places I asked friends and followers which would they choose and South Africa came out way on top. I was given lots of tips on where to go and who to book with and Trailfinders was a popular recommendation and trusted company to book with for my perfect South African holiday!
Two pieces of advice I can give you once you have your heart set on booking a trip to South Africa – talk to your friends and talk to an expert. I would generally tell you to check out some blogs too but I actually couldn't find any – hence why I'm writing this one! Hopefully it will help you out somewhat. I will post the itinerary that I (eventually) booked based on the couple of hundred phone calls I made to Carla in Trailfinders – I kinda wish that volume of phone calls is an exaggeration but it's probably not. Carla gave me so many options and changed up routes, flights and accommodation based on my budget and preferred destinations. And then changed it up again and again because of how indecisive I am. And was happy to answer all the questions I asked!
With trailfinders they give you a link to your online itinerary which you can view every time you make a change – it shows dates, flight and price details, and info on your booking at each accommodation. It was particularly handy to be able to send the link to my boyfriend so he could also keep up to date on the changes I was making. He of course had an input – and also wanted to keep manners on me when it came to budget! You can download their app and access your itinerary there too. This really helped to make booking a trip to South Africa much easier having full view of your itinerary with the app auto updating when you make a change.
An additional piece of advice for good measure is when booking, don't scrimp when it comes to the Safari bit at least. That's one of the most important parts at the end of the day – so where you can, don't compromise. We moved the dates of our trip around to meet our budget, destination and accommodation preference (which was €5.6k for flights, hotels and all inclusive safari FYI) October to December is peak time for South Africa!
Talk to your contact in Trailfinders anyways and they will find an itinerary to suit! JP set up our original itinerary and took my 'I don't know what I want' phone call. He was brill and was very patient with me – luckily for him though he was then out of office so didn't have the luxury of taking my phone calls and requests for advice and help on making decisions. All of the operators when you call are more than willing to help you out regardless of who sets up your initial itinerary. They seem to have a notes system too so they at least have some record as to where your head was at during your previous call so you don't have to get into it all over again.
Carla in particular seemed to know everything that needed to be known about South Africa so I definitely have the comfort in knowing I booked the right trip!! Just so you know, the deposit is quite big for South Africa as it covers flights upfront too I think – our deposit was €2020, but the rest doesn't need to be paid until mid July.
Our Itinerary
I'll post below what the itinerary section looks like for us on the Trailfinders website (with some personal information removed) and will explain below each of the places we are choosing to go to. On a side note – we could only get around 2.5 weeks off work for this trip so 14 nights was the most we could do in South Africa, and then a night or so each side for travel. The length of time you want to spend there will of course dictate and impact your itinerary and cost!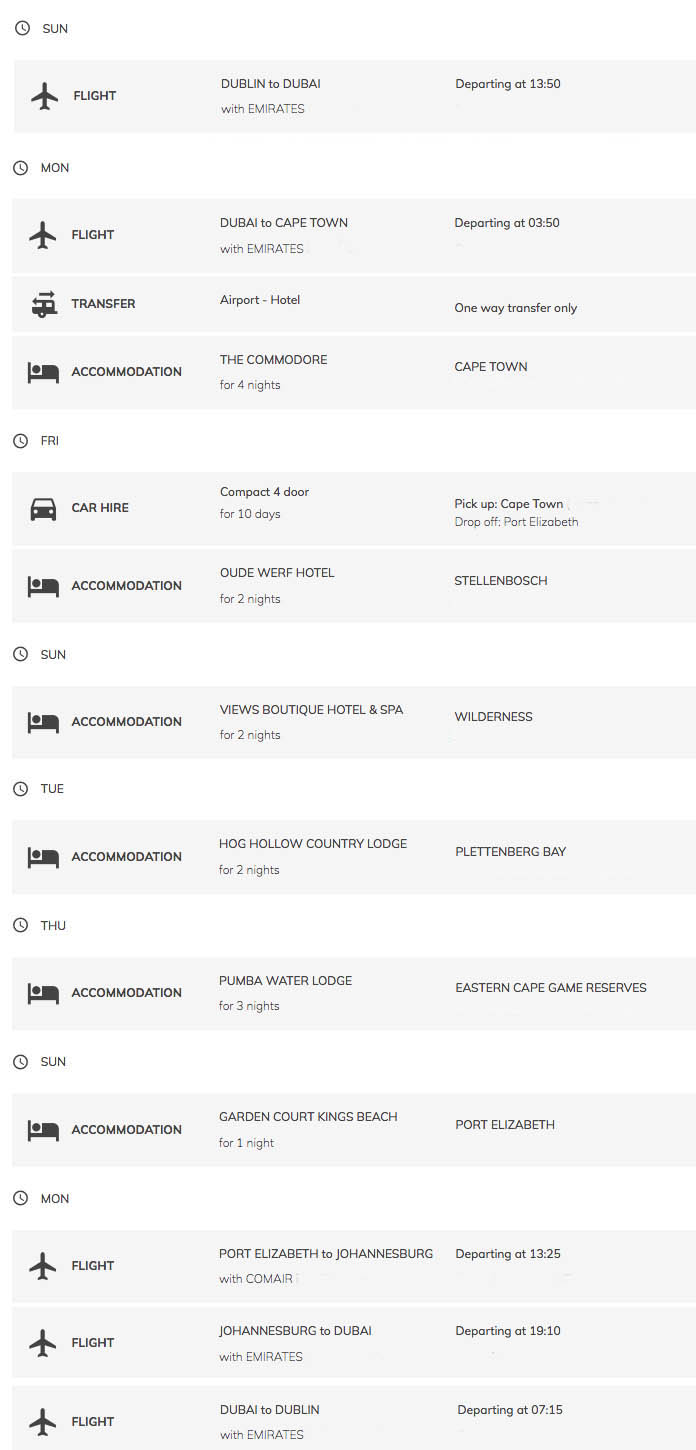 Transport
We are flying mainly with Emirates – so on the way over we are flying via Dubai to Cape Town, we are then hiring a car and exploring South Africa. We then drop off our car and fly from Port Elizabeth to Johannesburg with British Airways, and then Emirates via Dubai back to Dublin!
Cape Town – 4 nights – The Commodore Hotel

We are spending 4 nights here because there is so much to do! I've been told by friends that you could easily spend more time here but do at least 4 nights minimum. We will probably do a tour the day we arrive and another via our next destination when we check out of our hotel in order to maximise our time here. We are staying on the V&A waterfront at the foot of Table Mountain in The Commodore – this area is meant to be fab for restaurants, shopping and entertainment, and we can also do the Red Bus tours from here. A couple of things on our radar – Robben Island, Walk to Freedom, Table Mountain and then we will pick up our car after we check out and head to Cape of Good Hope and Boulders Beach en route to our next location. I will do an updated post when I am back as to what is we actually end up doing. Between now and September I will be doing lots of research to ensure I am doing everything I can possibly squeeze into on this trip!
Stellenbosch – 2 nights – The Oude Werf Hotel

Next up is 2 nights in Stellenbosch in the Cape Winelands to check out the vineyards and picturesque mountain ranges. Mostly the vineyards though. We're staying in The Oude Werf hotel and from here we will visit the world class wine estates and drink all of the wine in South Africa. Haven't looked into which ones we will book yet but will let you know in a blog post when I return.
Wilderness – 2 nights – Views Boutique Hotel & Spa

Before we arrive in Wilderness we will be checking out Hermanus along the way. We had a choice between doing 2 nights in Hermanus or 2 nights here, but Wilderness won. Mainly due to the fact that the main things to do in Hermanus is whale watching and shark diving. He won't shark dive because he is too scared – and then I don't have a huge interest in going out on the boat to whale watch. An alternative would be one night in each place but I really didn't feel like 1 night was worth checking into anywhere if you have to leave the next morning. By taking a trip to Hermanus en route to Wilderness at least we are getting to check it out and we can whale watch from land here instead (weather depending). We are staying in the stunning Views Boutique Hotel & Spa – we upgraded to this hotel because it's our anniversary, so we'll be grabbing a bottle of JC Leroux en route to celebrate! We're hoping to do some trails, canoeing, and beach trips while we're here, but I've yet to research!
Plettenberg Bay – 2 nights – Hog Hollow Country Lodge

I actually can't even properly portray my excitement at staying here in Hog Hollow – the place is meant to be out of this world, it's situated on the edge of a forest with the most amazing views of the surrounding Tsitsikamma Mountains, and it only has 16 suites! There is so much to do here – horse rides from the lodge through the forest to Monkeyland Primate Sanctuary and The Elephant Sanctuary. There's also wild cats at Tenikwa Wildlife Awareness Centre, Jukani Wildlife Sanctuary, Dolphin trips, Nelson's cave, Wine tours, Boat trips up Keurbooms River and even the highest bungy in the world. There's the Treetops Canopy tours in the Tsitsikamma indigenous rainforest, plenty of walks and hikes too, and a sky dive – there's actually too much. Again I'll document everything when I am back anyways and let you know what I fit into my visit!
Eastern Cape Game Reserves – 3 nights – Pumba Private Game Reserve (Water Lodge)

The highlight of our trip is of course the safari! This is where I urge you not to compromise on when it comes to booking! This is one of the reasons we moved our trip dates – so we could secure our safari here and in the incredible Pumba Water Lodge at Pumba Private Game Reserve! You can also stay at the Pumba Bush Lodge on this reserve but after researching online and speaking to friends it was the Water Lodge that came way out on top and worth the extra funds for the ultimate luxury! My friend who stayed here said that outside her room wild animals were just casually drinking from a watering hole. Can you even deal. I'd be doing everything in my power not to be running up to the watering hole and trying to hug them all! Our stay here is all inclusive and includes all the game drives – we upgraded here to the Gemsbok room just to make it extra special for our final 3 nights in South Africa. We have our own lounge, private viewing deck and plunge pool! The reserve itself came highly recommended and has The Big 5 (including the white lion!!) Again there are lots of activities here in addition to the game drives, and the spa has loads to offer!
Port Elizabeth – 1 night – Garden Court Kings Beach

The main reason we are spending a night here is so that we can take our time leaving Pumba – there is a game drive the morning we leave so we don't want to miss it. This leaves us to take our time in making our way to Garden Court Kings Beach in Port Elizabeth which is just 5 mins from the airport to relax ahead of our flight home! If we wanted we could have left Pumba early and rushed to make our flight but we decided against this, but if the extra day is not feasible or ideal for you then cutting this extra night out is doable!
So that sums up pretty much everything I know so far about booking a trip to South Africa – will post again after we come back to give you all of the insights of our trip along with tips and recommendations on activities, accommodation and locations. There are still lots of things to consider and prep for our trip – such as insurance, vaccinations etc so keep an eye for my next blog post! If you've already been to South Africa then please do mail me or snapchat me and give me your tips and advice! I'll definitely be back on the phone to Carla in Trailfinders for restaurant and activities recommendations between now and September, and to those of you thinking about booking a trip to South Africa, I hope this post helps – let me know if you have any questions!
I'll be taking you all on my trip via Snapchat and Insta Stories anyways so you won't miss a thing!! If you're keen on booking a trip to South Africa and need more detail I will also post my garden route itinerary once I return.
AJ x