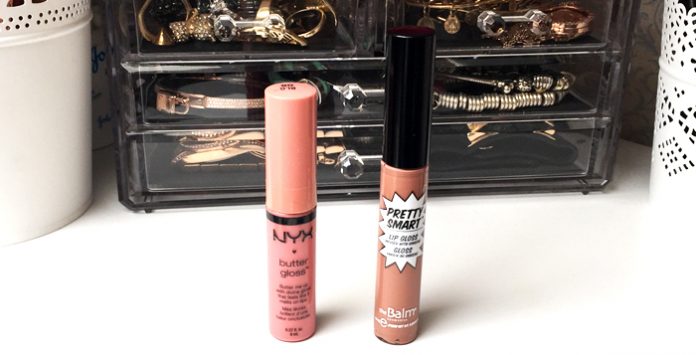 I'm a big fan of Nude Lipgloss over any other colour gloss, or anything Nude on my lips for that matter! So I decided to pit two popular branded lip glosses in their Nude Shades to see which one worked out better for me! For the purpose of this review – below are both based on the Lip Gloss alone without any lipstick underneath.
NYX Butter Gloss in Creme Brulee €6.49
I picked up the NYX Butter Gloss in the shade Creme Brulee when I was in Andorra over Christmas because everyone was raving about the Butter Glosses, and given the price tag of €6.49 you can't really go wrong! The smell of it is gorgeous – I love vanilla and sweet scents so I constantly sniffed this before application! I liked the colour it was a Nude/Light Pink shade and looked quite natural. I found it a bit thick and sticky, and my hair was forever sticking to it which became very annoying! I prefer when I can't notice lip gloss on me but this one I definitely knew was there. It didn't last extremely long either. Maybe the darker shades are better? This didn't blow me away as much as I expected it to. Grand though for the price!
The Balm Pretty Smart in Snap! €17
I didn't think by looking at the bottle that The Balm Snap was going to be a Nude shade because it looked a bit dark! I was pleasantly surprised once I applied it to my lips though. It's a Nude/Caramel shade. It has a fruity scent which is nice and not too strong! I found that my lips looked slightly bigger with this gloss on, I have no idea why maybe it's the shade? I found the formula nice and thin and really comfortable to wear I barely felt it on my lips at all which is what I look for in a Lip Gloss! It's not sticky at all and t's longer lasting than most I've tried which I'm guessing why it comes with a Price Tag of €17!
My Preference
Definitely The Balm! I loved the appearance and the consistency for sure, I have replaced the Creme Brulee in my everyday handbag with Snap almost as soon as I tried it. It really is the superior product but that was to be expected when it's over €10 more expensive for less mls! (8mls v 6.5mls) I prefer the smell of Creme Brulee, but that's because I prefer sweet sickly scents to fruity scents in general. I would be interested to see how the more pigmented NYX and The Balm lip glosses pitch against each other though but for the Nude shades The Balm Pretty Smart wins hands down!
Have you tried both? Which is your preference?