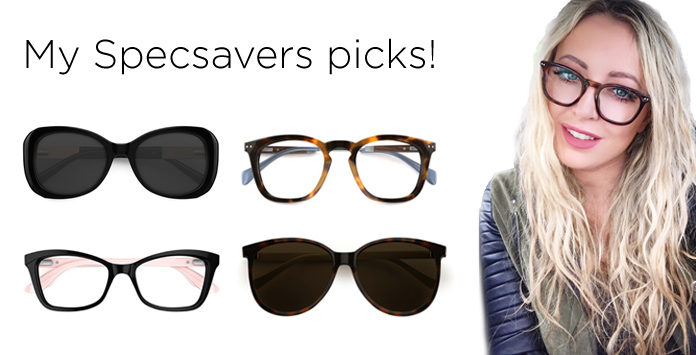 I was delighted to be invited into Specsavers Liffey Valley to pick out some new frames! My own ones were a couple of years old so a style upgrade was definitely needed. That and the fact that working in Digital Marketing and being a blogger means my life consists of staring at a computer or phone screen so my eyesight definitely felt like they might be deteriorating.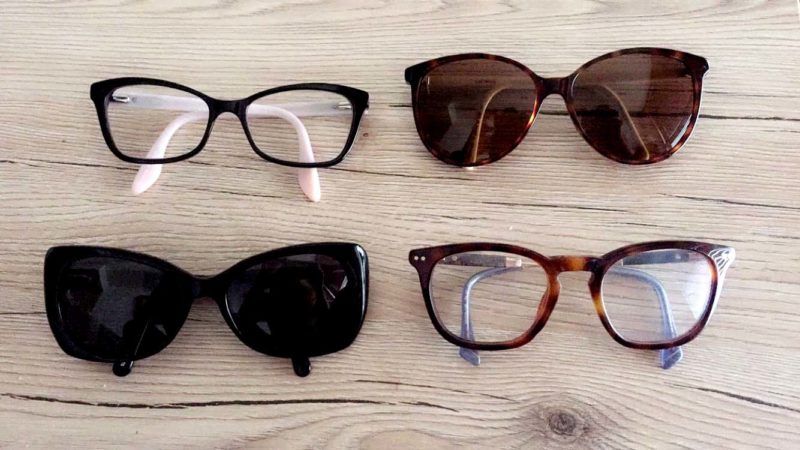 You're supposed to get your eyes tested at least every 2 years. I don't hugely rely on my glasses so it never really takes priority no matter how many reminder letters i receive! Oops. But it is important to get tested because it can detect underlying health issues too.
The test itself was pretty quick and easy, even though the machines looked a little scary. I didn't like the part where the puffs of air hit your eyes (I think this is to test the pressure) but of course it has to be done! There is also a hearing test that they do too which I passed with flying colours thankfully.
The Liffey Valley branch has such a huge selection and ranges of designer frames that I didn't know where to start! I knew I wanted a tortoise shell pair and a black pair similar to my old ones. I met the lovely Alison who was so attentive and so patient with me because I ended up trying on nearly every pair! The frames I had seen online that I was sure I wanted ended up not being the pair I went with. It's important that the frames suit your face and you receive honest feedback in order to make the right choice which is what I got from the staff in Specsavers Liffey Valley. I ended up with 2 fab pairs that were completely different to each other so I can switch up my style!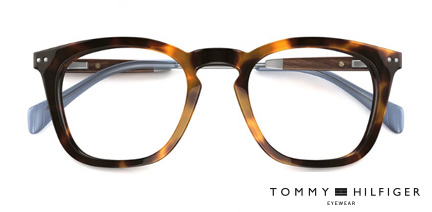 The minute I spotted these Tommy Hilfiger tortoise shell frames in store I fell in love! I didn't even care about what brand they were I just needed them to be mine. Luckily they suited my face even with the keyhole nose bridge! They weren't even on the website because they were new stock. They are now though..in the mens section! I call these my Harry Potter Glasses & they retail at €189.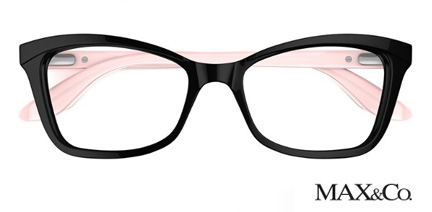 I had never heard of the brand Max & Co before stepping into the Liffey Valley store. The staff assured me they were a very popular brand and I could see why, their range of frames are beautiful. I was a little apprehensive of the light pink against the black because I do like to play it safe but once I tried them on they suited my face perfectly. These retail at €199.
I thought my shopping would end there but with it being Summer I thought I may as well check out the sunglasses range! I had never had prescription sunglasses before because lets face it, Ireland doesn't get a huge amount of sun. But I do drive quite a lot so no harm in having them to fight against the glare, which is why I chose to have them polarised too. Alison showed me the difference between polarised and non polarised on the iPad and I was sold!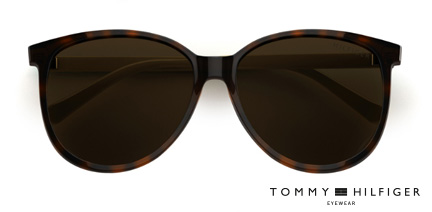 This stock image doesn't do these Tommy Hilfiger tortoise shell sunglasses justice at all! They are so comfy on and I love how big they are but they don't overpower my face thankfully. They retail at €189 and have a nice subtle logo on the green and cream arm. Summer has never looked so stylish! Again another Tommy Hilfiger pair of glasses, their range are definitely one of my favs!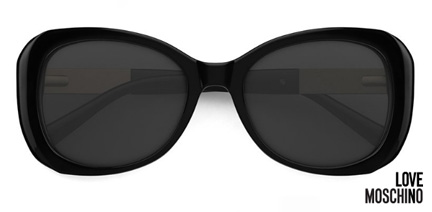 When I think of Moschino I think of crazy styles and designs that are just too far out there for me, but their Love Moschino range of glasses are too gorgeous, check my pair on the website for more photos and look at the arms on them. LOVE. As you can see when choosing a second pair of glasses I wanted a completely different style to the first pair. These retail at €189.
Cost
Specsavers always seem to have a 2 for 1 offers and half price eye tests so it's worth your while looking out for these when planning on getting new glasses. You can also get your eye test free with your PRSI so get them to check in store to see if you qualify.
There is also an additional cost per pair you need to consider and that's the lens options. I got UltraClear coating on both my everyday glasses and Polarising Lens on both my sunglasses. The cost for UltraClear is €45 per pair, the reason I got this was to reduce the glare for when I stare at my computer screen 90% of my life. The cost for Polarising Lens is €89 per pair, again one of the reasons I got this was for the glare when driving and also the UV protection. You really need to be shown the difference with and without to understand, the difference is unreal. They show you on the Specsavers website too.

Any questions you have please do email or Snapchat me! I couldn't recommend the staff in Specsavers Liffey Valley enough though, and I personally haven't seen such a huge range to chose from in other stores I've been to so far so definitely pop in and have a browse!
Note: I was gifted a Voucher by Specsavers and also gifted complimentary pairs of glasses in addition to this.