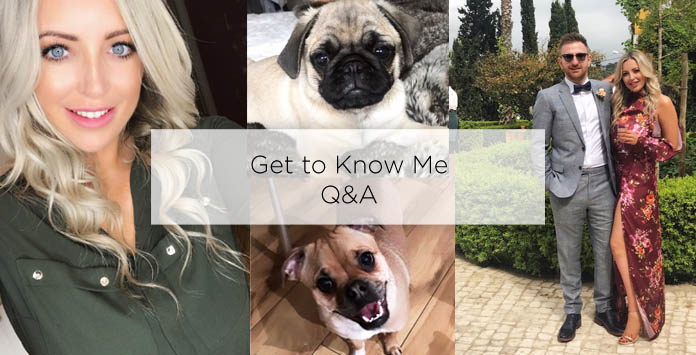 New Year, same me! I'm kicking off 2019 with somewhat of a personal post in the form of a Q&A! I love watching Q&A videos on YouTube and on Instagram – so I decided to do one here on my blog. I found some popular Get To Know Me questions on the internet of things so hopefully you find them interesting! And if anything, you'll get to know me that bit better!
1. Where did you grow up? Baltinglass, Wicklow
2. Where do you currently live? Grand Canal Dock, Dublin. I've lived in Dublin for 11 years now, love the city!
3. You're wearing perfume, what scent is it? Viktor & Rolf Flowerbomb
4. What is your coffee order? Almond Milk Latte (with a sugar free Caramel Shot if I'm feeling adventurous)
5. Are you single or taken? Very much taken, by my boyfriend and my two dogs!
6. What is your favorite Netflix show? Of the Netflix Original Series it would be the Chilling Adventures of Sabrina
7. Dogs or Cats? I'm obsessed with all animals but I'm definitely more of a dog person
8. What is your go to fast food order? Dominos Pizza! Pizza for life.
9. What is your favorite drink? Mainly G&T but I do love a Whiskey Sour!
10. How many countries have you travelled to? Quite a few! UK, France, Spain, Germany, Italy, Portugal, Poland, Belgium, Greece, Netherlands, Andorra, South Africa, North America (California, New York, Nevada, Florida) Curacao, St Lucia, Barbados, Martinique, Antigua and Barbuda.
11. What is your favourite Ice Cream Flavour? Not a single flavour fan but I love Ben & Jerry's Phish food and Haagen Dazs Pralines & Cream.
12. What is the craziest thing you have done? Most recently I jumped off Bloukrans Bridge in Tsitsikamma in South Africa, the world's highest commercial bridge bungy at 216 metres. There's photo evidence over on my South Africa blog post here.
13. What theme parks have you been to? Lots! I LOVE Theme Parks. I'm actually heading back to Orlando this Summer! In California I've done Universal Studios and Knots Berry Farm. In Orlando I've done Universal Studios, Islands of Adventure, Disney's Magic Kingdom, Hollywood Studios, Epcot, Typhoon Lagoon, Aquatica, SeaWorld, Busch Gardens, and Discovery Cove. I've done Disneyland in Paris and of course Alton Towers and Oakwood in the UK! Not forgetting our very own Tayto Park!
14. What is your favorite genre of film? I do love a thriller, however I LOVE shark movies. Good ones are few and far between though so I accept them for what they are.
15. Have you ever failed at anything and what did you learn? Oh yes. My driving test, three times. And I've learned to just keep putting it off for as long as possible. I've been driving for almost 10 years but I panic when taking the test, I'm a disaster.
16. What countries are on your bucket list? Sri Lanka, Japan, Thailand and Mexico!
17. What is your favorite thing to order on UberEats? UberEats is a bit light on options at the moment and I've only ordered McDonalds from it which wasn't great. If it was JustEat it would be Sushi from Zakura!
18. Who is your celebrity crush? Ryan Reynolds. He's not only beautiful but the way he speaks about his wife Blake Lively and his daughter is just too cute. And he's funny!
19. What is your idea of your dream date? I love experiences and I love to laugh, so if it is evening maybe a whiskey / wine tasting, or a comedy gig. For a day time date then something fun like the Zoo or a Theme Park or Escape Rooms.
20. What do you do in your free time? My free time is spent either walking my dogs or doing something blog related. And then lazy days I play playstation or binge on Netflix!
21. What are your pet peeves? Rudeness. It takes little effort to be nice!
22. What is your go to hairstyle? A Romina Daniel Salon Boho Blowdry that lasts for a week! On a day to day basis I do my own version of this but it's nowhere near as good.
23. Do you have any pets? Unless you have been living under a very large rock you would already know this! I have two babies dogs – Rocco the 2 year old jug and Bear the 8 month old Pug. I also have 2 fish – Kevin and Bean.
24. What has been your favourite holiday? South Africa hands down! It's an incredible place. You can read all about it here!
25. Do you use PC or a Mac? I'm a Mac girl. I have almost all the Apple family – an iphone, ipad, macbook pro and an imac so I don't think I could ever convert back to PC!
26. What is your most used app? Except for social media apps, randomly, it's IMDB. I'm big into movies and have a monthly subscription to the cinema for unlimited screenings. So IMDB is my go to app when i want to check out a movie ahead of the cinema or a Netflix selection!
27. What are you most happiest with in your life? I'm pretty much happy with everything overall, but I suppose happiest with my family life – as in, my other half and my dogs. They're the best!
28. Do you have any bad habits? Constantly having my phone in my hand! Terrible habit.
29. What is one thing you wished people knew about you? I guess that I work hard even if it might not seem that way on Social Media. I work full time and then evenings and weekends I commit to my blog and all that goes with it. Whether that's creating content for social media, content for my blog, admin or going to events. It's honestly like having two jobs and it can get exhausting, but I've been doing it for years and I love it! It's not as easy and fluffy as Social Media can make it out to be.
30. What social media are you addicted to? Instagram mostly! This time last year it was definitely Snapchat though!
So there you have it! 30 questions to get to know me – hope you've found them somewhat interesting! As always though, happy to chat and answer anything via Social Media so feel free to drop me a DM on Instagram (@AJmakeup)
Happy 2019!
AJ x