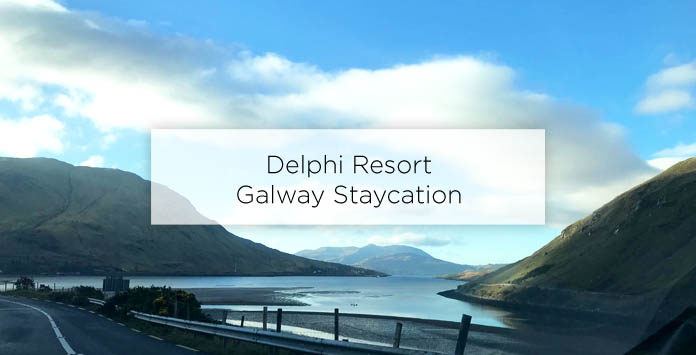 As I type this I cannot begin to describe how relaxed I feel after a weekend in Delphi Resort Hotel & Spa, in the middle of some mountains, with no phone service, no TV, and very very limited Wifi. This post came highly requested once my Instastories / Snapchat posts actually loaded to my channels on the Sunday on my way home with you all asking where I was! So here's all you need to know!
As part of a birthday surprise, I wanted to book a weekend in Ireland to chill out with no distractions. And with a spa and a thermal suite to make use of! When we were in South Africa, some of the places we stayed had no phone service or wifi and no TVs in the room and it really helped us switch off and actually enjoy our surroundings and each others company – and play cards over some drinks! So this is exactly what we mimicked here in Delphi Resort – just with less wild animals around. Well, unless sheep count?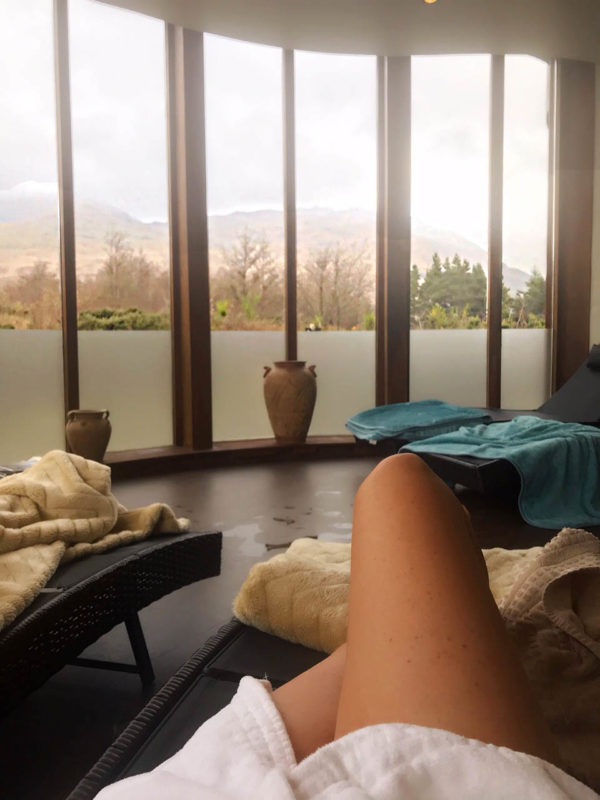 Delphi Resort Hotel and Spa
Delphi Resort itself is in made up of a Hotel and Spa, and an adventure centre. It took us almost 3 hours 40 mins to get to the resort in Leanane, Connemara from Dublin. It actually didn't feel that long when you are stuck into a podcast! (Up & Vanished was our podcast of choice for this trip!)
We left around 11.30am on Friday to get there for check in time at 4pm taking into account a detour for food to break up the journey along the way! The drive itself once you get out west and closer to Connemara is gorgeous – particularly the Connemara loop which is part of the Wild Atlantic Way!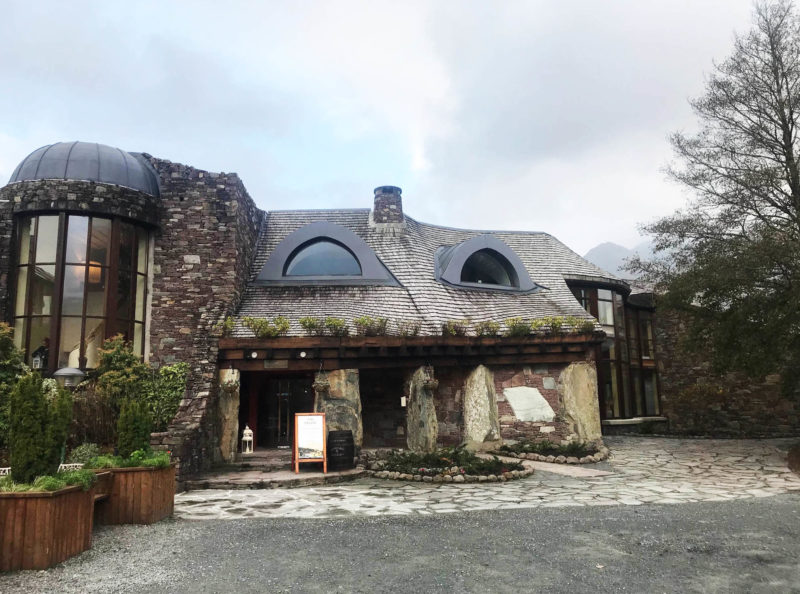 I booked my trip to Delphi Resort through Booking.com (you can get 10% cash back using my affiliate link) and it cost around €250 for 2 nights, Friday and Saturday, including breakfast, and you get an hour free in the thermal suite. Breakfast is buffet style with fruit, pastries, cereal, a full Irish buffet, and eggs made to order. Dinner cost around €35.50 for 3 courses in the 814 restaurant and there is also a bar evening menu available until 9pm. The bar also offers a lunch menu, and there's also the Wild Atlantic Cafe with light bites and a shop! So you literally don't need to leave the resort at all which is great, we didn't plan on driving anywhere all weekend.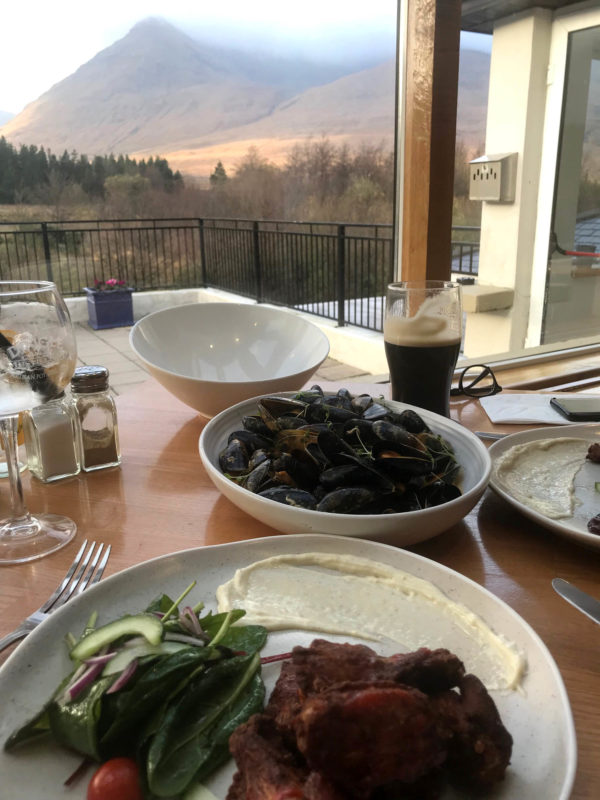 The staff were all very lovely at the resort, from the welcome to the bar staff to the restaurant staff. Cocktails were fab, and the G&Ts went down well too! We stayed in the double rooms which are located outside in what seem like 2 story houses split into two double rooms, so plenty of space! The upstairs rooms would have the better views of the mountains because the ground rooms have bushes around them so blocks them a bit. The bathrooms were fab – super clean and nicely laid out, and a bathtub too which we love having in addition to a shower.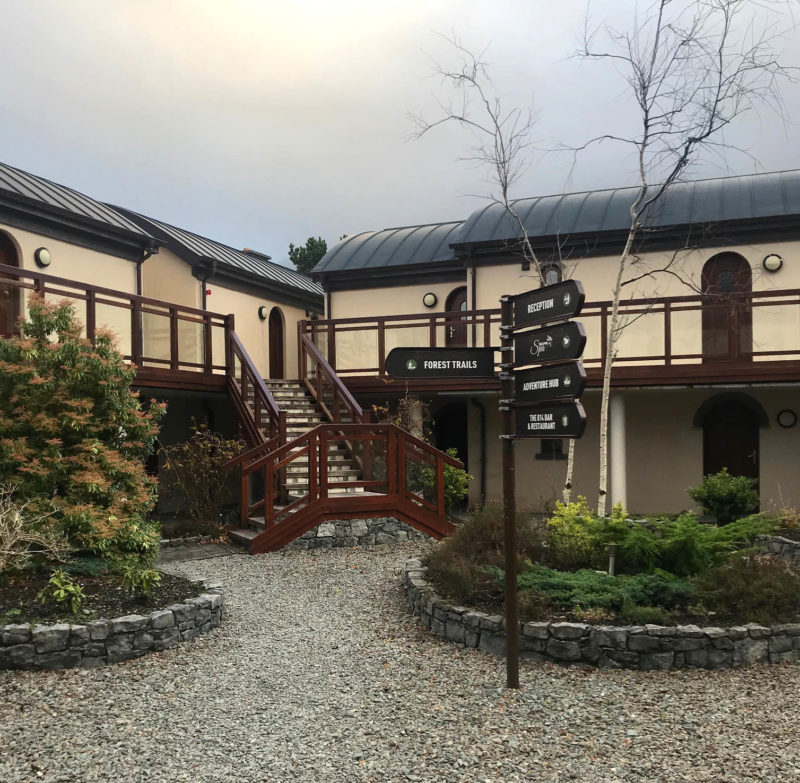 Digital Detox
The hotel is lovely and cosy, and is surrounded by the Mweelrea mountain range. This is the main culprit for the lack of phone service and poor WiFi! In some parts I had strong enough WiFi for a whatsapp text – not a whatsapp image though, that's pushing it! This meant the photos and videos the babysitter sent of the dogs didn't load which I was devo about, but that was the only time I missed the connection to the outside world! The card machine struggled at times too – but just charge it to your room and pay at the end.
There are no TVs in the rooms, but if you want they can provide you with a DVD player/TV combo. There's a movie room so we were able to watch the rugby match, and a library too! If you're feeling like fresh air there are forest trails you can venture on and bicycles available to hire.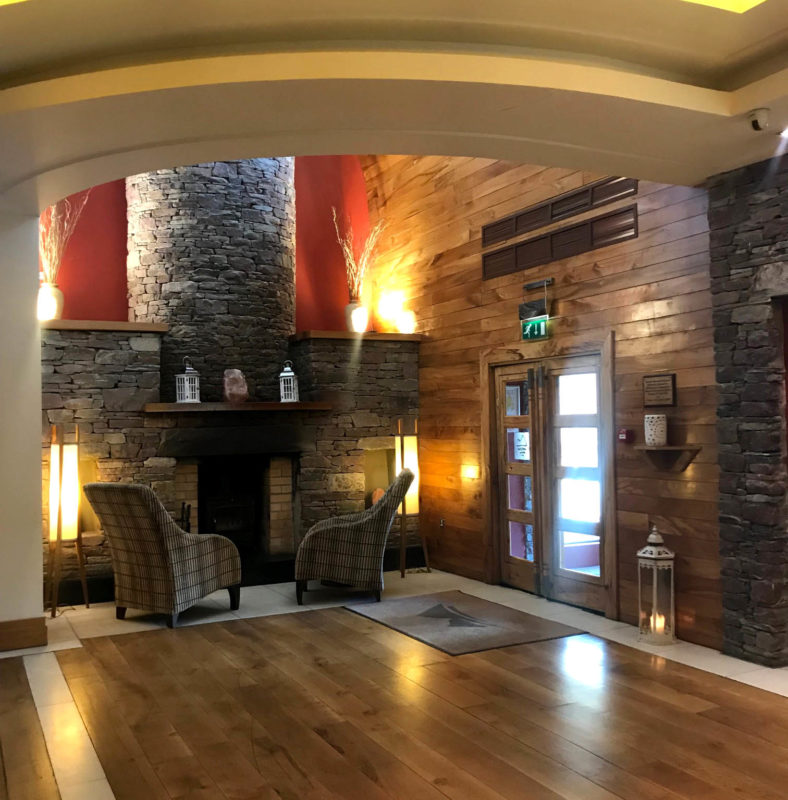 Unwind in the Spa
The spa has plenty of treatments and options to choose from, and a thermal suite to unwind in! Price wise it's on the upper end of the scale but they do have offers if you get multiple treatments. We opted for the 80min Deluxe Hot Oil full body massage (€110pp) – so relaxing I didn't want it to end. There are lots of massage options to choose from, along with facials, body wraps, body scrubs, seaweed and milk baths, hand and foot treatments, waxing and eye care. We then spent some time in the Thermal Suite to relax and unwind whilst taking in the mountain views. This area has a sauna room, steam room, huge jacuzzi, rain showers and relaxation rooms. I could have stayed there all day.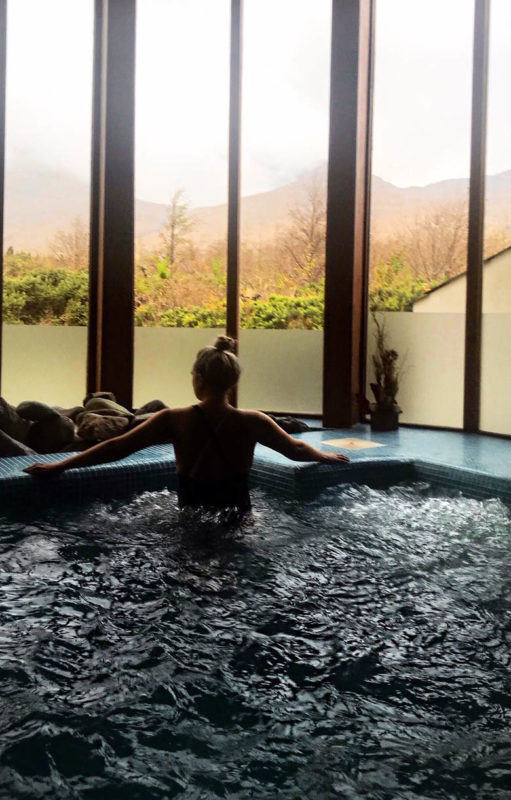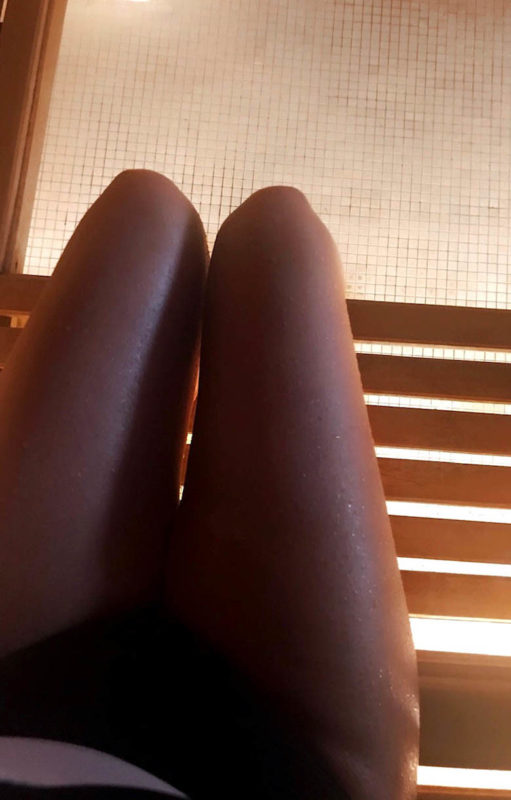 Adventure Centre
Although we didn't do any of the activities on this trip, I thought I would mention them. They are definitely worth considering if you wanted to include something active during your stay. I actually went to the adventure centre when I was younger (didn't we all?) and I loved it. Obviously it will have changed over the years, and the activities I did at the time were for children, but they do have a wide range of activities on offer for all ages so check them out for sure! Whether you are in the mood for water activities such as Kayaking, Surfing, Coasteering, and Paddle Boarding, or you prefer to stay on land (or above land!) in the form of Zip Lining, Aerial Adventure, High Ropes, Archery or Mountain Biking – there is literally something for everyone!
Any questions, as always give me a shout on email or Instagram. I'm feeling very relaxed after my weekend away and will definitely be back to Delphi Resort! If you know of anywhere else in Ireland perfect for a chill out staycation do let me know your recommendations! xx