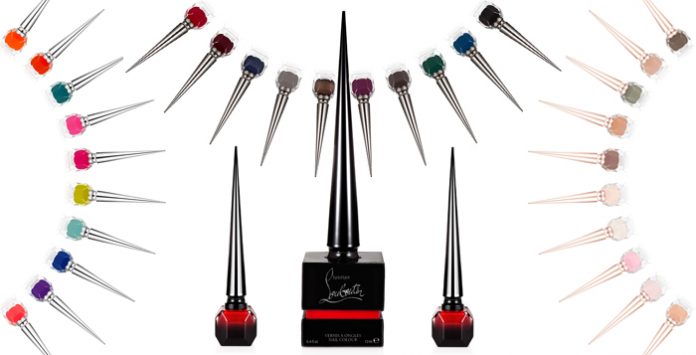 Best Ever – pretty much sums up my louboutin nail polish review! Between the packaging, the ombre bottle, and the quality of the polish I cannot fault it! I even love the spike! Although I thought it would be really impractical and get in the way but it really doesn't – it's not heavy either! I do take my time applying it though but that's down to the brush size I reckon, it feels like painting carefully between the lines! The pigment is like no other I've tried, it only needs 1 coat – with other brands I always apply 2 coats, but less product is used which is good given the price tag!

The consistency isn't thick either which I find increases the longevity and it doesn't chip, so I find it difficult to bite it off when I get bored – I have an awful bad habit of this! Christian Louboutin Rouge though is making it a difficult but welcome challenge. It takes a good bit longer to dry, and when it is touch proof dry you still need to be careful – even pressing against material can leave an imprint! It's probably not that big a deal for most people but I'm quite clumsy, and impatient!
The colour really does stand out and it's quite glossy – maybe it's because I recognise it as the Louboutin sole red though but to many others it probably looks like any old red nail polish! (I read that OPI Race Red is a good colour dupe for Christian Louboutin Rouge) If the quality of the product and the good points I mentioned above is important to you then you'll gladly invest! In saying that I'm not going to buy every single colour straight away given the cost but definitely some key colours from the 30 other shades that will be on offer, 100% getting something from the Nude collection! Besides, where would I store all those spikes if I did end up buying all of them – just look at the size of all 8inches of it!!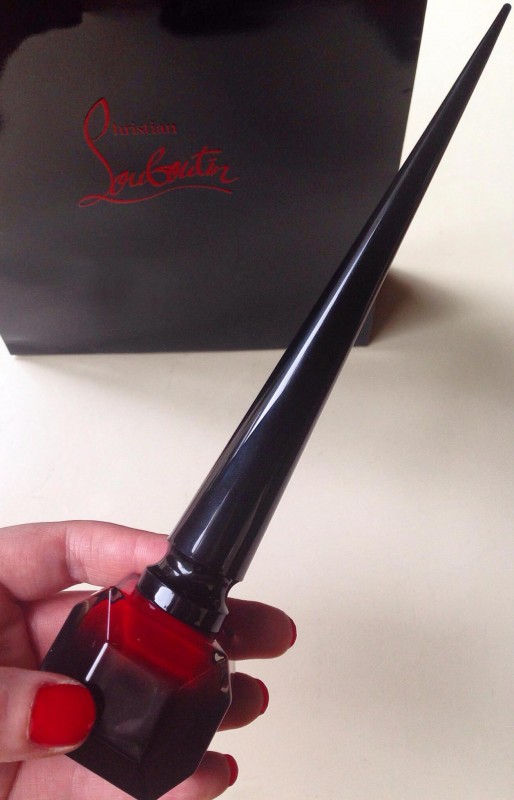 One of the downsides to this product would be the availability, it's only going to be in about 100 shops worldwide, exclusive to it's 'core partners' Mine was bought in Selfridges in the UK for £36, you can buy it in Ireland in Brown Thomas for €45!
When my nails grow that little bit longer I want to try painting the red underneath my nail and black on my actual nail – then they really will be Louboutin nails!!
I'm looking forward to the Nude collection most, but there are definitely some good investment shades in the Pop and Noir range too as can be seen below: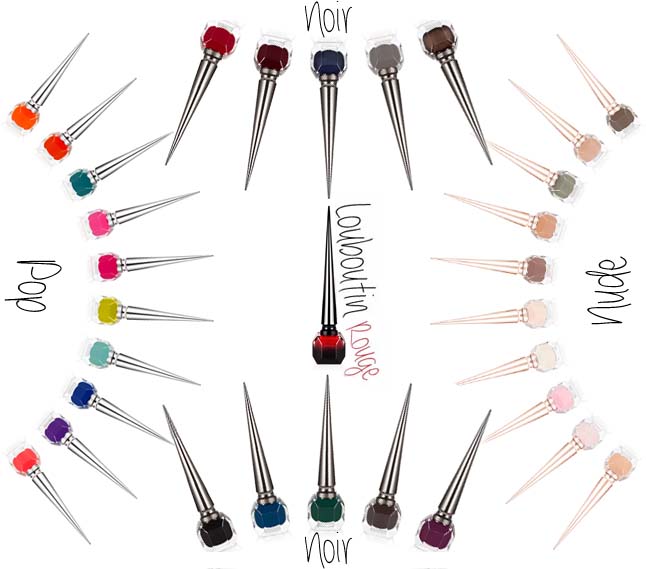 Anyways, back to admiring my nails and the bottle! Have any of you tried the Christian Louboutin Nail Polish collection? Let me know if you've picked up some fab colours you would recommend! xx
Hope you enjoyed my louboutin nail polish review! If you have any other questions which I didn't cover let me know in the comments! x