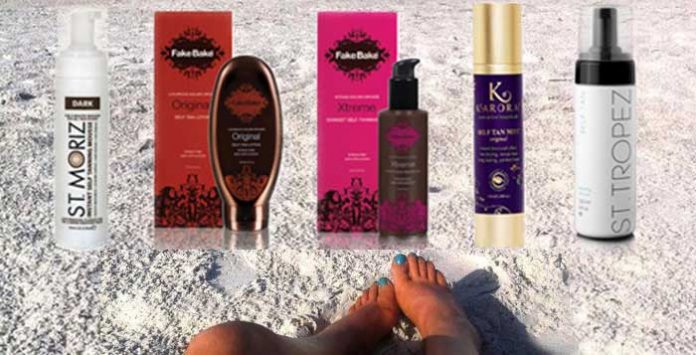 Overview
Still searching for my personal Holy Grail but hope the reviews of these Tans give you guidance & help you find yours!
Tan. Fake tan. Orangey goodness that turns us into goddesses without the risk of looking like a handbag at 40. I am known as a tan addict. And I kind of am, admittedly. I've tried most of them and to be completely honest, have yet to un-earth my holy grail. Reviewed here: • St Moriz • Fake Bake Original • Fake Bake Xtreme Dark Tanning Gel • Karora • St Tropez • Gradual tanners: Dove, Garnier, Johnsons, l'Oreal

Ones I am YET to try:
Decadence Tan (VERY hyped, am excited for this one)
Vita Liberata (also hyped, and readily available, always a plus)
Rockstar Tan
I'll review in the order I listed above.
St Moriz
Cheap (€4) and claims to be identical to St Tropez. In order for me to say that it is identical, it has to be IDENTICAL. And identical it is not. I apply the DARK shade to freshly washed skin and allow it to develop overnight. It turns my skin a gorgeous dark caramel colour, really beautiful colour but alas most of this chocolatey-ness disappears down my shower plug hole. Not ideal. It leaves me with a light to medium tan with a yellow undertone. I moisturise all over after every shower and find that it lasts 3-4 days. Which is fine and for just four squids I really can't complain and I do use this one regularly. Smell factor – NOT bad at all! 3.5/5
Fake Bake Original Formula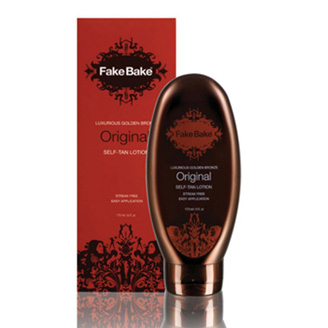 My personal favourite. Not cheap, around the €30 mark and comes in an upside-down tube. I don the plastic gloves (snap snap) and slather the thick almost-black lotion onto my skin. I look FILTHY immediately after application but off I totter to my leaba and when I wake, straight under the shower head I go. And the colour I am left with is AMAZING. Beautiful and dark and even and beautiful. And dark. Can we stress how I LOVE to have a dark tan?! The down side to this baby? Besides the price, the formula can be a little drying and if you have any dry patches on your body, fuh-ged-about it, this will highlight them ta bitsssss. Smell factor: Minimal icky smell. 4/5
Fake Bake Xtreme Dark Tanning Gel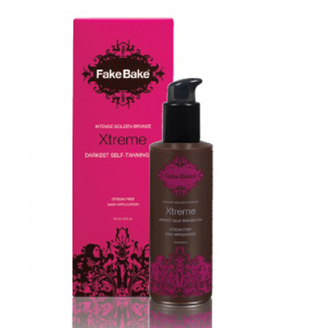 €40 odd. THICK AWFUL MESS. I have no words.  So this comes in a pump-bottle & included in the box is a pair of plastic/latex  gloves. On the box the claims promise that this is THE darkest tan in the existence of man, short of Nutella. 'Grand' I says 'Now let's slather this muck onto me!'. So I pump. SO difficult to get the lotion out of the pump for starters, & I soon figure out why. It's a thick treacle-like consistency. Trying to smear it onto my body was a nightmare – I gave up after one arm. On contact with skin, it dries immediately meaning it's impossible to blend. I'm not thrifty with money, so believe me when I say this was a WASTE of €40. Smell factor: Didn't get far enough to test the smell! 0.1/5
Karora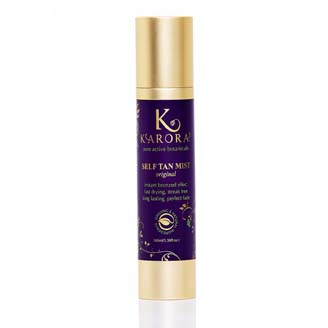 Not a bad effort my any means. I liked this one, but there are a few cons. I like a DARK tan. As dark as is possible please, and as quickly as possible too, if you could ☺ This stuff is a spray (not my ideal, I prefer mousse consistencies) & I got this in the DARK formula. I spritzed the liquid onto my skin and buffed it in with a tanning mitt & let it do its' thing overnight. I expected to wake up to a gorgeous dark colour however I woke up to a mediocre kind of shade. For someone who doesn't want to turn dark, this tan is ideal however not for me. After 3 nights of continuous applications however it was sufficiently dark enough for my inner-Snooki. Smell factor: Definite smell there but not too bad! 3/5
St Tropez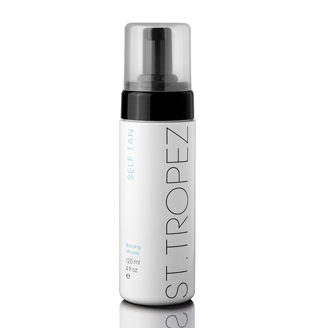 Let's make this one short, this one is everything that St Moriz is not. (including the price tag!) It can be gotten for around the 25-30 euro mark (on offer a lot of the time).
It develops dark and retains most of said darkness after showering off the guide colour. Lasts well once you moisturise regularly.
Price tag ain't great. Smell factor: Meh, smell is definitely there, worse than most to be honest! 4/5
Gradual Tanners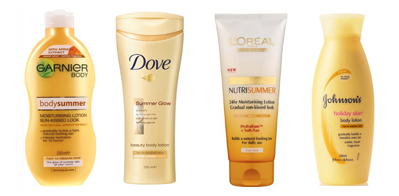 I've tried every almost single one of them. THEY ALL SUCK. That is all ☺ Come on folks, recommend me my HOLY GRAIL false tan please! ☺ Laura x