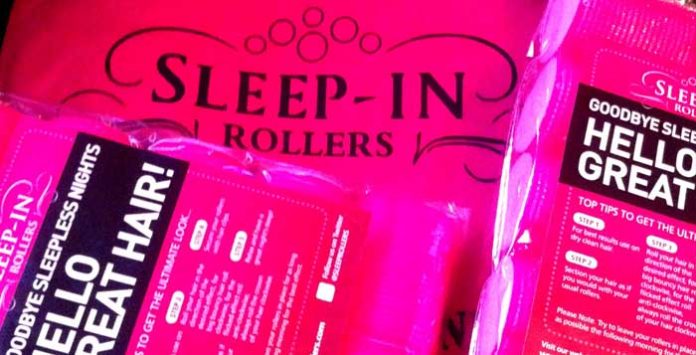 Overview
Good as far as Rollers are concerned, I much prefer a curling iron though! Comfier than hard rollers for sure!
With all the buzz with these Sleep in Rollers I decided to finally give them a try! I don't normally put rollers in my hair so to give the best review I tried normal rollers from the local pharmacy to compare them against. Normal Velcro rollers for less than €10, not fancy pants heated ones – I thought these would be the best to compare Sleep-In Velcro Rollers with in order to give a fair review!
And yes, I am talking about the 'Sleep-In Roller' brand and not Lauren Goodgers impending 'Dreamrollers' launching soon..
Being an amateur hair roller I did what I thought would be best for my own hair type. On both occasions I washed my hair and blow dried it pretty much straight, just to make sure all of my hair was dry, as I didn't want any kinks in it in the morning. I used my GHD to straighten and heat each piece of hair as I rolled it. I only put the GHD near my hair prior to rolling each piece because I wanted each piece hot to ensure the best outcome the next morning.
People need to remember that the end result with these types of rollers is not for a curly head of hair from the root, but for big hair from the root to a nice loose curl at the ends giving a bouncy fresh look.
With the normal Velcro Rollers because they came in different sizes I was able to put the larger ones on top and crown of my head and the smaller ones everywhere else. The result the next morning was absolutely amazing I loved having such big hair, but I'm not sure my face matched the hair because I didn't get the best sleep ever! So sore and uncomfortable especially because of the larger ones at the top of my head.
This was the result 2 hours AFTER taking out the normal Rollers, and, after being rained on: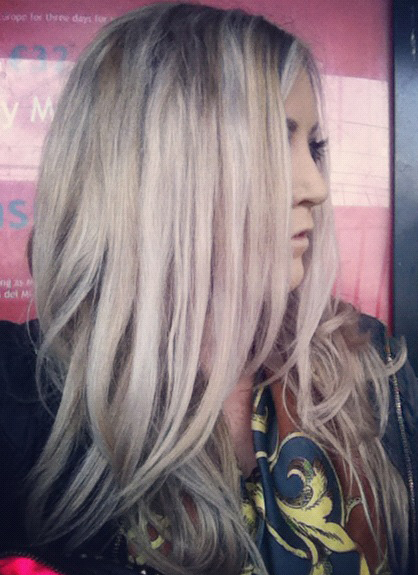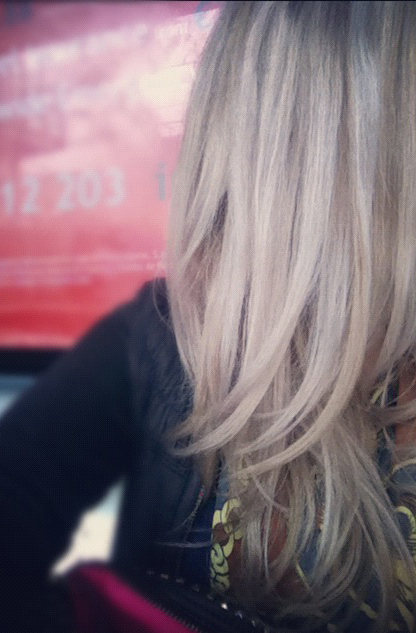 Here's a picture of the normal rollers I used: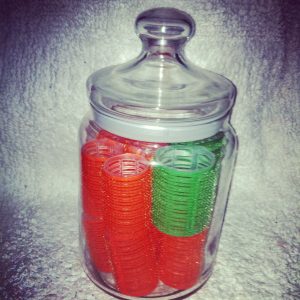 With the Sleep-In Rollers I had a much much better sleep! The result was good but not as big as the normal rollers, I would love if they came in a slightly bigger size for the top and crown of my head because I think this may have improved it, but next time I'll try roll them different in order to try get the desired result. Again I have to stress..I am an amateur hair roller, I'm sure with practice I will have big hair every time!
Here is the Sleep-In Rollers packaging which I loved: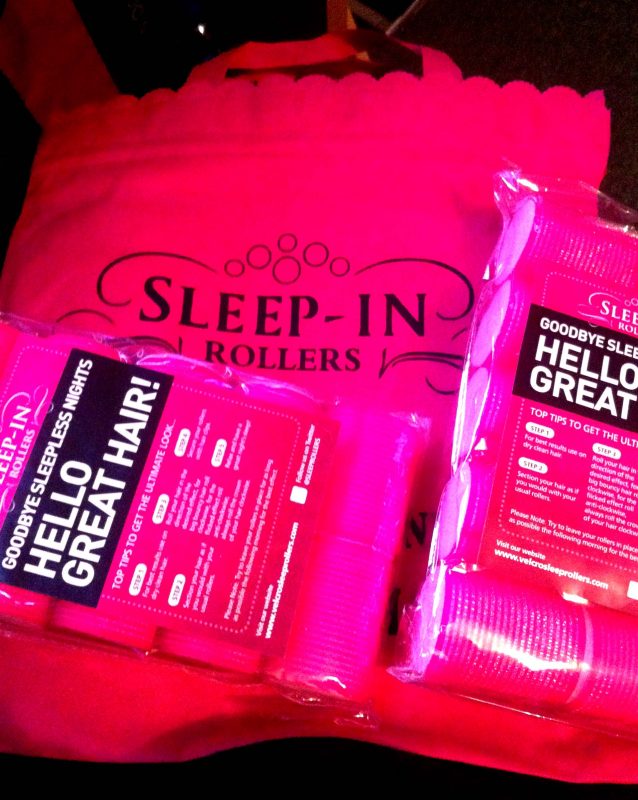 And this was the result after removing them the next morning: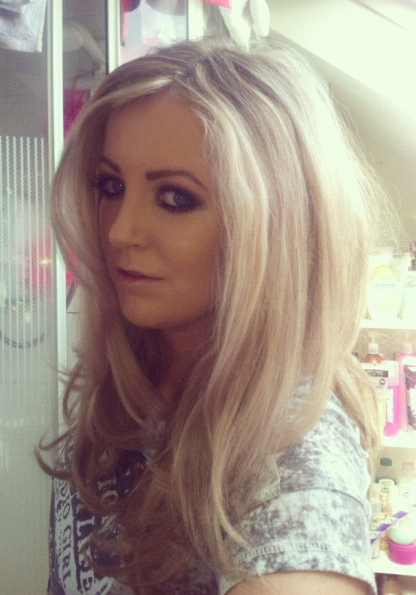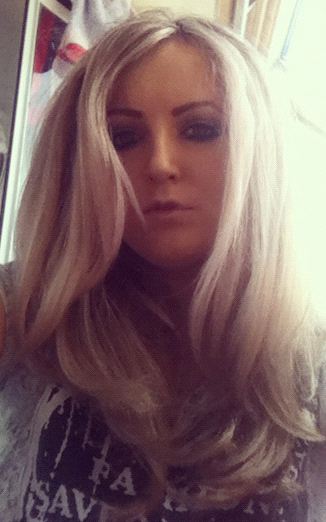 I didn't hold the rollers in place with pins as both the rollers suggest, as again I didn't want any kinks or random dents in my hair so instead, I kept them in my hair using not one, but TWO hair nets. Very sexy. I can imagine not having such a great sleep with pins in my hair anyways, so the unsightly brown Granny hair nets did a great job! And besides, unlike every member of the cast of TOWIE – I'm not gonna wander outside with them on to get papped. I keep them for the bedroom!!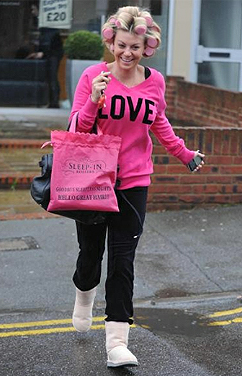 So if a comfortable sleep is an important factor for you then definitely go for Sleep in Rollers, if its not then stick to the normal chemist brand rollers.
Remember, Sleep-in Rollers are marketed as being rollers you can sleep in, and that's exactly what they do, they aren't branded as being the best roller in the world. There are lots of different tools in the market for curly big hair which I will cover eventually, not to mention the heated kind! But if velcro rollers are your thing and you like your sleep then definitely go for these.
They retail between €18 and €25 for a pack of 20 depending on where you purchase them, and come in a cute pink drawstring bag for storage! They are pretty much everywhere these days!!
For those of you who follow Sleep-In Rollers on Twitter and are not living under a rock, you will have seen their recent outburst of tweets attacking TOWIE's Lauren Goodger due to her upcoming release of her own range of rollers 'Deamrollers'
We are launching a new and exciting product Very soon! What do you think it could be?

— Laurens Way Official (@Laurens_Way) May 25, 2012
Are you ready for our new product launch? Here we go! #Dreamrollers RT

— Laurens Way Official (@Laurens_Way) May 25, 2012
Ok its clear what going on here, It appears Lauren (and her people) saw an opportunity and have rebranded sleep rollers as her own. I can understand the frustration Sleep-In Rollers must feel because apparently they are identical to theirs but to be honest, upon reading their tweets I found it very unprofessional and I feel it has definitely put a dent in their otherwise perfect reputation. In my opinion they should have taken the moral high ground and let their fans hurl the abuse instead. But apparently there is more to the story..If anything, its given Lauren Goodgers new product the most anticipated launch ever. Even if it is just to see the dramatic aftermath..
SEE THE THING WITH @Laurens_Way IS THERES NO SUCH PRESS AS BAD PRESS, ANYTHING TO STAY IN THE SPOTLIGHT !!! DESPERATION !!

— SLEEPINROLLERS (@SLEEPROLLERS) May 25, 2012
@NevWonderfulH WHATS MAD IS THE WHOLE OF THE BEAUTY WORLD WARNED US AGAINST YOU !!! @Laurens_Way , DESPERATE TIMES SEEK DESPERATE MEASURES !

— SLEEPINROLLERS (@SLEEPROLLERS) May 25, 2012
Sleep-In Rollers crew should probably remove Lauren's face from their "What celebs are saying" section now.  Slightly Awkward.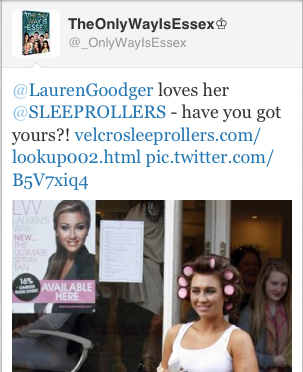 If you have any tips for both myself and my readers on how to prep your hair for rollers for the best outcome please leave a comment below..but for now I am going to keep trying my Sleep-In Rollers to get the perfect big hair with loose curls because the other ones were just too damn sore!! xx
Here's Lauren Goodger in her new Laurens way Dreamrollers below..