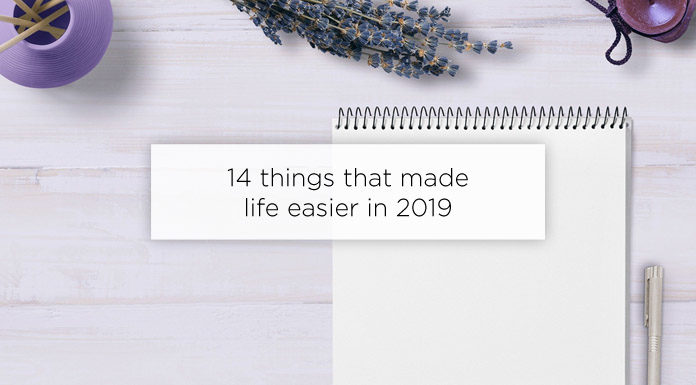 As I was doing a bit of cleaning ahead of my impending back to work after the silly season day, January 6th, I thought to myself – what did I ever do without this Dyson! Riveting thoughts of a Sunday I know but it makes me actually like doing a chore I used to hate. It even brings me joy! So I thought, what else has made my life easier this past year because you know, we're all busy busy and time poor, we all have lots of stuff we own and use, but what would I really miss if it was gone! So i'll kick off with what inspired this post, my hoover!
Dyson Hoover
If you're a dog owner like me, hoovering is required 5,692 more times than the normal home so I'm pretty confident in saying not only has my cordless Dyson made my life easier but it's saved my sanity! I'm sure all Dysons are mostly the same but mine is the Dyson Animal model because it's engineered for homes with pets but there are plenty of options depending on your requirements. I retract in fear when I see a hoover with a cord nowadays and turn into a Harvey Norman sales rep to anyone who'll listen, to try and convince them to get a replacement. There are other cordless brands too which I'm sure do the same job, all I know is cordless is the way to go!
Image of me and what I wish I could do to my dogs:
Revolut
Feel free to skip on ahead if you're sick of hearing about Revolut! The CEO himself has tweeted saying that Ireland is one big Revolut card because it's taken off so much here. Personally I use it as a means of budgeting, so I'll always have my main bank and then I top up my Revolut card with my 'pocket money' for the month! It tells me what my daily budget is based on whatever monthly spend I input, and this recalculates daily depending on whether I overspend or underspend as the days pass. Many people use it for travelling as you can convert money to other currencies instantly, and it's pretty quick and easy to set up – plus it's mostly free! I do also like how you can split bills and transfer money between friends in an instant, and add a cute gif too. There are other plans and benefits you can get if you pay a monthly fee which you can find out here but it has really helped me in 2019 with budgeting and keeping on track of my daily spends. Salary, bills and savings etc still stay in my main bank accounts however, because I use Revolut as more of an 'app' than a bank but it has kept me in check in 2019!
Bloggers | Content Creators | Influencers
I know at times bloggers get a bad rep but personally the ones I follow, make my life so much easier! Aside from the endless travel blogs that help me plan my travels, an everyday example being, for me, I no longer need to root around clothes shops or endless website pages online looking for an outfit because there are try on hauls galore on Instagram and YouTube, along with pricing and links, and I consume this content from people who I find has similar style to me and that give me outfit inspo. The actual pain of going to an online store directly and it shows up page 1 of 473 – you also don't really get peer opinions that way unless they have a review section. This translates similarly with beauty, and many other products and services. I know from being on the other side of it that it's time consuming showing clothes / beauty items, giving them a proper review, searching for links, responding back to DMs about sizing / coverage / a meal etc, documenting every tip and detail I have when it comes to travel, so I applaud and appreciate those who spend the time and money (gifted product or not, time is money!) filtering out all the stuff they don't endorse, and recommending products and places that we might like, and then presenting it in fab blog, youtube or instagram format. I find that there's also plenty of education and learnings both from people's skill, opinions and expertise that you can also get which again makes life easier, google doesn't always have the answer! I might create a blog post on some of my favourites to follow which I'll link here.
Google Maps
I genuinely don't think I can leave the house without this, let alone the country! My universal mode of transport. I've lived in Dublin over 10 years yet I still haven't a clue where anything is unless it's somewhere I frequent. Not only does it tell me the quickest / shortest route to get wherever I'm going, but by doing so it informs me when I have to leave to get there on time. So it's a personal organiser! You all no doubt use it so I don't need to explain how it works but the integration into local transport is absolutely key for me, particularly when I'm travelling abroad. Otherwise I would still be lost on a different continent somewhere right now. I actually don't understand how people got around previously using paper maps, are they still even a thing?
The absolute panic when my battery or phone coverage goes:
Romina Daniel Salon
No introduction needed at this point really, but Romina and team have made my life so much easier, particularly when it comes to travelling. Without fail, any time I take a trip away I get the best boho blowdry there is and it lasts up to a week for me! This means more time exploring new countries, and more pictures taken for my travel posts otherwise there wouldn't be any because she does it exactly how it suits me. Being a blond all these years my hair has been damaged in the past but my hair has never been in better condition thanks to the care and passion from Romina Daniel Salon, the products they've introduced me to, and in addition, their ethics and sustainability efforts are inspiring!
Image of how I feel every time I'm leaving their salon:
Skyscanner
In keeping with the travel talk, this website is probably the reason I travel so much. It helps me find some of the best prices for flights, gives me direct and indirect options and what airlines facilitate what destinations. When I can't decide where I want to go it gives me the 'Everywhere' option so I can look through the destinations by lowest to highest price so that I'm bound to find something for my budget, and likewise if I have a destination in mind it shows me the cheapest month to travel so you can look through the different daily rates. I particularly like the price flights map, and the alerts option so that if I don't want to book there and then I can at least keep track of the cost fluctuation until I decide. I use it for flights mainly but you can use it for hotels and car hire too, and as an aside, it has a pretty good regularly updated blog!
Tesco
This may sound lazy but getting my shopping delivered to my door makes life much much easier. You just select what date and time slot suits, add your groceries, and you're done! When it comes to the day and time slots the delivery cost varies between €3, €5 and €7. Mostly the €3 slot on a Thursday or Friday evening suits me but there are lots of options to choose from. When it comes to selecting your groceries it saves all your favourites based on what you frequently buy which is really helpful because you don't have to go searching, because being honest we buy pretty much the same every week, it's not too eventful! It also shows all your previous orders, and prompts you if you're missing something you usually buy when it's not in your basket. (Yes it's an up-selling ploy but hey it works!) You can toggle your settings so that if there is something not in stock on the day they will swap it out for something similar (maybe a different brand) and most of the time its something more expensive or with more grams but you don't get charged the extra. The other handy thing is you can change your delivery date, time and contents of your basket up to almost midnight the night before your delivery is due. in addition, I shop with my eyes being bigger than my belly so when I'm in a physical supermarket I'll throw too much stuff in the trolley and I'd spend all day wandering around the aisles. Super Valu offer this too and a few others but Tesco is the only one I've used to date!
Nespresso & Keepcup
I've put these together because they go hand in hand for me, plus my main travel cup is Nespresso branded! I use my Nespresso machine and milk frother every single day without fail. Every morning I fill up my Keepcup with a homemade Oat Milk latte for the 30 min walk to work and it's delish. The coffee comes out almost instantly, the milk frother gives you that coffee shop quality feel and it costs nothing! Well, other than the capsules which are around 40 cent each, but it's still 10 times less than the cost you can get it in coffee shops. I then will use my Keepcup for any further coffees I buy throughout the day (at least one more!) so I'm making somewhat of a contribution in my sustainability efforts. Last year I read around 200 million single use coffee cups are disposed of in Ireland a year, so now there's at least 730 less from me!
Brow Artist Becky Foskin
This talented lady is the dream! It's like an actual transformation when I leave her place in Ranelagh and similarly with my hair, I get my brows done when I'm travelling and it just makes life easier! My makeup takes less time in the mornings giving more time to explore – and my makeup just looks better! We all know how important brows are in shaping the face, that's why it is important to go to someone reputable and skilled and she takes plenty care of mine! I gain back time but also gain back confidence and feel more comfortable in my skin when Becky gets her hands on them. The only downside is she doesn't live with me because then life would be much much easier!
My actual face when I have to figure them out myself:
Podcasts
The remit of podcasts is constantly evolving, there's an abundance of content at the tips of your fingers which we're really lucky to have. So whether it's educational, fictional, true crime, comedy, business, storytelling, TV and film, history or cultural – the list literally goes on and on, there's something for everyone! i used to just use Spotify to listen to music but podcasts have made my life so much easier in the sense that it makes travelling long journeys in particular, more bearable. An almost 5 hour drive to West Cork, or an 8 hour flight to Dubai flies by! I almost want my half hour walk to work to be longer so I can finish episodes in one go. Myself and my boyfriend have particular ones we listen to together when we're travelling too – shout out to Casefile keeping us from getting agitated on long journeys!
WeightDrop app
I've mentioned this app a number of times over the years, and it may be a bit of a controversial one for this post but I use this app to log my weight on a weekly basis. Long story short, many years ago my weight slowly but surely crept up and then suddenly I saw a press photo and I was 3 stone heavier. I don't really work out but I lost weight by managing my food intake and keeping the step count up and logging my progress here. Ever since I got to my ideal weight I have kept track so as not to slowly add 1 or 2kgs bit by bit and get to a weight that makes me unhappy. I don't mind the weight app fluctuating a few kg here and there, I know it's expected if I have a particularly indulgent week or come back from a 2 week holiday, but it helps keep me aware so that I can make little changes every so often to keep around my maintenance weight and not wake up again many stone heavier. Don't get me wrong, weight isn't the be all and end all measurement, and there are lot of factors in daily and weekly fluctuation, but as I'm not a gym goer really, my food and water intake is one of the main impacts on my weight and I know what scales number I like to be at to keep me feeling good and comfortable in my clothing, so this method works for me. It's important however not to obsess over it on a weekly basis because that's not healthy either, it's just keeps me in the know!
Me after 3 weeks eating and drinking my way around Italy last year:
Airbnb
2019 was the first year I used Airbnb! I travel quite a lot as you all know, so i do need to start being a little more realistic when it comes to my long weekend breaks within Europe particularly when I barely spend any of my time in the accommodation due to being out and about exploring and experiencing the culture. I first used Airbnb for my trip to Krakow when I spotted how fab a particular place looked on a friend's instagram, it felt similar to my own place so I knew i wouldn't feel uncomfortable there, which was always my worry! I also find it really handy if you are a dog owner – there are plenty of pet friendly places and the one thing I hate about travelling is not having the boys with me so at least in Ireland I can now take them with me. There are also plenty of gems and unique places which you don't really get with a hotel – we stayed in a very cute chalet on a farm over Christmas in West Cork with the two dogs and it was fab! But you can search for a boat, treehouse, dome, farm stay, yurt and so on! There's even an igloo and a cave option if you're that way inclined. There are lots of filters to help you choose, I personally always select Superuser so that I am guaranteed a really great host, and 'entire place' because I'd rather the entire apartment or house to ourselves, but depending on your budget there are options! And of course 'pets allowed' option. Welcome to my life going forward Airbnb!
Netflix and Amazon Prime Video
There's no denying Netflix (or Amazon) is comfortably embedded into our everyday lives. It's just so handy to be able to choose from a huge selection of series or movies either at home or on the go. When you're in a foreign country and feel like unwinding in the evening with room service and familiar TV, it makes life easier to be able to log in on the ipad or phone and stream, or have some episodes or movies downloaded for plane journeys where there's no inflight entertainment. And let's be honest, our patience these days are a little thin so when Netflix or Amazon load a full season of your favourite series in one go it's the perfect excuse to binge watch on a rainy day. We only just joined Amazon Prime Video in 2019 and find it great!
YOU!
And no, not the Netflix series with Penn Badgley that we are obsessed with at the moment. But genuinely, I've saved the best till last, and thats you all who follow my social media and blog, really do make my life easier. You are all so great with feedback and suggestions or recommendations when at times I need help! A particular example was when I was trying to create a 3 week itinerary for Italy, after much research I had a particular plan in mind, and then once I shared my thoughts on Instagram your feedback switched it up quite a bit and we had the most amazing holiday! So thank you very much for making my 2019 easier.
So that's it, the things that made my life easier in 2019! There are plenty of everyday items and apps that I've not mentioned but I wanted to mention ones that i'd truly miss. Shout out however to JustEat who's never let me down! I'm sure there are some things I'm still yet to get that will make things easier – such as a Fitbit to count those daily steps rather than my phone, but these shall come in 2020! Let me know the things you find makes life easier, no matter how big or small they seem!
AJ x