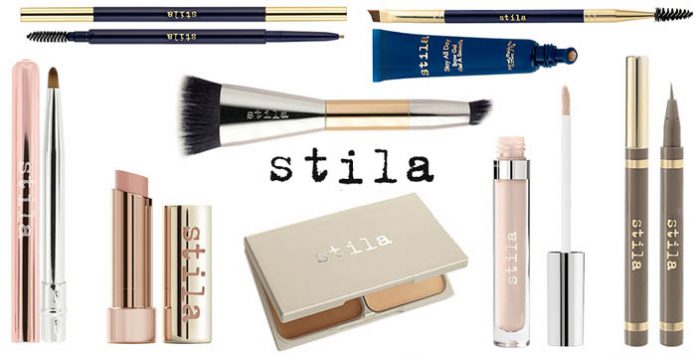 I was invited to attend the Stila press event in Harvey Nichols recently, where their brand ambassador Sascha Jackson provided a Spring/Summer Masterclass showcasing some of their new products along with some popular old favourites! I had never used Stila products before so it was nice to preview their older stock as well as their upcoming collection which will be in store from Valentine's day!
I didn't take many photos because I was frantically writing down lots of info on my phone and fondling all the products! Here's a round up of their new products due to launch in the coming weeks!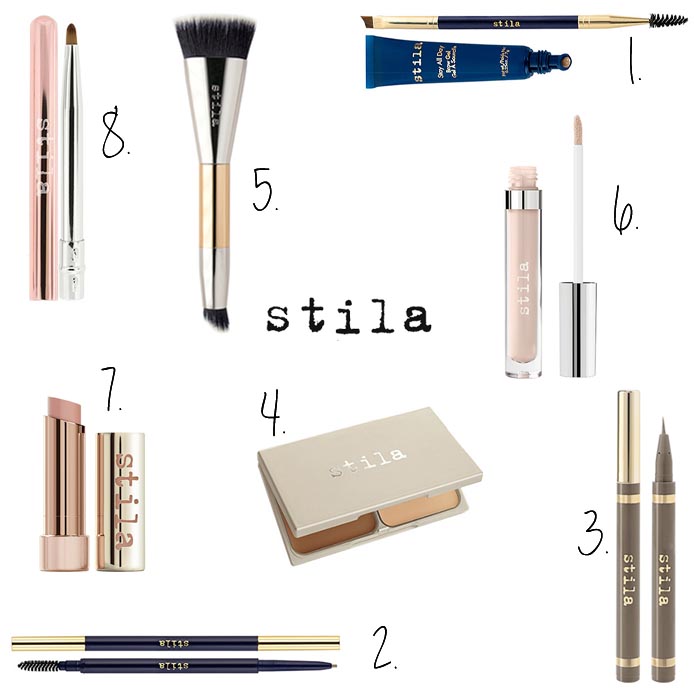 1. Stila Stay All Day Brow Gel €37
This adds volume and definition to thin sparse brows. I like this because it's clean and hygienic, it's airtight and has a well at the top for the product to sit into. It's not too intense it's light but it's buildable for a natural look. It comes in 5 shades and you get this double ended brush and spooley too for application
2. Stila Stay All Day Precision Glide Brow Pencil €21.50
Personally I wouldn't be a fan of pencils for brows I find they can makes brows appear a little too fake looking at times but this one promises soft and smooth application because it contains oils and minerals, and it also absorbs oils so that it doesn't smudge – impressive! This pencil comes in 5 shades
3. Stila Stay All Day Waterproof Brow Colour €21.50
This is like a marker, and again doesn't budge or transfer, similarly to Brow Pencil I'm not a fan of Markers either but Sascha said the marker almost mimics hairs on the brow. It's clear to see Stila have really invested in ensuring to bring top quality innovative products to the game, so I'm hoping both of these might change my outlook on Brow products, because I normally stick to powder and gels! This one comes in 3 shades
4. Stila Shape & Shade Custom Contour Duo €41
This comes in 3 shades and promises to blur imperfections and fill in lines. It's a cream to matte sheer formula and long wearing too! I like the packaging – nice and neat!
5. Stila Contour Brush €43
This is an unusual looking dual ended brush exclusive to Stila to deliver a perfectly sculpted look when teamed with the Shape and Shade Contour Duo!
6. Stila Lush Lips Water Plumping Primer €21.50
This is a water based primer that plumps and moisturises, whilst also neutralising any discolouration and imperfections. it will nourish and help your chapped lips too! In other words it makes the lips all lovely and prepped for whatever you want to lob on top of them! It is all about that base after all..
7. Stila Nude Interlude Colour Balm Lipstick €21.50
It's their classic lipstick but now in Nude shades! It has moisture like a lip balm but is pigmented just as lipstick should be! It comes in 3 shades – Meg, Sophie and Elyssa! They have peppermint oil in them too so i wonder if they taste a bit cooling?
8. Stila Lush Lip Brush €21.50
Another brush perfected for it's purpose! I don't doubt that this will do it's job but it also extends for precision and control. Stila don't do lip liners so they ensure to do other lip tools really well! They've really put a lot of thought and effort into these new additions!
As I mentioned above I have never used Stila before, and Sascha was using some older popular products throughout the master class too. The products that impressed me that I really want to try is:
Convertible Colour Blush – this has been around for 21 years and has never changed!
Stay All Day Foundation & Concealer – this comes in 16 shades and has a full coverage concealer built into the lid and a mirror, handy!
One Step Correct – this is silicone free, anti ageing, light for summer and one of their best sellers!
Stay All Day 10 in 1 Illuminating Beauty Balm – hydrates, nourishes, illuminates! Has lots of good stuff in it!
Double Ended Blending Sponge – doesn't soak up the product and gives a streak free finish!
One Step illuminate – this just looks so pretty!! And creates a beautiful glow – win / win!
I've got my hands on some of these already and I can't wait to try them! I fell in love with the feel of the Blending Sponge it's not like any of the others I've mauled, and I've been promised that it doesn't eat up all your product – and it's black how pretty!! The One Step Illuminate looks amazing too so I'm looking forward to giving them a test!