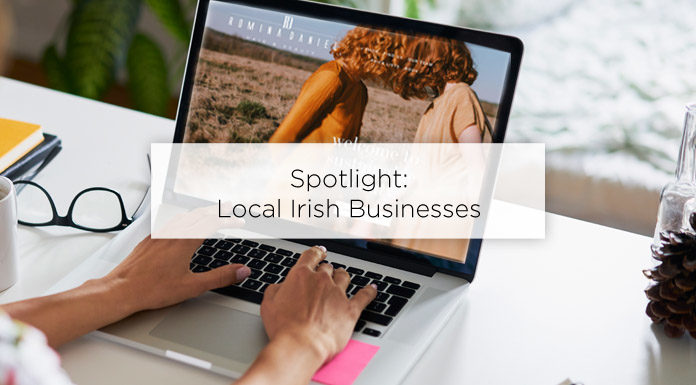 In light of all that is happening right now, I feel compelled more than ever to showcase the talented and hard working local Irish businesses and brands that I know and love to show my support.
I have mentioned these brands on my blog and social media over the years so these will not come as a surprise, but I've pulled together this post to highlight these businesses, and how I, and we, can help and support them where we can, through this unprecedented and challenging time.
In addition to everything below, I also share initiatives and offers by businesses and brands on my Instagram and will continue to do so over the coming weeks, you'll find me on @AJmakeup if you're not already following.
Romina Daniel Salon
First up, one of the first places I will be queueing at before I let the public see me! The only team I trust with my hair thanks to their care, passion and skill. I've mentioned a number of times how I admire their ethics and sustainability efforts and I hate to have seen them close their doors during this time alongside so many other talented businesses. Ahead of queuing at their door (albeit I'll be unrecognisable with roots down to my ears!) they can still be supported by shopping via their online shop, or you can get in touch with them to purchase a voucher in either of their salons. If like me whilst you're staying at home and want to find out how to camouflage your roots with products you already have, and understand why not to be tempted by a home box dye, you can also check out their Instagram!
Image of how I'll feel leaving their salon after lockdown:
Becky With The Good Brows
On my way back from Romina Daniel Salon after saying bye bye to my roots, I'll be making a bee-line to Becky for the mother of all brow transformations! I hope she is looking after those skilled hands very well while we await her return and no doubt there will be a waiting list until 2023 to get some brow time with her when all is right in the world again. But for now, as we stop the urge to over-pluck and accidentally transport ourselves back to the 90's brow, you can keep an eye on her online booking site or keep up to date on availability on her Instagram – alongside checking out her fab new logo and branding.
Me trying to do my own brows during lockdown.
The Laser and Skin Clinic
Am I glad the team at The Laser and Skin Clinic hooked me up to a drip and gave me REVIV IV Therapy right before this madness all kicked off. It's been 5 weeks and I am still feeling the affects so I'll be hooking myself up again to get a new lease of life as soon as I am back in the land of other humans and social distancing is no more. I've mentioned Anna and her team for years as she has been looking after my lip fillers for a long time now (the best in the business). Anna is the ultimate professional, highly trained and with a wealth of knowledge, and you can find lots of really helpful skin tips and advice on The Laser and Skin Clinic Instagram during this time, and they're also doing free online skin consultations which you can book through here. Their SkinShop is also still up and running with fab offers!
Image of me hooked up to the vitamin goodness when Anna re-opens
I'm living for the quote I saw on The Laser and Skin Clinic's Instagram "If I'm going to cocoon, I'm coming out a butterfly" – and the above businesses are absolutely going to help me do just that for sure! Hair, Brows and nailing my Skincare. I'll be a new woman.
SOSUBySJ / Dripping Gold
A brand many of us know and love so needs no introduction! I've been using Suzanne's suite of products for years and I absolutely had to stock up on some bits before lockdown. I'm rocking very little makeup most days of the week so Dripping Gold Wonder Water is keeping me from looking like a pale pasty zombie if I'm honest. It's probably my most used product these last 3 weeks. SOSUBySJ and Dripping Gold have a wide range of beauty and tanning products and they've launched lots of great offers on their Instagram this week – so you can get your hands on all of your favourites for a steal. Top bundles on their website I'd recommend are the ones with my most repurchased products – Katie Lashes, Lash Glue and Wonder Water for just €16, and the Ultra Dark Mousse and Wonder Water for just €25. Their lip kits are also all on offer in bundles as are their brush sets!
Me having gone too far with the layers of tan while I'm at home:
Circa Dublin
I recently had a divine brunch in Circa Dublin and immediately booked back in for dinner – which unfortunately had to be cancelled in light off all that is happening. They then launched Brunch in a Box where they were open for collections and deliveries, but when I was about to book they had to close the service and their doors like many others in light of the new measures put in place. So I'm only salivating thinking about the absolute pig I am going to make of myself as soon as their doors reopen. This place is run by great people, and their food and menu is absolutely delicious – as are the cocktails, so I'll be the first to support them upon their return. in the interim, vouchers can be purchased through their website – because we're all going to want to treat ourselves once this is all over, and Circa will not disappoint.
Stuffing my face in Circa when it reopens:
Noblesse
The perfect addition to your home, especially if you cannot get out to get fresh flowers during this time. We're spending much more time indoors and in our homes so these flower boxes that last a year or more (with low maintenance) add beauty to a room. This Irish business has a Spring Sale on now too with a whopping 25% off the M and L size flowerboxes. I have my preserved roses in my beauty room over 16 weeks now and they are in perfect condition, I'll definitely be ordering more for other rooms because I just love them, and I know you will too! Perfect gift idea as well, anyone would be delighted to receive them
There will be Roses all over my home by the end of this!
The James Clinic
I for one, am going to absolutely need a dentist appointment after the sheer volume of homemade sweet treats and red wine I've been filling myself with. The clinics are of course still open for dental emergencies if you contact them and they're only 40 mins from Dublin in Enfield but they also have clinics in Mullingar and Ferbane. I recently had a cleaning with them and got impressions for teeth whitening trays and the service was excellent. As much as going to the dentist isn't top of your fun things to do list, it's absolutely appreciated when the experience is good so as to keep you at ease and looked after, and of course informative. Himself hasn't been to a dentist in years he's not a fan but was totally at ease here. I'll have a review for their teeth whitening treatment on the blog as soon as I give them a try!
Me and my teeth emerging from lockdown after all the whitening:
Ohana Dublin
We're all going to need a party after this and I can hear Ohana's cocktails calling me. Ohana is Ireland's first premium rum and tiki bar and launched in just January this year, and what a fab launch party that was. I can attest to pretty much every cocktail on the menu, and they are all stunning. Whilst they have their doors temporary closed, Doug and his team are providing us with Ohana cocktail recipes on their Instagram so you can mix it up (quite literally) from home. So join me in having an 'Ohana at home' cocktail – the Bee's Knees one went down a treat last weekend, and keep an eye on their social media so we know when the party is at once they re-open!
Me making my Ohana At Home cocktails:
3D Ireland
Another hardworking woman behind a fantastic Irish Business is Sabrina of 3D Ireland. Ahead of my Caribbean trip I had (non invasive) 3D Lipo treatment in the safe hands of Sabrina, the managing director in their clinic in Clane. Like many other businesses, the clinic is temporarily closed during this time but their online shop remains open. In addition if you DM them on Instagram they will get an expert to call you back for an online skin consultation. Sabrina is also giving demos, advice and tips on her Instagram, so if you have a skincare query or want to understand more about 3D Lipo whilst you take this time to consider your options, now's the time to get in touch.
Once we flatten the curve I'll need to be flattened myself after all these homemade cocktails and treats; 3D Lipo please!
Sketchy Inc
This talented artist I discovered at a Jameson Event is absolutely worth checking out. You'll find his work online but you'll also find previews on his Instagram, along with cute videos of his dog, and his gardening skills. I was gifted a print that was commissioned by Jameson on the night but have since purchased two more and they take pride of place in our home. There are limited prints for each image and we were lucky enough to scoop up one we had fallen in love with but thought was sold out so do keep an eye on his social media incase a favourite of yours becomes available. Dublin prints feature heavily (they're deadly) but he also has fab paintings and photographs for sale too which we are currently eyeing up, in addition to commission work – so get in touch for something unique, a fabulous gift!
Image of my house if I keep buying Sketchy Inc prints and paintings:
Uno Pizza
It's no secret my favourite food in the world is pizza and no matter how many times I try to make my own at home it's never the same. But, thanks to Uno Pizza you can now make your own to perfection with their Pizza at Home kit and it is absolutely delicious. They simply send you out the ingredients which includes the dough, mozzarella, tomato sauce, parmesan, fresh basil and virgin olive oil, and then if you get the Diavola you also get pepperoni. The instructions are simple, all you need is a frying pan and grill or oven and it take less than 15mins. You could add your own toppings that you have at home too if you want. Each kit makes 2 pizzas and start at just €18, you can also get a Pizza + Prosecco Kit, Pizza + Moretti Kit and a Family Kit. Perfect for date night in or family pizza night. It's good craic to make and they can do same day delivery if you order before 12pm.
Akina Beauty
Eavanna from Akina beauty has worked wonders over the years on my skin, an absolute transformation to be honest as I used to suffer quite badly from Rosacea. She's one of the go to places for lots of Irish influencers so her name will not be new to you! Eavanna has had to close her doors but Akina Beauty does have an online shop and are still able to process orders and gift vouchers. Eavanna has also created a 'Home Facial Kit' that you can buy online so that while we are stuck indoors we can do a facial at home – they're sold out at the moment but I'll be snapping one up as soon as they are back in stock, so keep an eye out on their website and
Instagram
! Akina Beauty is also running a competition on their
Facebook
page to give back to the front line workers, so if you nominate someone you know on the frontline they can be in with a chance to win a facial!

Me when I get my hands on an at home facial kit:
CelticWind Skincare
Two of their products are hands down getting me through this lockdown. My working from home environment isn't ideal for long days in the office so my back and neck gets sore from time to time, so their muscle balm has been absolutely divine. It works like a charm! In addition my lips have been so dry (anyone else?) so their lip balm is being lashed on every evening. Their online shop is still up and running and they have a whopping 40% off over the Easter break, so if you're in the market for some natural skincare definitely check them out and support if you can.
Me getting my muscle balm massaged in during lockdown:
StuffUNeed.ie
A new online shopping and delivery portal set up during COVID-19 by a group of suppliers and producers to supple the people of Dublin with essential items. This is a great way to support local businesses that may not usually offer delivery services but can do so through here, but also given the likes of Tesco etc has waiting lists for deliveries it's a welcome addition. Particularly when we are all asked to stay at home where possible, especially those that are elderly or in the vulnerable category this is a really great initiative, and helps with employment in this quiet period for some. StuffUNeed are expanding their list of suppliers all the time, and they have fab restaurant kits available which are a great addition given restaurants are closed at present, so gives us the option to support these local businesses. Well done to the team behind this, set up so quickly and in a time of need.
Dublin Meat Company
As we remain in lockdown, more and more of us are getting food delivered where we can. Dublin meat company are still doing online deliveries and accept contactless payments if you need to avoid cash handling. In addition, they've delivered 1,500 Fit Foods Ready Meals free of charge to Hospitals, Garda Stations & Fire Stations since COVID-19 began and we show support by donating their meals to staff on the frontline by using the Click and Collect option and choosing Feed The Heroes. They'll coordinate and deliver the meals, and it's not for profit so 100% of the proceeds go to the frontline. Great initiative!
Half of my Dublin Meat Company delivery arriving:
PurelyOrganic.ie
There's no doubt that our stress levels are in another place right now in light of what's happening, and it's more than likely affecting your sleep, I know I'm finding it hard to relax personally. Purelyorganic.ie is a new start up business but it has probably launched at the perfect time, they have a range of roll-on helpers that can reduce stress, and help concentration levels which might be faltering due to an influx of information we might be finding hard to deal with. When rolled directly on the skin it will regain calm and serenity, as it helps concentration this will be great for me and anyone else working from home.
Purely Organic helping me relieve the stress
Irish Charities
There are lots of Irish charities that are feeling the impact of COVID-19 which is devastating to see – initiatives and fundraisers are being canceled that they rely on for much needed funds eg Daffodil Day and Darkness into Light. DSPCA have had to arrange emergency fostering for their animals during this time too. So please keep an eye out and donate where possible as online initiatives emerge to support these charities and help them recoup the funds lost. Stampify have started a #NotALONEChallenge in aid of ALONE, all you have to do is share a throwback photo, donate, and tag friends. Keywest have launched a music video "Ordinary Superhero" to raise critical funds to keep our health care staff safe which is an amazing tribute. The Shed Distillery have replaced the gin in their bottles with hand sanitiser for the HSE. There are just a few that come to mind but honestly there are so many amazing initiatives by brands and businesses and it makes me proud to be Irish to see us all pulling together.
Donate and support where possible, if you can and it is within your means. Even sharing initiatives to amplify awareness helps spread the word.
I hope you found this post useful, and please get in touch if my social channels or blog can help your brand in any way during this time. There's also another blog post with a huge list of Irish businesses who would love your support too that Aoibhe Devlin has created which you should definitely check out!
AJ x