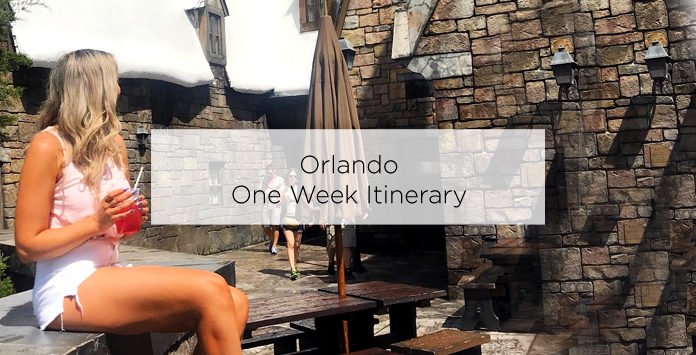 I couldn't wait to return from holiday and write a blog post on the perfect Orlando one week itinerary! I had been to Florida for two weeks many years ago and did pretty much all the theme parks in Orlando. This time given I was planning a one week itinerary, and it was my boyfriend's first time there, I picked out the best theme parks for adults in Orlando, so unfortunately there's no Disney parks in this post!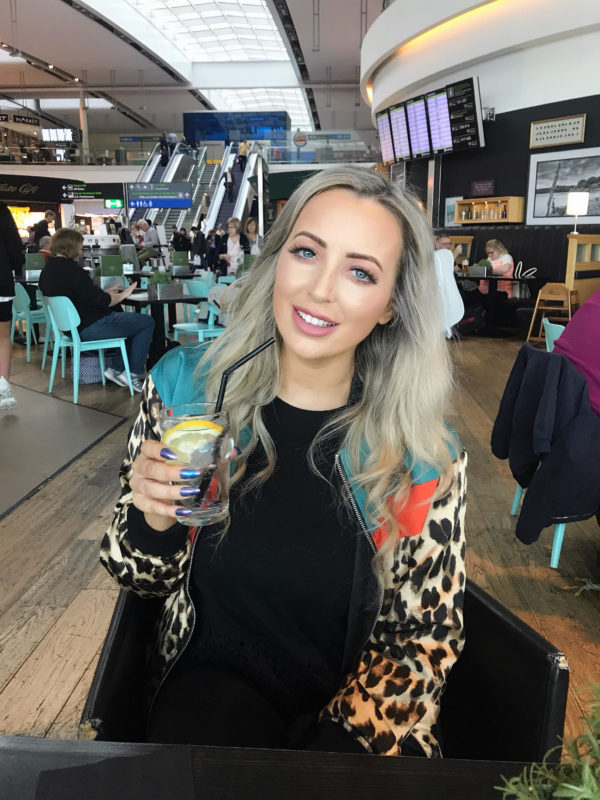 This itinerary goes from a Tuesday to a Tuesday so 7 days off work required (5 working days if you are in a Monday to Friday job). I would suggest starting your one week itinerary on a Monday or Tuesday if you can, any later and you would have to change the order in which I complete the theme parks. Also, this itinerary will be at its most enjoyable in weeks when children are in school as the theme park queues will be minimal!
Flights
I found Aer Lingus flights that worked out perfect for this itinerary in terms of flight times and dates, and it was only around 9 hours over and 8 hours back. We got the 3.45pm flight from Dublin to Orlando (MCO) which landed at around 8pm Orlando time. This meant we could head to bed when we got there in keeping with Irish time (approx 1am back home), meaning we could get a good night's sleep and be fresh for the morning! The return flight was at 10.45pm from Orlando which gave us a full day to do another theme park, this landed at 12pm Irish time giving us a day to chill and recover from jet lag ahead of getting back to work the next day! The flights cost us around €540 each which included two checked in 20kg bags.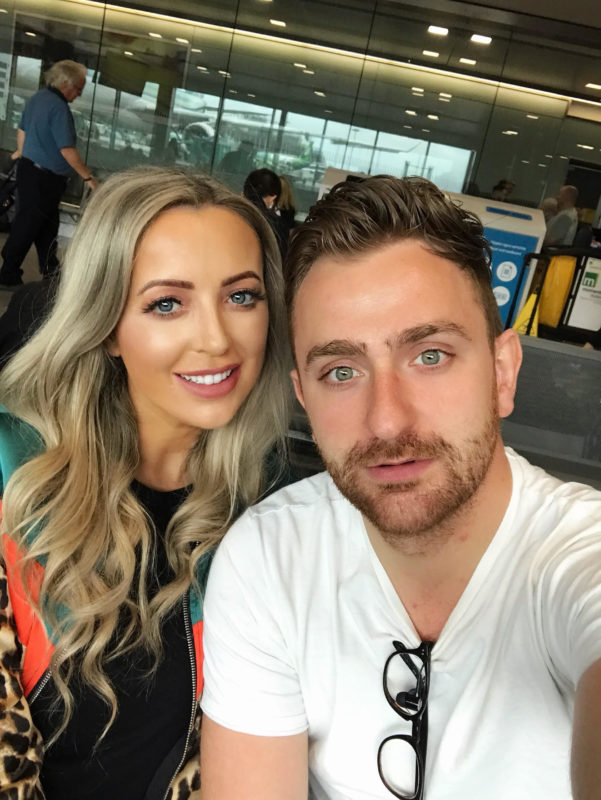 Accommodation
Given the theme parks we wanted to visit, our hotel selection was based on location mainly, and cleanliness (always). We stayed in the Ramada Plaza Resort and Suites by Wyndham on International Drive close to Universal Studios. We booked ours on Booking.com (you can get 10% cash back using my affiliate link) and it cost us in total €610. It's 4 star, and the lobby did feel that way, however the rooms could do with a little updating. I feel like it was a 4 star in the 90's maybe in terms of decor – but the rooms were really clean which is incredibly important! Our room was on the 6th floor overlooking the lake so it was great, the suites were huge, and had a fridge, microwave, tea/coffee station, seating area, lots of storage and a safe. Rooms were cleaned and beds made daily, and the pool and jacuzzi were lovely! The continental breakfast buffet included had a good range of cereal, fruits, breads, spreads, boiled eggs, pastries, muffins, teas, coffees and juice. The only real hot food were waffles that you made yourself (pretty easily!) and there were toppings available too. I don't really eat much food in the mornings anyways so it didn't bother me, himself said it was grand, which it was for us as it was only ever a quick stop before we headed out to the next theme park! There are lots of places close by though should you want something a little heartier to start your day.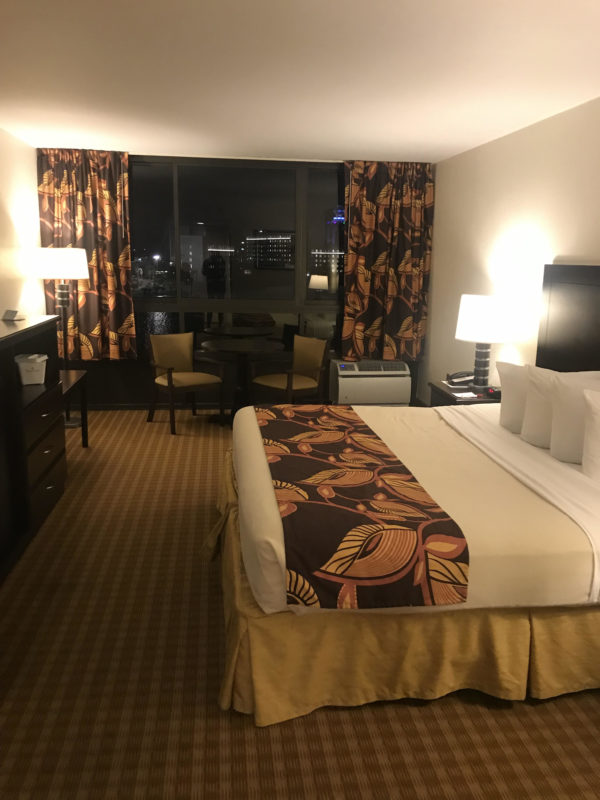 The hotel has a shuttle service to bring you to the theme parks – Disney, Universal and Seaworld. The times didn't suit us however as they were either too early around the 7am mark (parks don't open until 9am mostly) and the next shuttle was around 11am. We aimed to be at each park for the opening times each day so made our own way there. Location wise as it's less than 10 mins drive from Universal Studios we grabbed an Uber ($6) or walked (30mins) instead. Given the hotel is located on International Drive, there are plenty of activities and food places beside the hotel, including thrill rides (Magical Midway Thrill Park) mini golf (Gator Golf) and dinner shows (Titanic Gala Dinner, Pirate's Dinner Adventure, Cirque Magique).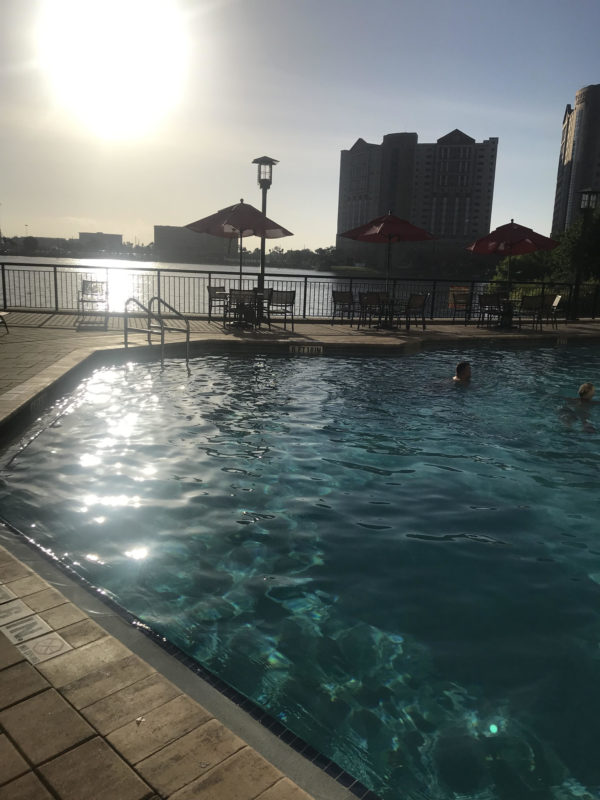 Tickets
I always buy my theme park tickets from Attraction Tickets Direct – I find it great value and very reliable, and there are savings to be made when you buy multi park tickets. We bought the Orlando 6 Park Flex Ticket which covered unlimited admission for two consecutive weeks for Universal Studios, Universal's Islands of Adventure, Universal's Volcano Bay, Busch Gardens, SeaWorld and Aquatica. This cost us €435 per person and the tickets were out to us in the post within the week. One ticket covered the Universal parks, and the other ticket covered the other three parks. For Discovery Cove, as it was quite a last minute booking, we booked directly online which cost us €230 each and it included the Dolphin Swim.
7 Day Orlando Itinerary
Day 1
The first day is spent travelling as outlined above, we arrived at around 8pm Orlando time and got a taxi to our hotel, this cost us approx $30 for a 20min drive. We use Uber quite a bit when we're away and it gives you a good idea of the cost of the fare ahead of confirming the driver. Once we checked in to the Ramada Plaza Resort and Suites by Wyndham on International Drive we had a few drinks in our room, watched TV and went to bed. We weren't hungry as we had food in the airport and then dinner on the flight – but should you want dinner there are plenty of places within walking distance of the hotel and 8.30pm isn't too late to grab something. (Applebees, Chilli's, iHop, Dennys, TGI's, Chuck E. Cheese)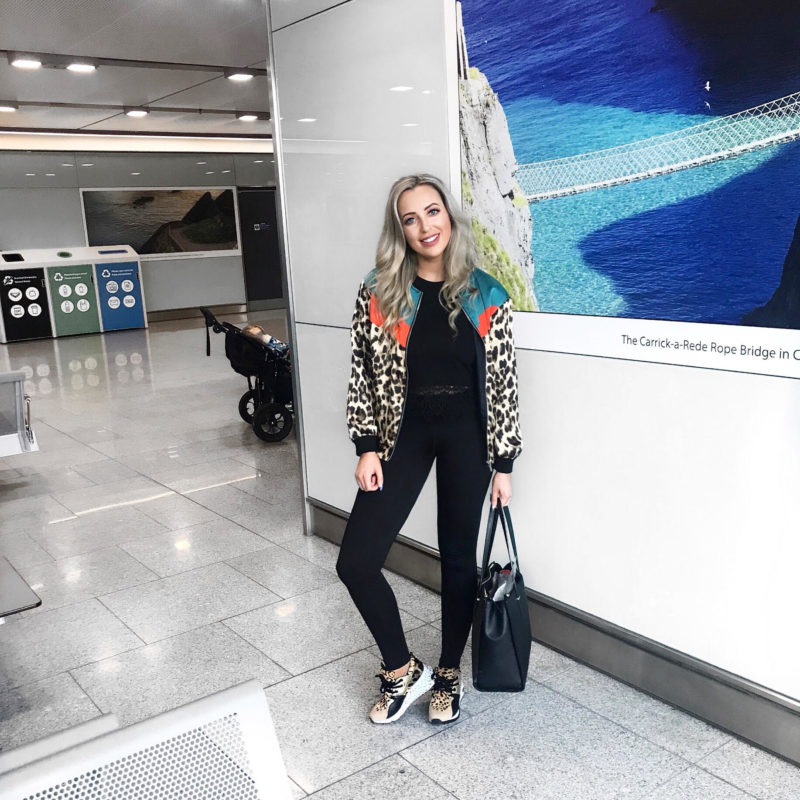 Day 2
The first theme park on the agenda was Universal Studios. We knew as Universal was so popular we wanted to do these theme parks during the weekdays so that queues would be minimal. We arrived at around 9am opening time, and arrived at the main entrance. This entrance allows you to go to either Universal Studios or Islands of Adventure via Universal Citywalk which connects the two parks together. The other connection between the two parks is via The Wizarding World of Harry Potter at the back of both parks, you can grab the Hogwarts Express which brings you from Diagon Alley at Universal Studios to Hogsmeade in Islands of Adventure – providing you have a ticket for both parks!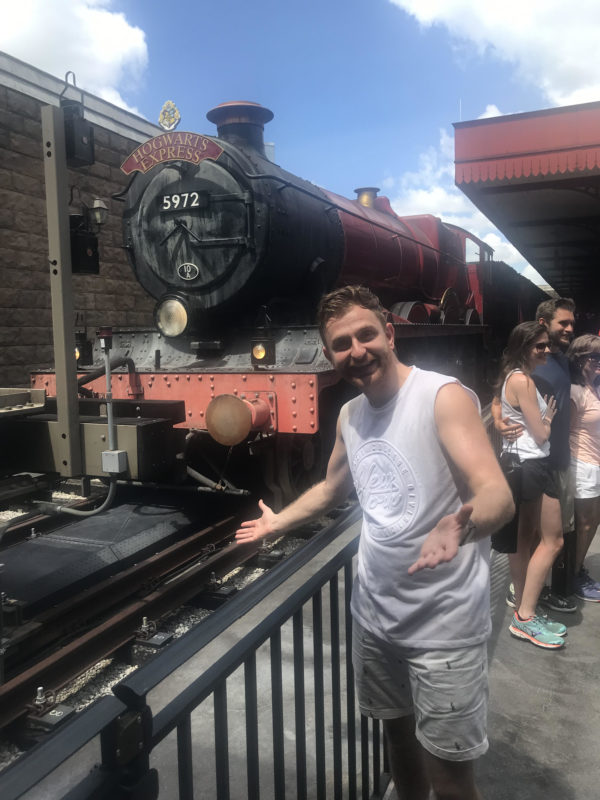 We used the Universal Studios app to keep an eye on waiting times throughout our time there and it worked like a charm. I'm really impatient and unless a ride is going to be unreal, I won't queue longer than 25 mins (at a real push!). Thankfully, our planning of days worked out and there were little to no queues and we pretty much walked straight on to every ride! Ten minutes was probably our max wait time and utilising the app really helped as it was easy to spot when some rides had long waits so we could avoid them until they reduced. This worked out so well for us that we finished all the rides we wanted to go on and travelled to Islands of Adventure around 3pm via the Hogwarts Express shortly after we had our lunch. This wasn't originally our intention to go to the second park in the same day but we said we'd head over and spend some time there and then come back the following day to complete it.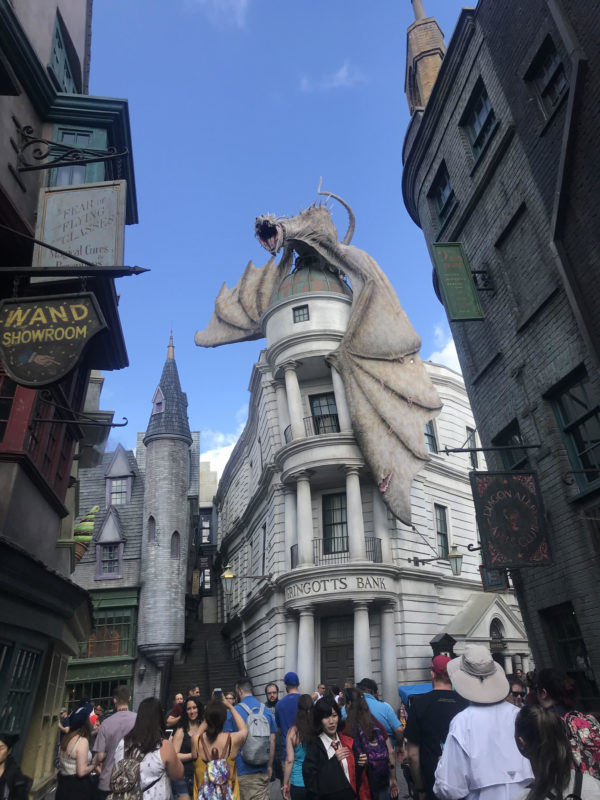 We are both fans of Harry Potter so aimed to go straight to the Wizarding World of Harry Potter when we arrived at Universal Studios because we were pretty excited. As we passed by the Knight Bus turning onto Diagon Alley and approached Gringotts Bank we were just in awe. Once we finished the Escape from Gringotts ride we went straight for a Frozen Butterbeer and a Tongue Tying Lemon Squash at The Hopping Pot (approx $13 for both), as you do! We ventured around here for ages ahead of exploring the rest of the park taking it all in. It really felt like we were in the books and movies in Diagon Alley, recognising so many of the shops including Weasley's Wizard Wheezes, Olivanders, Borgin and Burkes and The Leaky Cauldron. You can buy all the sweets from the movies, wands, joke toys, clothes and cloaks which was pretty cool. There are shows every so often too, and interactive wands you can buy to activate tricks around Diagon Alley. It really did feel magical and we thoroughly enjoyed it!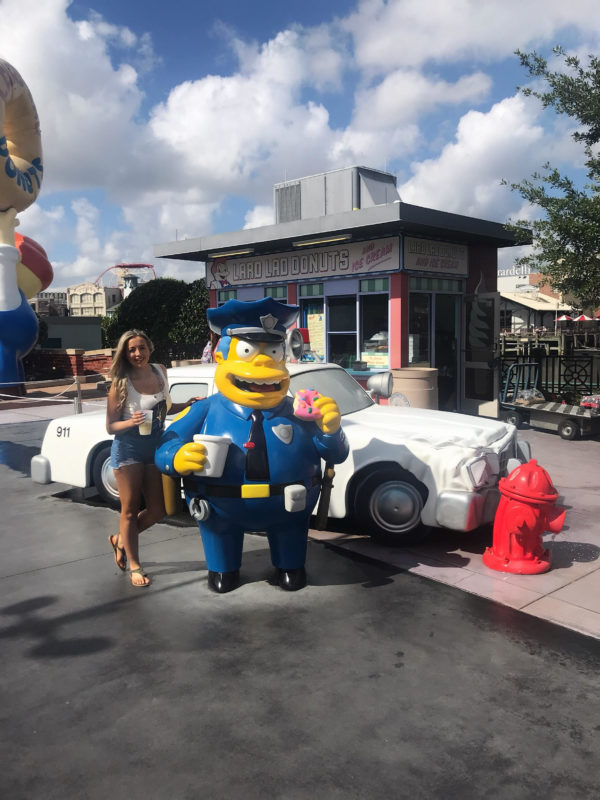 Once finished soaking up all things Harry Potter we ventured to the rest of the park! We had toggled the app to remove 'kids rides' so only went on the rides suitable for adults. Springfield was so well done – just like Harry Potter you felt like you were really there, including the Kwik-E-Mart, Moes Tavern and Duff Brewery. One thing to note with Universal Studios is most of the rides are 4D / Motion Simulator rides mixed with roller coasters, as opposed to old school physical roller coasters – with the exception of Hollywood Rip Ride Rocket and the water based rides. I'd recommend doing all the adult rides available for sure, they all bring something different. My favourites here were Harry Potter and the Escape from Gringotts Bank, Revenge of the Mummy, and The Simpsons Ride! We did these rides a few times each so put them on the top of your list for sure. When I was last here there was a Jaws ride too which has since closed to make room for more Harry Potter land but the great white shark is still hanging up for photo opportunities! And there are a few tributes to Jaws in Diagon alley if you look close enough!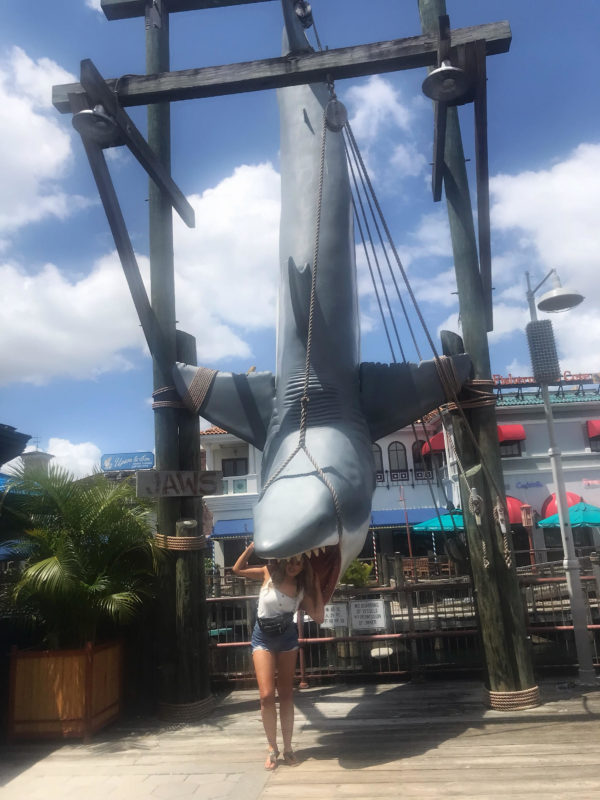 For lunch we booked The Cowfish in Universal CityWalk for 1pm, and oh my god it was unreal. I highly recommend! It's a Sushi Burger bar and I still can't stop thinking about it. We shared Big Al's Yellowtail as a starter, and for mains I got The All-American Bacon Double Cheeseburgooshi and himself got a Bento Box. We both got cocktails to go with, a Ruby Panther and a Bloody Mary Had a Little Cow and we were not expecting what we received! His Bloody Mary came garnished with a mini burger, beef jerky straw, celery, pickle spear, pickled okra, and green olives. A full on starter in his drink! Our lunch came to around $80 including tip and was worth every cent!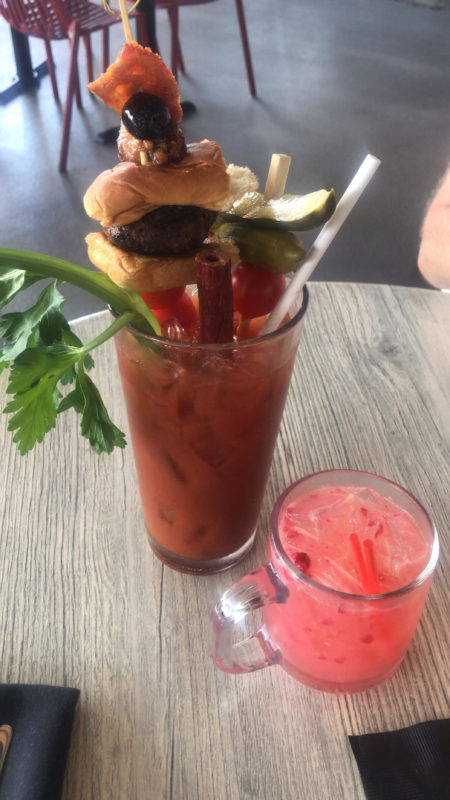 We didn't leave the Universal parks until around 6pm (via Uber), as mentioned earlier we got the Hogwarts Express at around 3pm from one park to the other and explored Islands of Adventure for a while ahead of leaving. Needless to say we were pretty wrecked at that point and weather was low 30s so we were very hot. In terms of purchases we picked up some things in Islands of Adventure ahead of leaving – a christmas decoration as per our tradition when we head to a new country together. And of course some Harry Potter sweets at approx $10 each – Bertie Botts Every Flavour Beans, Chocolate Frog, Fizzing Whizbees and Peppermint Toads.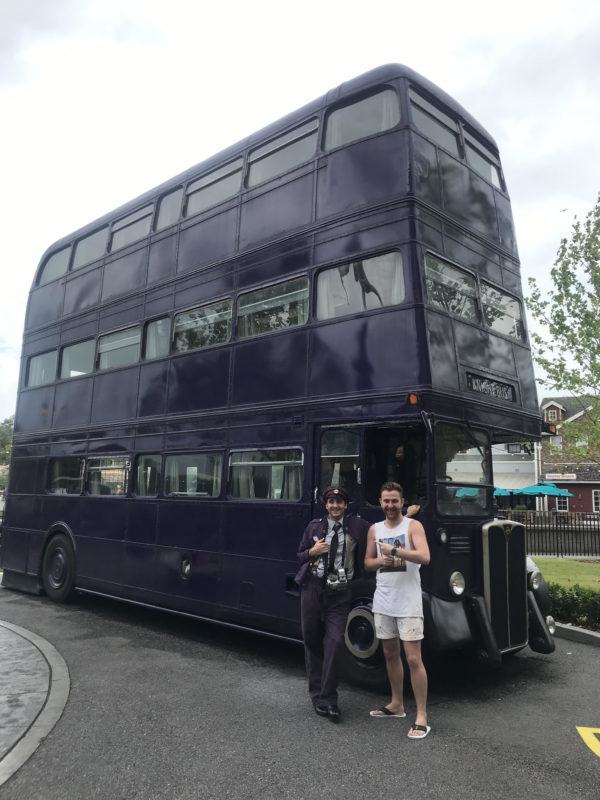 That evening we went to Applebees around the corner for some food and then it was another early night for us! We were very tired so just about managed to venture nearby to a restaurant to fill ourselves and grab a cocktail.
Day 3
We were up early again following an early night and it was straight to Universal's Islands Of Adventure (via Uber) to finish off where we started the previous day. Our first choice of the day was the Incredible Hulk coaster as we made our way to the Wizarding World of Harry Potter! The Incredible Hulk coaster is a physical coaster so really thrilling and I loved this, highly recommend if thrill rides are your thing. We headed back to Hogsmeade having spent some time there the day before and made our way through Hogwarts castle ahead of climbing aboard The Forbidden Journey ride. We ventured around Hogsmeade exploring more recognisable places such as Honeydukes, The Three Broomsticks and Dervish and Banges.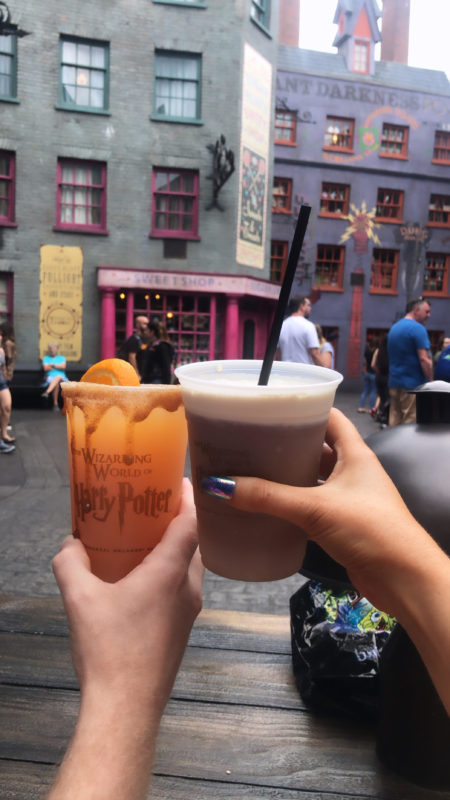 The hot weather makes for thirsty Irish folk, but this time we grabbed a magical drink on the alcoholic side in The Hogs Head – I had an Amaretto Fire (Fire Whiskey, Amaretto, Triple Sec and Cranberry) and he had a Fire and Strongbow (Fire Whiskey and Strongbow) – these cost around $28 for the two! As with Diagon Alley, there are shows along with interactive wand activated tricks. We enjoyed the Triwizard Spirit Rally and got wands picked for us – these are based on your birthday so mine is a wand made with the wood type Willow and himself is Reed.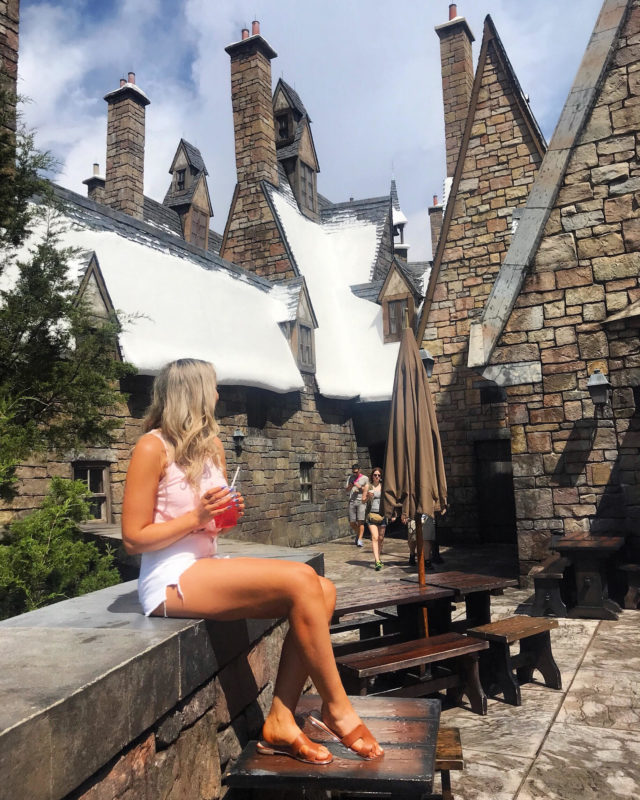 Like with the first day there were little or no queues here and we used to app to avoid anything with long queues until they reduced down. Loved the rides here too however if you don't fancy getting wet then avoid the following (in order of least soaked to drenched!) Jurrasic Park River Adventure, Dudley Do Right's Ripsaw Falls, and Popeye & Bluto's Bilge-Rat Barges. They're great fun though and there are dryers you can pay for that you can stand in to help get you drier! Favourite rides here other than the ones just mentioned, were Harry Potter and the Forbidden Journey, The Incredible Hulk Coaster, Dr Dooms Fearfall and Skull Island.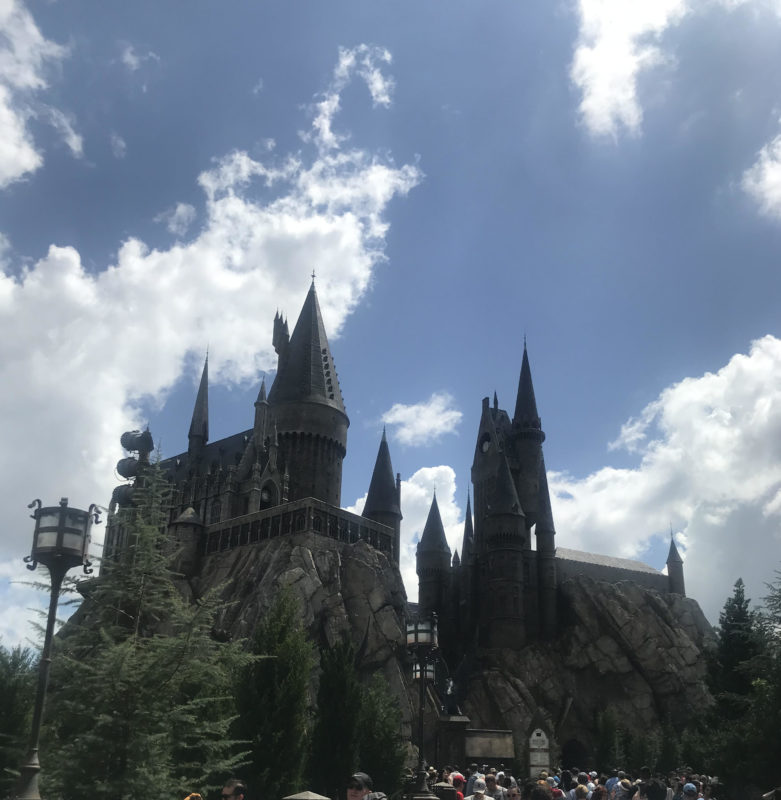 For lunch we booked Mythos Restaurant after reading a lot of recommendations online, it's award winning and has a unique grotto like setting carved out of rock as if you are in a cave in which a river runs through. The food was good as was the service but I wasn't blown away as I had expected, maybe I hyped it up in my head a bit much – but it's worth a visit! It's within the theme park in The Lost Continent section next to Poseidon's Fury as opposed to back out at CityWalk. The portions are quite big so you probably wouldn't need a starter, or you could at least share a starter, we were stuffed! We got the Shrimp Sushi Katsu Roll and the Wood Oven Flatbread, and then for main we had the Beef Medallions and the Pad Thai. Himself had wine and I had a cocktail of course, and the bill totalled to around $100 including tip. If you plan on going, try book in advance like we did as there were people queueing and waiting on tables outside.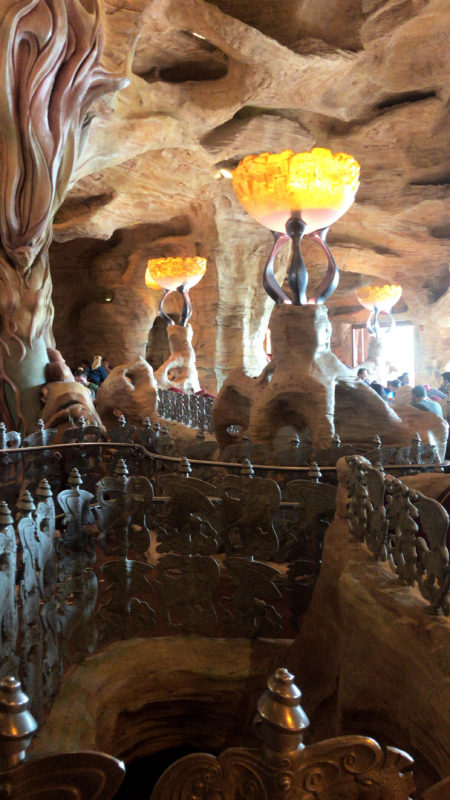 Just like the previous day, we swapped parks mid way through the day because we got through all the rides quite quick. We went back to Diagon Alley and explored for a bit, grabbed a Butterbeer and Otter's Fizzy Orange Juice ($13 for both) and then repeated our favourite rides from this park. Being honest I'm not sure if you would get more than one park done a day if you did Universal at the weekend (or during Summer) as the queues I imagine would be torturous. Which is why my Orlando one week itinerary works best if you leave Ireland on the Monday or Tuesday. Using the app is key too and being smart with it, we were getting on rides within the same length of time as people with fast passes! We then did the last of our shopping – a Gryffindor t-shirt for me and a Captain America vest for himself and headed home around 6pm (via Uber). If you stay later on some evenings there's a spectacle of music and lights from dusk – the Nighttime Lights at Hogwarts Castle!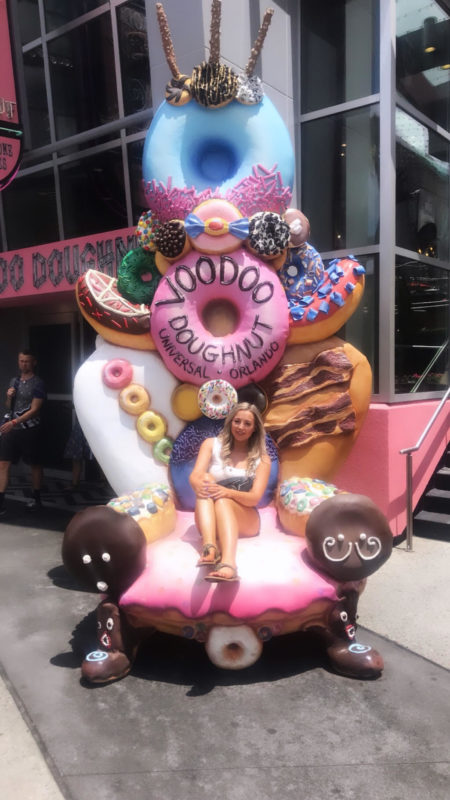 That evening we went for a nap and ended up sleeping for the night so no dinner for us!! If you're more hardcore than us there are lots of things to do in the evenings, I'll mention them all at the end of the post.
Day 4
Today was a water park day and we visited the last of the three Universal Parks – Volcano Bay! This day it didn't open until 10am so we actually walked (30mins) to the same entrance we would have went for the other two parks. The only difference here is instead of going into CityWalk to go to either of the two main parks, you grab a free shuttle to Volcano Bay a few mins down the road. It's quite a cool park in that it has a bit of a back story and all the rides are named after the characters in the story, but what's also cool is the queueing system.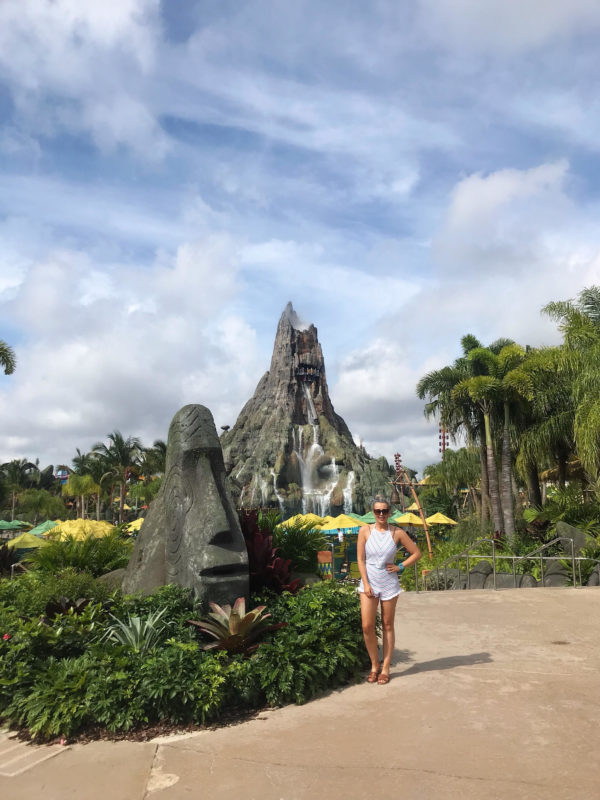 You get a TapuTapu bracelet when you enter the park and then when you tap the ride you want to go on, it puts you in the virtual queue and tells you when it's your time to come back. We didn't need to use this system because like the previous two days, it wasn't hugely busy and there were no queues. All the rides had 'Ride Now' which means you don't need to get into a virtual queue you can just go straight on. If you do need to use this system, you can put yourself in a virtual queue for one ride at a time, and in the interim there are lazy rivers and the like that don't have a queue, man made beaches and deck chairs that you can sunbathe on while you wait, or there may be 'Ride Now' rides available until you're at the top of your virtual queue for the busy ride. You can use these bracelets to make cashless purchases too and they control your locker – so you get a pretty slick experience!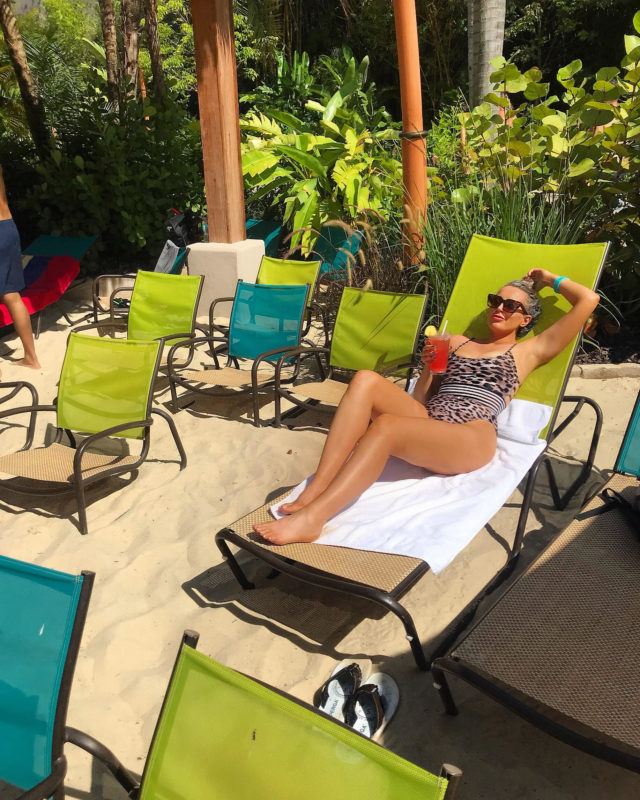 We ate here at Whakawaiwai Eats – delicious pizza!! And we had cocktails in Kanuku Boat Bar – when you return your same souvenir glass you get $2 off the full price of $12 and any cocktails we tried were fab. There are no other food places nearby like there is in the other two parks, other than the ones within Volcano Bay (six to choose from) but they're very affordable. Our long board pizza's were around $12.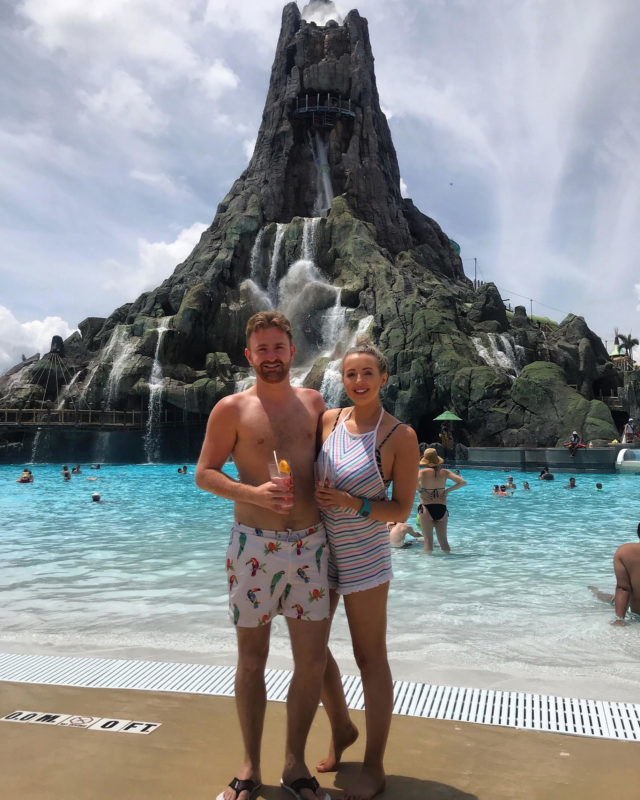 We finished up in Volcano Bay around 5pm and got the shuttle back to Universal's main entrance and an Uber back to the hotel. That evening we got an Uber (approx $10) to Mall at Millenia to do a spot of shopping and to get dinner. All the stores you could need on two floors and I of course went straight to Bath and Bodyworks to pick up some bits! I also picked up some clothes in Forever21 and then we had dinner in PF Changs which was actually recommended by one of you guys. The days in the theme parks are quite tiring so I wasn't bothered spending too long shopping, and himself hates it. We got a table quite quickly in PF Changs, the service was great and the food was incredible. My mouth is watering thinking of it now actually! We then picked up takeaway dessert from The Cheesecake Factory (Red Velvet) and stuffed ourselves back at the hotel!
Day 5
If you love real physical thrill ride roller coasters and animals, then you'll love Busch Gardens! It's like a zoo and theme park in one. It's actually in Tampa Bay but I had been before and knew I wanted to go back so it was worth the effort! There's a free bus once you have a Busch Gardens ticket and you book in advance and select your closest pick up stop. Ours was back at Universal Studios where we had ventured to the last few days but you can get it at Seaworld, Orlando Eye and a few other places. Pick up time for us was at 8.30am and then the driver tells you when he will pick you up as it depends on park closure time, ours was 6.45pm. Arrival time at the park depends on how many pick up stops he had –  it was 9am by the time we picked up people at the other stops and I believe we arrived by around 10.30am. The website does say it could be as late as 11.30am but I can't understand how.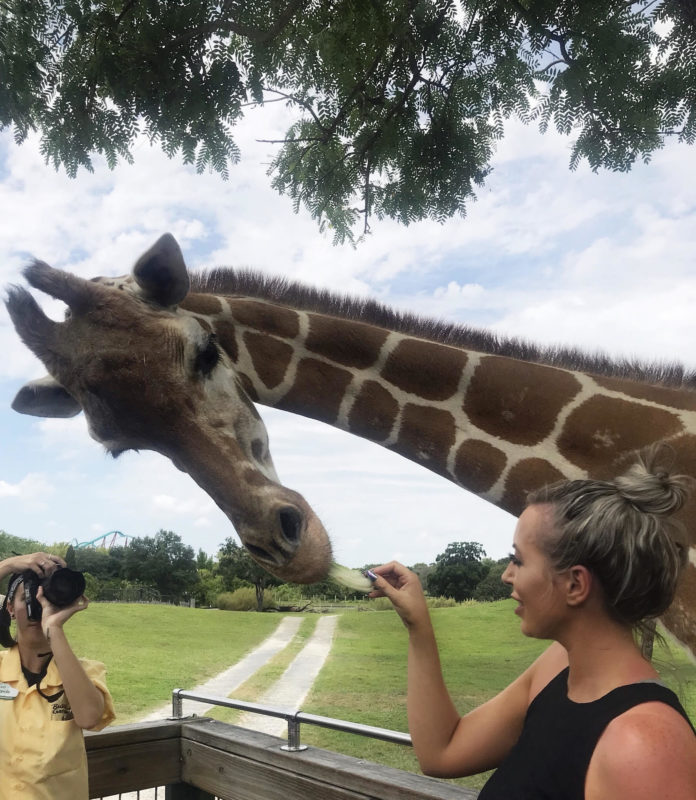 When we got to Busch Gardens we went straight to the ticket office to book any extras and upgrades – I knew I wanted to do the Serengeti Safari ($30 per person) where you get to hand-feed giraffe. As it was a Saturday we knew it would be busy so we got the unlimited Quick Queue pass ($70 per person) and we also got the All‐Day Dining Deal ($35 per person). The Quick Queue pass was well worth it, it was so hot this day, the queues seemed to always be at 55mins and the app wasn't very accurate. We got on every single ride twice and actually felt guilty skipping everyone while they painfully queued. I don't think we would have got on all the rides even once at that rate without a pass. We had planned for this though and knew that a Saturday park would be packed.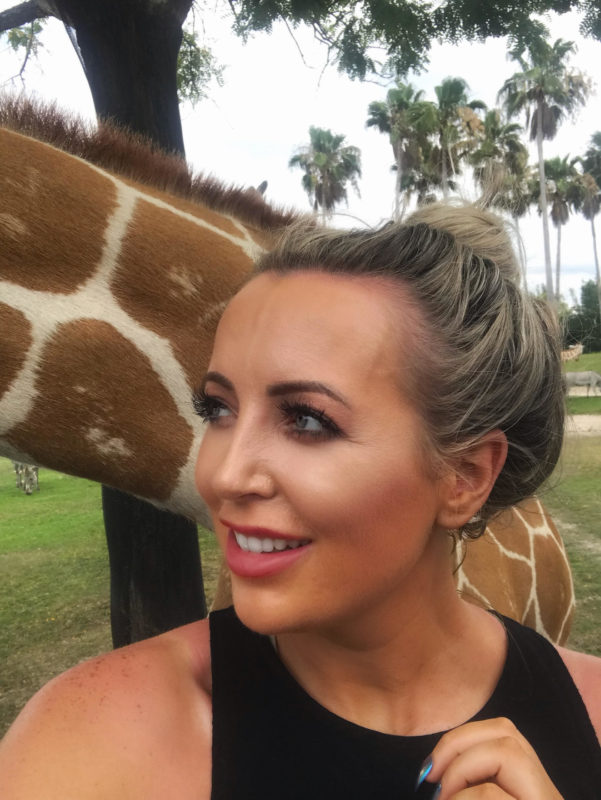 The all day dining deal meant that you got a starter and main, or a main and dessert, once every hour, at participating restaurants throughout the park. Drinks you could have at any time which we definitely used alot! Food wise we ate twice, one shortly after we arrived and one around 5pm as we knew we would be too tired to eat once back at the hotel. Fair play to whoever is able to eat every hour but if you are peckish you could just grab a starter or dessert only if you weren't up to a full meal, the option is there! The food was nice, not as good as the other parks but for the price you can't really complain, and we were there for the rides and the animals so it was no big deal!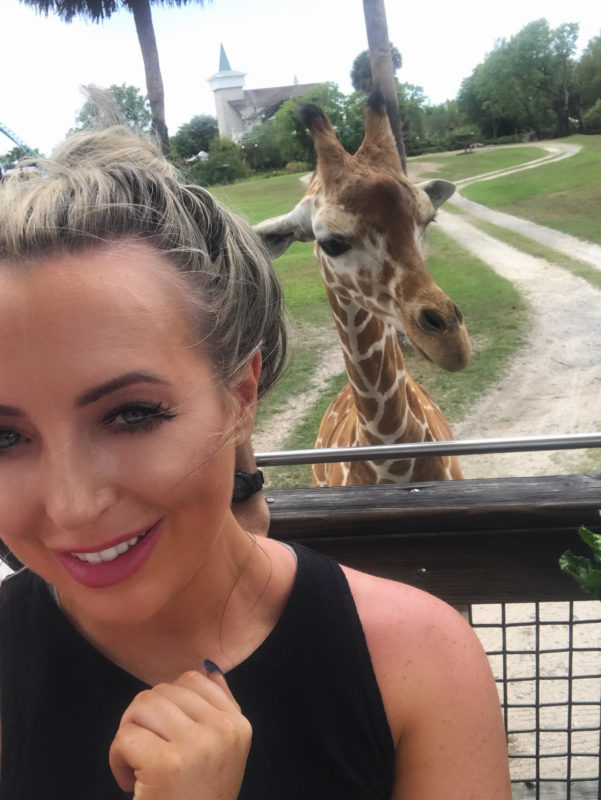 The Serengeti Safari was a ride around the Serengeti plain in an open air vehicle seeing all the gorgeous animals and learning about them. Towards the end you got to hand feed giraffes that surrounded the vehicle and were so huge and friendly I didn't want it to end. The baby giraffe sat his head on my shoulder for an impromptu selfie, too cute! There are lots of tours and experiences you can book and lots of gorgeous animals to see while taking a break in between rides. The park is huge though, we nearly missed our bus because it took us longer to get out than we thought, thankfully we weren't the only ones delayed otherwise we would still be in Tampa!! By the time we got home we were wrecked so it was straight to bed for us!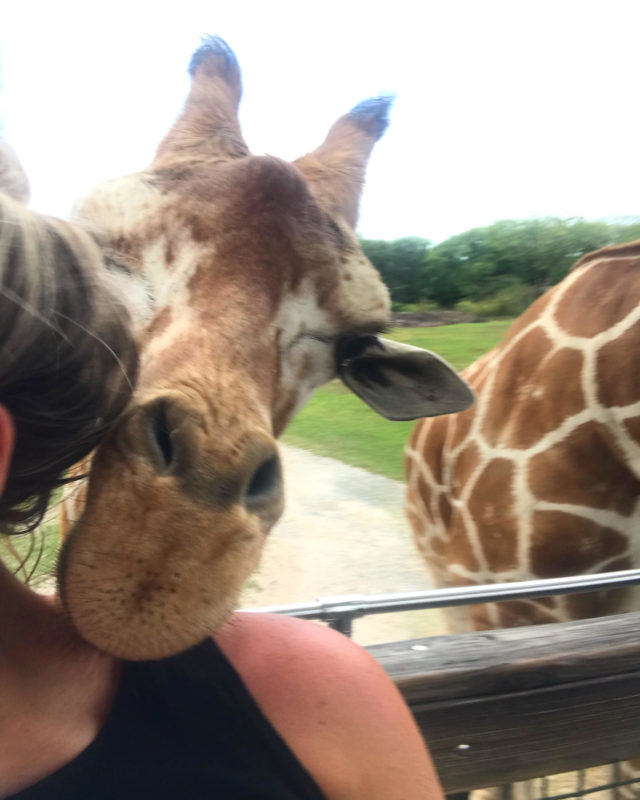 Day 6
For my birthday day we booked a day an all inclusive day at Discovery Cove! As it was a weekend we didn't want to go to another park that was potentially busy and required a fast pass so this seemed like the perfect option as it has limited tickets. The all inclusive day including a dolphin swim cost us €230 per person. Breakfast is served from 7.15am to 10.30am and lunch from 11.15am to 3.30pm. It's advised to arrive early so you can get checked in and be assigned your dolphin swim slot and book any extra experiences as these are limited. We arrived for 7.30am (via Uber $11) and booked the shark encounter and swim which was an extra $149 per person and we also purchased the upgraded drinks package for $30 per person which included cocktails. In the standard all inclusive package you get unlimited food and drink with drink being limited to selected wine and beer.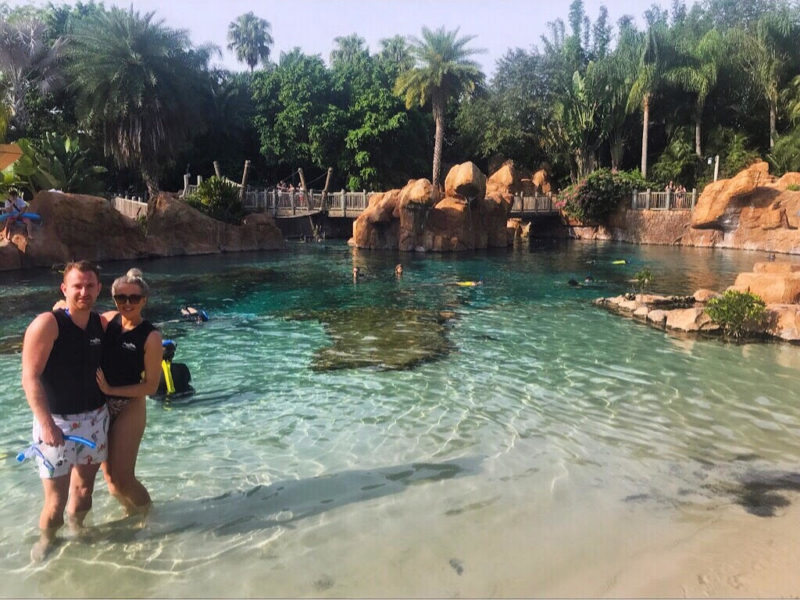 When you arrive you are greeted by a gorgeous sloth which I wanted to take home with me! You then make your way to the lockers to get your snorkels and wetsuits or jackets. I wore just a jacket but when we did the shark swim we had to wear a full wetsuit. Grab your towel and deck chair on the beach and begin exploring Discovery Cove! The Grand Reef is where you snorkel among lots of fish and rays, Explorer's Aviary is a free flight aviary where you can hand-feed tropical birds, you can relax in Serenity Bay and float along the Wind Away tropical river, and come face-to-face with playful otters and marmosets.
Our shark encounter and swim was before our dolphin swim and we were really nervous once we saw the size of them! I thought they would be small harmless things but they were bigger than me. Before we got in with them I could see a poor little fish in with them with half his head bitten off, freaked me out but I was told he would survive and that yes it was a shark bite. Your group of about 8 is split in two so that 4 do the encounter and the others do the swim, then vice versa. We got to get in to the pool and rub down the sharks and get to know and understand them a bit better, this was amazing. We were covered head to toe with gloves and boots just incase and for the swim we had to make sure not to dangle our legs and stay flat when snorkelling. This was surreal seeing these huge beautiful creatures swim underneath me, I was scared and fascinated at the same time because you are swimming on your own pretty much as everyone is spread far away from each other. On my way back to the shallow area to get out I didn't notice one of the large nurse sharks swimming so high on the surface that his fin skimmed off my stomach as he swam right underneath me – thankfully I was positioned flat at the time and in a wetsuit but I did get a little fright. Loved this experience!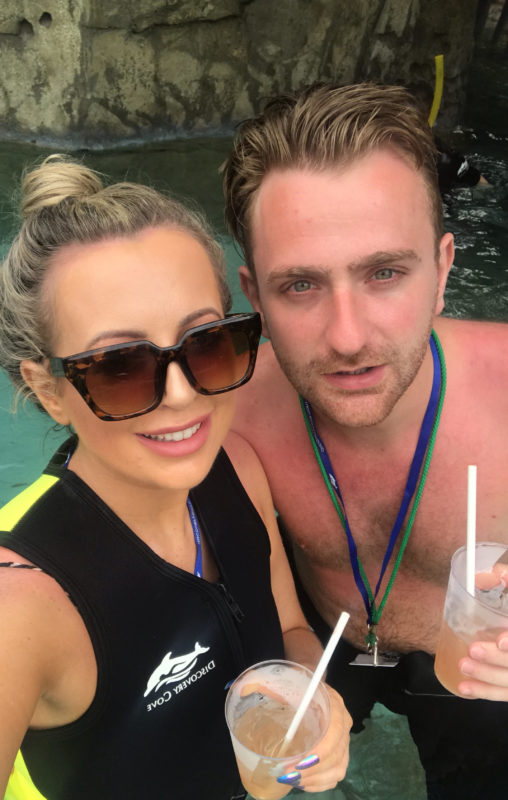 The dolphin encounter and swim was next up for us and it was beautiful. You got to know your dolphin first as they showcased how incredibly intelligent and beautiful they are. Our bottlenose dolphin was Dixie, the last time I was here I swam with Capricorn (who starred in Jaws 3!) and it was lovely! We were brought out to the lagoon and then she brought me back in on her fin back to the crowd near the shore. We then had a little kiss and cuddle and some photos. They truly are beautiful creatures. We were very lucky that our dolphin swim occurred when it did actually because about 15mins after we finished our encounter a thunderstorm arrived as we headed for lunch! It soon passed and we were back out drinking our cocktails in the lazy river, and I had such a perfect birthday!
It was much more relaxing than the previous days and very much needed after all the hectic theme parks and exploring. It was great to have an all inclusive day to chill, eat, drink and chill some more. And of course anything to do with animal encounters is just pure happiness to me! We can attest to every cocktail on the menu and can fully endorse the upgraded drinks package, was very worth it! It is a pretty pricey day to be fair as we also paid $199 for digital photos – and we couldn't not get photos of us swimming and holding sharks and dolphins! So on top of the circa €460 we paid for the all inclusive ticket and dolphin swim, we then paid approx €600 for the upgrades I just mentioned. I thought the shark swim cost was worth it as it's quite a unique experience but the photo package was a little extreme in cost for a USB key of digital images. We stayed until close and then grabbed an Uber back to our hotel, even after all the relaxing and drinking we weren't up for doing anything that evening and stayed in the hotel! Again I will have options below of the extra activities you can do in the evenings if you're up for it.
Day 7
Our final day and theme park to visit was SeaWorld – we checked out of our hotel and left our bags in a holding area. It's important that if you're swapping around the parks on this itinerary depending on the days and dates you are in Orlando, that the one you go to on check out day isn't far away from your hotel, (so Busch Gardens is out) and also isn't a water park, unless you're happy to open your luggage and store wet clothes while travelling.
We headed to Seaworld (via Uber) and arrived around 12pm because we wanted a little lie in on our last day. Again like the other days, because it was a weekday and kids were not yet on holidays, we had no queues and were able to take our time around the park. We got the map and showtimes list when we arrived so we could plan our day around this. There's so many things to do and enjoy like animal experiences, rides and shows so if you want to get them all in then planning is key, similar to Busch Gardens. There are upgrades too you can purchase and all day dining deals so ensure to check these all out to get the most from your day. The rides here are physical roller coasters just like Busch Gardens and they are very much thrill rides – we loved them! We grabbed some lunch in Flamecraft bar and it was delish but there's speciality dining in the park too.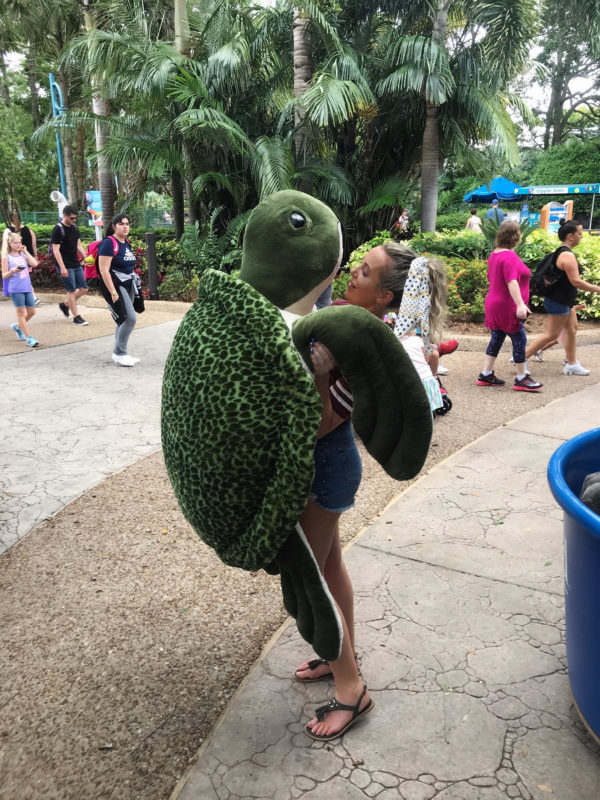 After we soaked up all there was to offer at Seaworld we left around 5pm and got a taxi to Icon Park on International Drive and grabbed a Shake Shack. There's 40 restaurants, bars, attractions and shops here, and a great place to visit in the evening after one of the parks. We only got around to it on the last day but a perfect date night location for sure! It has lots to do including a Big Wheel, Sea Life Aquarium, Madame Tussauds, a 7D Ride, museum and an arcade! It's within walking distance from our hotel too – took us about 20mins to get back and that walk was definitely needed after the feed we had! We grabbed a taxi to the airport then for our flight at 22.45 and landed in Ireland at 11.55am the following morning. Perfect flight times as I mentioned at the start of this post because we could sleep through the flight and have pretty much a full day at home to chill out and recover!
Other Things To Do
Given that we had such early mornings and hectic days, we were quite tired so didn't do much in the evenings. We wanted to relax and get early nights so that we could make the most of the days in the parks, but if you're up for it, I've added a few other things you can do! For places on International Drive there's public transport in the form of the I-Ride Trolley if you don't want to walk or grab an Uber. The I-Ride Trolley stop outside the hotel we stayed in is Stop 8.
Icebar This is an Ice Bar and Fire Lounge with over 70 tons of hand carved ice. It has a $20 entry fee which includes jacket and glove rental, and you can upgrade to a fur coat if you're feeling fancy! There are packages and discounts you can avail of online too. (I-Ride Trolley stop 18)
Wonderworks This upside down building is described as an indoor amusement park for all ages. I did this last time I was in Orlando and it was lots of fun! We also did the Outta Control Magic Comedy Dinner show at the end and it's a great date night idea. WonderWorks entry fee is $34 and the Dinner show is $32 but you can get combo tickets if you want to do both! (I-Ride Trolley stop 18)
The Escape Game Orlando These 60 min adventures look like fun to do if you are home a little early from any of the parks, around 5.30pm are the last games and cost approx $35 (I-Ride Trolley stop 11)
Gator Golf There are so many of these near the hotel and on International Drive. To be honest I really didn't want to check these out because I knew I would be upset with the living conditions of the gators after reading reviews online so I refused to go, even though I love crazy golf! We walked by a few of them and I didn't get a great vibe or sense that it would be a pleasant experience, but each to their own!
Dinner Shows There are a few within 5 mins walk all around the hotel we stayed and in a few different themes. You've got the Titanic Gala Dinner, Pirates Adventure dinner and Cirque Magique too! These cost around the $70 mark if you're interested in a bit of entertainment over dinner.
Premium Outlets The closest ones worth going to would be Orlando International Premium Outlets and Orlando Vineland Premium Outlets
Shopping Malls I loved Mall of Millenia as mentioned above, but there's also Florida Mall and Pointe Orlando not far that you could check out too!
I hope you found my Orlando one week itinerary both interesting and beneficial! Again I can't stress the point around weekdays and seasons where children are in school. A work colleague was just in Orlando with his kids (end of May) and said he found it uncomfortable in terms of the queues, so I'd avoid these times unless you are happy to purchase a fast pass! The one time we had to get a fast pass this holiday it was priceless and very much worth it. Weekdays do the busy parks, weekends do parks with limited availability like Discovery Cove or places of good value, or no parks at all. Planning is key for a comfortable and amazing experience in Orlando when it comes to theme parks!
Any questions I haven't covered, feel free to give me a shout on Instagram or via email.
Enjoy!
AJ x