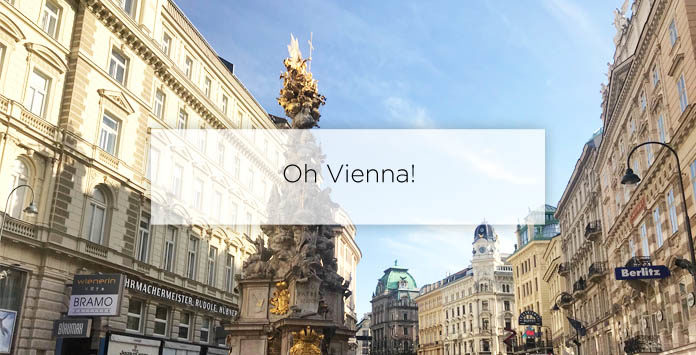 If you love Paris and love Rome, then you absolutely need to check out Vienna! I did not expect to love this place as much as I did, it's so beautiful! With imperial palaces and gorgeous architecture – we were more than happy walking everywhere to ensure we took in everything this city has to offer! I've put all the details of my trip to Vienna into this blog post but I will definitely take a trip back as I could have easily done a few more days there to soak up more of the culture and visit more tourist attractions. I've posted my two day itinerary at the end of the post and you can also find it on my 'Vienna' highlight on Instagram
Why Vienna
Given it's one of the most romantic and beautiful cities in Europe – himself booked this trip for us for Valentine's Day as a gift! This city has so much to offer – great food, great coffee and incredible architecture, cathedrals and culture. Not to mention how clean it is! You will happily walk the length and breadth of Vienna but if you don't feel up to 25k steps a day there are plenty of transport options to get you all around the city. I would recommend at least 3 full days here to do all the must see attractions, we flew in on a Thursday afternoon and Vienna is an hour ahead so we didn't get to do much that day, and same with the Sunday as we had a 2.30pm flight. So one more full day would have been ideal, and I would gladly have stayed even longer just because it is so beautiful.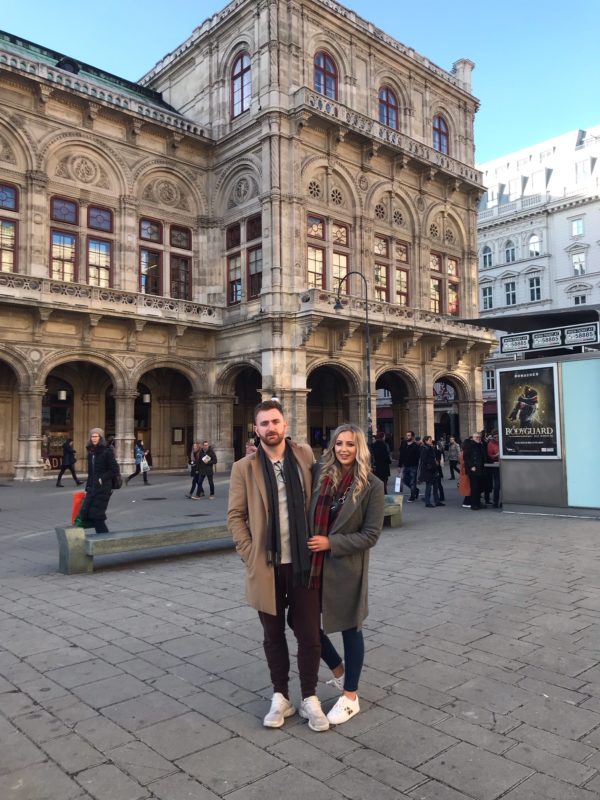 How to get to Vienna from Ireland
Ryanair flies to Vienna International Airport and flights for 2 people from a Thursday to a Sunday cost €210, and we just brought carry on and paid extra for priority boarding. Once you land there's a train in the airport (CAT – City Air Terminal) that takes 16mins to get you to the city centre – for €12 each one way! From there you can take the Underground 'U' pretty much anywhere (€2.40) or we found Taxify quite cheap there too compared to Uber/MyTaxi. When we were leaving we got a 20min taxi to the airport (€28) because traffic was quiet at the time we were leaving instead of getting the train!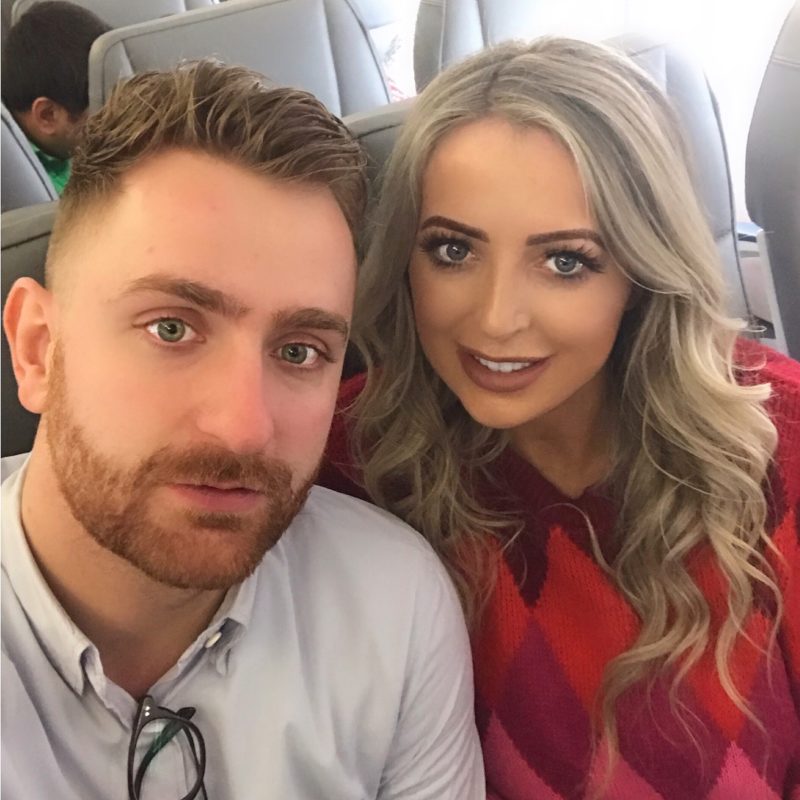 Where to stay in Vienna
We stayed in Hotel Mercure Wien City in Leopoldstadt which we booked through booking.com (you can get 10% cash back using my affiliate link) and it was €380 and included breakfast. Location was great – just across the Danube Canal and a short walk from the busy centre. The room was really comfortable, modern and clean – and I loved the mural backdrop behind the bed, it made it that extra bit cosy! There were lots of comfort features and facilities in the room including a Nespresso machine, the wifi was excellent and the mini bar (non alcoholic) was complimentary because we were gifted an upgrade to a Privilege room. I'm told by himself the buffet breakfast was gorgeous with plenty of choices and food in abundance. I'm not a breakfast person really so it was just coffee for me! There's a 24 hour bar there too should it take your fancy and the staff were lovely. The only thing that let it down was the (one) lift and hallways – they didn't have the same modern and 4 star feel as the rooms and reception area!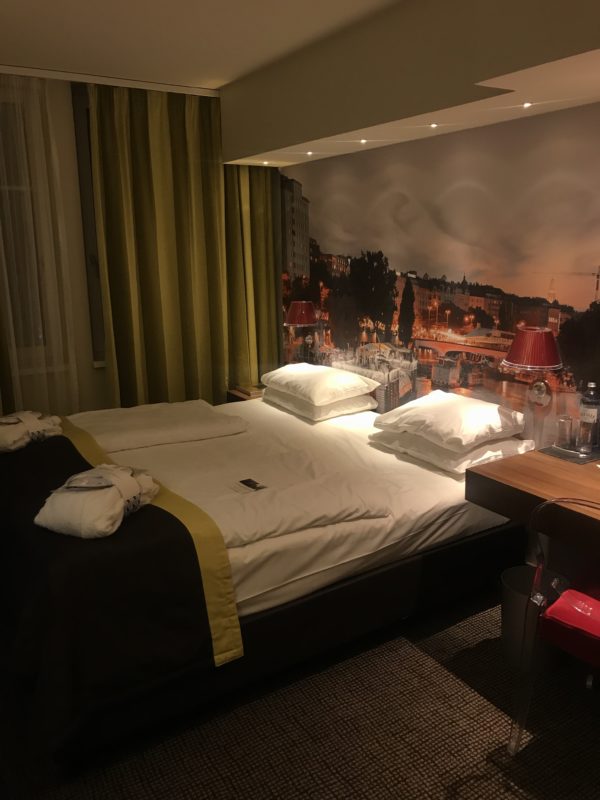 Things to do in Vienna
Schönbrunn Zoo (Tiergarten Schönbrunn)
The world's oldest existing zoo and it really didn't disappoint. Originally reserved for the Imperial family back in the day, it retains to this day an Imperial feel with a modern balance and it's very beautiful. The layout is really unique and it's home to over 700 species so you'll definitely get your steps in! We arrived at around 10am having gotten the U4 from Schwedenplatz to Heitzing (approx 15mins) and left at around 12.30pm – could have easily spent longer there but we were conscious of time. Tickets were €20 and there weren't huge crowds – probably because we visited on a Friday. The weather was gorgeous when we were there, the sun was shining and it wasn't cold despite the season, so we had no issue getting full sight of all the animals. The way the enclosures are set up you get quite up close to the animals which is great. The Panda Bears, Polar Bears and Cheetahs were some of my highlights – as well as the fab views from the treetop walkway. Palmenhaus and Desert House are separate to it and an additional cost for those of you interested in flora and fauna. The zoo is on the (huge) palace grounds – so just a 10 min walk from there to the palace if you fancy a visit! Lots of photos and videos on Instagram highlights should you want to get an insight.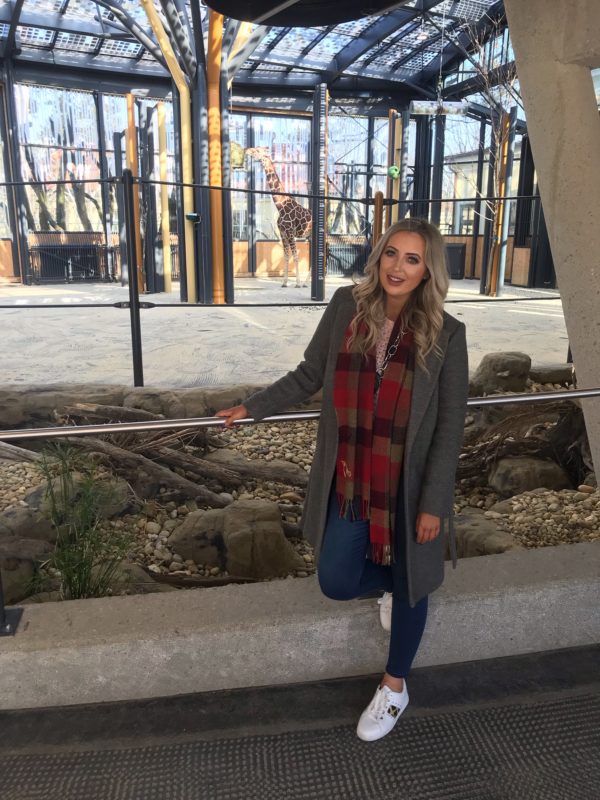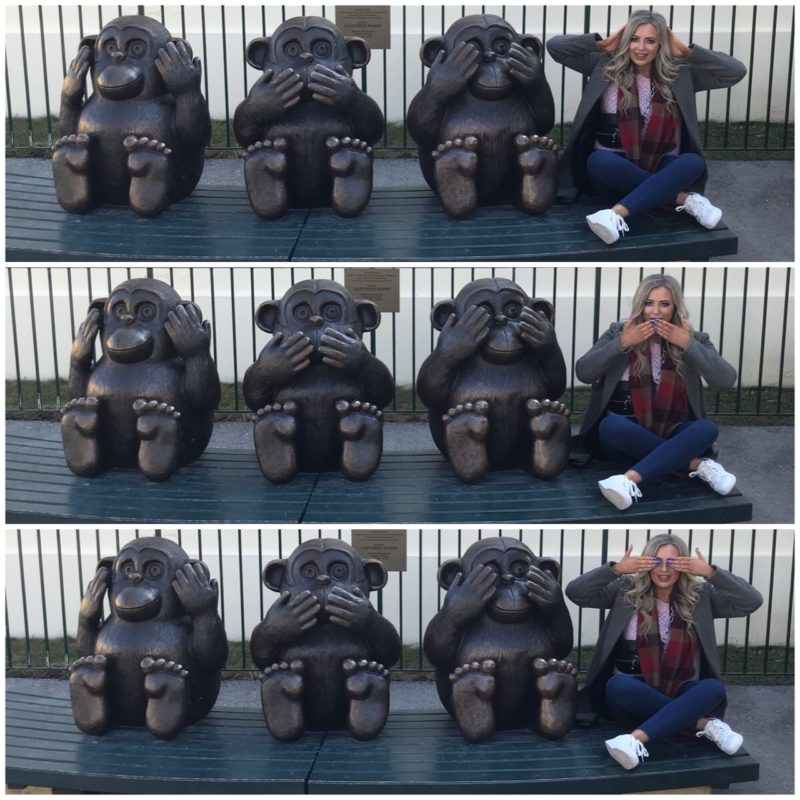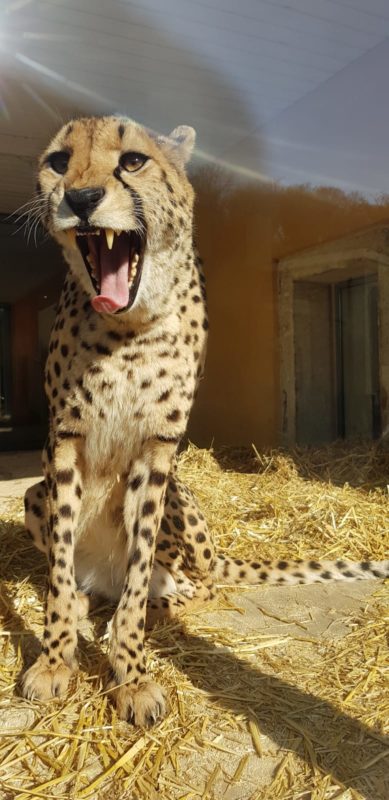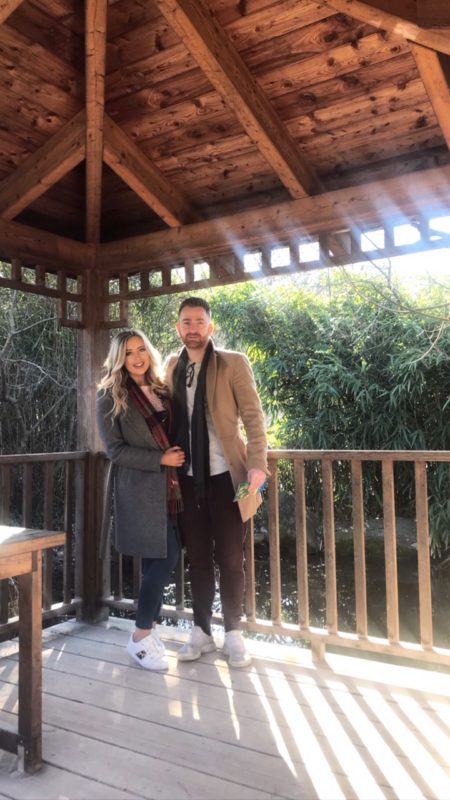 Schönbrunn Palace
This reminded me of visiting Versailles but with less of a queue! We ventured the huge gardens on the way to the palace and it was a really lovely walk. The palace looked huge from the outside and the architecture was gorgeous. We didn't have time to do any tours here which is why I suggested spending 3 full days in Vienna because you could spend most of a day at Schönbrunn alone between the zoo, here and the gardens! Its a UNESCO world heritage site too and I'll be back here for a visit for sure!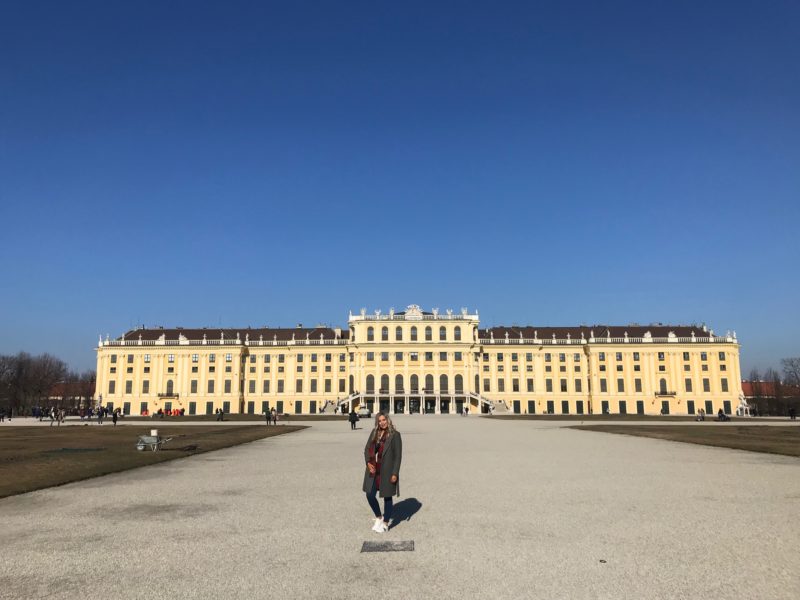 Naschmarkt
On our way back from the Zoo we visited the Naschmarkt – one of the most famous and luxurious food and produce markets in Austria. It's packed full of infamous Austrian food, and I just wanted to eat EVERYTHING. We ate food in a Viennese tavern style Grill und Bierhaus and sat in the outdoor area opting for the Bauern Bratwurst with Sauerkraut and potatoes along with a local beer and it was DELISH! In keeping with our tradition on buying a Christmas decoration in every country we visit together we used this opportunity to pick up something authentic from the area. There are SO many stalls here with outrageously delicious looking food – fresh fruit, veg, meats, fish, breads, cheeses, nuts, olives, icecream, chocolates, sweets, pastries as well as hot food stalls. I genuinely wished one of these were near me so I could shop there weekly!! The only thing I found gross were the baby octopus which freaked me out – I literally ran from the stall.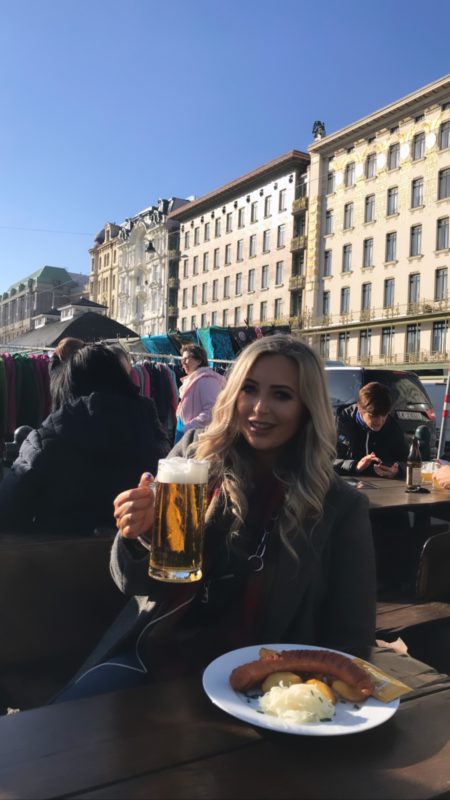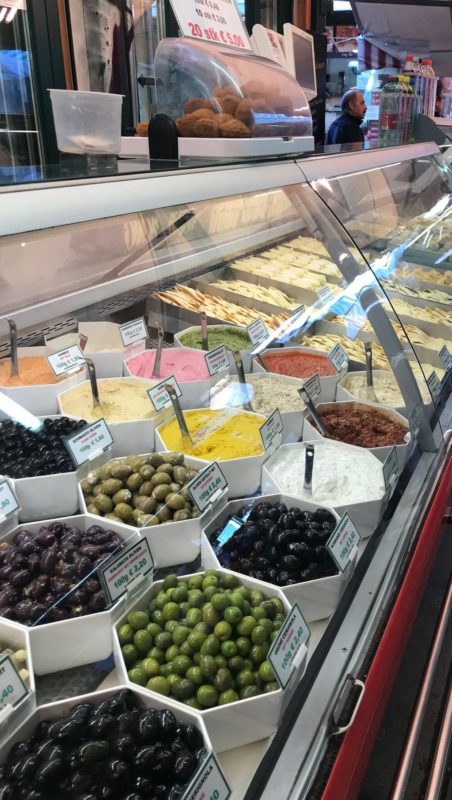 Cafe Sacher
Ah the Sacher Torte – one of the most famous cakes in the world. This Austrian cafe next to the Opera house lays claim to be the home to the original Sacher Torte and keeps the recipe a closely secret. They won this title in a cake war against Cafe Demel – which is only a few mins walk from here should you wish to do the taste test between the two yourself! I personally wouldn't be a massive a fan of Sacher Torte but given it's a part of history I said I would add the home of this cake to my list of must sees! Cafe Sacher itself is gorgeous – very boutique style, but be prepared to queue! We queued nearly 20 mins for 2 cakes and 2 drinks at a cost of €33! We had the original Sacher Torte of course, and an Apfel Strudel (another Viennese delicacy) and shared both. Washed down with Wine for himself and Sacher Liquor for me! I've heard the coffee is delish too so you could have that either.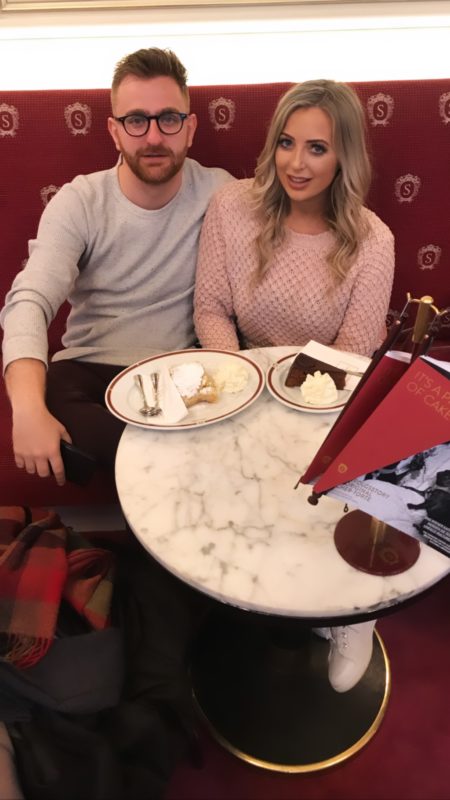 Vienna State Opera
If you don't get a chance to attend a show here at least attend for a coffee! I saved myself for here to taste coffee as it came highly recommended. We of course opted for a Fiaker coffee – an Austrian speciality! It's said to have kept the Fiakers (horse and carriage coachmen) warm during the cold weather – it's basically coffee with rum! There's loads of coffee options on the menu, as well as hot chocolate, tea, wine, champagne and treats – breakfast and lunch too! We were lucky to get a walk in here – they kindly accommodated us to a table that was reserved for someone else a half hour later, but as we were only making a quick stop we were able to grab a coffee. I would say lots of people go here ahead of a show for some pre theatre drinks or bites to eat so choose your timings wisely if you want to drop in.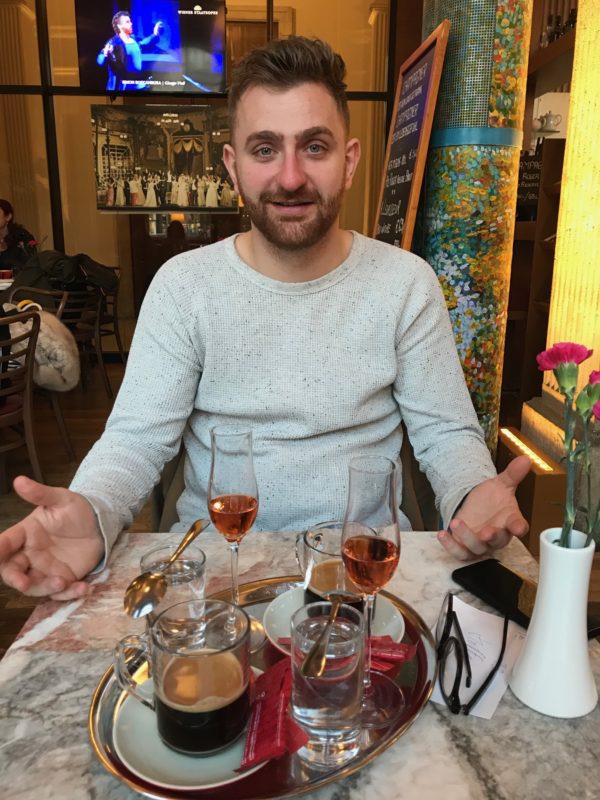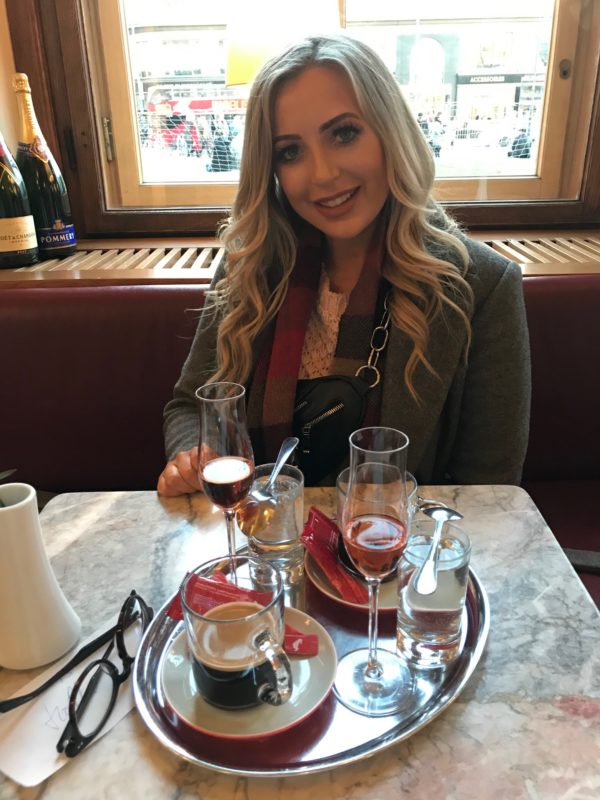 Stephansplatz
LOVED this street and area – packed with all the shops you could need to spoil yourself, or window shop and dream! All the high end designer brands you could think of, (Hermes/Chanel/Armani/Louis Vuitton etc) along with my fav Zara. These shop windows were all along the ground floor of stunning buildings which easily distracted you from said luxury brands, and led you down a wide street broken up by a huge statue leading to St Stephan's Cathedral.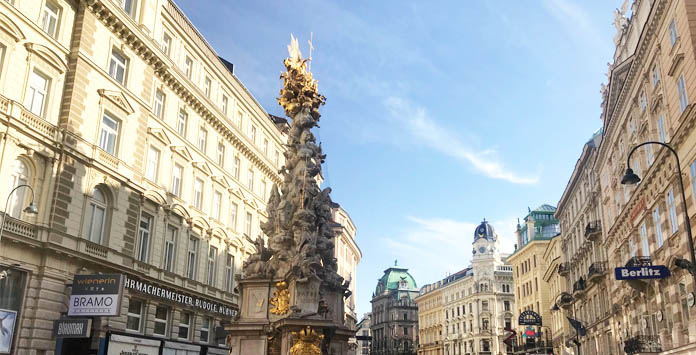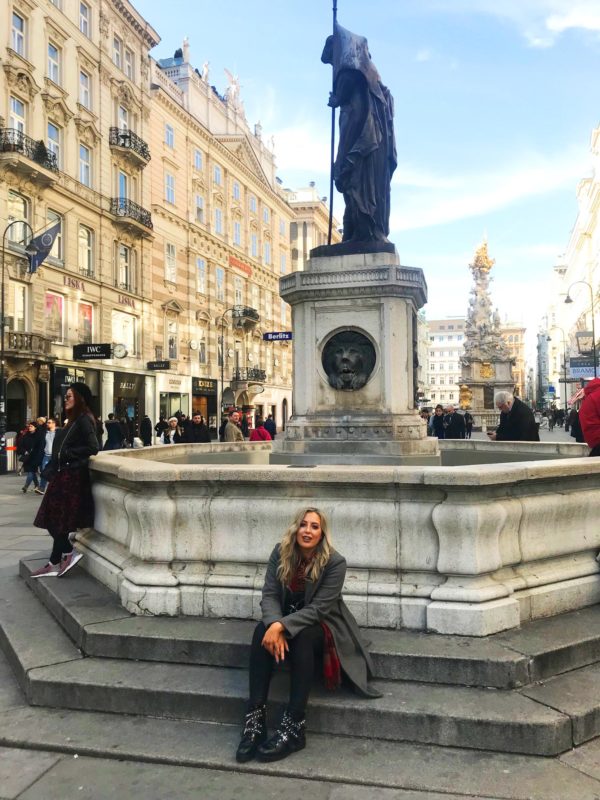 St Stephen's Cathedral
You can do a tour here, attend a church service, and take confession if it takes your fancy. As with a lot of cathedrals – very beautiful. It has a catacomb you can visit and a tower you can climb (or use the lift). I didn't know about the tower until after I came home but definitely check it out for what's supposed to be a fantastic view! We just went inside, lit a candle and admired the beauty. I'll be returning to check out the view for sure.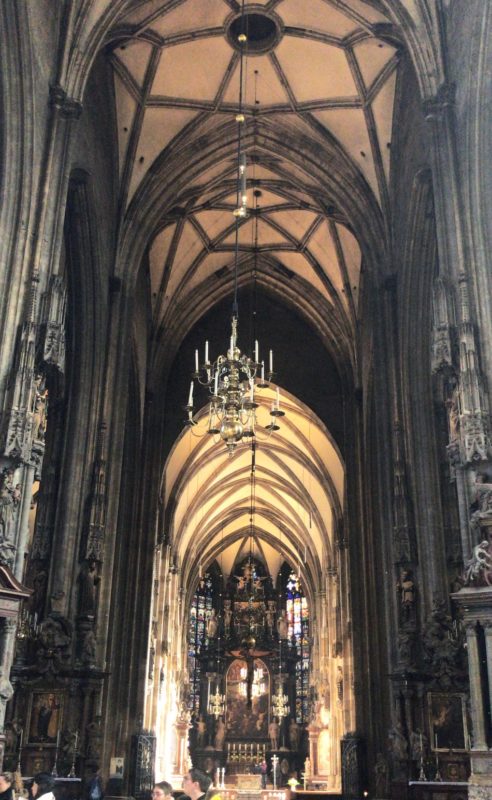 Hofburg Palace
In the heart of Vienna you'll find this beauty! There's a couple of tours here – Sisi Museum, Silver Collection and Imperial Apartments – home to Austria's most illustrious imperial couple, where they were when they weren't at their Summer place – the Schönbrunn! We didn't have time for a tour we just walked through it and around the grounds but it will be on our hit list when we return! There's a huge park which we walked around and would be fab for a picnic in the warm weather – and there's a dog park!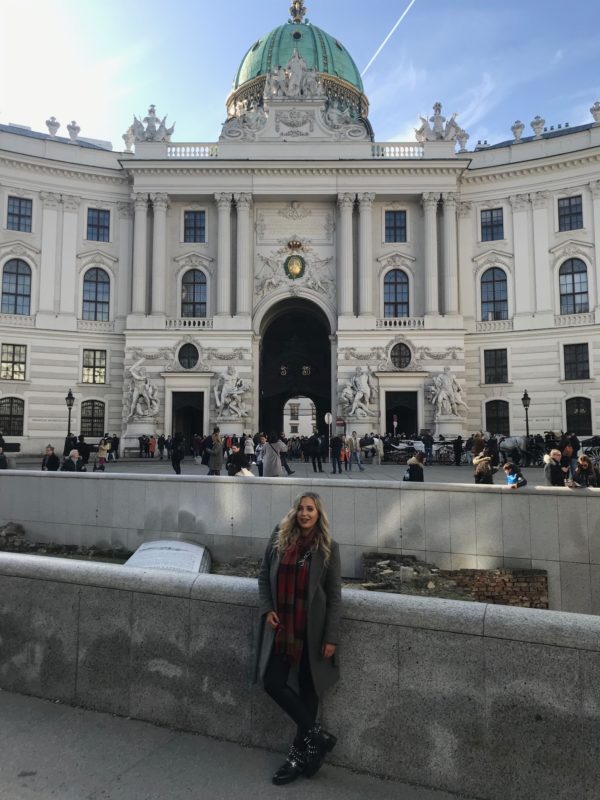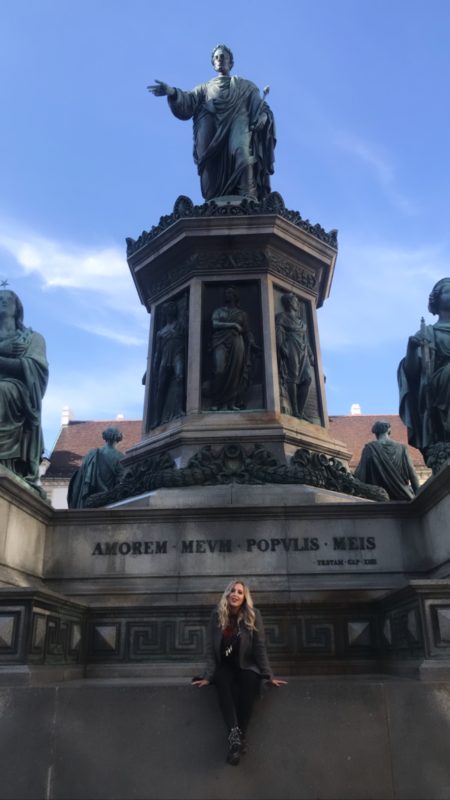 Time Travel Vienna
If you want a modern whistle stop history tour then check this place out. It's definitely not a must see, but if you have time. It brings you on a 4D cinema style adventure and the tour is pretty interactive – the VR part is impressive too. It takes about an hour and I would book it in advance if you can as the slots had sold out when we arrived so we booked for the following morning.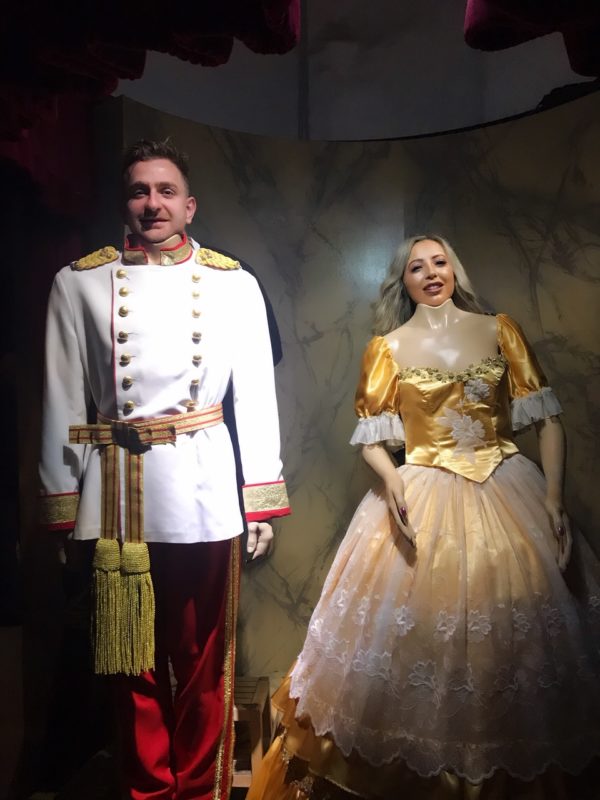 Natural History Museum
This place is HUGE. It's a really impressive place and quite interactive and interesting – however it takes quite a bit of time to get around so be mindful of this when planning. This could have been a museum anywhere though not necessarily Viennese or anything so I would opt for one of the previous mentioned tours if you are time poor and would rather take in more Austrian history!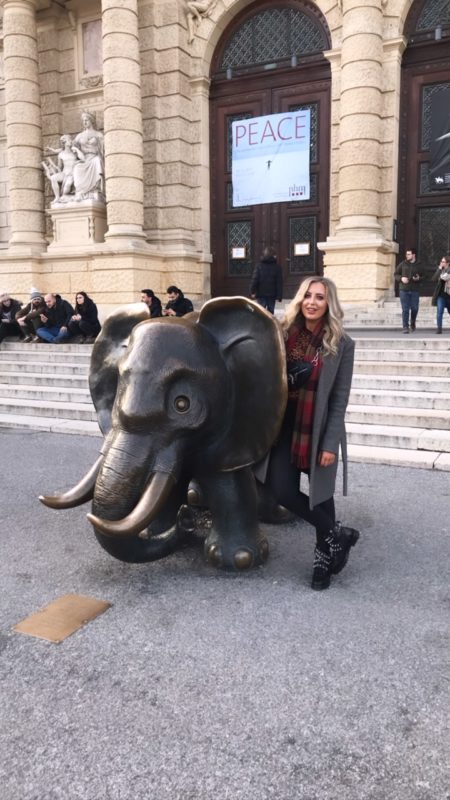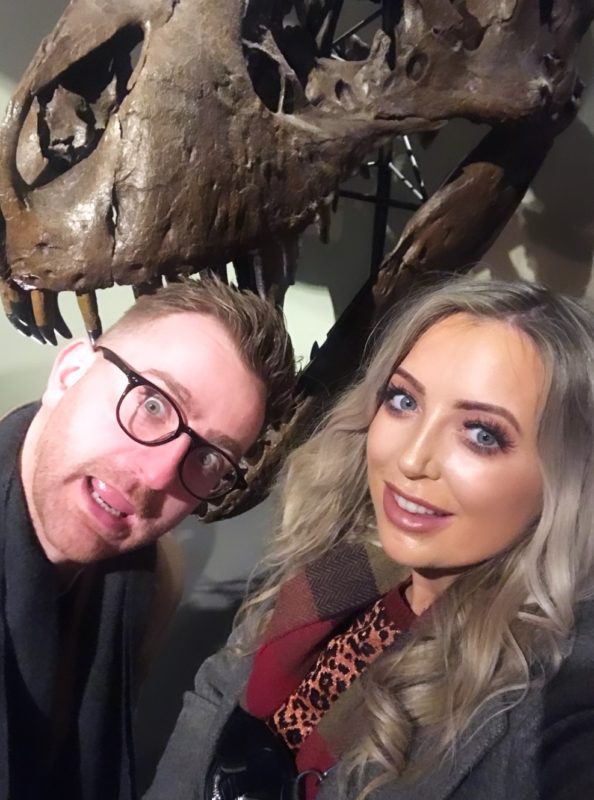 Rathausplatz
Probably the biggest ice rink I've ever been on – other than the usual rectangular space most rinks have, this had a network of fenced ice pathways all leading into the various rinks and some were uphill and downhill. It made it much more fun because I get bored easily! The set up is a bit mad though – you queue to pay entry and to rent skates and locker key, you then take your ticket and queue elsewhere for your actual skates and another queue to get your locker key. (You leave either €50 deposit / ID when getting skates too as security) Then when you are finished you return your skates at one queue (collecting your €50/ID) and then return your key and entry ticket at another area to get a deposit of €7 back. Anyways, the events at Rathausplatz change throughout the year, they had Christmas markets in Nov/Dec and the Ice Rink is there from Jan – March so check out their site ahead of visiting!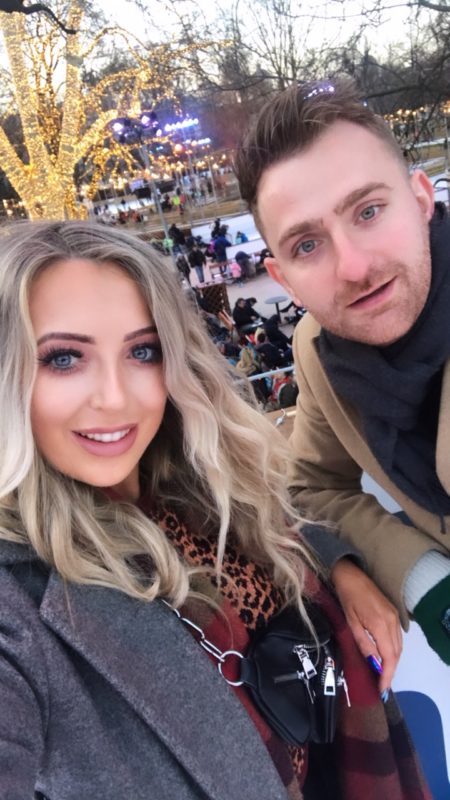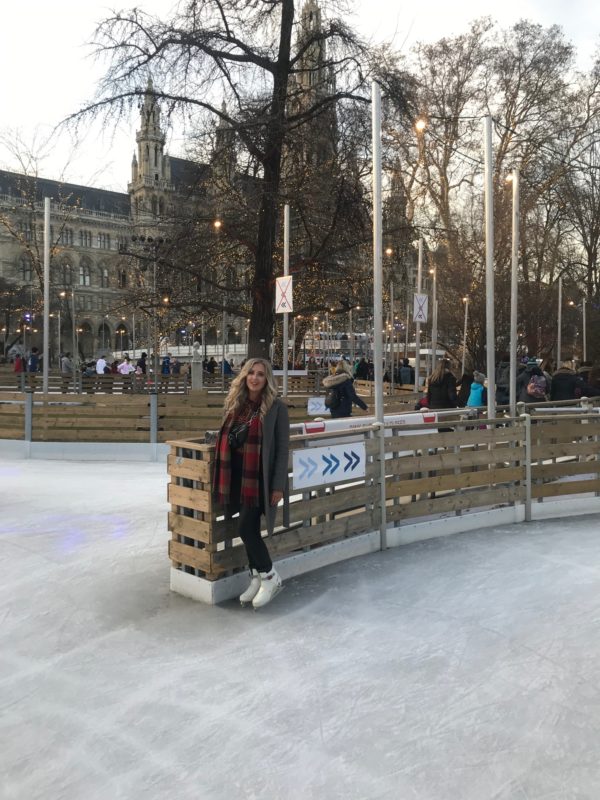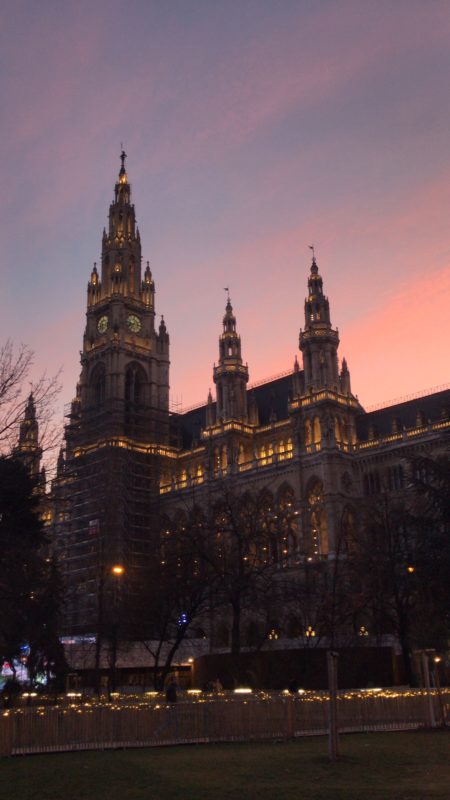 Prater Amusement Park
I do love thrill rides and amusement parks so this was always on my hit list. We got the U2 to Messe-Prater from Rathausplatz after skiing. There are loads of attractions here and cute places to eat and drink, however a good few of the rides shut at around 6pm so if you want tons of choice head earlier, but if you can only make it in the evening time then that's cool too because there are still plenty still open including the giant ferris wheel! There's no entry fee you just pay per ride and they come in between €3 – €5!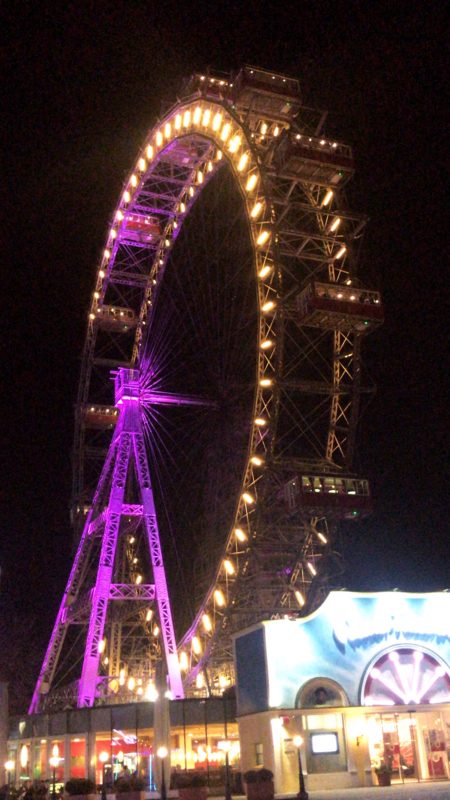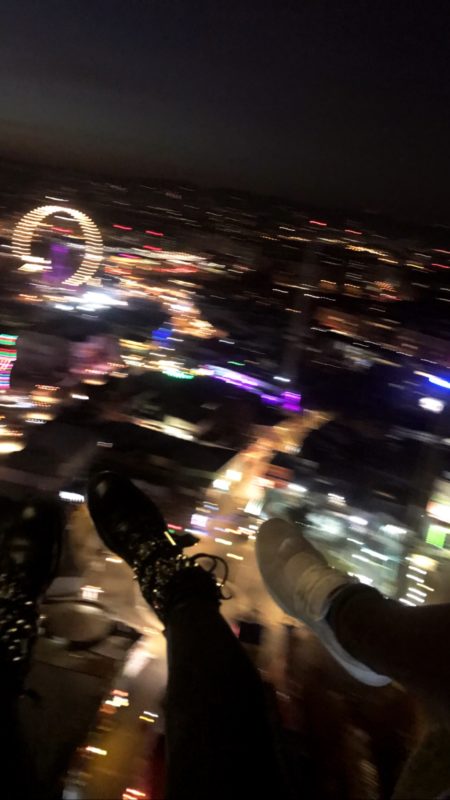 Other Recommendations
We did as much as we could in the two full days we were there. I'd have liked at least one or two more days to actually do the tours at Schönbrunn and Hofburg, as well as a show at the Opera House. Other places that I had on my list that I didn't get to visit are as follows: Belvedere Museum, Spanish Riding School, Donauturm, Haus des meers aquarium aqua terra, Zuckerlwerkstatt, Hundertwasser Haus and Stadtpark.
Where to eat / drink in Vienna
I'll post these in the order of when we went to them.
Cafe Central
This place is a piece of history and super popular morning, noon and night so we were delighted to get a Valentine's Day booking here as our first night in Vienna. The place itself is beautiful, however, I felt a little overdressed for an 8pm booking. At a table next to me there were people in hoodies finishing up their meal, and just had a casual vibe as it was very bright too. People were coming in for takeaway from the bakery throughout also. The staff were dressed very smartly alright, and the interior is stunning, it was just everyone else! I suppose it's more a tourist spot which is why. Apparently there are queues during the day for this place so if you want to visit then get there early. The meal was gorgeous – I had my first local delicacy here – the Wienerschnitzel! We both had the Beef Tartare (delish!!) for starters, the Wienerschnitzel and Goulash for mains, and then a chocolate mousse cake for dessert.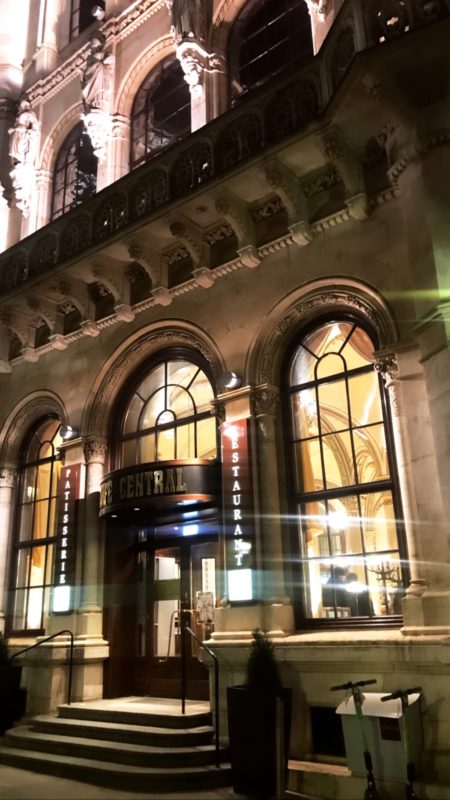 Naschmarkt
As mentioned above in things to do section – Naschmarkt has an abundance of food on offer for lunch! We stopped exploring for a Bauern Bratwurst with Sauerkraut and potatoes and refreshed ourselves with a local beer at Grill und Bierhaus. Tons of places to stop and eat and an equal volume of stalls to grab food on the go. Tip: Eat pretty much straight away to avoid drooling and eating a little bit of everything from the stalls – or, do just that, don't have your lunch and instead try lots of things!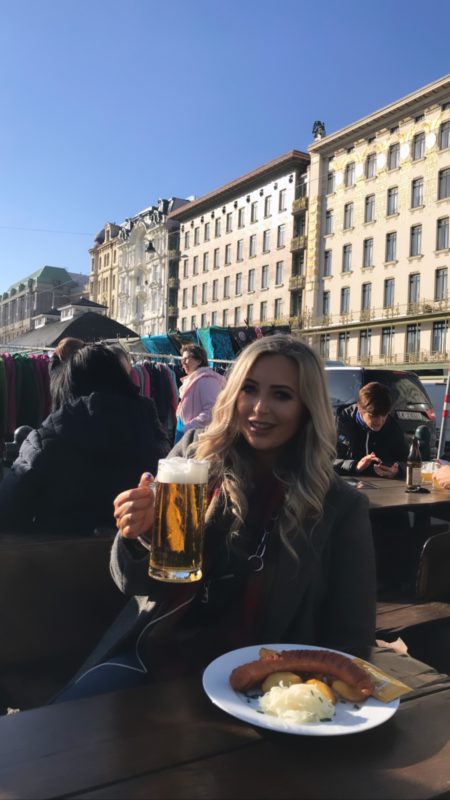 Adria
On our way back to our hotel we spotted this bar surrounded by glass and fairy lights on the canal, so we ventured down and found this cosy little secret. Beers, Spirits, Wine and cocktails on offer if you're looking for a quiet and cosy bar with a view onto the river for drinks before or after dinner if you're in the area then this is the place! I'd say it's IDEAL for day drinking in the sun too!!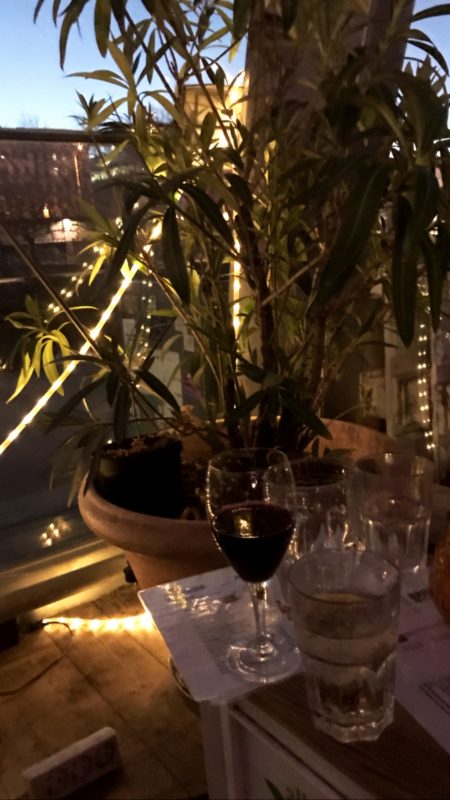 Skopik & Lohn
Great service, atmosphere and food! I had the Steak tartare and he had soup with dumpling, for main we both had the braised lamb and then we were too full for dessert! The walls had scrawls of writing on it and the service was quick – we weren't massively hungry which was a shame and where we were sitting it was a little chilly for me (I'm a cold creature) but all in all I would recommend going here for sure!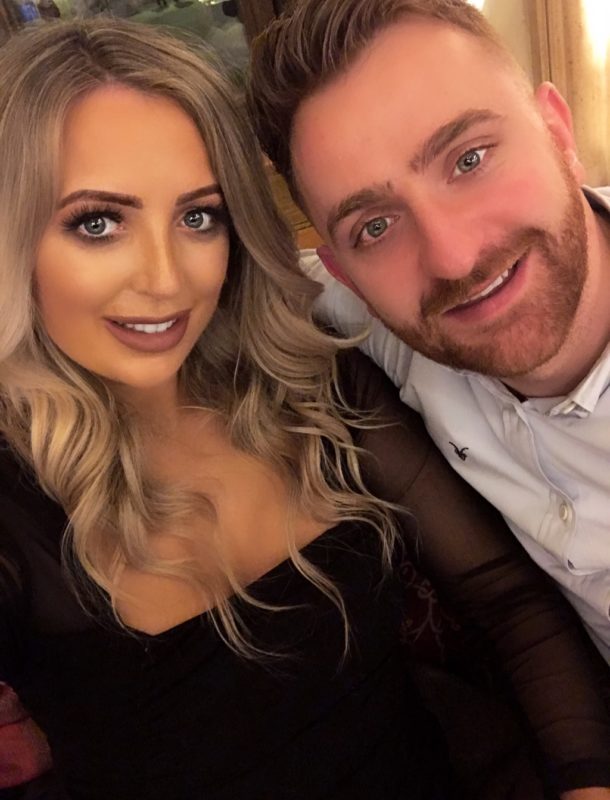 Hammond Bar
We were in the mood for a cocktail or two, €150 later and we were flagging a taxi back to our hotel and feeling very very merry! Had we not had another day of being a tourist the next day we would definitely have been out for the night. The cocktails here were incredible – and the owner works there too and there isn't anything she doesn't know about cocktails. If there isn't anything on the menu that appeals to you then chat to the staff and they will rustle up something depending on what you like! She did warn us when we were ordering Zombies that they were strong and she wasn't wrong but they were delish! Definitely a must visit place if you are nearby!
Ulrich
We walked all the way to the Neubau District to check out this restaurant! Erich and Ulrich were highly recommended so we had to check out at least one of them. It did not disappoint! The burger was one of the best I've ever tried and the fries were fab. We had to wait a few mins for a seat (at the bar!) but then before we had ordered, a table freed up so it was all good. it's popular though so you might need to prepare yourself to wait. We washed our meal down with wine and then off we went. Service is really fast here too!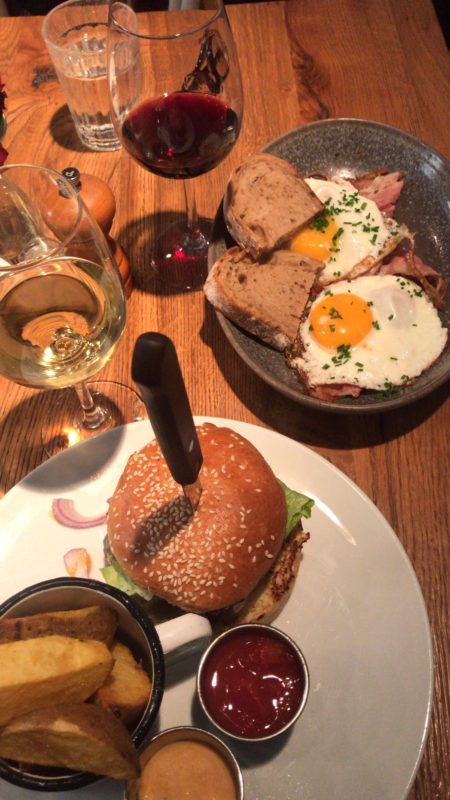 Vinothek W-Einkehr
After a weekend full of indulgence we didn't feel like we could fit a three course meal so we opted for a Wine tasting in this small but very popular place! The owners were lovely and talked you through all the wines, we shared a tasting of 6 whites and 4 reds (€29) and got a fab cheese and meats board with breads and dips. We also ended up getting escargots and boar curry as small sides too along with some olives. We were stuffed! We shared a high table with 4 other people, the place sits around 10 people and then a few spots at the bar so ensure to book in advance! It's number 3 of almost 4k recommended restaurants in Vienna too. It has outside seating also but that's probably only open in Summer.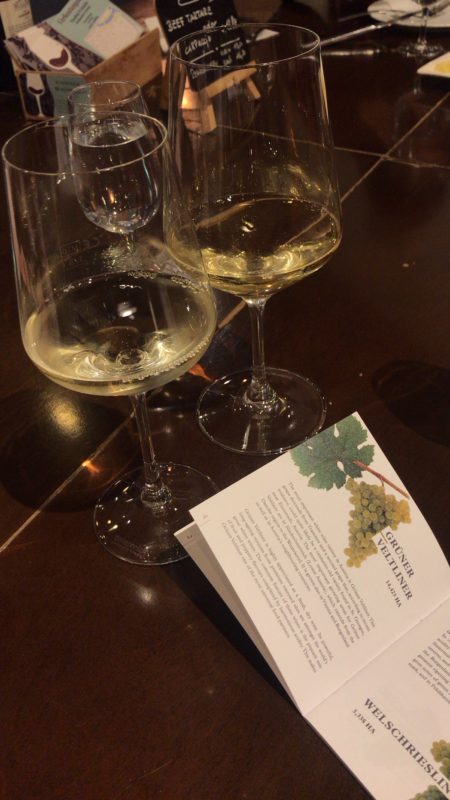 So that's everything we did in this beautiful city – I will definitely return again and if you can do at least 3 if not 4 full days then do! This place was not on my radar but I'm so delighted we ended up going here and could experience the beauty of this city! Timeline wise our itinerary was as follows:
Evening we landed
Day 1
Schönbrunn Zoo
Schönbrunn Palace & Gardens
Naschmarkt (& lunch here)
Cafe Sacher
Vienna State Opera
Drinks at Adria
Dinner at Skopik & Lohn
Drinks at Hammond Bar
Day 2
Time Travel Vienna
Stephansplatz
St Stephen's Cathedral
Hofburg Palace
Lunch at Ulrich
Natural history Museum
Rathausplatz
Prater Amusement Park
Wine tasting & Dinner at Vinothek W-Einkehr
If you're headed, I'm very jealous, enjoy!!
AJ x