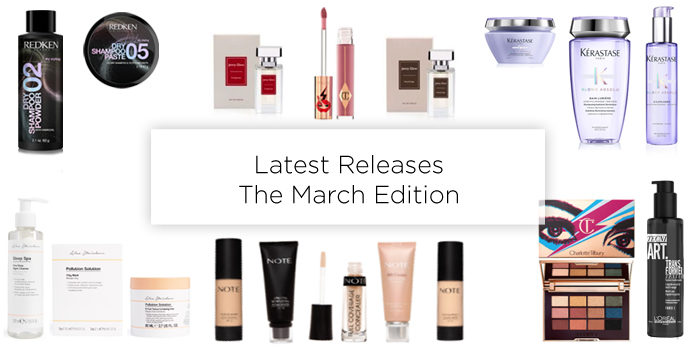 Happy March! I've just indulged in some pancakes but I'm back again with my monthly latest releases post – where you can keep up to date on all things new (that I think are fab!) on a monthly basis. I love doing these posts and seeing so many amazing releases – which tend mainly to be across Beauty if I'm honest! This month in particular sways towards the hair side of things and is jam packed too!
Charlotte Tilbury The Icon Collection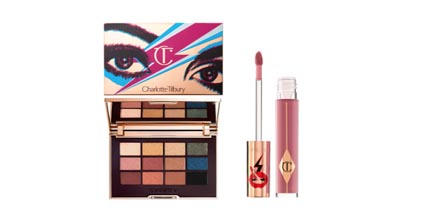 Charlotte is just lashing out all the new bits lately and I'm loving it! This month we have the Icon Palette and Latex Love – eyes to electrify and lips to lead astray, inspired by iconic men and women past and present! The Icon Palette is said to be electric star quality in a palette and features 4 looks (12 shades) to take you from day to date to diva to disco and the Latex Love are six seductive lip glosses. The palette features shades from iridescent champagne to black charcoal-with-a-hint-of-sparkle for eyes to electrify. You can mix, match or clash these colours and textures, use them wet or dry, or dial up or dial down, but they're made to suit all skin tones! Then we have the new lacquered and intensely pigmented liquid lipsticks – Charlotte's naughtiest lip yet! They're easy-wear, high-pigment, moisturising glosses that glide over the lips for long-wear shine. These shades all look STUNNING. Packed with lots of good stuff too (Crambe Seed, Mimosa, Patchouli and Emollient Oils)  The palette retails at €65 and the liquid lipsticks retail at €32 – both limited editions and available from March 7th!
Alex Steinherr X Primark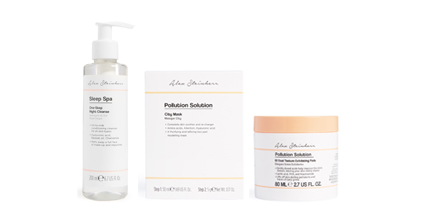 This collection is back and this time it's extended – to 20 cruelty free skincare bits! After being curated by Alex after years of research and development and features her must-have skincare actives including Hyaluronic Acid, Niacinamide and Squalane. The products range from €4 – €6 so suits all budgets, and focusses on targeting skin concerns such as dehydration, tiredness, dullness, pore congestion and skin affected by urban life. Instead of working on skin types, it offers a solution that you can mix and match to cater to the needs of your skin. The collection includes (Sleep Spa) Oil to Milk Cleanser, Sleeping Face Mask, Every Night Eye Mask, Overnight Lip Mask, (Pore Balance) Low-pH Sulphate Free Cleanser, Super Detox Clay Mousse Mask, Anti-Blackhead Stick, Blemish Rescue Stickers, (Plump & Glow) Facial in a Stick, Plump & Glow Moisturiser, The Power Mask, Plumping Lip Gloss, (Maximum Moisture) Micellar Cleansing Gel, Moisture-Locking Everyday Moisturiser, Supreme Sheet Mask, Hydration on the Go, (Pollution Solution) Oil-Free Gel Hydrator, Daily Skin Starter, Dual Texture Exfoliating Pads and City Mask
Kérastase Blond Absolu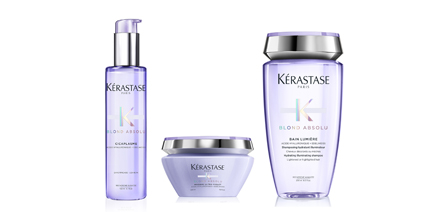 Kérastase have released their first ever blonde-specific range which neutralises lightened hair while also providing it with the care it needs. It is designed for all blondes regardless of colour, hair type, or season. There's five at-home products which they say provide care for blonde or lightened hair. The hyaluronic acid and edelweiss flower ingredients combine to hydrate and protect hair to leave it feeling softer and stronger. Ultraviolet care neutralises brassy tones and restore it! I've personally never tried Kérastase before but I might pick it up and add to my collection – I hate brassy tones so anything to make it ashy is a win in my books! You also know by now when I'm like about packaging and I really like this!
Jenny Glow Fragrance Range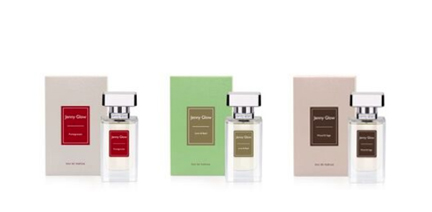 I was raging I couldn't make the launch of this range but it looked fab! And Binky Felstead was there who I met at my first ever event way way back in the day. Sisters Jane & Katie O'Connor have launched 27 Jenny Glow fragrances this month after their initial launch of 8 fragrances was such a success with a high demand and a sell out fragrance in their collection. They're unique unisex blends that are sure to suit every fragrance lover and at a a really affordable price. The 30ml are just €7.99 and the 80ml just €14.99 – they also have gift sets starting at €19.99. You can't go wrong really. Perfume is such a personal thing so you could easily grab a 30ml to test for a few weeks to see how you get on if you didn't feel like investing in the 80ml straight away. I find I need to wear a perfume for a while to see if I like it and if it's a 'me' perfume! There's a wide selection of fragrances in the range from fruity notes to sandalwood earthy undertones so I've no doubt that I'll find a few in the range that I'll love – that hopefully my bf won't rob on me given they're unisex! Katie and Jane have invested in a range they wanted to not only smell great but also lasted so it's good to know the strength and longevity of the scent is just as important and taken into consideration whilst balancing the affordable cost. Looking at the list of 27 fragrances the ones that appeal to me are the Pomegranate, Wood & Sage, Lime & Basil, Cologne, Black Cedar and French Lime leaves. OK all 27 look like they smell fab but i'll stop the list there – you can check them out in in pharmacies and stockists nationwide for yourself and do let me know which one is your fav!
TECNI.ART range by L'Oréal Professionnel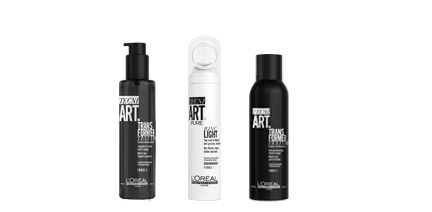 TECNI.ART has been reinvented with new sleeker packaging, no added fragrance, and a paired back formula. They've also released three new products – Ring Light, Transformer Lotion and Transformer Gel. TECNI.ART has been developed by professionals, for professionals and consumers alike, utilising the ultimate in pro-how. They've split their new and reinvented products into three categories – The Core Essentials, The Texturisers and The Transformers. The new Ring Light (€18.50) is a micro-dispersed shine spray that prevents hair from looking and feeling greasy and is said to give an unparalleled shine. Transformer lotion (€18.50) is a multi-use liquid to fibrous paste styler which controls, gives texture and definition and features elastic Aloe Vera. Transformer gel (€18.50) is a multi-use gel to foam styler with elastic polymers for hold, volume and discipline.
Remington Curl & Straight Confidence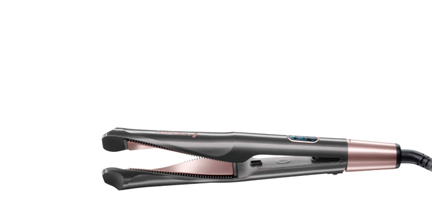 The Curl & Straight Confidence (€149) by Remington has been created as our answer to having less time to spend on ourselves due to busy lifestyles. With its 2 in 1 design, you can create waves, curls, or have sleek straight hair. It has longer plates with micro-guide combs that secure your hair for fast, one pass styling. It has twisted plates to help if you struggle with curling hair with straighteners and requires minimal technique – yay for me because I can never do this with a straightener. It heats up in 30 seconds for those of us impatient, and has a temperature boost function for when you need a little extra heat.Like most straighteners it has heat resistant storage sleeve, easy-grip cool tips (I hate wearing these personally) as well as an automatic safety shut off after 60 minutes.
Redken Dry Texture Collection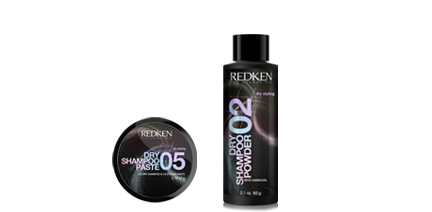 Redken have launched a brand new range of stylers and finishers that think they're dry shampoos – for those of us that demand more natural styling. The range consists of two products, Dry Shampoo Powder 02 and Dry Shampoo Paste 05, that have been designed to absorb oil, refresh and style. They call it professional styling meets the freshness of dry shampoo! This does make me a little excited because I hate washing my hair so anything that can give me an extra day or so and not make it look manky then I'm happy! Dry Shampoo Powder 02 is a loose powder with charcoal to absorb oil and impurities and Dry Shampoo Paste 05 is ½ dry shampoo, ½ styling paste which gives the freshness of a dry shampoo, but with a mild, re-workable hold. Both retail for €25!
Note Cosmetics Heroes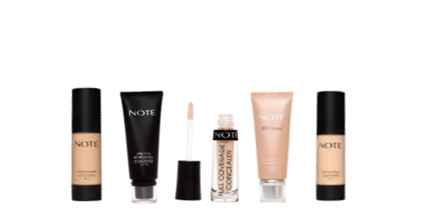 Not necessarily a new launch, but perhaps products new to you (and me!) worth trying given they have been announced as hero products! Surprisingly there are three foundations and a BB cream, and then a concealer. Usually a hero product list has a broader range of items but maybe this tells that their foundations are a key strength to their range which is interesting! I personally love their liner which I've mentioned here on the blog before – if you haven't got it, you must try it! Anyways, back to the top selling products – we have the Luminous Moisturising foundation (€9.95), Full Coverage Liquid concealer (€4.95), Mattifying Extreme Wear foundation (€13.95) Detox and Protect foundation and the BB Cream. I havn't tried any of them but you know me and my love for a matte foundation along with a full coverage concealer so next time I see them they'll be the first on my hit list of the hero products to try! Let me know if you've tried any and message me!
AJ x