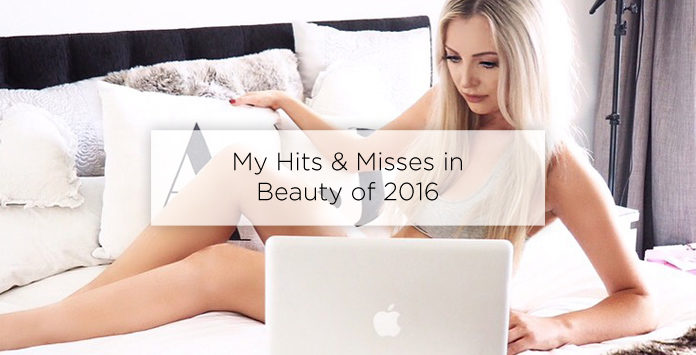 Happy new year all! Hope you had a fab Christmas and are looking forward to a great year ahead! To make your 2017 a little brighter I've decided to post a round up of products I fell in love with during the year that you might take a fancy to too. I've also included some items which didn't do it for me, that just didn't impress me as much as I thought they would so I hope you find this post useful!
Most of these won't come as a surprise because I tend to show my repurchases regularly and these will be amongst them!

Seventeen Long Lash Mascara
THIS. I'm obsessed. If you follow me on Snapchat you'll know that I have not stopped going on about it. And what is really annoying is that I was sent this quite a long time ago and just never got round to trying it. Literally grabbed it one day and instantly fell in love. And just repurchased today!
Crest Supreme Flexfit Whitening Strips
I started using these during the year and whilst I do love the results there is a bit of sensitivity upon the first few uses. Just ensure you are using them correctly – eg. leaving them for the recommended timeframe and not longer. It's one of the first whitening strips brands I've used where I could instantly see results and I do get asked quite a bit about how white my teeth are. I've been buying mine online though because they can't be bought in store in Ireland – that I have come across anyways!
Benefit Hoola Bronzer
This was one of those products that everyone had been raving about for years – but for some reason I never tried it out! Until this year. I already love the blusher Rockatuer which I've mentioned on the blog before, but at an event during the year I received a box of 5 of their powder products – 4 blush and Hoola Bronzer. I've already hit pan on my bronzer which shows how much I'm obsessed! It's the perfect colour for my skin tone and the makeup look I go for.
YSL Le Cushion Encre De Peau foundation
I was debating whether to include this foundation in the post, and the reason is because I don't feel it has as much foundation in it as others that I love. But, it's too good not to include. I mentioned my disappointment in the longevity of the product on snapchat and then days later repurchased it and mentioned it to you all. Confusing I know. I apply mine with a brush instead too so maybe that is what is eating up the product. It has great coverage but genuinely feels so lightweight. Also, if you just purchase the refill for €35 (as opposed the full packaging) then it isn't actually all that expensive. Buy the (very pretty) packaging once and then just refill! I did also fall in love with their new Touche Eclat Le Teint Foundation and repurchased it this year too! I'm shade B50 in both of these products!
NYX Matte Soft Matte Lip Cream
Matte Lip Creams scare me because matte products can sometimes dry your lips and make them look awful after a couple of hours. Not to mention how uncomfortable they can be. But not this one! At all. And they are so super affordable. I've bought so many of these so I always have a back up, but also so I can have one in each of my handbags, in my makeup drawers, in my travel makeup bag etc. They're everywhere! Abu Dhabi is definitely my fav shade.
Blank Canvas Cosmetics Master Series Palette One
This has been my go to palette all year. I did mention previously though that I feel it was missing some nice orange or cranberry tones to be a something for everyone palette. But in terms of pigment and longevity and the colours, this comes highly recommended from me! In addition to this I do feel like I need to mention the Anastasia Beverly Hills Renaissance palette! Full of orange and cranberry tones if this is what you're after. I only got it at Christmas so it would feel cheating including it here but so far I'm impressed.
PS Pro Mattifying Primer
OK How many times have I mentioned this product? it's only €5 so it is definitely an affordable product – I would like if it came in a bigger tube though so that I wouldn't have to repurchase it so frequently but I've been reaching for it pretty much every day this year. Any time I stop using it try a new product I still always go back. I haven't tried much of the PS beauty range because this was the only one that appealed to me when the range launched and I've just not gotten round to trying any of the rest!
Bellamianta tan
This was another product of 2016 that many were raving about that I was late to the game in trying out. The wear off of this product is one of the best in any tans I've tried. I'm a fan of mousse tans anyways and this mousse is that bit thicker so I like the consistency and how it applies. Most tans these days don't have that manky smell anymore and this doesn't either, and I love the shade! it's not on the orange side thankfully! I'm definitely going to try more tans in 2017, I'm terrible for just sticking to products I love.
NYX Stay Matte but not Flat powder foundation
I mentioned this in all of my interviews and features in magazines this year as a recommendation. It just sits nicely on the skin as a setting powder and doesn't look cake-y! It says it is a powder foundation though but I don't use it for this purpose and don't use the sponge. I swirl my powder brush in it and apply it to my oiliest areas and I'm matte for the day!
Now for the products I enjoyed a little less..
Sleek Matte Lip Cream
This feels like paper on my lips! And I'm raging because the colour Birthday Suit is gorgeous but it just doesn't work for me. Maybe I should be prepping my lips better before use, but there are other products that require less effort so I will stick to those!
Catrice Highlighter
Maybe there is something wrong with me that this product just didn't impress me! Many were raving about it, and it's very affordable, but it is nothing compared to my Mary Lou by The Balm! Like it's grand. But I wouldn't opt for this over many others that I have!
YSL Top Secrets Bi Phase Doux
I do like this product, but I wouldn't repurchase because there are others that bit better for less of a price tag! It's pretty and I love YSL, and to be fair I have used the entire bottle. But i'm basing this post of items that I have actively seeked to repurchase almost immediately.
Kim Kardashian Dy Shampoo
I'm a lover of Batiste (in the blonde shade) and didn't find this lived up to the standard. Although the bottle and packaging did quite appealed to me when I received it in the post. It does smell nice. On a side note I do like the hair brush but based on this product being 'meh' I probably won't rush to get much else from the range!
Loreal Roots Touch Up
Maybe this is because I'm blonde but what is the story with this product? It does nothing it says on the tin! and it feels kind of wet and heavy on my hair. It probably works better in the darker shades but it is definitely not for me or my hair colour!
PS Beauty Nail Polish
These barely last a day on my nails. Enough said. To be fair I think they're only a couple of euro.
Nip & Fab Bee Sting Fix Lifting Mask
I may as well have been putting water on my face than this mask. I couldn't feel any difference to my face after wearing this. Maybe I was hoping for something really exciting given the name? Anyways, won't be repurchasing!
Let me know your thoughts on these products! Any of them a Hit or Miss for you?
AJ x
Disclaimer: What works for me might not work for you, and the same with the products that didn't impress me might be a gem product for you!
I was gifted all of the items I mentioned in my Misses of 2016 and gifted some of the items mentioned in my Hits of 2016 where specified! (and have repurchased them too with my own moneys)