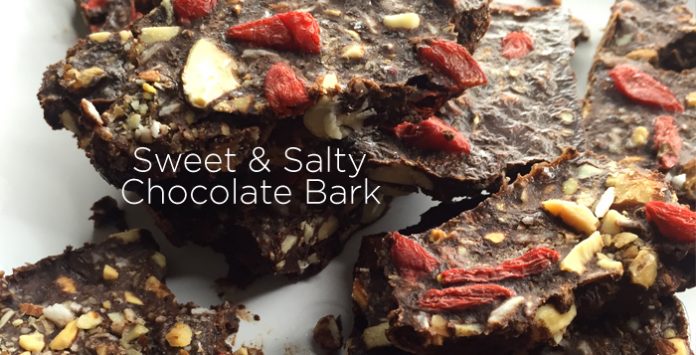 So this was an accidental DREAM of a clean treat made on Snapchat last night! So you will have seen I had a chocolate craving and hit the shops for ingredients and then hit the kitchen to concoct a delicious mess!
The basic ingredients for homemade chocolate as you all know from my Clean Mars Bars recipe is Coconut Oil, Cacao Powder and a little something sweet – generally Maple Syrup, Agave, Honey or Stevia. I wanted something quick and easy so with that in mind I decided to go with a Chocolate Bark. I had no idea how it was going to turn out but I was pleasantly surprised!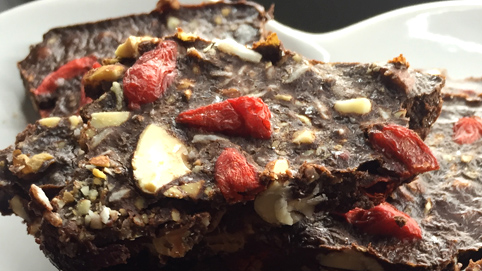 Recipe
Chocolate Bark
1 Cup Coconut Oil
1 Cup Cacao Powder
1/3 Cup of Maple Syrup
1/8 Cup of Meridian Coconut & Peanut Butter (optional)
You can replace the Maple Syrup with Honey or Agave if that's your preference, or leave it out completely. The Peanut butter is not necessary, or you can replace with Almond Butter.
Additional Ingredients
Hazelnuts
Almonds
Walnuts
Macadamias
Cashews
Goji Berries
Cranberries
Himalayan Pink Salt for roasting the nuts
These weren't measured, I just added a handful of each. You can put as little or as much of each as you want, add additional nuts / fruit bits or leave some out. Totally depends on your preference. You could also add seeds to this too – eg pumpkin and sunflower!
Topping
A mix of leftover crushed nuts from the above
Goji Berries to decorate
Desiccated coconut to decorate
Sprinkle of Sea Salt for taste

Process
Blitz your nuts of choice and place them in the oven with some Himalayan Pink salt at 180 for about 10mins
Melt Coconut Oil and mix in the Cacao Powder, Maple Syrup and Peanut Butter
Mix in most of the roasted nuts, goji berries and cranberries to the mix (leaving aside some for decorating the top)
Spread to a thin layer on a tray, top with leftover nuts and berries, and sprinkle desiccated coconut and a sprinkle of Sea Salt
Pop into the fridge to harden for 15 mins
DEVOUR
Let me know if you try this recipe and what ingredients you substitute! Loving all your daily snaps of my other recipes so keep them coming x