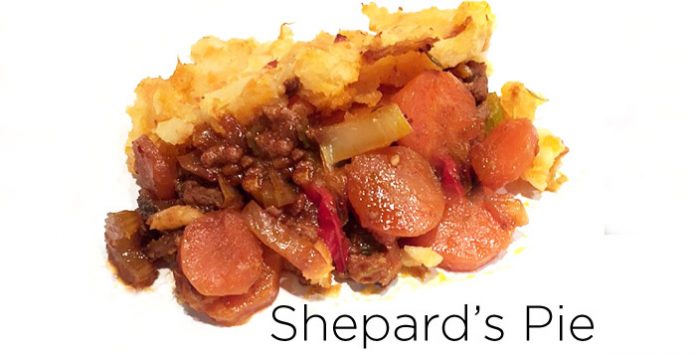 This recipe went down a treat on Snapchat with over 2000 screenshots! I have had so many requests for a full blog post on my Clean Eating Shepard's pie so finally here it is. Loads of you have made it already and sent me pictures which I love to see so keep them coming!

Recipe
Base
2 Onions
3 Celery Stalks
2 Carrots
2 Garlic Cloves
1 Chilli
1 Ramiro Pepper
6 Mushrooms
400g Mince (Turkey or Beef)
1 tsp Black Pepper
1/2 tsp Thyme
1/2 tsp Rosemary
1/2 tsp Himalayan Pink Salt
2 tbsp Organic Tomato Puree
1 Kallo Organic Stock Cube in 1/2 pint of water (Chicken/Beef flavour)
Coconut Oil to fry in
The above is my go to veg of choice but realistically these are all optional and you can add in any veg you have to hand, and if you increase the meat amount just increase the veg and herbs/spices quantities accordingly! I use Rapeseed oil when I don't have Coconut Oil. I use the 'Very Lazy' Garlic and Chilli if I'm not in the mood to chop up fresh versions.
Topping
2 Parsnips
1 Large Sweet Potato or 2 Small
1/2 tsp Rosemary
1/4 tsp Cayenne
1/4 tsp Garlic
You can add coconut milk if you want to make it creamy but I hardly ever do. Again if you increase the parsnips and potatoes you should increase the herbs/Spice accordingly. And you can just have extra Sweet Potato if Parsnips aren't your thing.

Process
Place the peeled Parsnips and Sweet Potatoes in a pot and have these boiling whilst you make the base. They should be ready to mash once the base is complete
For the base sauté all the veg in Chilli and Garlic in a pan with Coconut Oil
Add Mince along with the Rosemary, Thyme, Black Pepper and Pink Salt
Once cooked add in the Tomato Puree and Stock, allow this to reduce.
Place the Base into your Shepard's Pie dish
Mash the Sweet Potato and Parsnips together along with the Cayenne, Garlic and Rosemary, and place on top of the Base
Pop into the oven at 180 for around 35mins
It's that easy.
Thanks to all of you who have attempted it so far! I've posted some of your snapchat pics below, glad you are enjoying the recipe!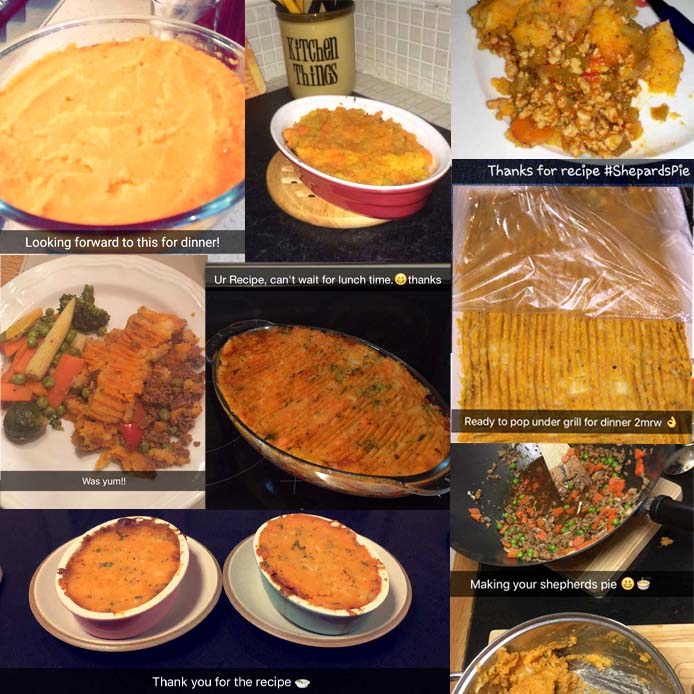 Any questions leave a comment below or Snapchat / Email / Tweet or Facebook message me!