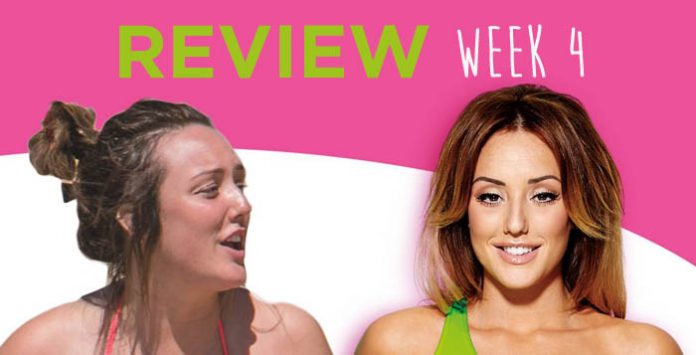 Week 4 done and dusted! I never mentioned in my previous review posts but Charlotte actually uses weighted gloves throughout her 3 Minute Belly Blitz workout. I've been looking for these since starting but can't find them anymore, so I'm going to have to just buy small weights I can hold instead. Just because I feel that I can now be pushed that bit further during the rounds. In saying that I'm still finding some of them very tough but that's down to your preferences and personal strength. I don't think I'll ever be a fan of push ups but I'm getting better!
Progress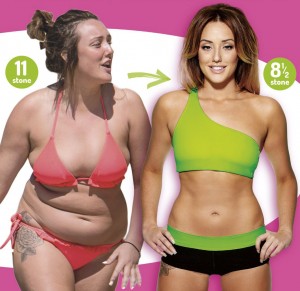 I'm still getting comments from people about how I look, even though week to week I don't particularly notice a difference. I only got to do Charlotte's workout 3 times this week because I had an event to attend – I try to do it Monday to Thursday and keep my weekends free! If I miss a day during the week I find it can be hard to incorporate it into the weekend but I do try! It's almost a routine now every weekday after work and I almost look forward to it! (almost)! You do feel better after working out though for sure and I eat pretty much straight afterwards whilst my body is still burning fat, not sure if this is the right way to be doing it but it just works out this way for me given the time it ends up being when I'm finished!
What I Wear
So I decided that this week I would give you a little insight into what I wear, given that you're quite active and jumping up and down a lot, what I wear might be different to someone who is going for a jog / cycle / lifting weights! I find the following works for me!
Tight fitting bottom layer – I wear three quarter length sports wear from penneys or sometimes I even wear thermals! (it was freezing!!) I wouldn't suggest anything baggy because you are quite active so you don't want your gym gear preventing you from lifting your legs or jumping! Also make sure they're tight enough not to fall down
Sports Bra – you literally NEED this because of all the bouncing around so get something that will keep you securely strapped in, otherwise it is so uncomfortable and distracting
Tank Top – I wore a tank top over my sports bra but also wore a light baggier top over it, that was because I didn't exactly feel sexy wearing skin tight clothing at the start but now I'm confident enough to wear just the tank top!
Nike Studio Trainers – I was wearing runners fit for jogging at first and they were so heavy and clunky, but I picked up these at a Lifestyle Sports event and they couldn't be more perfect for doing this workout! They're so light and flexible, and with all the leg lifting and kicking I'm doing they don't add any unnecessary weight or difficulty so I'm happy with this purchase! It's important to wear trainers fit for purpose so pop into a local store and tell them what you're looking for. these trainers would not be supportive enough for running outdoors for sure so try and hold back on buying something just because they're pretty!
You don't need any zip hoodie over this because you get warm so quickly. You'll also need socks, any will do I'm sure.
Tie your hair back! Some rounds I have to put it in a bun because my hair is so long it flicks in my face! So yes keep that mop out of your way!
Results
Below are the measurable results following Week 4 of Charlotte's 3 Minute Belly Blitz! I'm losing less and less each week but that was to be expected – I'm hoping to change it up with the weights next week and add in the extra Abs round!
Measurements

ARMS – .5 cm smaller (.19 inches)
LEGS – .25 cm smaller (.08 inches)
BUST – no change
BELLY – .5 cm smaller (.19 inches)
BUM – .5 cm smaller (.19 inches)
WAIST – no change
Weight

.2kg lighter (.44 pounds)
Many people commented on the size of my legs when I posted a photo to instagram & facebook! I find when I go by the measurements my legs are the last to lose weight but maybe they are catching up now!
For those asking I bought this DVD in Tesco for €14.99! (£13)