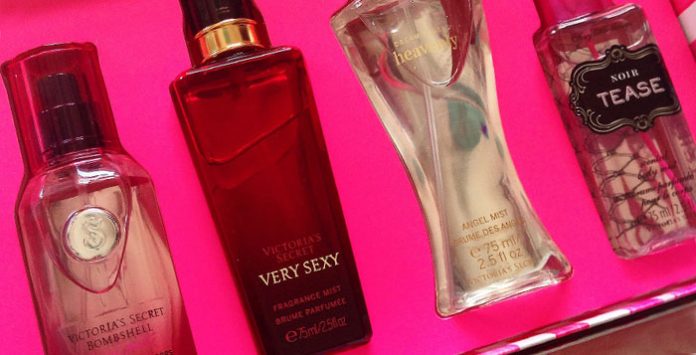 Overview
I love a choice and I hate a choice - and these don't make it easy! There's a scent here to suit your mood no matter what time of the day 🙂 Just wish you could get them in places other than the airport!
I bought these a few weeks ago in Dublin Airport and I still can't believe I even have any left the amount I've been using them! Especially in Summer when I wear so much tan because I have actual skin on show given there's some sun – I'd rather wear a light mist than an Eau De Parfum! So here is my Victoria's Secret Fragrance Mist Review! These are a plastic type bottle so they literally just weigh the 75ml that's in them so I carry one in my handbag at all times! Aaaaand one in my car, my bedroom and in my work desk! Downside to these is their accessibility – they can only be bought in Dublin Airport!
Very Sexy, Noir Tease, Heavenly Angel and Bombshell – Heavenly Angel is my definitely my favourite! According to the lady in the store she said these are a popular sell. I've figured out why I happen to like all 4 of these – it's because there's a blend of Vanilla in all of them, which is one of my fav smells!
Obviously Fragrance Mists don't last as long as an Eau De Parfum does because the water and oil content is much lower – but they're lighter, and much more inexpensive! How long the bottle lasts given the mls per dollah is good value though! It does last that bit longer than other Fragrance Mists but of course they would never stand up next to an Eau De Parfum so ensure you're aware of this before purchase!
I just cannot stress enough how handy it is though having such a lightweight bottle in your bag rather than your glass bottle of perfume – and I don't like those little refillable travel spray holders I find they go a bit crappy after a while!
Next time you're in Dublin Airport and looking for a reason to spend – here's four! x