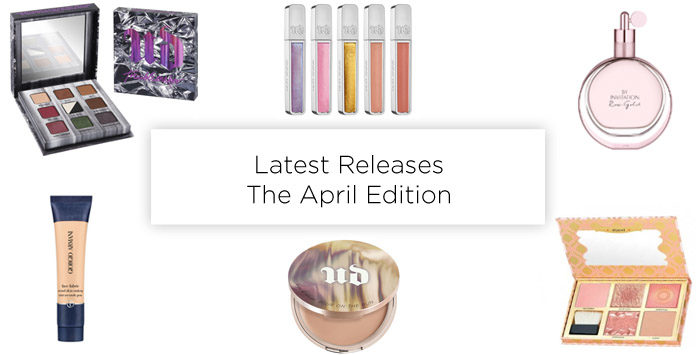 And just like that it's April already! March was a heavy month in tanning releases and this month it's all about the face with a little bit of fragrance and a venture on the glossy side. Urban Decay have some great new editions and Benefit has released a limited edition beauty that I promise you that you need in your life!
Benefit Cheeks on Pointe Blush Bar Palette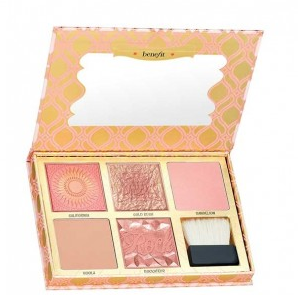 So two reasons I was immediately drawn to this palette – one being I have 2 of their previous versions in my current stash and they are unbelievably good value. You get 4 full size blushes and Hoola Bronzer for €59 – worth €170! Providing you like the blushes that's within them of course! I have hit pan on both Hoola and Rockateur on both my previous palettes (Cheekathon and Cheeky Sweet Spot) and have dabbled in the other colours. The second reason I needed this palette in my life is because of the blush shades in it, I know I will definitely use at least 3 of the 4 and of course the (iconic) Hoola Bronzer. This Benefit Blush Bar palette has Rockateur (my fav) GALifornia (drool) the new Gold Rush (fab!!) and Dandelion! Dandelion is quite popular but I barely touched it in my previous palettes, it's a cute baby pink though. I got mine on Cloud10Beauty and it's limited edition so if you want it you will need to act fast!
Urban Decay Hi Fi Shine Ultra Cushion Lip Gloss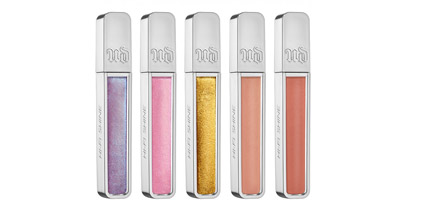 I think it's safe to say my beloved matte trend is on the way out as gloss makes a comeback. Don't get me wrong, matte will still be 80% of my lip product collection but there is definitely room for gloss – I've been slightly converted. Thanks to the fact my fav Urban Decay lip shade 1993 is included in this collection, and I really liked it! Really comfy and not sticky, nice and pigmented with a vanilla mint flavour. The applicator is perfect too! These come in 4 effects – metallic, holographic, cream and sheer cream. (The shade 1993 is cream) There are 20 shades in the collection and they're €18 each – available from  the end of this month.
Giorgio Armani Face Fabric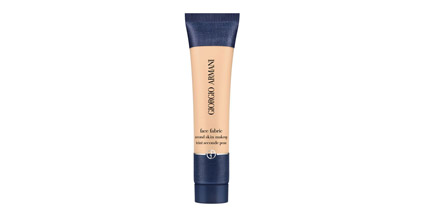 This extra matte finish foundation is lightweight, non greasy or powdery, and set to fit like a second skin. I'm not sure of the type of coverage but it claims to blur imperfections and pores so I would imagine it might be medium. The fact it is weightless and makes your skin look smoother but still looks natural suggests though maybe it is on the lighter side of medium. I'll just have to try it out and report back! The Face Fabric comes in 12 shades for €45 and is exclusive to Brown Thomas!
Urban Decay Naked Skin One and Done Blur on the Run
Something new from Urban Decay in the form of a touch up and finishing balm! So this instantly mattifies and absorbs shine to smooth and perfect your complexion. Instead of topping up with a powder that can sometimes come across cake-y, this should absorb into your skin and dries down! One thing I actually don't really do is top up throughout the day but i can sometimes get a bit oily looking in the T zone and chin so this will definitely come in handy for absorbing the shine! This only comes in 2 colours so I am curious as to how it is going to suit all complexions, and I have the medium to dark one so we shall see! This is available now retailing at €30.
By Invitation Rose Gold by Michael Bublé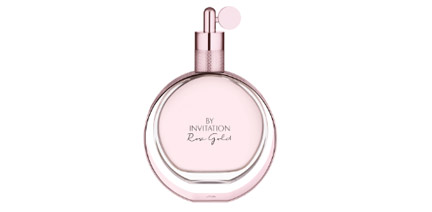 I never knew Michael Bublé had a fragrance collection for women. This perfume looks to be the Rose Gold edition of his original By Invitation range – which comes in a purse spray, rollerball, shower gel, body lotion and even a candle! The new Rose Gold edition is only available in an Eau De Parfum though and in both 100ml and 30ml. It's fresh and floral and has a really lovely designed bottle, rose gold is all the rage after all! It's €75 for the 100ml but I'm not sure where in Ireland it will be available to purchase other than online on their site, I'll keep you posted if I spot it anywhere!
Urban Decay Troublemaker Palette
Another beauty of a palette from Urban Decay and small enough to take anywhere, packed with the most delicious colours (as always!). Metallic copper, terra cotta matte, warm red matte and chocolate brown, along with berry, green and the blackest of blacks – this palette was made for night time adventures for sure! You also get a mini size of their Troublemaker mascara which I love – the only downside to this is I end up with a face full of black when I am taking it off, but not a huge complaint to make! This palette with 10 shadows and mini mascara retails at only €33!
So that's a round up of my favourite picks for this month, these are pretty much all must haves so I'm sorry if this hurts your pocket! I'll report back as always on my Snapchat / Insta-story as I try them with my thoughts.
AJ xx