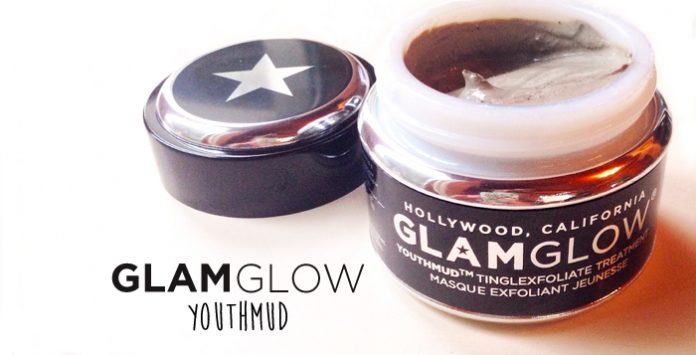 Overview
A bit overpriced for not many applications but it works!
Sure who doesn't want to be looking youthful and sexy heading into the New Year? If you haven't heard of GlamGlow products then you've probably been living under a rock! Unless it's the volcanic rock they sourced the Youthmud from then that's ok. So here's my GlamGlow Youthmud Review, the award winning Tinglexfoliate Treatment everyone is talking about! The Before, the After, and the Results! I applied this on New Year's Eve & again this morning! – yes I really really do want to look youthful. What harm! Also, I do love the packaging! Very pretty, very shiny, and very hollywood!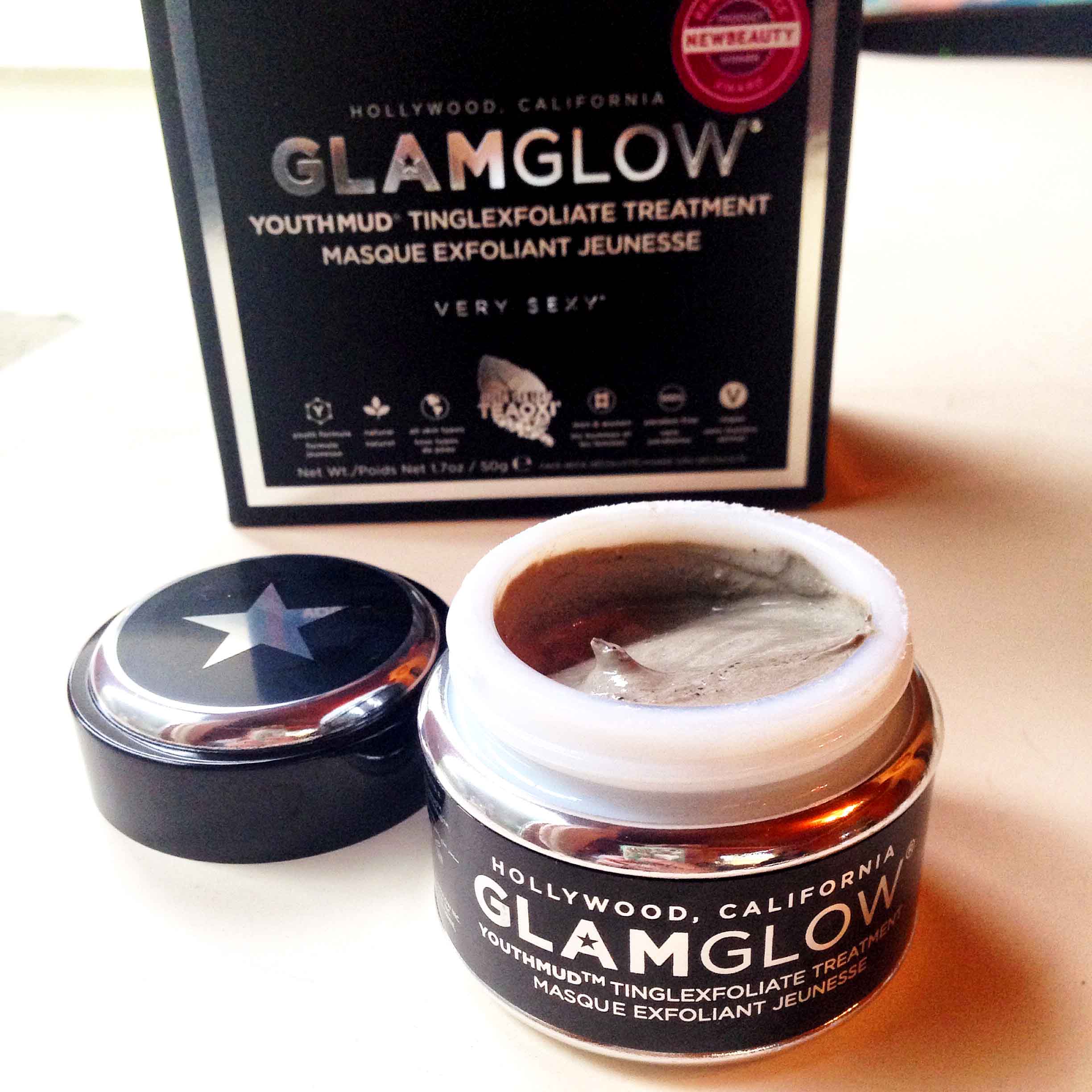 So, this product is sourced from lots of lovely places – and no I don't mean Hollywood, California! Volcanic Pumice Rock to exfoliate, French Sea Clay for the collagen effect, and Green Tea Leaf for it's anti aging and anti wrinkle results. Which is probably why it SMELLS not so lovely at all. Literally smells like Green Tea Leaves. There's some Cucumber, Ivy, Lavender and Chamomile Flower in there too for good measure! The GlamGlow Thirstymud Hydrating Treatment smells AMAZING though. This is next on my hit list!
I should also mention that the GlamGlow Youthmud is Natural, Paraben free, Vegan, and for all skin types – this is what really sold it to me to be honest! That, and the many awards it has won!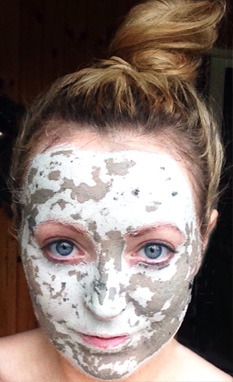 There I am now looking FABULOUS. The dark parts are where it's still wet and the lighter areas are where it had dried already by the time I took out the camera! It's the 10 minute Facial in a Jar treatment so I wasn't surprised it dried so quickly! As you can see the 'Super Sexy' bit hasn't kicked in just yet.
I applied a thin layer as instructed. It was annoying that the package didn't tell me what to apply it with though or how many actual grams to use up! Am I using too much or too little? Who knows. I used my fingers in the end as I only had one set of Makeup Brushes at my homeplace so I couldn't use any of them!
I don't generally like applying any exfoliator type product to my under eye area as this is the most delicate, but given it's a face mask I nervously applied it anyways. The tingle effect was almost immediate but it didn't hurt me and I stopped noticing it as quick as I had noticed it initially – I'm not sure if this would be the same for someone with sensitive skin though!
The mask gets tight quite quickly – I tried eating toast while waiting but I couldn't really open my mouth properly without the fear of it cracking! I removed it after 10 minutes with water using just my fingers. At this stage it felt rock solid! Again the package didn't suggest whether to use a facecloth or not to remove the product so I rubbed with my fingers in circular motions to exfoliate it off! It took a while.
My skin is generally pretty normal with the problem areas being around my nose and my chin, those areas can be anything from spotty to flaky or absolutely grand! In saying that – my skin was AMAZING in Andorra!! It took a really bad turn when I returned to Ireland though, could've been the airplane but it was so so dry and awful. Which almost made me not want to use this mask incase it dried it out further! But it was NYE and I wanted to look decent – applying makeup on a horrific base gets you nowhere!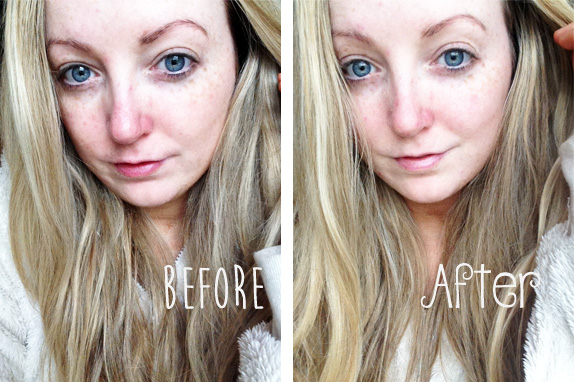 So here's me in all my naked faced glory! I don't even have my eyebrows on – the shame! Above you can see my GlamGlow Youthmud Before and After Results – do you notice a difference?
Once the mask was removed my face felt a little tight and dry – kind of like I had washed my face with soap but not as harsh as that. This wore off throughout the day to a comfortable tightness! My face was SO smooth and felt fresher. The first time I had used it when I had quite bad flaky dry skin it was almost perfect by the evening which really shocked me because I assumed given I felt tight and dry that it would've worked against me? Odd.
The Results – Did it Work?
Let's look at the claims GlamGlow Youthmud Tinglexfoliate Treatment makes on the package:
Leaves skin noticeably radiant and glowing

I guess it's definitely brighter and fresher looking! Not sure I would necessarily say glowing

Provides gentle resurfacing exfoliation

I was impressed with the exfoliation this provided and was not harsh at all, definitely gentle!

Helps to leave skin smoother
Helps provide tighter skin texture

Definitely! Too tight initially but then loosens a bit! Supposed to last 3 days, I would say more like 2!

Helps to provide a more youthful appearance

Define youthful? I guess my undereye area definitely looks a bit younger looking! Yay for me!

Absorbs impurities without removing natural oils

Great stuff – I hope this is true!

Helps to protect against free radical damage

If you say so! I can't really confirm this one!
What I Didn't Like
The lack of instructions!

It didn't tell me what to apply it with, what to take it off with, or how many grams I would actually need to use! There's only 50grams in the tub!

The Pricetag

I imagine I would get around 5 – 6 uses from this, and that would be just face masks – you can use it on your neck too but that would seriously reduce the quantity of uses! So €56 for 6 uses is approx €9 –  €10 per mask?

The Smell

I didn't like the strong smell of tea. To be honest I think it was the smell of the Thirstymud that tainted my opinion! But realistically like what can you expect from a mixture of volcanic rock, sea clay and green tea!
Overall I feel this product worked given it's claims. I think I'll have to start testing out other masks of this type to see if this is one I would repurchase and invest in again because I've not tried that many others! I am however definitely looking forward to using up the rest of the tub because it does have good results. And will be trying out more of their products – The Supermud, Thirstymud, Powermud and Brightmud Treatment!